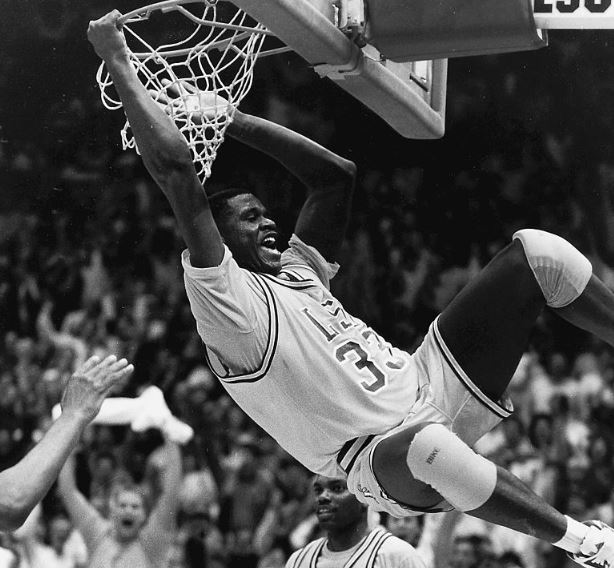 Remembering Shaquille O'Neal's Epic Battle With Hank Gathers 30 Years Ago
Remembering Shaquille O'Neal's epic college basketball matchup with Loyola Marymount's Hank Gathers 30 years ago.
Some have labeled it the greatest game in LSU basketball history. It was a meeting that saw Shaquille O'Neal and the LSU Tigers take on Hank Gathers and Loyola Marymount in an epic battle 30 years ago that saw the Tigers outlast the Lions 148-141 in overtime.
The game featured five potential NBA first-round picks, but it turned out to be a show between Shaq and Gathers – two of the best college basketball players during the 1990 season. 
Shaquille O'Neal took control with a triple-double
LSU center Shaquille O'Neal, who would go on to be the first pick in the NBA draft in 1992, took it to Loyola Marymount on both sides of the ball. In a fast-paced, up-and-down affair, LSU's big man played like he had all season. He was unstoppable and he was only a 17-year-old freshman.
O'Neal was paired with another seven-footer and future first-round pick Stanley Roberts to give the Tigers their own version of the Twin Towers. LSU also had another future-first round NBA selection in Chris Jackson, who would later be known as Mahmoud Abdul-Rauf when he played in the NBA.

Loyola was known for its run-and-gun style under coach Paul Westhead, but the Tigers and their big men, Shaq and Roberts, managed to lead 27-23 with still more than 11 minutes left in the first half.

O'Neal got off to a great start against the high-profiled, 6-foot-7 Gathers, who was expected to be a lottery pick in the draft, by blocking Gathers' first five shots. O'Neal finished with 12 blocks.
He scored 20 points, had 24 rebounds and those 12 blocks.
Hank Gathers and Bo Kimble led the way for Loyola Marymount
Bo Kimble and Hank Gathers were high school teammates in Philadelphia and both traveled to continue their college careers at Loyola Marymount. During the 1988-89 season, Gathers, a 6-foot-7 forward, led the nation in scoring and rebounding. In his senior season, Kimble led the nation in scoring with a 35.3 points-per-game average. Both Gathers and Kimble were projected first-round NBA selections.

Against LSU, despite having his first five shots blocked by Shaquille O'Neal, Gathers kept going to the hoop and led all scorers in that game with 48 points. He also finished with 13 rebounds. Kimble, a 6-foot-4 guard, wasn't far behind with 32 points and 11 rebounds.

The teams combined for 130 points in the first half as LSU held a 72-58 lead at the break.

Loyola bounced back in the second half, putting up 76 points and outscoring the Tigers by 14 to send the game into overtime. LSU outscored Loyola 14-7 in overtime. Loyola attempted 45 3-pointers in the game, while LSU had 14 attempts.
Twenty-nine days later Gathers tragically died on the basketball court after collapsing during the game against the University of Portland.
Too much scoring caused chaos at the scorers' table
Debi Polito was the play-by-play typist for LSU at the time and she admitted to being concerned about this game after watching what Loyola Marymount had done in its previous game, scoring 150 points.

"I thought, 'I don't know if I can do this,'" she told the now-defunct State Times of Baton Rouge, which ran a story about her nightmarish afternoon. "I don't know [if] the return of the typewriter is that quick."
Sure enough, her electric typewriter stopped working, causing a little bit of panic on her part. "All of a sudden the ribbon kind of rose up in the typewriter," Polito said. "The whole thing froze. It wouldn't go forward. It wouldn't go backward."
Members of LSU's game staff could be seen on the broadcast sprinting off to find a replacement typewriter.