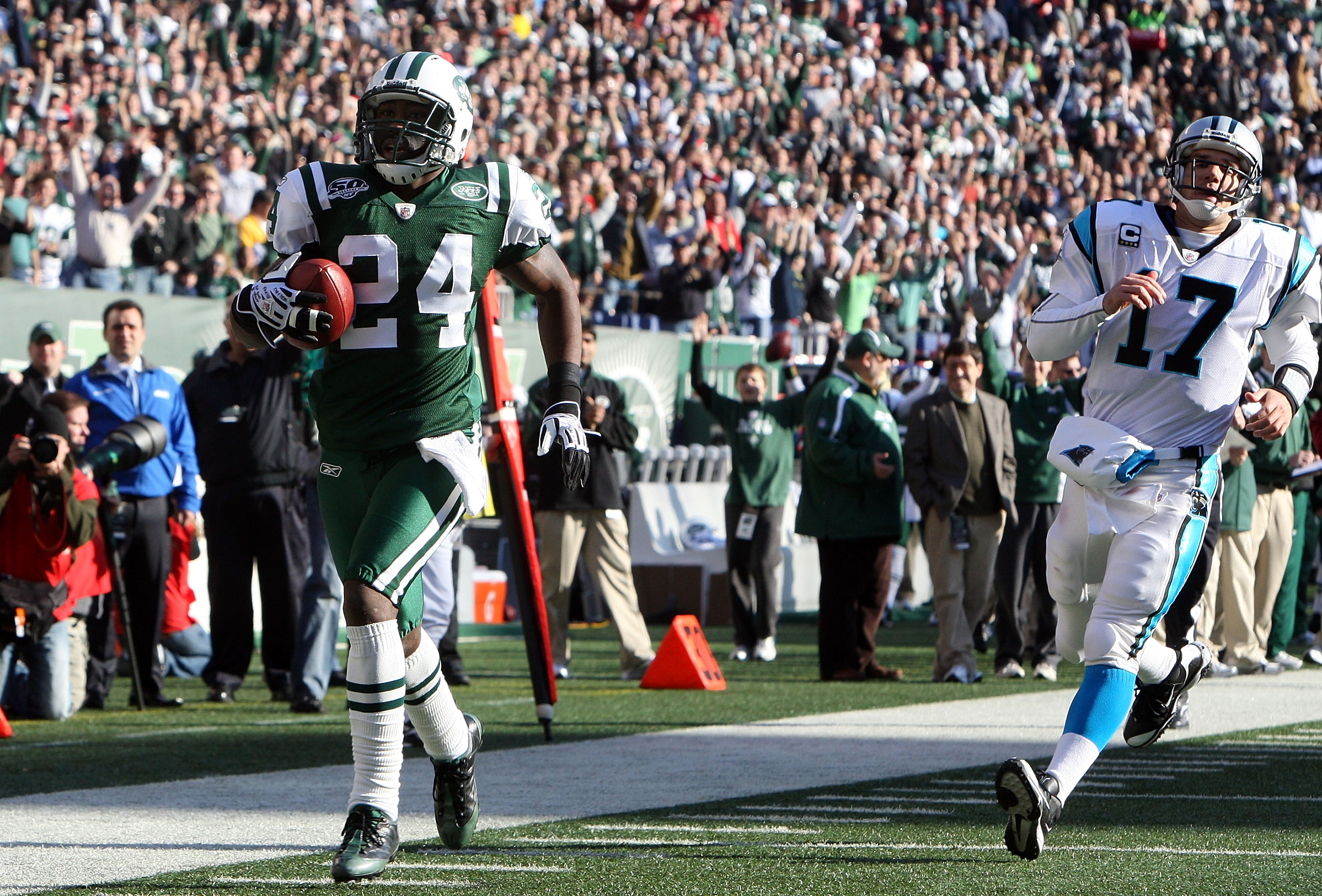 Revisiting Darrelle Revis' Magical 2009 Season — and How He Didn't Win Defensive Player of the Year
Jets cornerback Darrelle Revis had a historic and magical 2009 season. So why didn't Revis win the Defensive Player of the Year Award?
Darrelle Revis made the New York Jets must-see TV and one of the NFL's boring teams simultaneously.
How is that possible? In his prime, Revis matched up with the league's top receivers — Andre Johnson, Randy Moss, you name them — and limited their numbers. The New York Jets then took advantage and won the game.
It was exciting because Revis made the sport's top players look insignificant. Fans wanting to see a long touchdown from Terrell Owens often found themselves disappointed, though.
Revis had one of the greatest defensive seasons in NFL history back in 2009. Let's look at how dominant Revis was that year, as well as how he somehow didn't win Defensive Player of the Year.
Darrelle Revis had a Hall of Fame-caliber career
If Darrelle Revis is not a first-ballot entry into the Pro Football Hall of Fame, football fans have every reason to riot.
Revis is among the greatest cornerbacks in league history and ran his own retreat, Revis Island. The 14th overall pick in 2007, Revis snagged 29 interceptions and scored three defensive touchdowns in 11 NFL seasons.
Revis was credited with 139 pass-breakups — including an eye-popping 31 in 2009 — and earned first-team All-Pro honors four times. He also made seven Pro Bowls and won a Super Bowl with New England after the 2014 season.
No stranger to the playoffs, Revis had three interceptions, a sack, and eight pass breakups in 10 career postseason games.
Revis had a historic and magical 2009 season
Darrelle Revis's 2009 season is among the greatest in NFL history regardless of position.
Week after week, Revis matched up with some of the NFL's best receivers. And each week, Revis emerged victorious against the league's top offensive weapons.
Revis faced two — Randy Moss and Terrell Owens — who are already in the Pro Football Hall of Fame and several others (Andre Johnson, Steve Smith, and Reggie Wayne) who could wind up in Canton, Ohio, at some point soon.
Revis held all of those receivers, as well as the excellent Chad Ochocinco, Falcons star Roddy White, and Saints receiver Marques Colston, to under 35 yards.
He accomplished that feat against Moss and Owens, then with the Patriots and Bills, respectively, in each of the two games.
By season's end, quarterbacks knew not to throw it at Revis, who also snagged six interceptions that year.
Why didn't Darrelle Revis win Defensive Player of the Year?
By all means, Darrelle Revis should have won Defensive Player of the Year in January 2010.
Revis had the traditional stats — 54 tackles, six interceptions, a defensive touchdown, and 31 pass-breakups — to justify it in that regard. He earned first-team All-Pro and Pro Bowl honors when the season ended.
The voters didn't see it that way, though. Green Bay Packers defensive back Charles Woodson earned 28 votes, double the 14 votes Revis received, and won the award.
That Woodson won still boggles the mind. Woodson had nine interceptions to the six Revis recorded, but a simple glance at the eye test showed how much more dominant Revis was all season.
Woodson didn't get the edge because of victories, either. Green Bay and the New York Jets were both wild card teams.
Were voters more eager to give Woodson the award because he had nine interceptions? If so, that demonstrated a fundamental lack of understanding of how significant the receiving numbers against Revis were.
Revis played in 16 games that season. On 10 occasions, he held his primary opponent under 35 yards — and two of those receivers, Andre Johnson and Reggie Wayne, made the All-Pro team alongside Revis.
When Darrelle Revis enters the Hall of Fame this decade, don't be surprised to see him bring this season up in his speech — and send a message to the voters in the process.
Like Sportscasting on Facebook. Follow us on Twitter @sportscasting19.