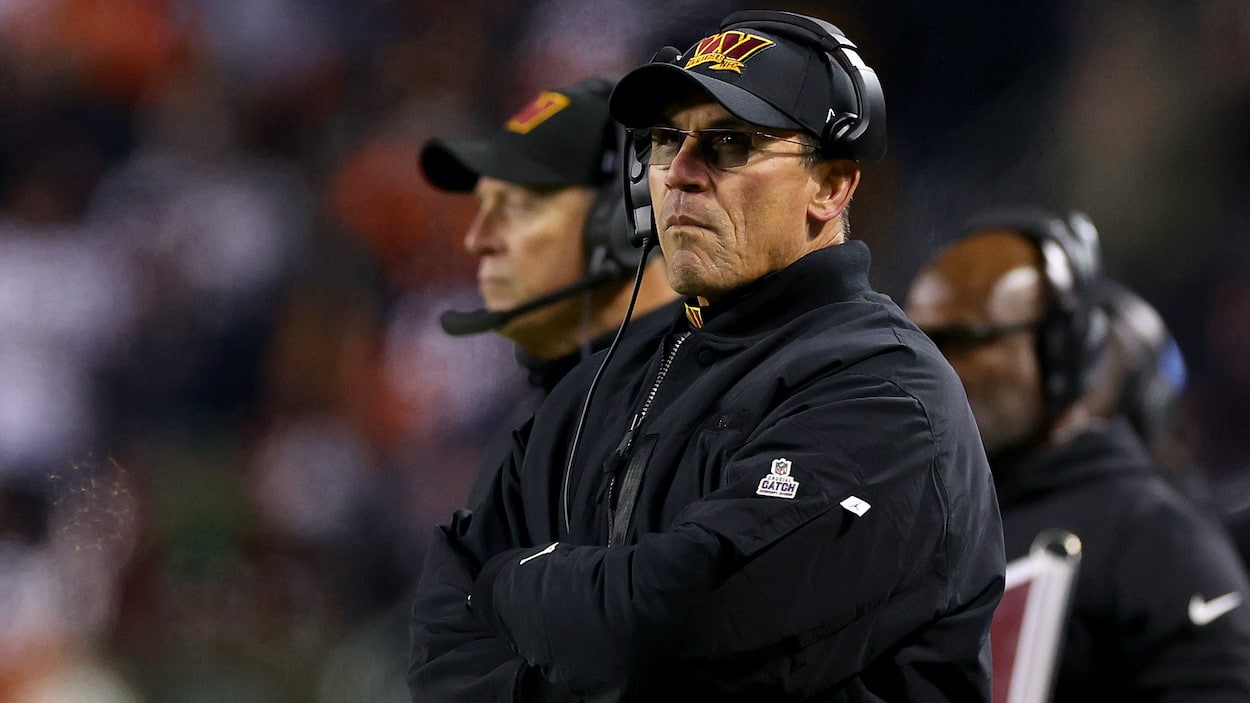 Ron Rivera Blows up About Daniel Snyder Scandal, Carson Wentz
Even winning coach Ron Rivera couldn't be happy after the 12-7 Thursday Night Football stinker between the victorious Washington Commanders and the Chicago Bears. However, no one could have known Rivera was about to go off when he stepped to the postgame podium. A question about the growing scandal surrounding Commanders owner Daniel Snyder set the normally mild-mannered coach …
Even winning coach Ron Rivera couldn't be happy after the 12-7 Thursday Night Football stinker between the victorious Washington Commanders and the Chicago Bears. However, no one could have known Rivera was about to go off when he stepped to the postgame podium. A question about the growing scandal surrounding Commanders owner Daniel Snyder set the normally mild-mannered coach off and led him into a rant about his quarterback, Carson Wentz.
Washington Commanders coach went off in postgame press conference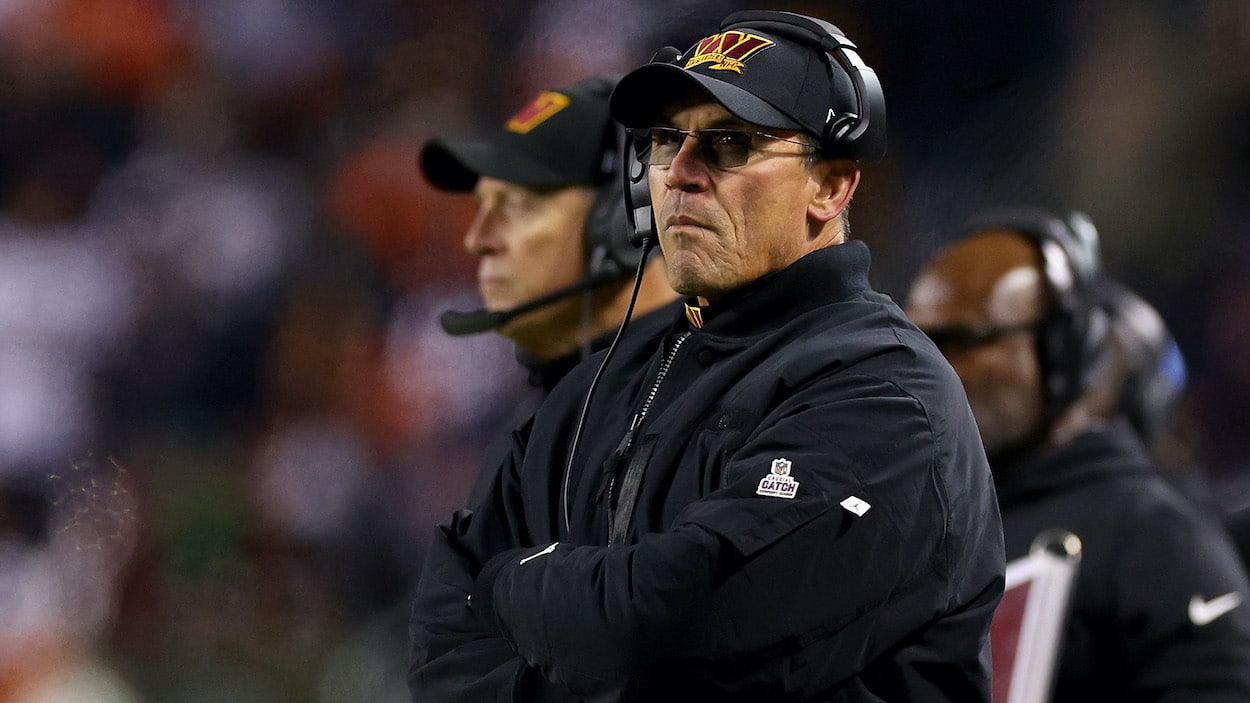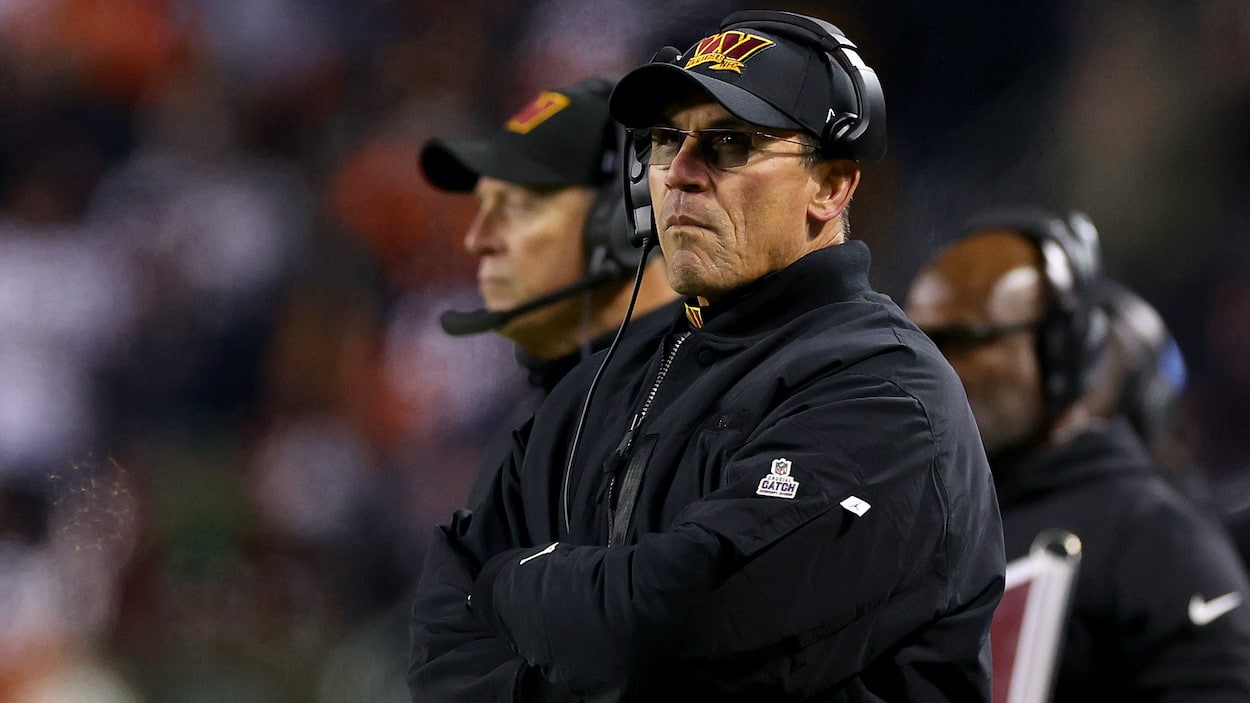 After the Commanders' ugly 12-7 victory over the Chicago Bears in Chicago, head coach Ron Rivera stepped up to the microphones after the game. He answered questions normally for a while until a question about the Dan Snyder scandal (more on that below) set him off.
"I'm going to speak my mind for a second," Rivera started, which is rarely a good sign.
"Honestly, it's been hard. It really has. You lose four games in a row, and everyone want to get you — just get on you. And they've played their a**** off, they really have. They play their a**** off for everybody," Rivera said. "They hear all the stuff, and they have to deal with it. I get that, and I respect that because they're resilient, and they come back."
Then Rivera changed gears and addressed the lingering rumors that Snyder led the charge to trade for quarterback Carson Wentz this offseason when Rivera didn't want him.
"Everybody keeps wanting to say I didn't want anything to do with Carson. Well, bulls***," Rivera continued. "I'm the f****** guy that pulled out the sheets of paper, that looked at the analytics, that watched the tape in the fricking — when we were in Indianapolis. OK? And that's what pisses me off because the young man doesn't deserve to have that all the time."
And with an "I'm sorry, I'm done," Rivera stormed off the podium.
Roger Goodell and NFL owners could force Daniel Snyder to sell his team
Billionaire Daniel Snyder is one of the worst owners in the NFL. Since he took over the Washington franchise in 1999, the team has made six playoff appearances, won two playoff games, and has had 14 losing seasons.
More recently, the team has gone through a major sexual harassment scandal, and allegations have come out that the organization has cooked its books to avoid sharing revenue with other owners.
On the day of the team's 2022 Week 6 Thursday Night Football game against the Bears, ESPN reporters Don Van Natta Jr., Seth Wickersham, and Tisha Thompson released a damning expose that claims the reason the NFL can't get him to sell the team is that Snyder has dirt on several owners and Commissioner Roger Goodell.
"Snyder recently told a close associate that he has gathered enough secrets to 'blow up' several NFL owners, the league office and even commissioner Roger Goodell," the report says. "' They can't f*** with me,' he has said privately."
The piece also quotes Snyder as saying, "The NFL is a mafia. All the owners hate each other." To which another owner responded, "That's not true. All the owners hate Dan."
Now that the report is out, it feels like the wheels should be in motion to oust Snyder from the league. The owners have a relatively easy mechanism to do this. Snyder has taken on more debt than league bylaws allow. If 24 of 32 owners vote not to grant him another waiver to take on more debt for a stadium, he could be out.
However, if he does have "dirt" on Goodell and others, that may prove difficult.
If Snyder does sell the team, rumors are that Amazon founder Jeff Bezos — who also owns the Washington Post — would be first in line to buy the team.
Have thoughts on this topic? Keep the conversation rolling in our comments section below.