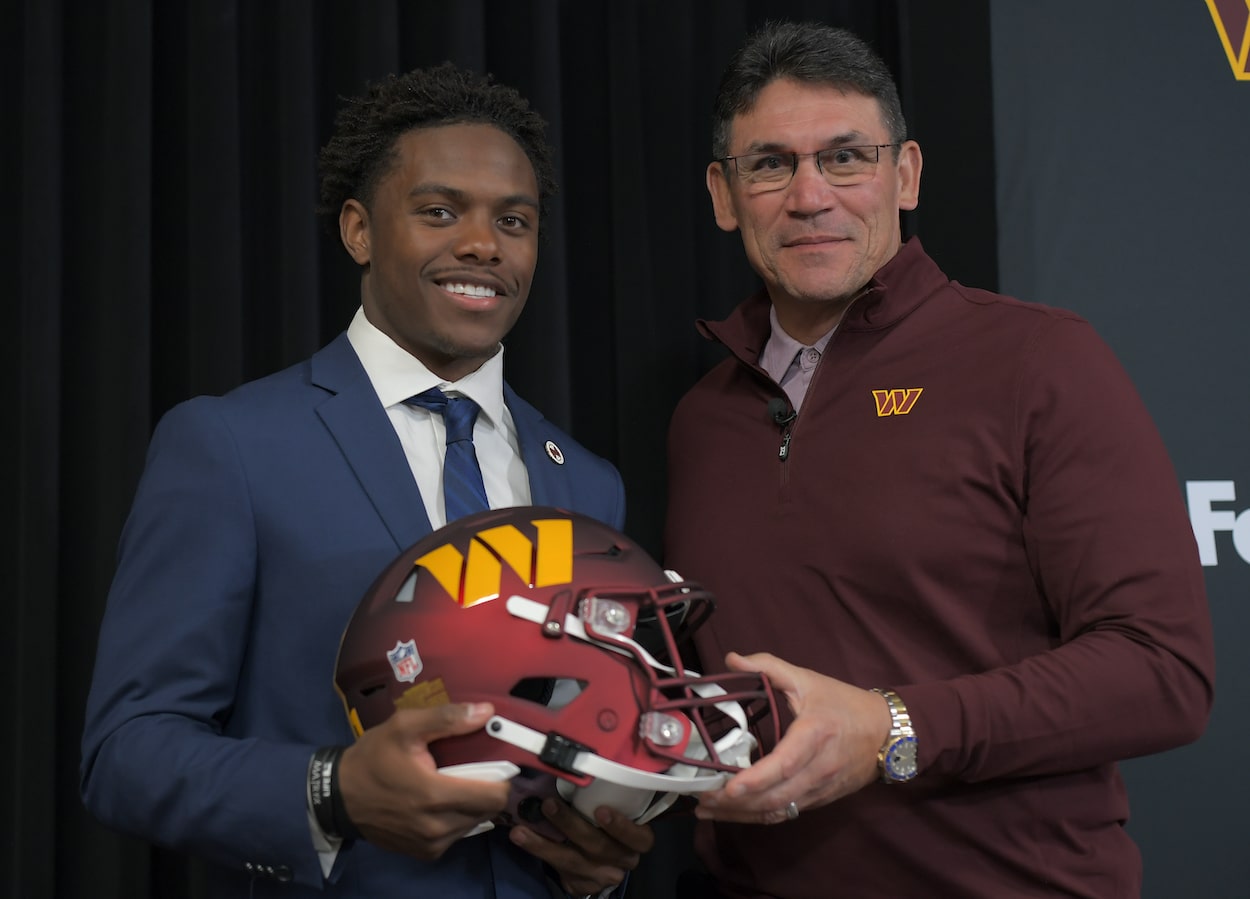 Washington Commanders Rookie WR Jahan Dotson Almost Skipped His College Graduation Before Ron Rivera Stepped In
Washington Commanders rookie wideout Jahan Dotson got some great advice from his new coach, Ron Rivera, about his college graduation.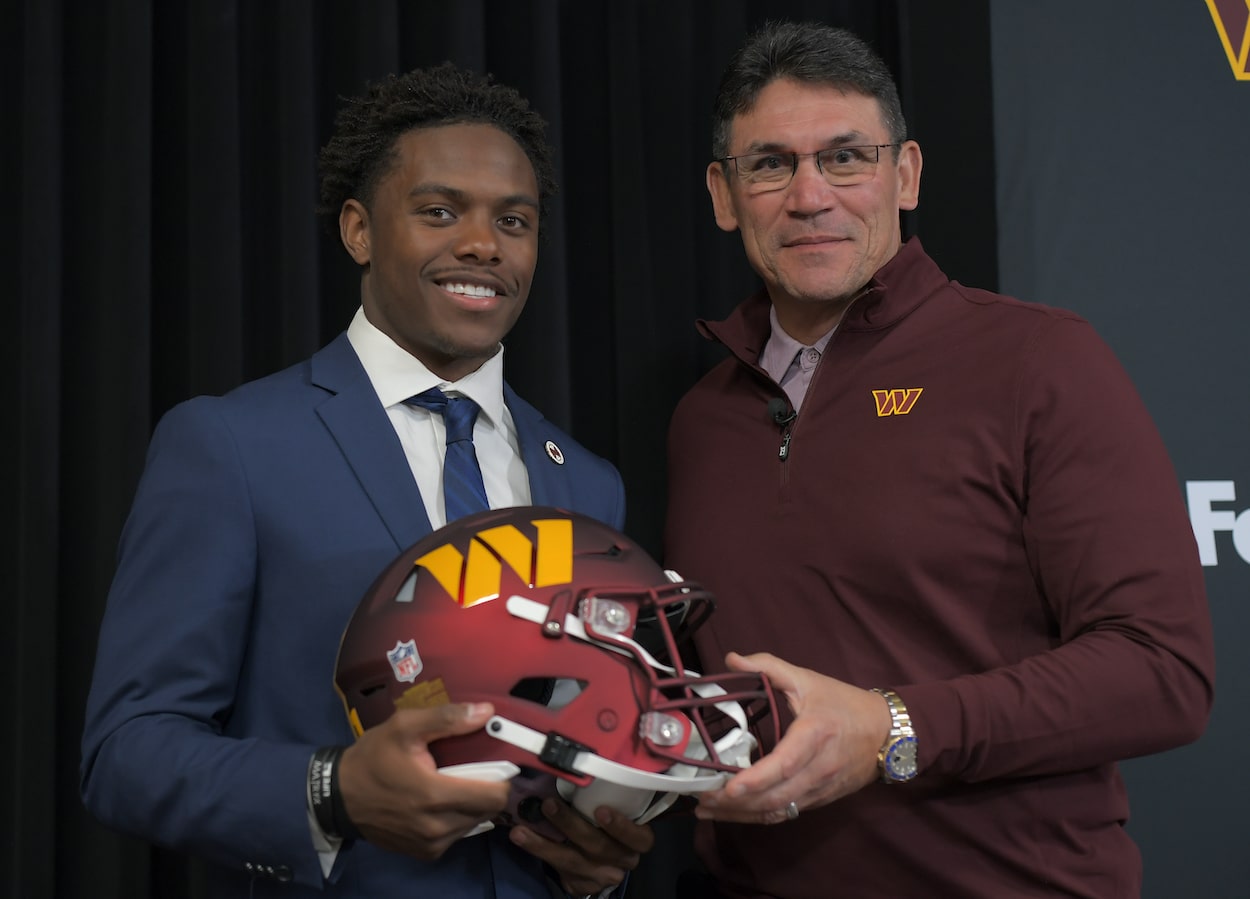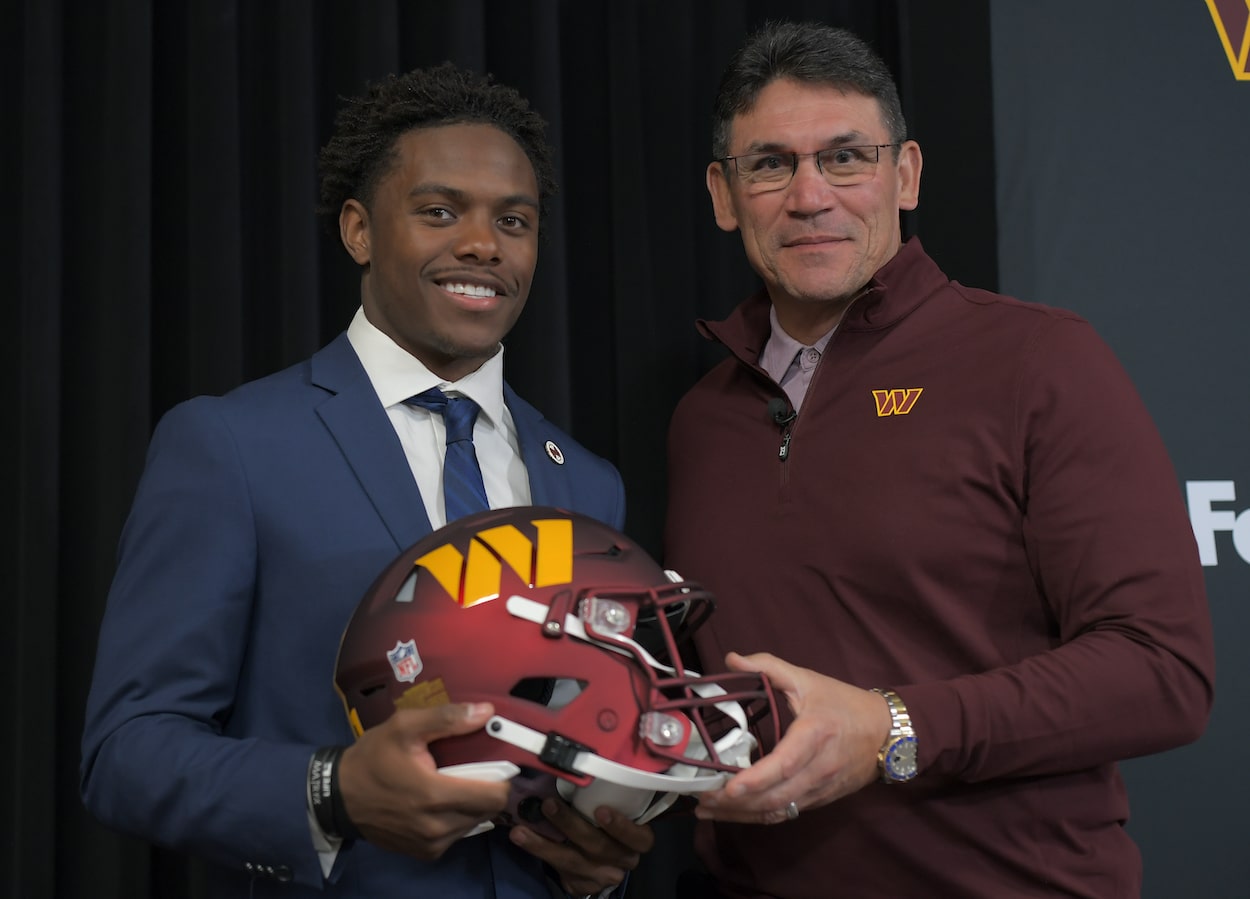 Getting your first job out of college sometimes means skipping something important because you now have professional commitments. This happens to young people whether that job is crunching numbers on Wall Street or catching passes in the NFL. Case in point, Washington Commanders rookie wide receiver Jahan Dotson was ready to skip his college graduation ceremony for rookie minicamp, but then his new head coach, Ron Rivera, stepped in.
The Washington Commanders drafted WR Jahan Dotson from Penn State
The 2022 offseason has been an unprecedented time for wide receivers in the NFL. Pro pass-catchers are some of the most important people on an NFL field in 2022, and, as such, they are becoming the focal point of offseason moves.
Some wideouts got paid in free agency, like new Jacksonville Jaguars WR Christian Kirk (four years, $72 million with $37 million). Others, like Davante Adams, Tyreek Hill, and A.J. Brown, saw teams give up a boatload of draft capital for the honor of signing them to huge money deals.
And in the 2022 NFL Draft, the top six WR prospects went in a matter of 10 picks (from No. 8 to 18).
Penn State's Jahan Dotson fell into this latter group when the Washington Commanders took him No. 16 overall.
Dotson played in Happy Valley for four seasons and nearly doubled his production every season. His Penn State stat line looks like this:
2018: 13 catches, 203 yards, zero touchdowns
2019: 27 catches, 488 yards, five touchdowns
2020: 52 catches, 884 yards, eight touchdowns
2021: 91 catches, 1,181 yards, 12 touchdowns
At 5-foot-11, 178-pounds, Dotson isn't the biggest WR prospect, but his athleticism and tenacity make up for what he lacks in size. At worst, he should have a solid career as an athletic slot receiver as his route-running in the middle of the field improves. At best, he could be a dynamic small-stature outside receiver, ala Steve Smith Sr.
Dotson almost skipped his college graduation for minicamp
In addition to his skill and athleticism, Jahan Dotson is smart, too, both on and off the field. After four years in State College, Pennsylvania, Dotson was set to graduate with hundreds of his fellow Nittany Lions with a degree in Telecommunications.
The only problem was Washington Commanders rookie minicamp started the same day as the graduation ceremony.
Despite the accomplishment of earning a college degree being a big deal in his family, Dotson planned on skipping his walk across the stage to honor his commitments to his new NFL team. That is, until his new head coach, Ron Rivera, stepped in and explained the importance of the occasion. Dotson told reporters:
Many people in my family haven't achieved this goal, so it's pretty big for me and my family, to be able to achieve this goal of graduating college. So, it's going to be a really cool moment and an end to a great week. I was actually ready to skip the graduation and be out here at practice, but [Ron Rivera] said that's like a once in a million type of thing. He was all for me going. I honestly hadn't even thought about skipping practice until he brought that up.

Jahan Dotson on his college graduation
This was a feel-good story all around, which is something the Commanders can desperately use these days. It's great that Dotson achieved something that sounds very important to his family, and it's equally as awesome that Rivera recognized that some things are more important than football.
The Commanders added other pieces to their offense in the 2022 draft
Last season, the Washington Commanders' offense ranked 24th in the league in scoring and 21st in total yards. That is not a recipe for success in the modern NFL.
This offseason, the franchise traded for former Philadelphia Eagles and Indianapolis Colts quarterback Carson Wentz to, hopefully, help improve the lackluster O. After making that move, the Commanders continued down this path, making five of their eight draft picks on that side of the ball.
After Jahan Dotson, the Commanders drafted:
No. 98 Overall: Brian Robinson Jr., RB, Alabama
No. 144 Overall: Sam Howell, QB, North Carolina
No. 149 Overall: Cole Turner, TE, Nevada
No. 230 Overall: Chris Paul, OG, Tulsa
Robinson will be a good change-of-pace bruiser to pair with Antonio Gibson and J.D. McKissic, and Turner could quickly find playing time, given starting tight end Logan Thomas' injury history. Paul will provide solid depth on the offensive line as a longer-term project.
The most interesting pick is Howell. Most draft-watchers (myself included) thought the North Carolina quarterback would be a second- or third-round pick, at worst. However, with all the Class of 2022 QBs sliding, Howell ended up being available with the first pick of the fifth round.
If Howell can sit for a year and develop or even shock most people and beat out Wentz, the Commanders may finally have their long-term answer at the NFL's most important position.
That outcome is relatively unusual for fifth-round signal-callers, but it was a weird year for QBs in general, so anything is possible.  
Stats courtesy of Pro Football Reference and Sports Reference. Like Sportscasting on Facebook and subscribe to our YouTube channel.