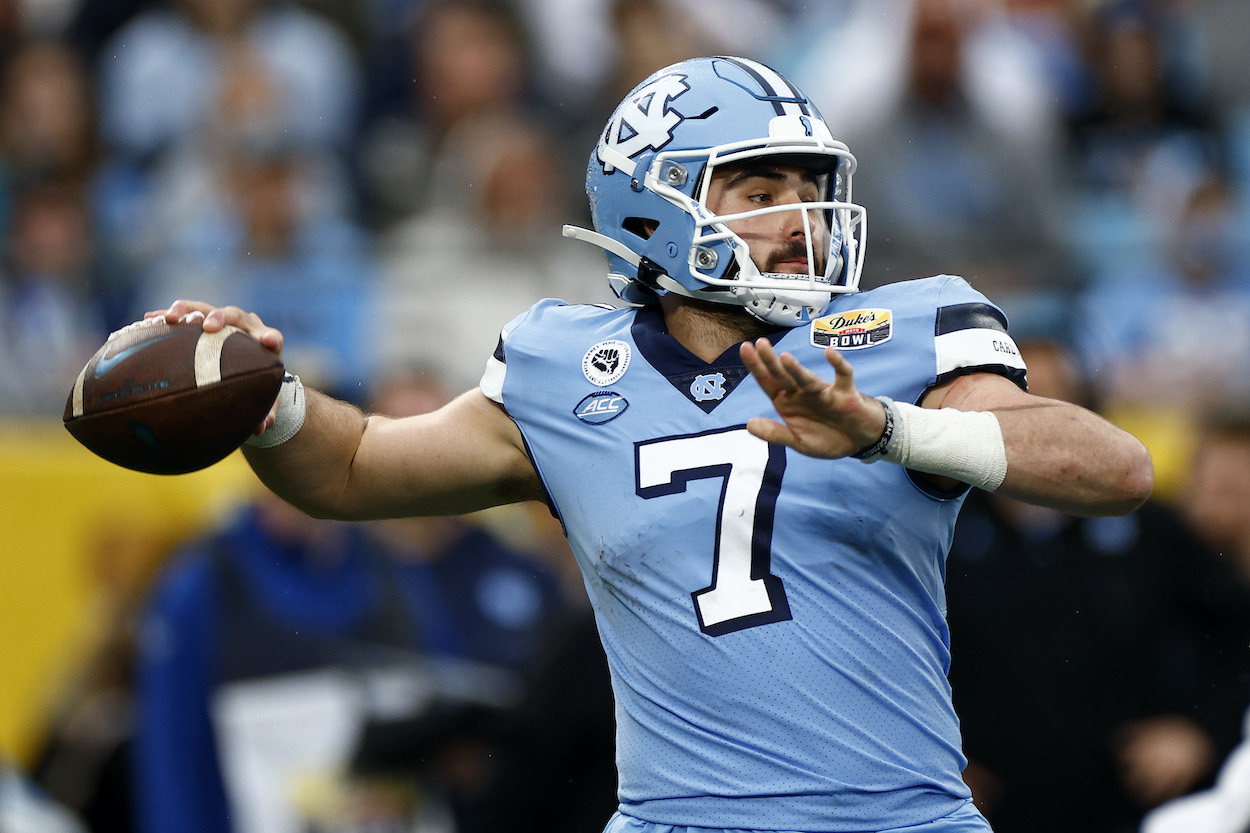 NFL Draft: New York Giants May Have Tipped Their Hand, Sending 4 Coaches to QB Sam Howell's Pro Day
The New York Giants may be targeting a specific signal-caller after sending at least four coaches to watch UNC QB Sam Howell's pro day.
One way NFL Draft aficionados can get an idea as to which teams are interested in which prospects is to look at who attends a player's pro day. If a team doesn't show up at a specific pro day, that doesn't necessarily mean the organization won't take a player from that school. However, if a franchise sends a small army of coaches to a pro day — like the New York Giants did to watch North Carolina quarterback Sam Howell — you can bet there's some serious interest there.
The New York Giants say they're staying with Daniel Jones at quarterback
After missing the playoffs for the fifth consecutive year and the ninth time in the 10 years since the organization last won a Super Bowl, the New York Giants replaced their general manager and head coach.
Big Blue raided their New York neighbor to the north, the Buffalo Bills, to hire GM Joe Schoen and head coach Brian Daboll.
Daboll is the offensive mastermind behind Josh Allen's development, and, as such, he is now tasked with bringing the Giants' O back to glory. The first step in that journey is deciding what to do about 2019's No. 6 overall pick, Daniel Jones.
Ever since Daboll showed up to the Giants facility for the first time in a blizzard and Jones was there, the new coach has talked the talk about the former Duke Blue Devil being his guy.
Schoen has supported Jones as well, saying, "We're going to try to allow him to put his best foot forward," per the New York Post. Co-owner John Mara has also joined the chorus admitting the franchise's responsibility for doing "everything possible to screw this kid up since he's been here."
Mara has also told reporters, "We still have a lot of confidence in Daniel and think he's going to be a very good quarterback if we just put the right pieces around him and give him a little bit more continuity and stability."
While the Giants are saying all the right things about supporting Jones, that doesn't mean they'll opt out of the entire 2022 QB draft class. And, after looking at the top QBs' pro days, the franchise may have tipped its hand as to which one it's targeting.
The Giants sent four coaches to UNC QB Sam Howell's pro day before the NFL draft
The New York Giants have two picks in the top 10 of the 2022 NFL draft. The team owns its own No. 5 pick and the No. 7 selection via the Chicago Bears.
There's been no indication that the team is looking at any of the top three QBs — Liberty's Malik Willis, Pittsburgh's Kenny Pickett, or Ole Miss' Matt Corral — with those first two picks. However, that doesn't mean the team won't add depth at quarterback at pick Nos. 36, 67, 81, 112, 147, 173, or 183.
If the G Men are indeed looking at QB in the second round or later, North Carolina's Sam Howell might be that guy. According to NFL insider Ian Rapoport on the Pat McAfee Show, the Giants coaching staff showed up in force to Howell's pro day.
McAfee quizzed Rapoport on what news was coming across his phone screen during their interview, and the insider told the host:
That was a tweet from [NFL Network reporter] Mike Garafolo. He's at Sam Howell's pro day. Interesting development. We'll see what happens. … the Sam Howell pro day, who's there, who's not. The Giants have like four people there. I think that's interesting.

Ian Rapoport on New York Giants coaches watching Sam Howell
Rapoport is right, of course. That is an interesting development and one of the first regarding a team pursuing a QB outside of the top three. It begs the question, who exactly is Sam Howell?
Who is North Carolina QB Sam Howell?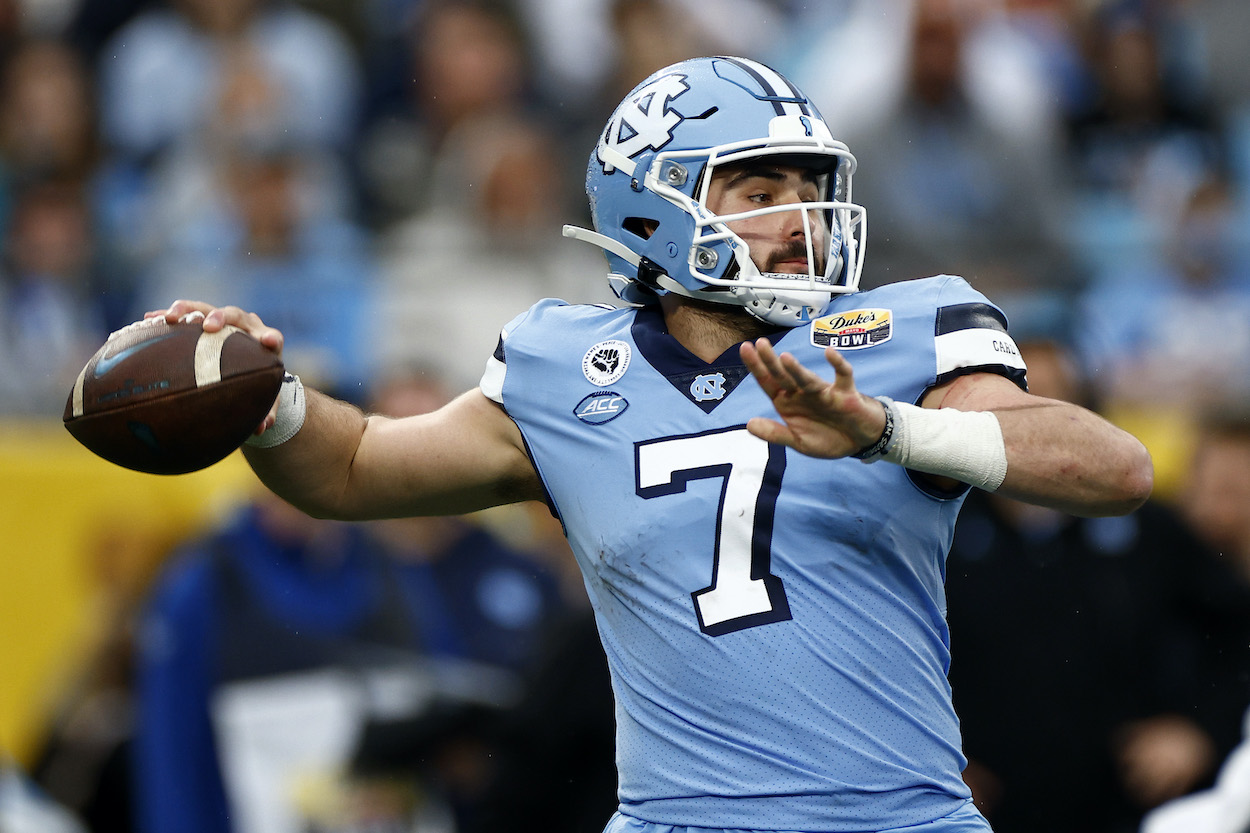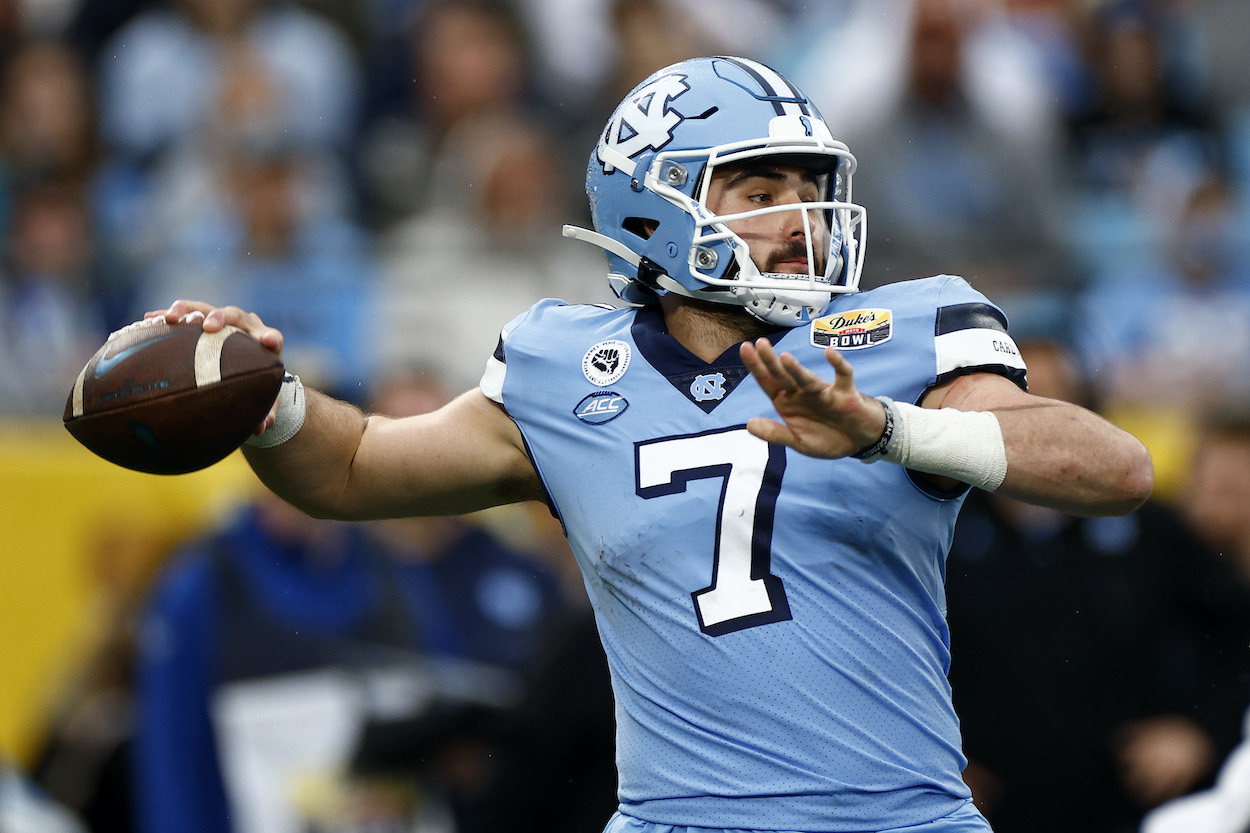 There's been gallons of ink spilled (or computer keys banged) regarding Malik Willis, Kenny Pickett, and Matt Corral. After the NFL combine and the rest of the pre-NFL draft process, it seems assured that only these three signal-callers have a chance to go in the first round.
That said, other QBs could become steals in later rounds. Nevada's Carson Strong, Cincinnati's Desmond Ridder, Western Kentucky's Bailey Zappe, and, of course, UNC's Sam Howell all fall into this category.
Howell is a 6-foot-1, 218-pound passer born and raised in the Tar Heel state before becoming his home-state university's QB1.
In three years under center for Carolina Howell threw for 10,283 yards with a 63.8% completion rate. He also threw 92 touchdowns to 23 interceptions. During his junior season in 2021, Howell showed off his athleticism, running for 828 yards and 11 scores (his previous season highs were 146 yards and five TDs).
In his official NFL.com scouting report, scout Lance Zierlein compares the "stocky" QB to Chase Daniels. Zierlein notes that Howell is inconsistent but demonstrates "admirable confidence" and "pocket poise."
If the New York Giants can get Howell in the third round or later, it will be a good pick.
At worst, Howell could be a solid career backup who can win an NFL game or two like Daniels. And at best, he could be a late-round steal like another QB who once played at a North Carolina school, Russell Wilson.
All stats courtesy of Sports Reference