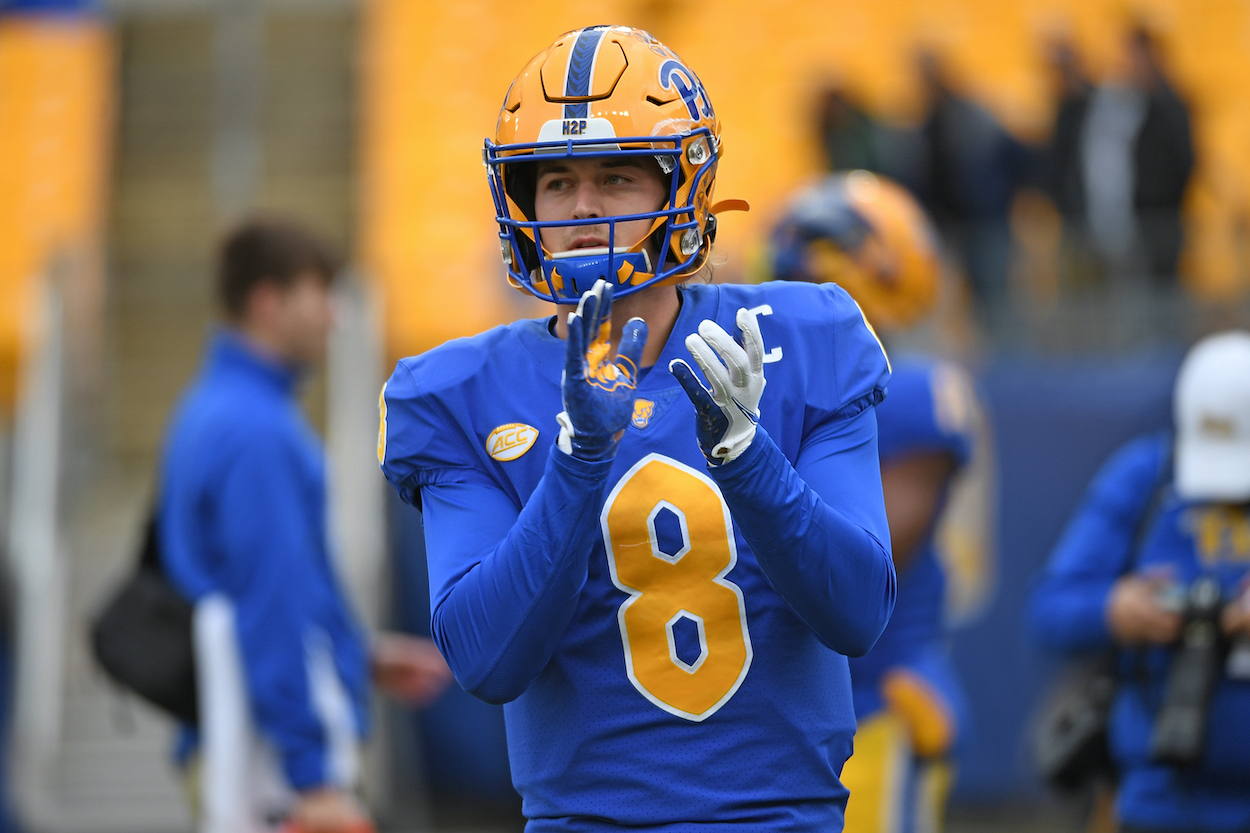 NFL Draft: Carolina Panthers Will Make a Huge Mistake After Pro Day Hand-Size Fiasco, According to Pete Prisco's Mock Draft
If the Carolina Panthers have a choice of any QB they want in the 2022 NFL Draft, picking the passer with the small hands would be a mistake.
Every NFL draft has at least one weird, unique, or downright silly storyline that becomes a big deal. The leader in the clubhouse for this year's strange storyline winner is Pittsburgh Panthers quarterback Kenny Pickett's hand size.
The whole issue is being blown out of proportion, but that doesn't mean the Carolina Panthers shouldn't think twice before taking him at No. 6 overall in this year's draft.
The Carolina Panthers made news on Pitt's pro day by examining Kenny Pickett's hands
Kenny Pickett had a tremendous senior season at Pitt. He led the Panthers to an 11-3 record, the school's best finish since 1981 when a guy named Dan Marino played QB for the team. Pickett also finished third in the Heisman Trophy voting.
Once the Senior Bowl hit, though, scouts, media, and NFL draft experts started talking a lot about Pickett's hands.
Hand-size is something NFL talent evaluators look at in a QB because, they believe, bigger hands lead to better ball security. Smaller-handed QBs could present a fumbling risk in their eyes.  
Pickett, as NFL Network's Tom Pelissero explained during the Senior Bowl, has double-jointed thumbs. This condition makes his thumbs naturally point in toward his palm and makes it so he can't stretch it out flat on a table like the NFL does when it measures hand size.
Nine-inch hands are considered small on an NFL QB. Pickett's measured 8.5-inches at the combine.
At his pro day, at least one of the teams that could draft Pickett wanted to get a look at these polarizing mitts. Pictures went viral of Carolina Panthers head coach Matt Rhule calling over his offensive coordinator, Ben McAdoo, to look at the signal-caller holding a football.
After the impromptu meeting, the group was all smiles, so it seems Carolina is a legit landing spot for Picket in the upcoming draft.
CBS Sports Pete Prisco has the Pitt QB as the first passer of the board in the 2022 NFL Draft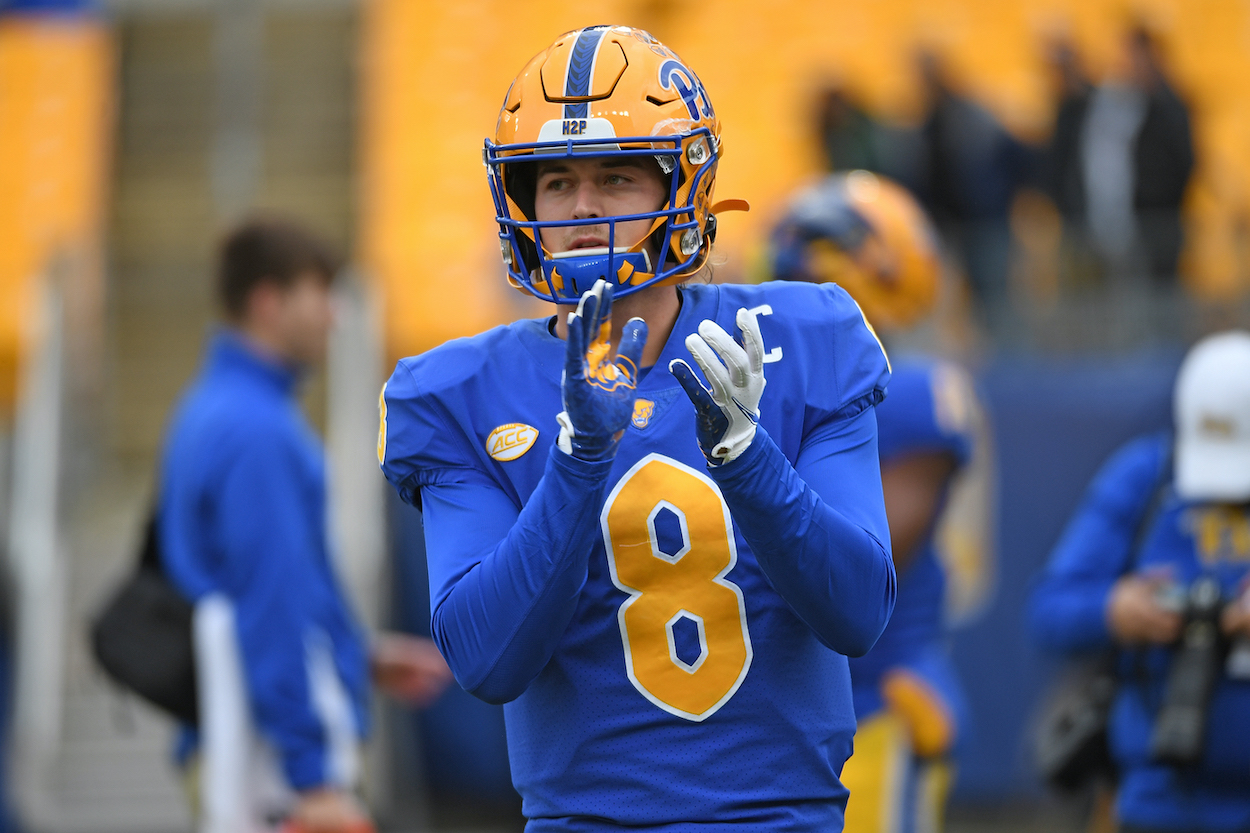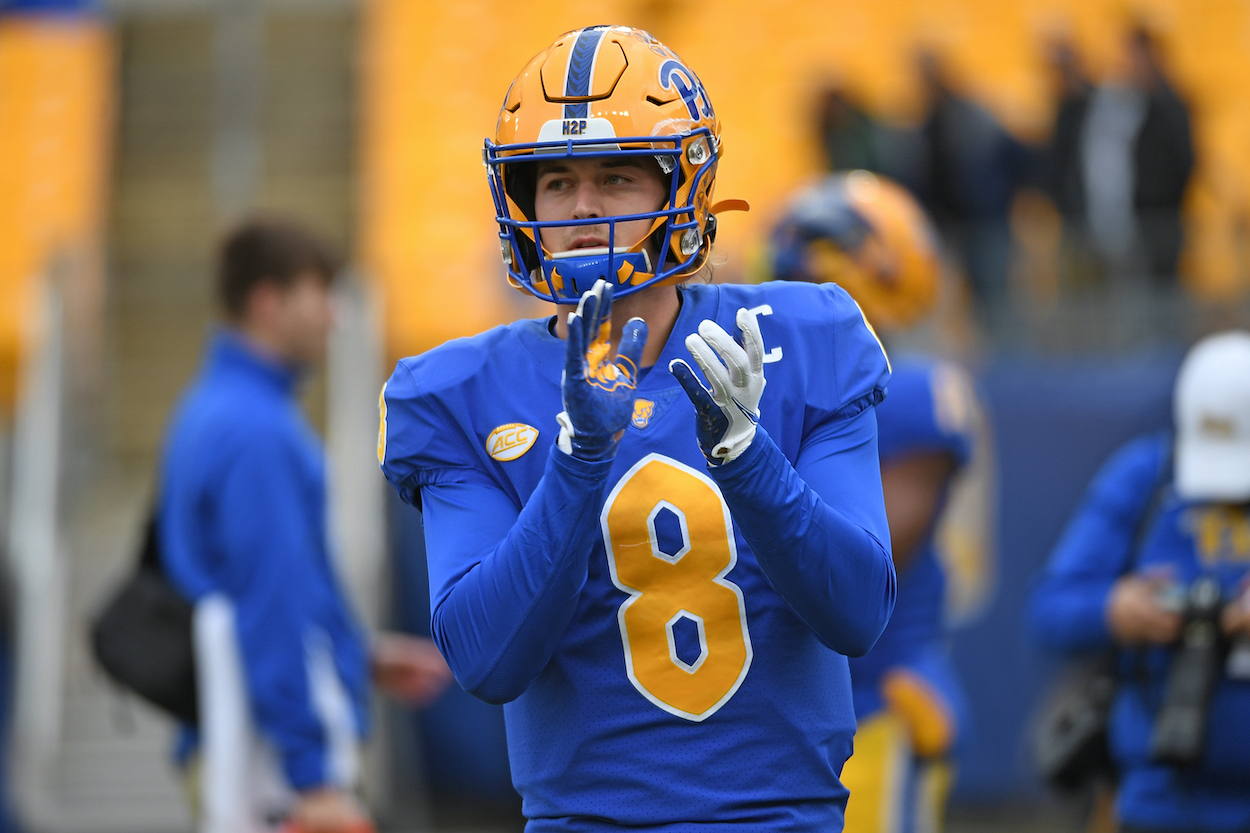 One NFL mock drafter who believes that the Carolina Panthers will select Kenny Pickett at No. 6 overall is CBS Sports' Pete Prisco. While he doesn't give the pick a ringing endorsement, he does think that it makes sense, writing:
They have to solve their quarterback situation and Pickett is the best of a bad class. Even so, they have to take the swing.
The first part is correct. The Panthers are a mess at QB and need to figure out what to do. Picking at No. 6 likely gives them a real shot at having their pick of the top signal-callers in this year's draft: Pickett, Liberty's Malik Willis, and Ole Miss' Matt Corral.
There is a slight chance the Detroit Lions take Willis — who is arguably the real best QB in the draft — at No. 2 if the Jacksonville Jaguars take Michigan's Aiden Hutchinson No. 1.
In that case, taking Pickett at No. 6 isn't a bad idea at all.
However, if Willis and Pickett are available after five picks, like they are in Prisco's mock draft, taking the Pitt passer over Willis would be a major mistake.
Kenny Pickett vs. Malik Willis 
With apologies to Matt Corral, who is improving his stock throughout the pre-NFL draft process, Kenny Pickett and Malik Willis are the best two QB prospects this year.
Pickett comes in at 6-foot-3, 217-pounds, and played for Pitt for five seasons. He played in 52 games, completing 62.4% of his passes, and throwing for 12,303 yards and 81 touchdowns with 32 interceptions.
Willis measures 6-feet, 219-pounds, and played at Auburn for two seasons before transferring to Liberty for his last two years. All told, he played in 35 college games, completing 62.8% of his passes, and throwing for 5,176 yards and 48 touchdowns with 18 interceptions.
There are plusses and minuses to both QBs. Willis found his greatest success at a small school, although he did have good games (albeit in losses) to ranked programs like Ole Miss, Louisiana-Lafayette, and had a big win against Coastal Carolina in 2020.
Forgetting the Pickett hand-size debacle, there are some knocks on him as well. While he compiled impressive numbers in his long college career, he didn't truly stand out until his final season. Then, he was a 23-year-old man playing against 18-21-year-olds. This makes some question whether he was outstanding last season or just that much more developed than his competition.
While Willis' size is a bit of a concern, he has the better arm and is more athletic than Pickett. In a draft with no consensus top QB, that gives the edge to the former Liberty Flame. And it means picking Pickett lover Willis would be a serious mistake for the Panthers.
All stats courtesy of Sports Reference