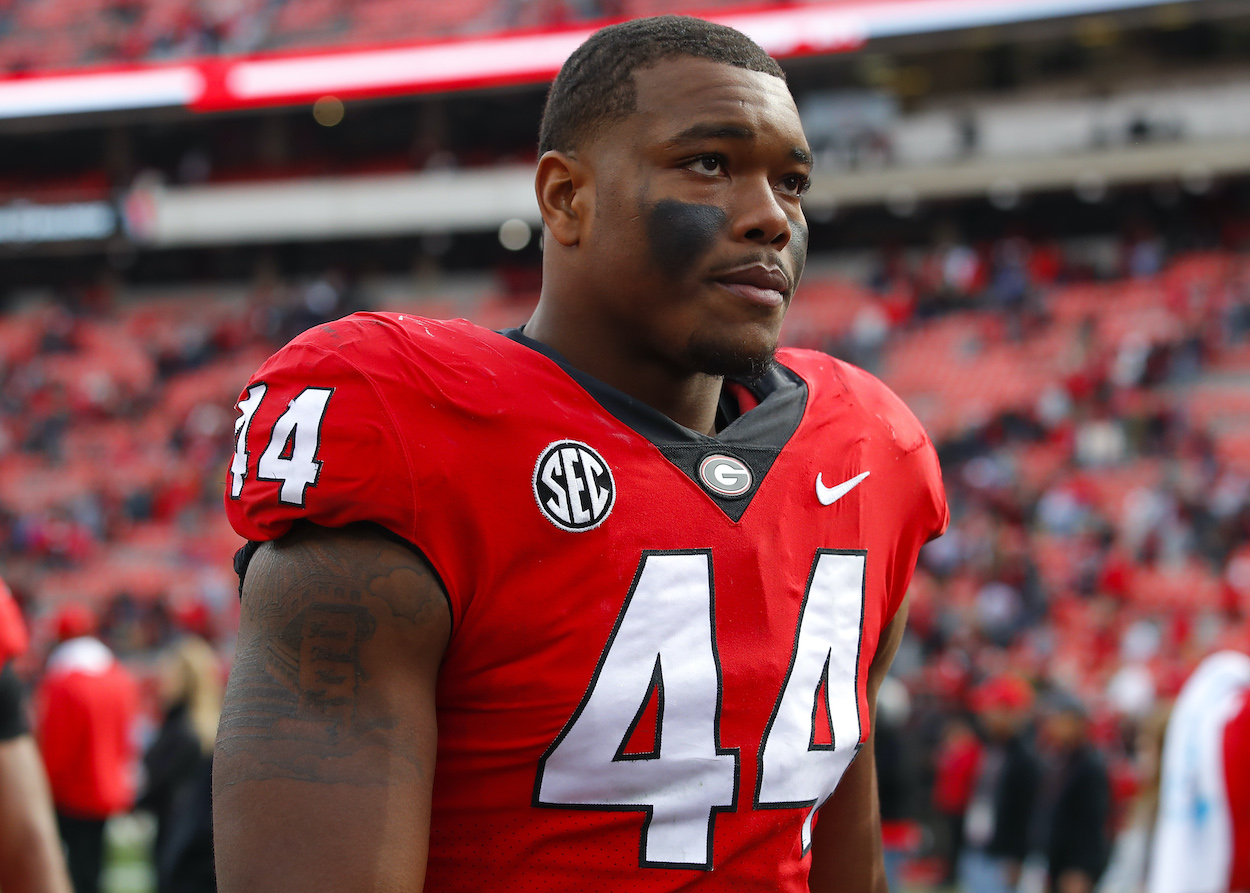 NFL Draft: Maurice Jones-Drew Reveals Shocking No. 1 Overall Pick for the Jacksonville Jaguars in His Mock Draft
Former Jacksonville Jaguars RB and current NFL Network pundit Maurice Jones-Drew has a wild prediction for the No. 1 pick in the NFL draft
Maurice Jones-Drew was an All-Pro running back, one of the best players in Jacksonville Jaguars history, and a darn good NFL analyst since his playing career ended in 2014. Now, MJD is trying his hand at predicting the NFL draft.
Channeling his inner Mel Kiper Jr. or Daniel Jeremiah, Jones-Drew recently tried his hand at a mock draft for the 2022 selection meeting. His mock definitely stands out, mainly because of who he has at the top.
Whether the three-time Pro Bowler is simply trying to make a name for himself with a controversial pick or he has some inside knowledge of what his former franchise is planning to do, MJD has a shocking No. 1 overall pick in Georgia defensive lineman Travon Walker.
Aiden Hutchinson is the consensus No. 1 overall pick in the 2022 NFL Draft
A month out from the 2022 NFL draft, the biggest names in the draft game all have Michigan defensive end Aiden Hutchison going No. 1 to the Jacksonville Jaguars. This includes Mel Kiper Jr., Todd McShay (ESPN), Daniel Jeremiah, Chad Reuter (NFL Network), Pete Prisco, Chris Trapasso (CBS Sports), Nick Baumgardner (The Athletic), and Danny Kelly (The Ringer).
For what it's worth, Sportcasting's own in-house Jaguars fan, Adam Fromal, agrees that Hutchison will end up in Duval County.
The Wolverines pass-rusher is coming off a breakout senior year. In 2021, the Michigan native racked up 62 tackles, two forced fumbles, and 14 sacks, per MGoBlue.com. At the NFL combine, Hutchinson confirmed his athleticism bona fides. He measured 6-foot-7, 260-pounds, ran a 4.47 40-yard dash, and leaped to a 36-inch vertical and a 9-foot, 9-inch broad jump.
He also posted the fastest 3-cone drill time at his position (6.73 seconds) and in the 20-yard shuttle (4.15 seconds).
Overall, Hutchison seems like a high floor, high ceiling prospect who would perfectly complement Josh Allen on the other side of the Jaguars' defensive line.
While Maurice Jones-Drew agrees that picking a defensive lineman to pair with Allen, who had 7.5 sacks in 2021, the former Jags RB doesn't believe that Hutchinson is the right choice.
Maurice Jones-Drew has Georgia's Travon Walker as Jacksonville's No. 1 overall pick 
Maurice Jones-Drew, who's been with NFL Media since 2015, is one of the few mock draft makers who have former Georgia Bulldog defensive end Travon Walker as the No. 1 overall pick in the 2022 NFL Draft.  
Walker is a 6-foot-5, 272-pound defensive lineman from Thomaston, Georgia. During his junior year last season, Walker posted 37 tackles, six for a loss, and had 7.0 sacks, per GerogiaDogs.com.
At the combine, he bested Aiden Hutchinson's 40 time (4.51 seconds) and broad jump (10-feet, 3-inches) but was behind the Michigan Wolverine with his vertical (35.5 inches), 3-cone (6.89 seconds), and 20-yard shuttle (4.23 seconds).
MJD explains why he likes Walker over Hutchinson (who he has going No. 2 to the Detroit Lions) in his write-ups of each player. Of Walker, Jones-Drew writes:
With general manager Trent Baalke working to sign Cam Robinson to a long-term deal, the Jags go defense with this pick. Walker is coming off a great combine performance that has the scouting community buzzing, according to my colleague Bucky Brooks. The Georgia product gives the Jags a major boost up front as a versatile defender capable of playing anywhere on the D-line.

Maurice-Jones Drew on Travon Walker
Of Hutchinson, Jones-Drew writes:
There's no disputing Hutchinson's talent, but what scares me is that he only produced big numbers in his final year at Michigan. Hutchinson can rush the QB and stop the run — two things Detroit struggled to do last season.

Maurice Jones-Drew on Aiden Hutchinson
Whether MJD is right about Walker vs. Hutchinson or not, there is one thing that all NFL watchers can agree on. This No. 1 pick for Jacksonville might be the most important selection in franchise history.
Why this No. 1 pick is so important to the Jacksonville Jaguars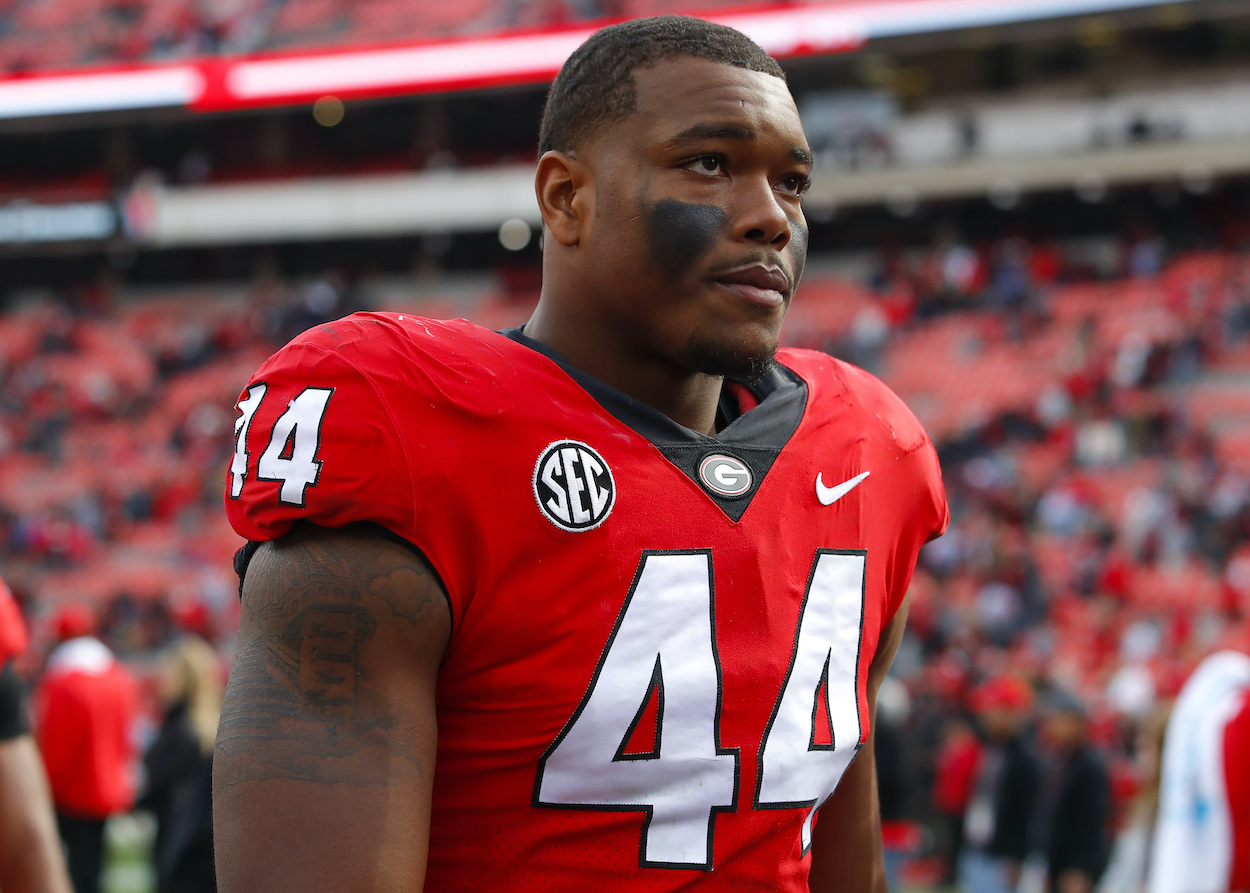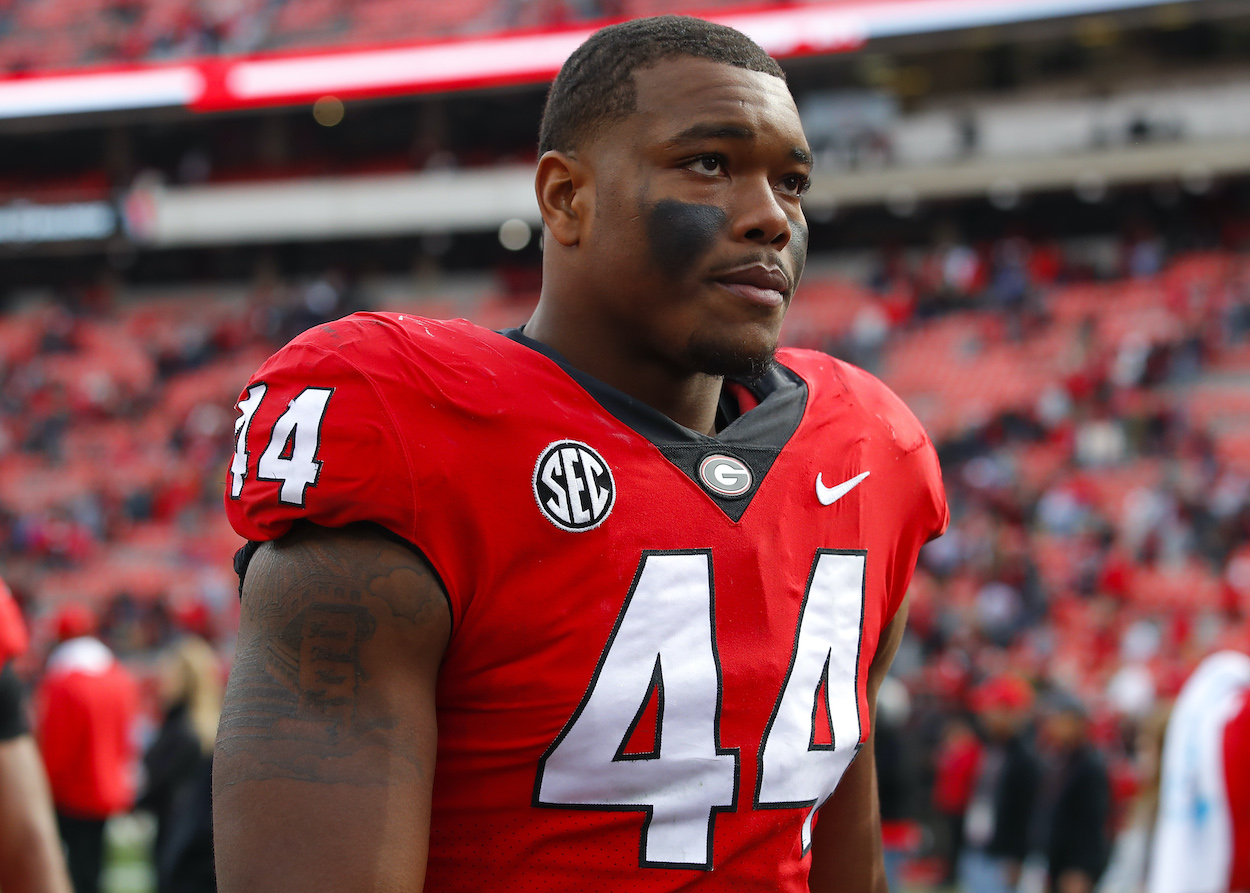 In 2020, the Jacksonville Jaguars successfully "Tanked for Trevor," finishing the season 1-15 and earning the right to take generational quarterback prospect Trevor Lawrence out of Clemson with the top pick of the 2021 NFL Draft.
After early-season struggles and possibly the most dysfunctional head coaching situation the NFL has seen in years, Lawrence righted the ship and showed flashes of the immense talent that made him an Andrew Luck, Peyton Manning, John Elway level prospect.  
Those Urban Meyer-induced struggles ended with the Jags getting another top draft selection.  
This offseason, Jacksonville is going all-in on turning the franchise around for Lawrence. The organization hired Super Bowl-winning coach Doug Pederson and spent almost a quarter-billion dollars on new players in the first 24-hours of free agency.
The Jaguars may already have done enough to make themselves a .500 team, or maybe even a playoff team. However, if they want to one day soon be a Super Bowl team, they need to hit with this second-consecutive No. 1 overall pick.
Whether it's Travon Walker or Aiden Hutchinson, a dominant pass-rusher to go with Josh Allen, Trevor Lawrence, and all the free agents the tea has brought in, could give the Jags a fearsome defense to go along with a promising young offense.
If that happens, a Lombardi Trophy in Duval County in the next few years isn't as wild as it might have seemed just a few years ago.
Like Sportscasting on Facebook. Follow us on Twitter @sportscasting19.