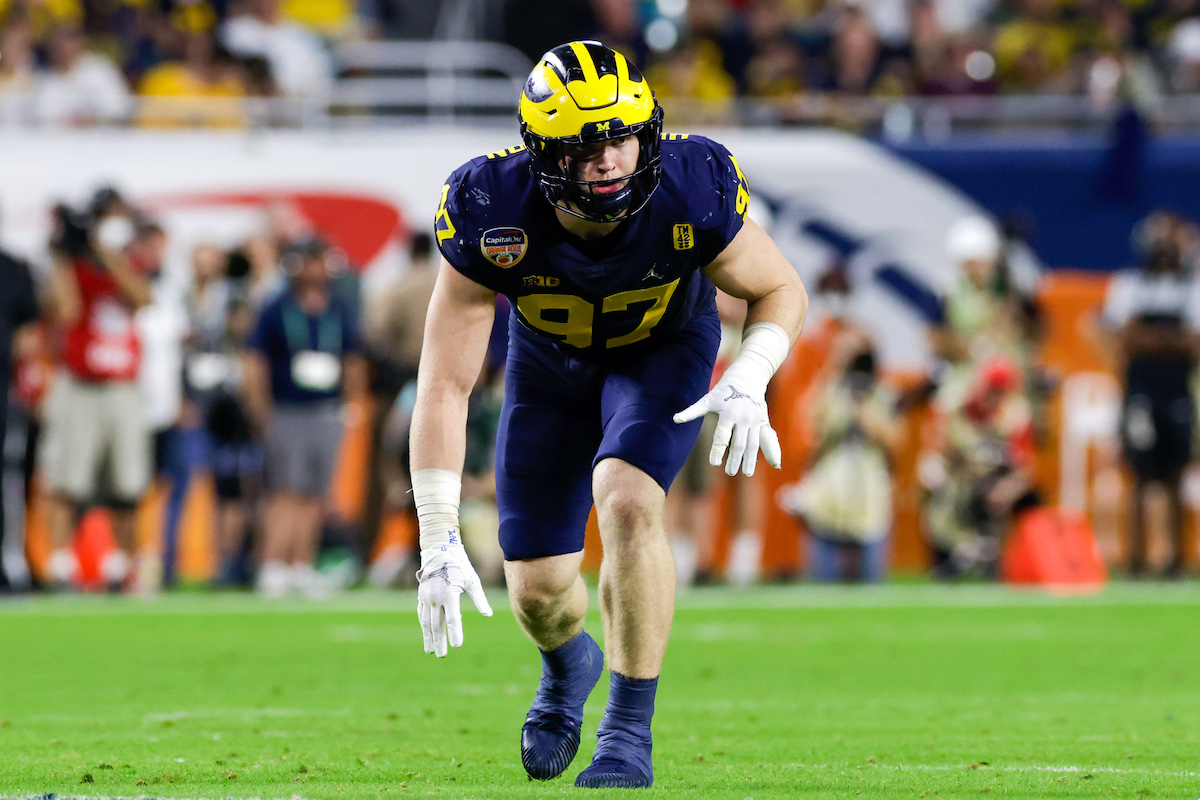 2022 NFL Draft: Jacksonville Jaguars Basically Locking Aidan Hutchinson in at No. 1 Overall
The Jacksonville Jaguars have made it quite clear, even without saying as much, that they have their eyes on a certain prospect from Michigan with the No. 1 overall pick.
The Jacksonville Jaguars are gonna Jacksonville Jaguars, and that's great news for prospective No. 1 overall pick Aidan Hutchinson in the 2022 NFL Draft.
As so often seems to be the case, the AFC South bottomfeeders entered the offseason with as much actionable cap space as just about any team in the league, and they weren't shy about spending it to fill in the many, many gaps that exist throughout a lackluster roster. Winning the offseason doesn't always translate into winning actual games, though, and therein lies the rub.
The Jaguars owned the No. 1 overall pick of the 2021 prospect pageant and parlayed that choice into franchise quarterback Trevor Lawrence, who needs to take significant strides forward under new head coach Doug Pederson after a lackluster rookie year. Now, they're kicking off the draft once again and leaving no doubt about whether they're locked in on a certain Michigan product.
Jaguars spending all the money in 2022 free agency
The Jaguars entered the offseason with $46.5 million in effective cap space, trailing only the Los Angeles Chargers ($48.9 million) and Miami Dolphins ($55.5 million), per Over the Cap. They've used it up rather quickly by pursuing some of the biggest names to ink new contracts during the first wave of free agency — a period notorious for the frequency with which second-tier players get paid more than their play justifies.
After handing offensive tackle Cam Robinson the franchise tag ($16.7 million), Jacksonville brought aboard $229.5 million's worth of contracts in the forms of wide receiver Christian Kirk, wide receiver Zay Jones, tight end Evan Engram, offensive guard Brandon Scherff, defensive tackle Foley Fatukasi, and linebacker Foye Oluokun.
They did release linebacker Myles Jack to free up a bit of extra money and still have more spending power, which could be allocated in any number of manners given the widespread holes that persist on the point-preventing end, but the moves have already provided quite a bit of clarity.
The number of sensible options previously obfuscated Jacksonville's intended direction at the top of the 2022 NFL Draft.
That's no longer true.
Aidan Hutchinson has become the obvious pick at No. 1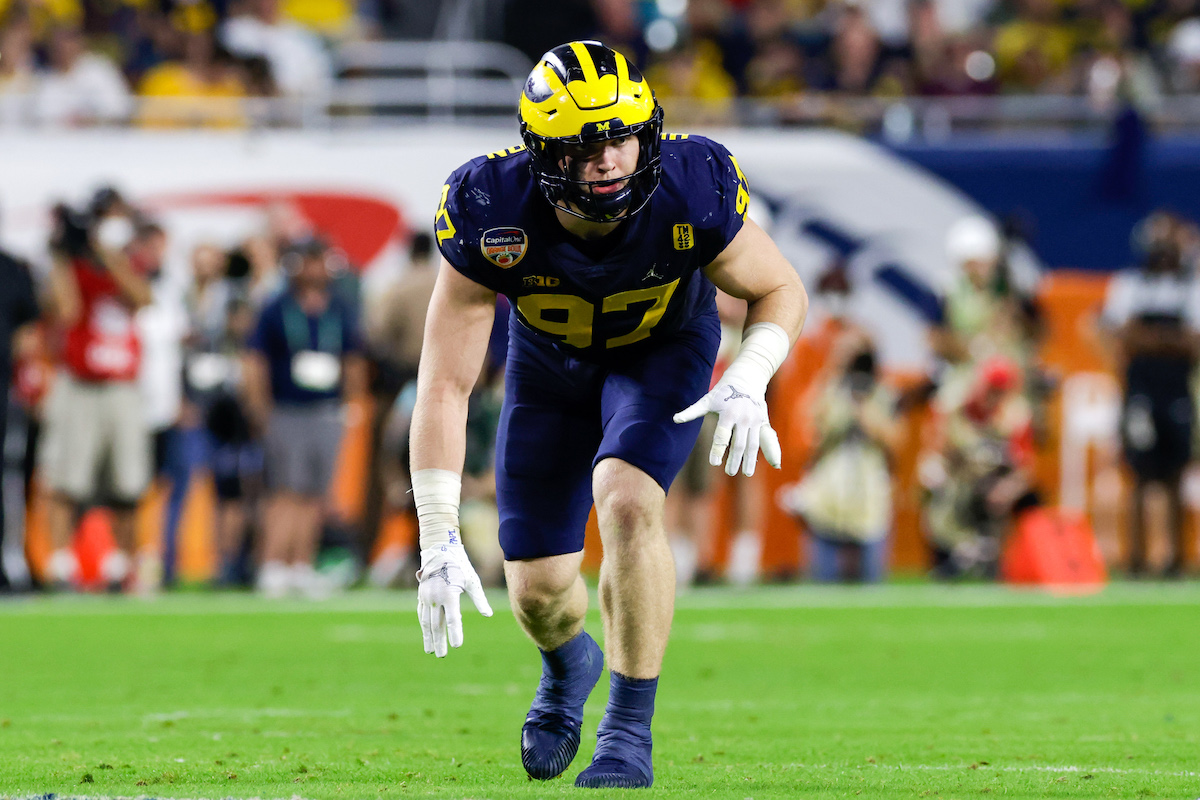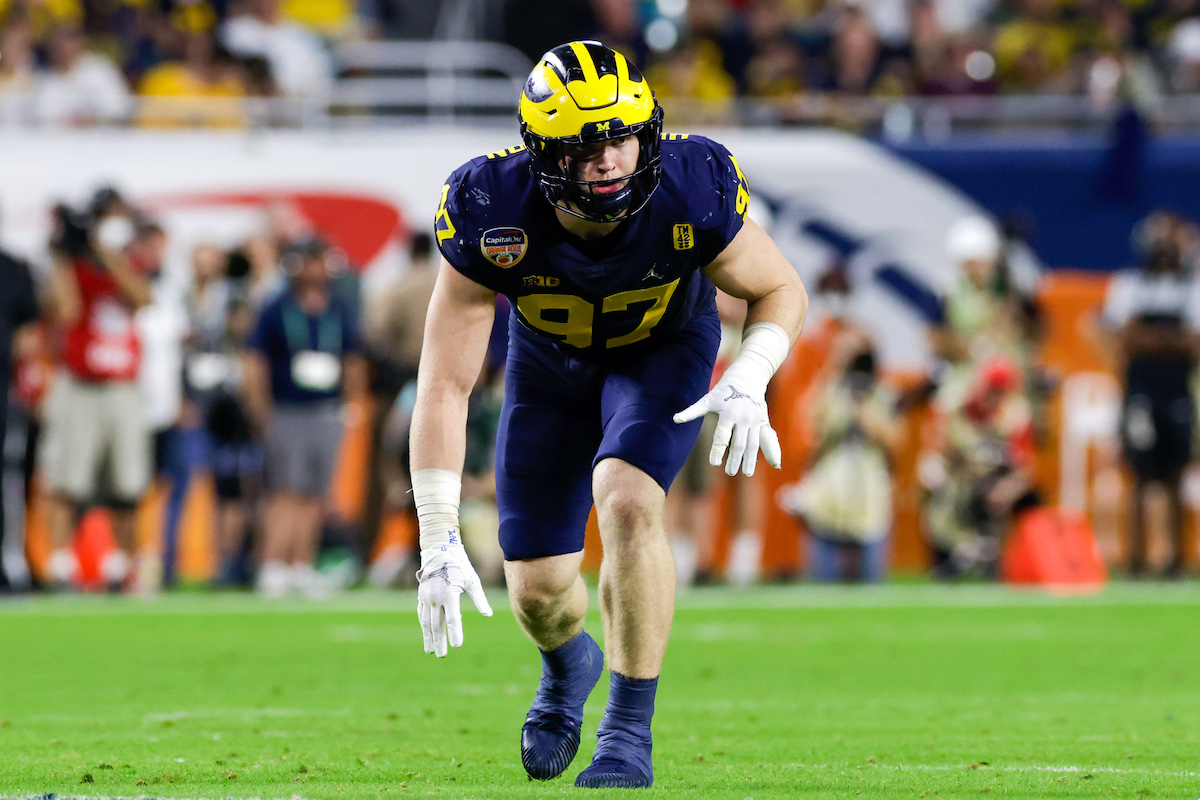 With Cam Robinson back in the fold and Brandon Scherff joining the fray, the Jaguars aren't going to use the top overall pick on either Alabama's Evan Neal or NC State's Ikem Ekwonu, both of whom play on the offensive line. They certainly aren't spending more resources on the quarterback room, which means the decision comes down to the leading edge-rushers (barring a trade down the pecking order, which would make sense for a team that could use as many top prospects as it can get).
Oregon's Kayvon Thibodeaux seems to be sliding down draft boards rather than gaining momentum, which makes Michigan's Aidan Hutchinson the obvious favorite to go No. 1 in the light of Jacksonville's free-agent decisions.
Hutchinson rocketed up the draft hierarchy during his senior season with the Wolverines, terrorizing opposing quarterbacks to the tune of 14 sacks, living in adversaries' backfields en route to 16.5 tackles for loss, and even parlaying his quick assessments of offensive schemes into positive plays in the flats.
With a quick first step (though maybe a bit of overreliance on trying to anticipate the snap), tremendous situational awareness, strong and quick hands against opposing tackles, and the power to bullrush players caught upright, he became one of the top prospects in this class despite entering his final year of collegiate eligibility with just 3.5 sacks to his name.
He's not quite as explosive bending around defenders as potential No. 1 overall edge-rushers usually are, but that speaks more to potential ceiling limitations than the unquestionably lofty floor.
Defensive end is perhaps the Jaguars' most glaring remaining need, and it's thus far gone unaddressed during the free-agency portion of the offseason. That will change as soon as NFL Commissioner Roger Goodell kicks off the draft proceedings.
What can the Jaguars expect in 2022?
Trevor Lawrence should develop substantially in Year 2 after struggling mightily as a rookie.
He checked in at No. 18 in my rankings of the league's best quarterbacks for the 2022 campaign (though really, read that as No. 19 since a then-retired Tom Brady wasn't prepared to enter uncharted territory at the time of publication), largely because of expected progression and the inevitable added talent around him.
He's also a good fit for new head coach Doug Pederson, who should help him operate within the comfort zone in which he thrived with the Clemson Tigers, making the occasional big plays down the field but sticking more to a simplistic system predicated upon easier reads along the line of scrimmage. Expect plenty of screen passes and RPO-style quick throws.
But Jaguars fans shouldn't get too far ahead of their skis.
Christian Kirk might be an exciting addition, especially because of his route-running acumen just a few yards downfield, but he's still a slot receiver who doesn't possess the yards-after-catch ability necessary to develop into one of the game's truly elite options.
Brandon Scherff has made the Pro Bowl in three consecutive seasons, but the overall offensive line still isn't much of a strength following a season in which it graded out as the league's No. 21 unit, per Pro Football Focus.
Evan Engram enjoyed more name recognition than actual production during five years with the New York Giants in which he topped out at 64 catches for 722 yards and six touchdowns as a rookie. Since that debut season, he's averaged 49.5 catches, 526.5 yards, and 2.5 scores per year.
Foyesade Oluokun led the NFL in tackles with the Atlanta Falcons last season, but his 6-foot-2, 215-pound frame prevented him from disengaging with blockers at the second level, especially against the run, and he struggled immensely in coverage. Despite the gaudy tackle figures, he earned a miserable 46.5 grade from PFF that was also driven down by his lack of pass-rush ability.
Those additions, plus the imminent arrival of Hutchinson and the rest of the rookie class, as well as a return to health from 2021 first-round pick Travis Etienne Jr., will certainly help the Jaguars improve substantially upon their 3-14 finish in 2021. An offseason spending spree and another top overall pick just aren't enough for immediate playoff contention, even if they help lay the groundwork for such a rise to prominence further down the road.
Lest we forget, the Jaguars weren't just bad last season so much as futile, at least before a shocking win over the Indianapolis Colts to close out their regular season and end the playoff dreams of their divisional rival. Per Football Outsider's defense-adjusted value over average (DVOA) metric, they checked in at No. 27 on offense, No. 31 on defense, and No. 31 on special teams, albeit with the excuse of the tumultuous — and mercifully brief — Urban Meyer tenure.
Despite the big spending spree and the addition of a marquee prospect, the goal this offseason shouldn't be skipping steps in the rebuilding process so much as establishing an infrastructure that can lead to subsequent growth and the cementation of a winning culture.
Progress, not perfection.