Ranking Top 32 NFL QBs for 2022
Joe Burrow? Justin Herbert? Patrick Mahomes? Aaron Rodgers? Josh Allen? Here's how the top 32 NFL quarterbacks stack up for the 2022 season.
Would you rather enter the 2022 NFL campaign with Patrick Mahomes, Josh Allen, or Joe Burrow under center? Where does Aaron Rodgers fit into the quarterback discussion as he comes off yet another MVP-winning season and prepares to enter his age-39 go-round (if he even chooses to play instead of hanging up the cleats)? What about Matthew Stafford on the heels of a Super Bowl title?
These are predicted quarterback rankings for the entirety of the 2022 NFL season, not snapshots of a moment in time. Otherwise, Rodgers would be a lock to hold down the No. 1 spot after a performance in 2021 that was as masterful as it was tumultuous, and many of the up-and-comers wouldn't rise so high. 
The rankings are based on past production, expected improvement or regression, and intangibles. They factor in situations — everything from coaching staffs to offensive lines to supporting casts — as best they can since plenty will change during the offseason. An element of subjectivity also has to enter the equation, and that's often the fun part since everyone values different things from the man under center.
At many points within the countdown from No. 32 to No. 1, we're just splitting hairs, so make sure to let us know where you disagree.
Nos. 32-28: Promise and struggles abound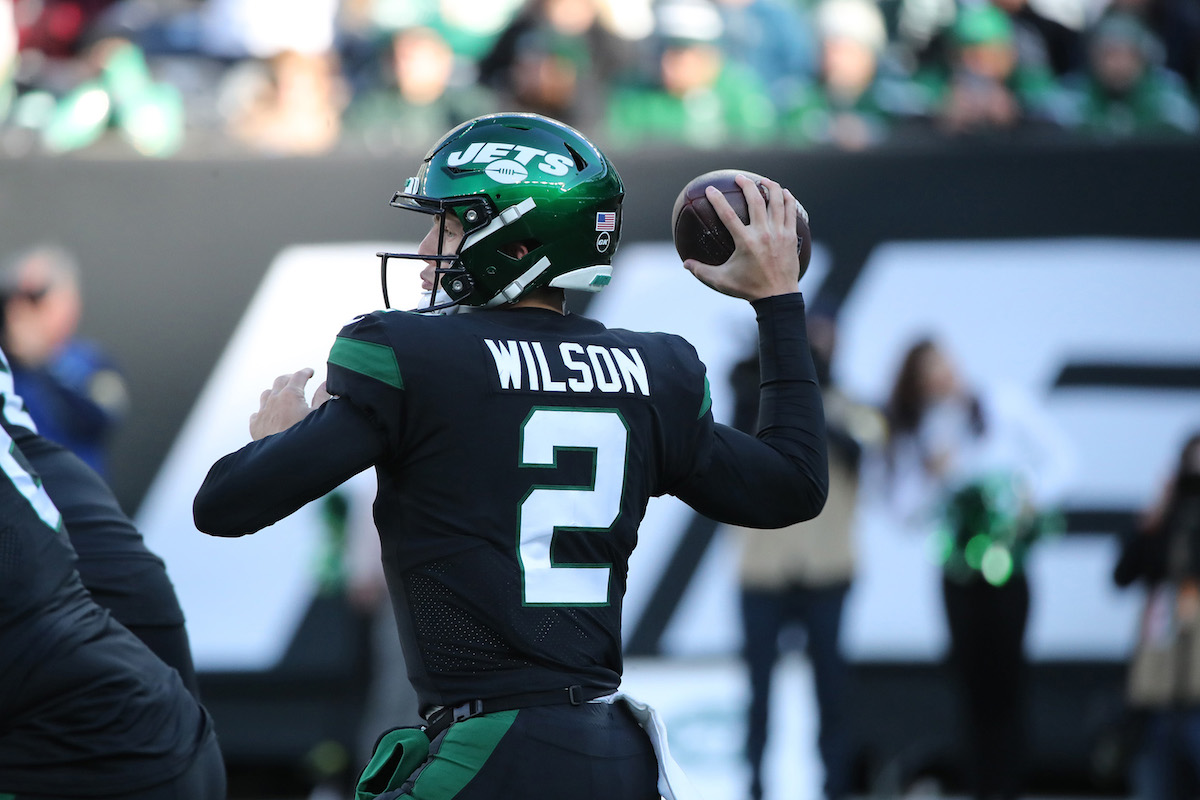 Also deserving of consideration: Teddy Bridgewater, Jacoby Brissett, Andy Dalton, Nick Foles, Taylor Heinicke, Taysom Hill, Tyler Huntley, Daniel Jones, Drew Lock, Davis Mills, Gardner Minshew, Kenny Pickett, and Desmond Ridder.
32. Sam Howell, 21, incoming rookie
Throwing an easy football at North Carolina that seemed to zip its way to short and intermediate targets, Sam Howell should be able to make a quick transition to the NFL level, especially after developing his pocket presence and learning when to use his legs as a scrambler.
He should also benefit from playing behind something better than the Tar Heels' patchwork offensive line, but he'll still need to get better at going through his progressions instead of staring down a primary target. 
31. Jordan Love, 23, Green Bay Packers
The Packers aren't exactly projecting confidence in Jordan Love as they head toward another will-he-or-won't-he saga with Aaron Rodgers.
He didn't impress during his few opportunities in the lineup during the 2021 season, but he submitted a handful of plays that showed off his arm talent and overall promise. He might not be ready to be "the guy," but he should only benefit from another year learning the ropes as Green Bay either moves him or slow-plays his development. 
30. Matt Corral, 23, incoming rookie
Ole Miss' scheme will both help and hurt Matt Corral as he progresses to the NFL.
On one hand, it made his life easier as he was able to work through simpler progressions and run-pass options that let him show off his quick release, arm strength, and athleticism on designed runs. On the other hand, he'll have a lot to learn as he looks to read professional defenses and not get baited into developing tunnel vision on his primary and secondary options. 
29. Zach Wilson, 22, New York Jets
Between struggling in the face of pressure, tossing more interceptions than touchdowns, and routinely submitting handfuls of turnover-worthy plays against even the NFL's weaker pass defenses, Zach Wilson didn't offer the Jets too much reason for optimism as a rookie.
But he doesn't turn 23 until August and has jaw-dropping arm strength when he's given time to target deep-developing routes, which keeps hope alive even if he has yet to complete more than 64% of his passes in a single game.
28. Malik Willis, 22, incoming rookie
Sure, Malik Willis is a project. He needs to prepare for the difficult jump to the NFL by becoming more comfortable awaiting the development of plays rather than tucking and running at the first sign of pressure. He rarely threw players open at Liberty, instead waiting for them to generate open space on their own, and that's a strategy that doesn't work against professional secondaries.
However, his arm strength and mobility should translate immediately, and we've seen plenty of dual-threat options make quicker-than-expected impacts in an NFL setting increasingly designed to favor them.
Nos. 27-26: Uninspiring veterans with enduring potential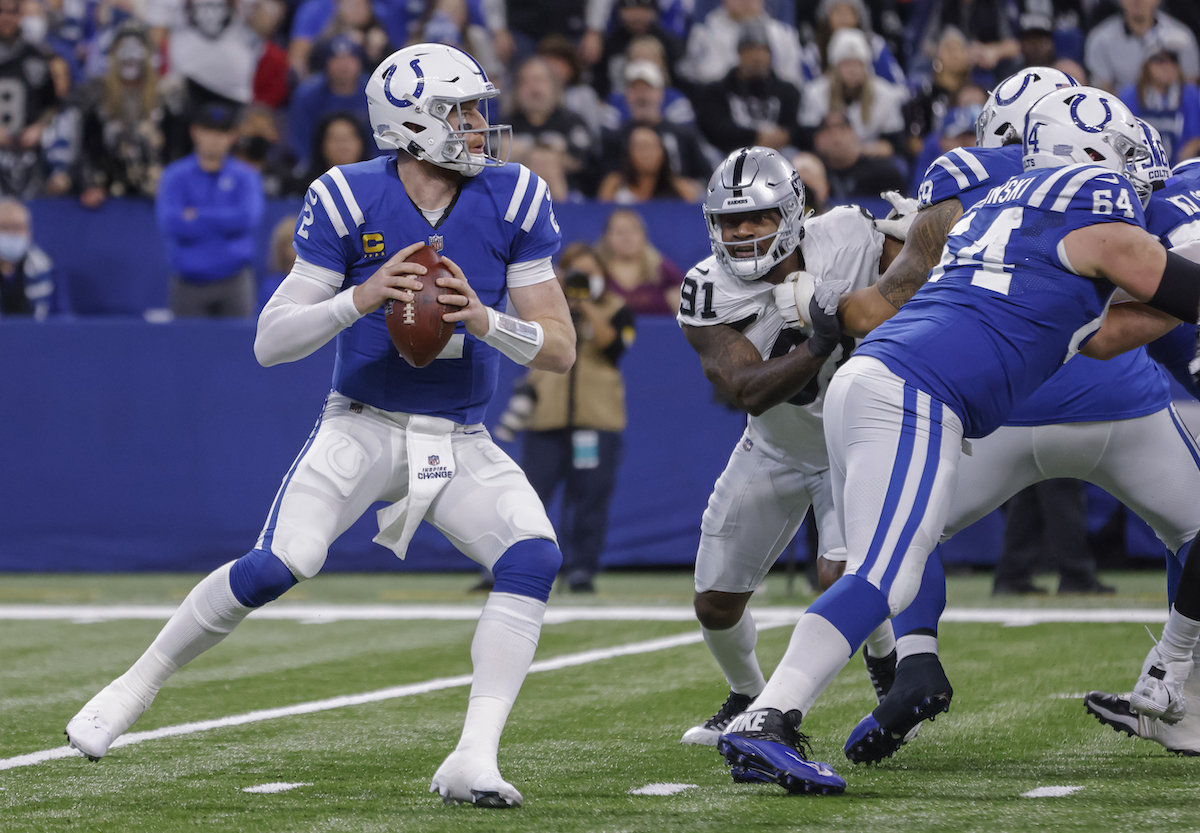 27. Carson Wentz, 29, Indianapolis Colts
A Week 18 loss to the Jacksonville Jaguars that knocked the Colts out of the playoff picture — and really the entirety of the team's second half of the 2021 campaign — completely altered the perception of what first seemed to be a resurgent Carson Wentz. For the first half of the year, he was more than adequate, averaging 244.2 passing yards per game with 17 touchdowns and just three interceptions through nine appearances.
But the stats also mask his year-long inconsistencies and inaccuracy working beyond the line of scrimmage, and that's why Indianapolis has seemed so hesitant to commit its future to the once-promising Philadelphia Eagles prospect.
26. Jared Goff, 27, Detroit Lions
Even if the Detroit Lions improve the weapons at their disposal enough that Amon-Ra St. Brown, Kalif Raymond, Josh Reynolds, and KhaDarel Hodge are no longer the most-targeted wide receivers, Jared Goff's ceiling feels somewhat capped.
He can do enough to put up respectable counting stats, especially during Year 2 in Detroit and with an above-average offensive line, but he's not likely to go out and win games with his arm so much as put others in positions to succeed.
Nos. 25-18: Something to prove (and Ryan Fitzpatrick)
25. Justin Fields, 22, Chicago Bears
Even when accounting for the struggles he experienced throughout his rookie season, getting excited about Justin Fields is easier when you remember that he won't be operating under the supervision of Matt Nagy.
Head coach Matt Eberflus and offensive coordinator Luke Getsy should be far better at getting the most out of the promising sophomore who still possesses the dual-threat ability and deep-passing acumen to experience a breakout at any point in time. Patience is still key here, but the flashes of greatness should come quicker and with less time between.
24. Ryan Fitzpatrick, 39, free agent
Though Ryan Fitzpatrick could feasibly hang up his cleats for good this offseason, he's too talented to leave out of the rankings entirely if he chooses to sign with either the Washington Commanders or a different organization for his age-40 campaign. The veteran isn't going to light up the scoreboard anytime soon, especially following a hip injury just six passes into 2021, but pairing him with a solid run game and a high-quality defense usually results in precious few mistakes and a decent number of wins.
23. Jalen Hurts, 23, Philadelphia Eagles
The Philadelphia Eagles shouldn't be sold on Jalen Hurts as their franchise quarterback, but they don't have to be.
He's perfectly fine as an effective stopgap option until the true signal-caller of the future arrives. The 23-year-old is tremendous at making the most of plays with his feet, both in designed sets and when improvising as a scrambler. He just can't throw the ball with consistency even if his presence in the pocket is gradually improving. High as the ceiling might be, Hurts reaches it erratically, and the lofty floor, propped up by his legs, is his true selling point.
22. Jameis Winston, 28, free agent
Though a torn ACL cut Jameis Winston's time with the New Orleans Saints short, he still left a positive impression.
The Florida State product began his 2021 season with a five-touchdown masterpiece against the Green Bay Packers and had recorded 13 scores and just three turnovers with his arm through his first six appearances. He didn't take the same risks he had earlier in his career while operating in a more conservative scheme, and that may have masked some of the poor decision-making that plagued him during his first five professional campaigns.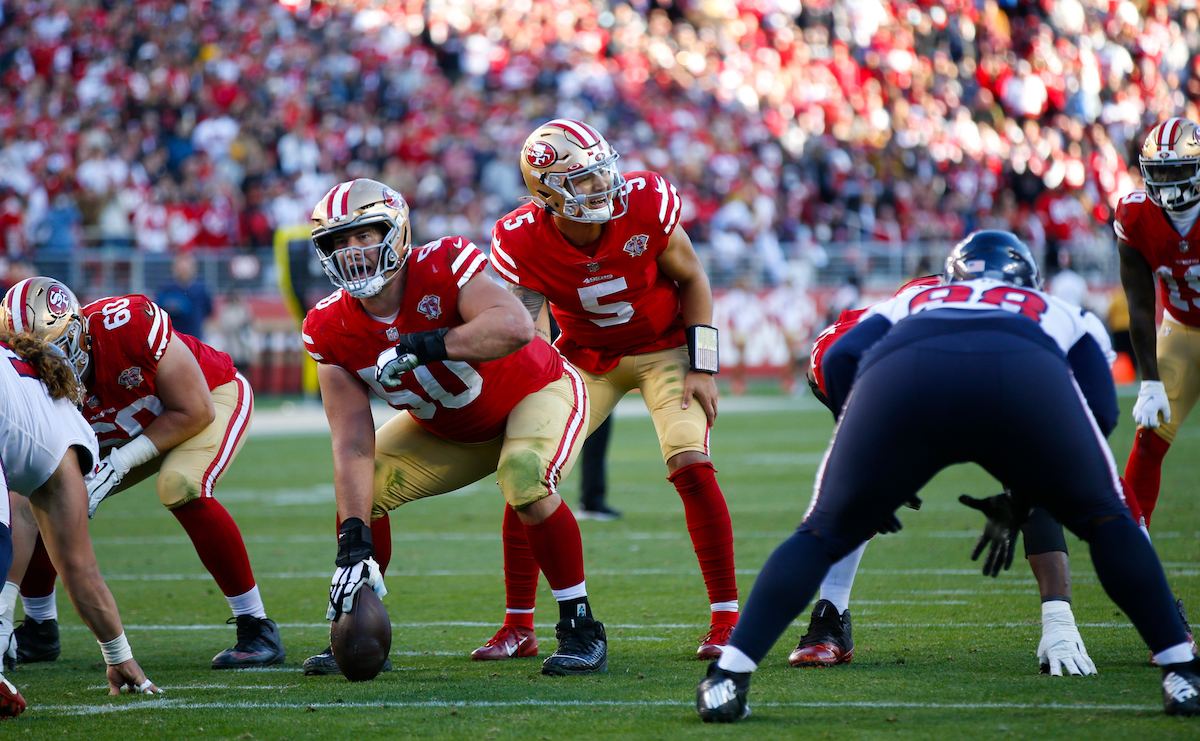 21. Trey Lance, 21, San Francisco 49ers
There's clearly something there, and a second season operating under Kyle Shanahan should help the "what" become more readily apparent.
Partially because of the inconsistency with which he received opportunities, Trey Lance failed to put up big numbers as a rookie, notching just five touchdowns and two interceptions while totaling 603 passing yards in six appearances. But if he can make even the smallest positive tweaks to his elongated windup and nervous feet in the pocket, all the potential in the world could bubble up expeditiously.
20. Baker Mayfield, 26, Cleveland Browns
At this point, betting on game-to-game consistency from Baker Mayfield is foolish. He could look like he's deserving of the "No. 1 overall pick" tag one game and then fail to lead the Browns on a single touchdown drive the next, and no one should bat an eye.
But lest we forget, Mayfield averaged 245.7 passing yards, completed 67.1% of his passes, and only tossed three interceptions in six games before he suffered the shoulder injury that hindered him for the rest of the campaign. Judging him solely on the second of the season doesn't account for just how much he looked like a physical shell of himself by the season's end.
19. Tua Tagovailoa, 23, Miami Dolphins
"Miami's offensive line surrendered a league-leading 235 pressures this season and recorded the worst pass-blocking efficiency score in the NFL. The unit did this despite being well protected by a quarterback getting rid of the ball quickly and by the team running the third-most RPOs in the league," Sam Monson wrote for Pro Football Focus while ranking Miami's offensive line as the worst in the league.
That has to be part of the analysis for Tua Tagovailoa, who dealt with constant rumors about external quarterbacks, injuries to his supporting cast, and a horrific offensive line and still looked the part of a long-term starter before slowing down at the end of the year. He might not be a superstar, but his remarkable accuracy when in rhythm plays in any system.
18. Trevor Lawrence, 22, Jacksonville Jaguars
The Jaguars effectively had almost nothing of note around Trevor Lawrence, and the tumultuous — and mercifully brief — Urban Meyer tenure didn't exactly aid his development.
He was among the NFL's least valuable quarterbacks during his rookie season, but the raw tools that made him the obvious No. 1 pick in 2021 didn't suddenly erode. With even a bit more stability and talent propping him up during his sophomore year, Lawrence should be able to turn the occasional special plays into the occasional special games. He might even do more than that if he and new head coach Doug Pederson gel from the get-go.
Nos. 17-12: Will win games with help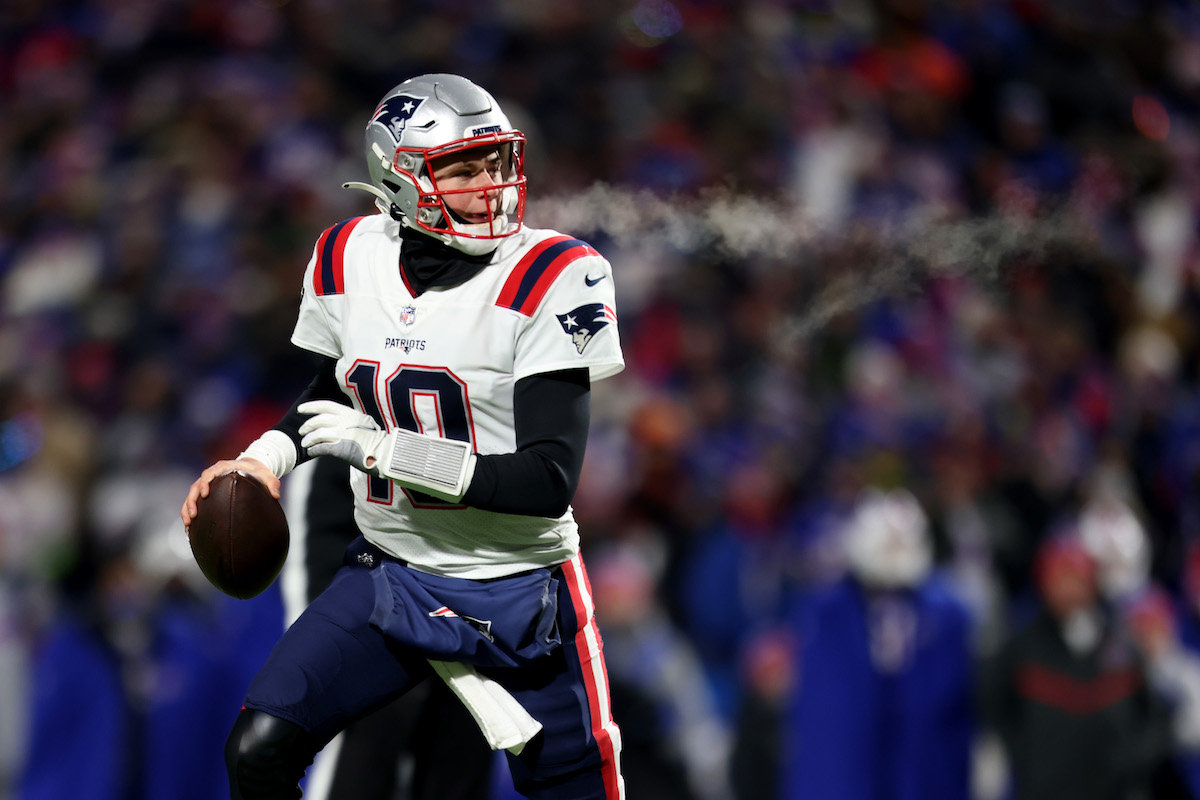 17. Mac Jones, 23, New England Patriots
Evaluating Mac Jones' rookie season is a difficult task because the New England Patriots were set up to win with virtually any game-managing quarterback who could make throws to short and intermediate routes, hand the ball off, and trust a playmaking defense to stifle the opposition.
Jones thrived within that role, looked like he had some "it factor" qualities at times, and occasionally showed ahead-of-his-years development when running an uptempo, hurry-up offense. But were the restrictions imposed because of the roster around him or his own limitations?
16. Jimmy Garoppolo, 30, San Francisco 49ers
Don't judge Jimmy Garoppolo solely off what he did in a playoff loss to the Los Angeles Rams that ended with him running for his life and desperately tossing the ball into the awaiting arms of Travin Howard. That was the culmination of some big-moment struggles and a playoff run to the NFC Championship Game that featured San Francisco winning in spite of him, but it wasn't indicative of the player he's been otherwise.
Though Jimmy G isn't suddenly going to develop into an MVP threat at this stage of his career, it's no fluke he has 37 wins in 53 games as a starter.
15. Matt Ryan, 36, Atlanta Falcons
Matt Ryan should be a Hall of Famer one day, though the argument got a lot tougher when his Atlanta Falcons — note that we didn't say "he" — blew a 28-3 lead to the New England Patriots in Super Bowl 51. Still, his incredible raw production and monstrous 2016 campaign should be enough to merit a gold-jacket sizing.
That doesn't save him from the unfortunate truth: Ryan's arm is no longer big enough to push the ball downfield, and his average depth of target has already fallen from 8.6 in 2018 to just 7.1 in 2021. Only Tua Tagovailoa (offensive line woes), Ben Roethlisberger (totally washed), and Jared Goff (Jared Goffing) were worse among qualified passers last year.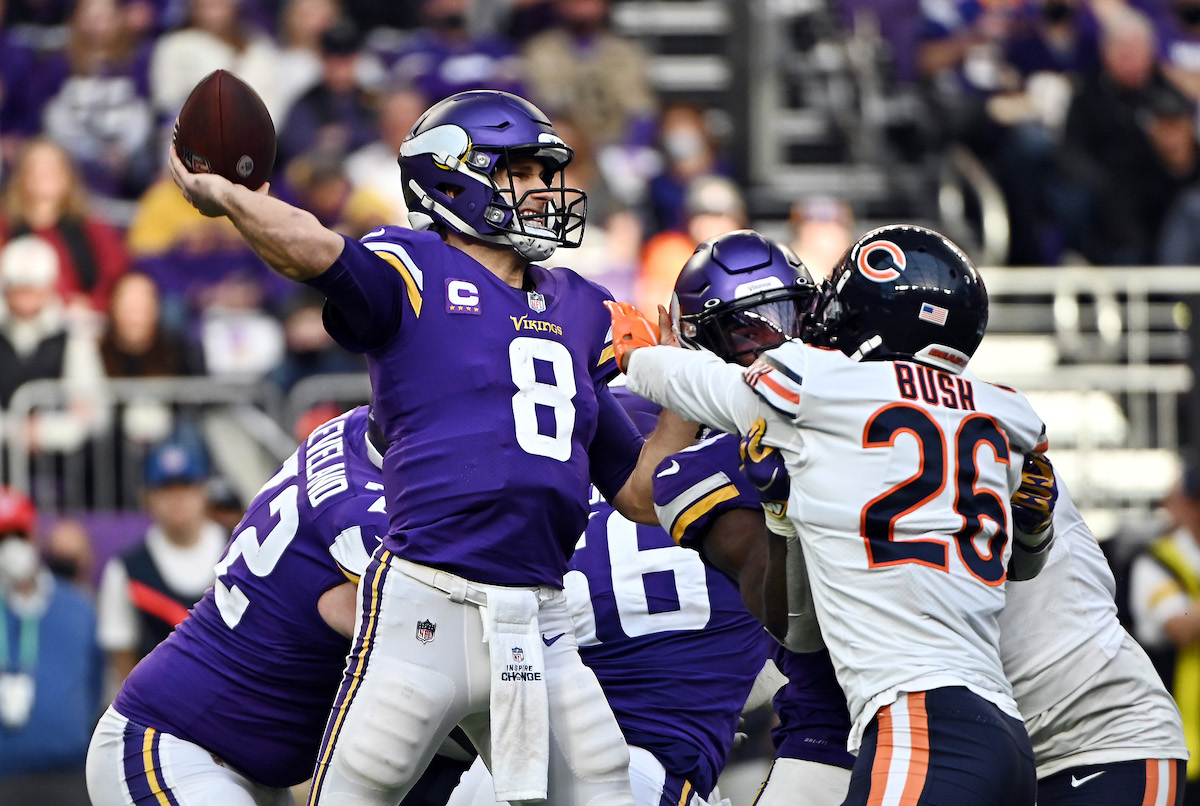 14. Kirk Cousins, 33, Minnesota Vikings
Kirk Cousins is a far more productive quarterback than his reputation, driven down by his struggles under the biggest spotlights and during the most meaningful games, might suggest. He's also not as effective as the raw numbers would indicate since he plays with a talented supporting cast, benefits when operating within his comfort zone, and racks up some stats in meaningless situations.
As is usually the case, the truth lies somewhere in the middle. The Vikings, likely dismayed by his failures to come through when the pressure is on his right arm, have to decide if that's still enough for them.
13. Ryan Tannehill, 33, Tennessee Titans
Though the lingering memory of Ryan Tannehill's 2021 campaign is a three-interception mistake-fest against the Cincinnati Bengals in the postseason opener, that shouldn't define the 33-year-old. Nor should the 2021 season in general since he was operating under a new offensive coordinator in Todd Downing who struggled as a play-caller, with a set of turnstiles protecting him when he dropped back, and with an injury-depleted skill-position group.
Tannehill's mobility makes things easier for him, but so too does his downfield accuracy and willingness to hang in against heavy pressure, waiting until the last possible moment to uncork an unencumbered throw.
12. Derek Carr, 30, Las Vegas Raiders
Derek Carr keeps improving, but how confident are you that the trend will continue during his age-31 campaign in what's likely to be a new offensive system?
The veteran tends to avoid mistakes, but he's coupled that turnover-worthy-play avoidance with increased aggression in recent years, upping his intended air yards per passing attempt from 6.8 in 2018 and 6.6 in 2019 to 8.1 in each of the last two seasons. A reasonably sized gap exists between him and everyone beneath him in these rankings, but signature moments are too few and far between to elevate him into the next tier.
Nos. 11-6: Can look like MVPs on any given Sunday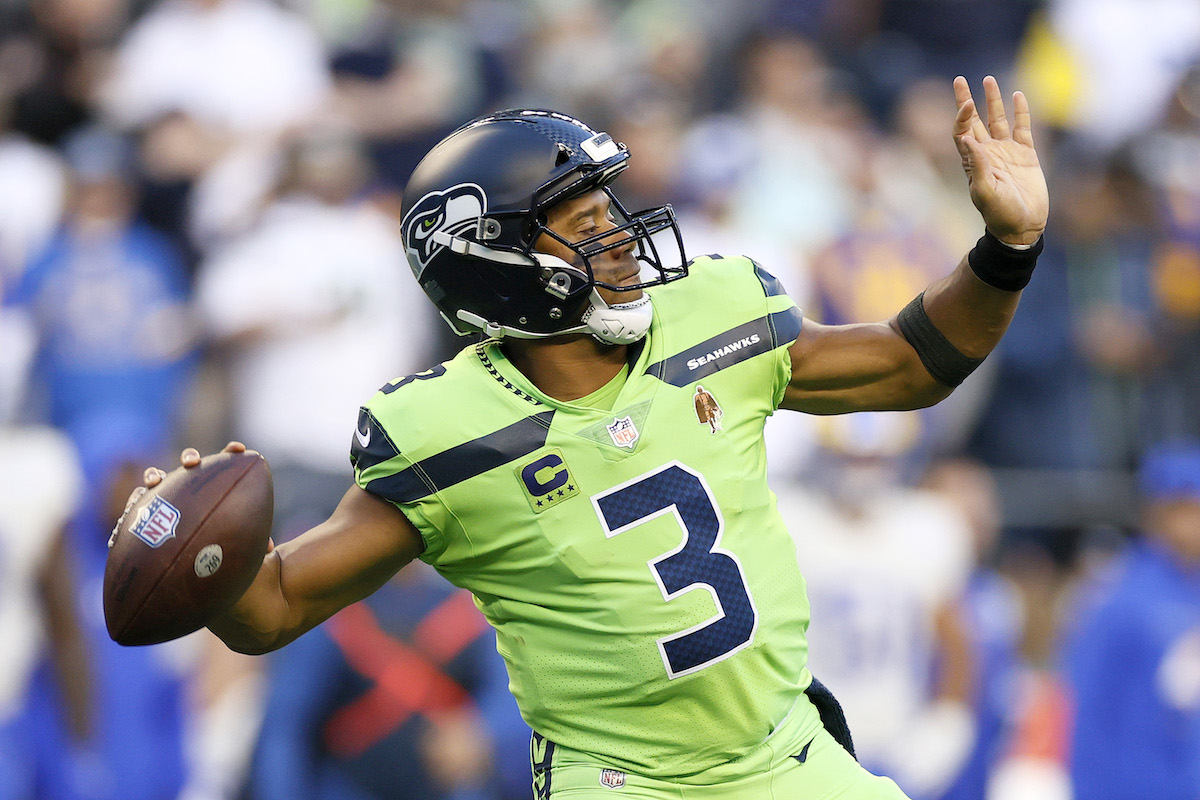 11. Russell Wilson, 33, Seattle Seahawks
At the beginning of the 2020 campaign, Russell Wilson looked like he was finally going to receive an abundance of MVP votes. Then came the second half of the year and a quick (and relative) fall from grace. The inconsistency continued in 2021. Between his injured finger and banged-up ankles, Wilson wasn't able to stay healthy all year, and that clearly affected his performance in the middle of the NFL calendar.
But he still throws as beautiful a deep ball as anyone, avoids pressure masterfully (even if he takes off with his legs less frequently), and peppers defenses with enough on-target passes that MVP-level Wilson shows up frequently enough to maintain his lofty reputation.
10. Kyler Murray, 24, Arizona Cardinals
Sure, Kyler Murray scrubbed his social media and, at least briefly, appeared disenchanted with the Arizona Cardinals. His final performance of the 2021 season, which came in a 34-11 playoff loss to the Los Angeles Rams, was as ugly as it gets.
Murray, though, began the campaign on an absolute tear, looking fully developed as a passer and decision-maker before Arizona's overreliance on his heroics and an ankle injury forced him into a premature decline. With his evasiveness and cannon of an arm, he looks like a superhero when everything clicks. That just doesn't happen frequently enough for him to challenge for the top-five spot he looked close to earning in October.
9. Matthew Stafford, 34, Los Angeles Rams
It might seem strange to have Matthew Stafford just making the top 10 while he's fresh off a Super Bowl victory, but this isn't a retroactive ranking. It's forward-looking.
A slight lack of consistency and propensity for risk-taking that leads to a few too many turnover-worthy plays (most of which went in the Los Angeles Rams' favor throughout 2021), coupled with expected progress from the many young guns taking over the NFL, makes him appear a bit earlier than expected.
This is not meant as an insult, to be clear. Stafford is an elite option and potentially on a Hall of Fame trajectory even if it's hard to believe that everything will continue to go his way.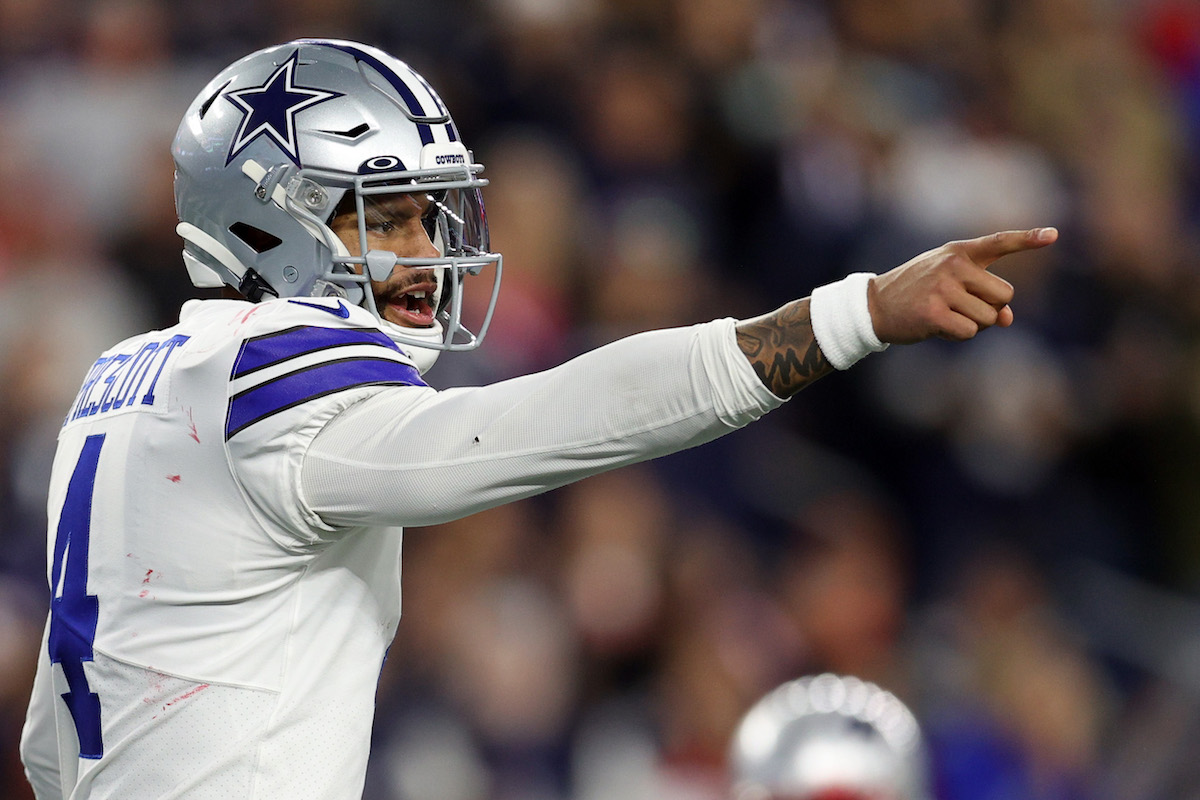 8. Dak Prescott, 28, Dallas Cowboys
When Dak Prescott has a clean bill of health and is able to sling the football around with confidence, he can put up astronomical numbers. Through the first six games of 2021, he was averaging 302.2 passing yards per contest and had registered 16 touchdowns, four interceptions, and a 115.0 quarterback rating while completing 73.2% of his passes.
Indecision, however, entered the equation too frequently during a disappointing second half and lackluster playoff showing. That may have been the final impression, but don't forget about what Prescott can do when he's firing on all cylinders.
7. Lamar Jackson, 25, Baltimore Ravens
Has the NFL figured out Lamar Jackson since he won MVP in 2019? Not exactly, though the lack of development as a passer has been at least somewhat troubling and prevents him from rising into the top tier of signal-callers.
Even during a relatively disappointing 2021 (aside from a red-hot start to the year), the dual-threat option was an effective, efficient runner whose dynamic style of play made life easier on everyone around him and earned a vote of confidence from the one and only Tom Brady.
Avoiding injury and showing more composure when greeted with a blitz would go a long way in turning back the clock, and the 25-year-old still has room for significant mechanical strides that would create more consistency with his arm.
6. Deshaun Watson, 26, Houston Texans
Deshaun Watson's off-field proceedings are all that should really matter here. The quarterback still faces 22 civil lawsuits concerning allegations of sexual misconduct, and that's far more important than anything that takes place during a football game.
But if we focus purely on his skill as a quarterback — which, again, is not meant to diminish the significance of the legal proceedings — it becomes crystal clear that even after missing the entirety of the 2021 campaign, he remains an elite option. Where will he play? No one knows since his trade request is still pending. Will he play? Again, no one knows.
Regardless of the location, though, he's one of the NFL's best at slinging the pigskin.
Nos. 5-1: True MVP candidates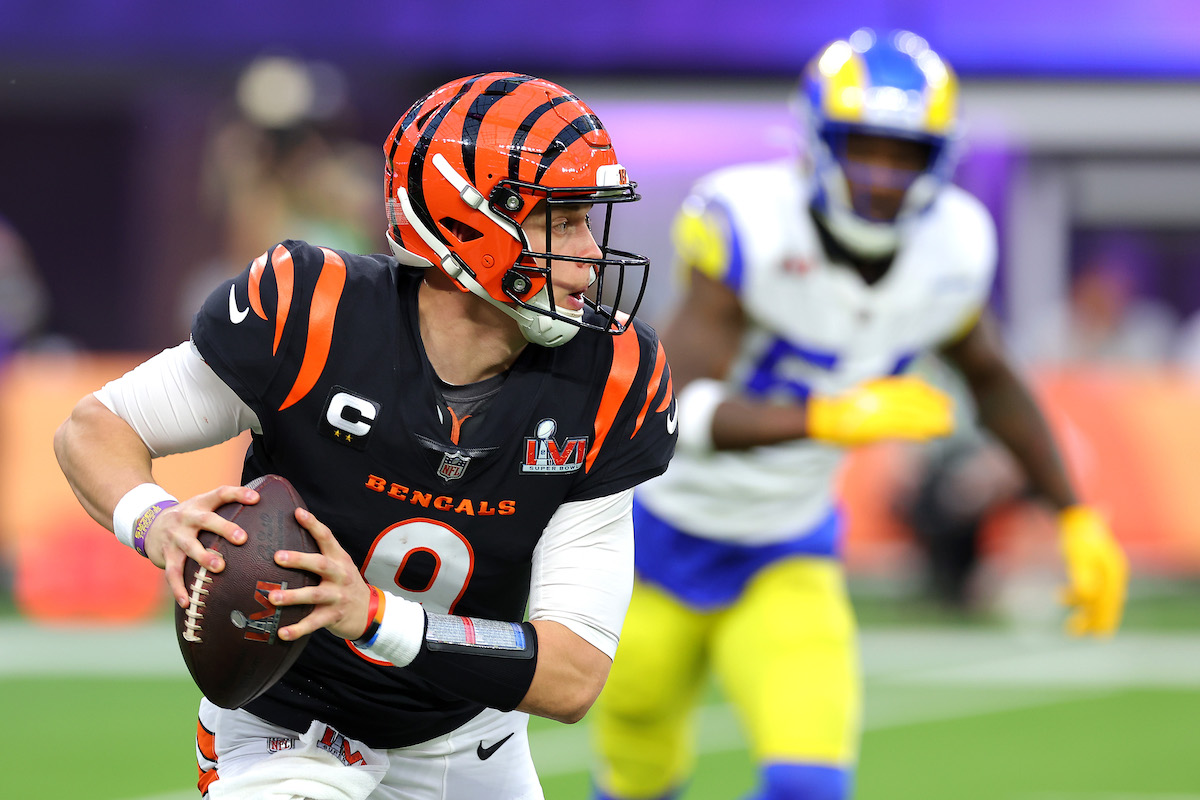 5. Joe Burrow, 25, Cincinnati Bengals
The putrid Cincinnati Bengals offensive line makes a true evaluation of Joe Burrow nearly impossible, and that became increasingly clear during an against-the-odds playoff run that ended with a Super Bowl loss to the Los Angeles Rams.
But it's already obvious that the LSU product diagnoses defenses with incredible speed, routinely making seemingly easy throws that only look simple because he processed the defensive scheme and progressed through his reads in the blink of an eye. His arm strength still can't match the top cannons in the NFL, but it's improved, as well.
4. Aaron Rodgers, 38, Green Bay Packers
Will he play at all? If he does, will he suit up for the Green Bay Packers? If he does return to Lambeau Field, will he do so with a diminished supporting cast? Can the front office somehow find a way to bring back both him and Davante Adams?
Even if Green Bay is basically running it back, can he stave off Father Time for one more year?
Inevitable drama from Aaron Rodgers aside, little doubt exists that he's one of the best in the business, especially coming off his fourth MVP. Just allow for a bit more skepticism than usual entering his age-39 season as Warren Moon is the only one of the eight Pro Bowl quarterbacks at 38 who avoided a drop-off the next go-round. The injury history is obviously quite different, but that's the exact point at which Peyton Manning fell off the proverbial cliff.
3. Justin Herbert, 23, Los Angeles Chargers
Justin Herbert can flat-out throw the football. His delivery looks effortless even when he's gunning it into a tight window or lofting it 60 yards down the field right into the outstretched arms of his intended target. Though he's still developing as a vocal leader and can occasionally get fooled by disguised coverage, his arm talent is objectively quantified as "unreal," and he improved in just about every way as a sophomore.
If you want to view him as more of a "2b" or "1c," go right ahead since it's really about splitting hairs at this stage of the rankings.
2. Josh Allen, 25, Buffalo Bills
Though Josh Allen's season ended sourly with an overtime loss to the Kansas City Chiefs in which he didn't get to touch the ball after the fourth quarter, he still played perfect football during two postseason appearances. Against the Chiefs and New England Patriots, both of whom had high-quality pass defenses, he recorded 637 passing yards, nine touchdowns, and zero interceptions while completing 77.4% of his attempts and rushing for 134 yards.
Now that he's paired drastically improved accuracy with his bazooka arm and physical running style, he might be pretty darn close to unstoppable.
1. Patrick Mahomes, 26, Kansas City Chiefs
Great quarterbacks make adjustments, and Patrick Mahomes is a great quarterback.
With defenses essentially refusing to blitz him and playing more shell coverage than anything else, he had to force himself to shutter his aggressive instincts and accept what was given to him, which he began doing with aplomb during the second half of the 2021 campaign. When that happens with even more consistency, especially given the deadly weapons at the Kansas City Chiefs' disposal, defenses will inevitably break those tendencies and open more of the late-developing routes on which he's uniquely primed to capitalize.
The physical traits have never been in question, and the mental ones are starting to catch up. That combination should put a definitive end to any diminished production.
All stats, unless otherwise indicated, courtesy of Pro Football Reference.