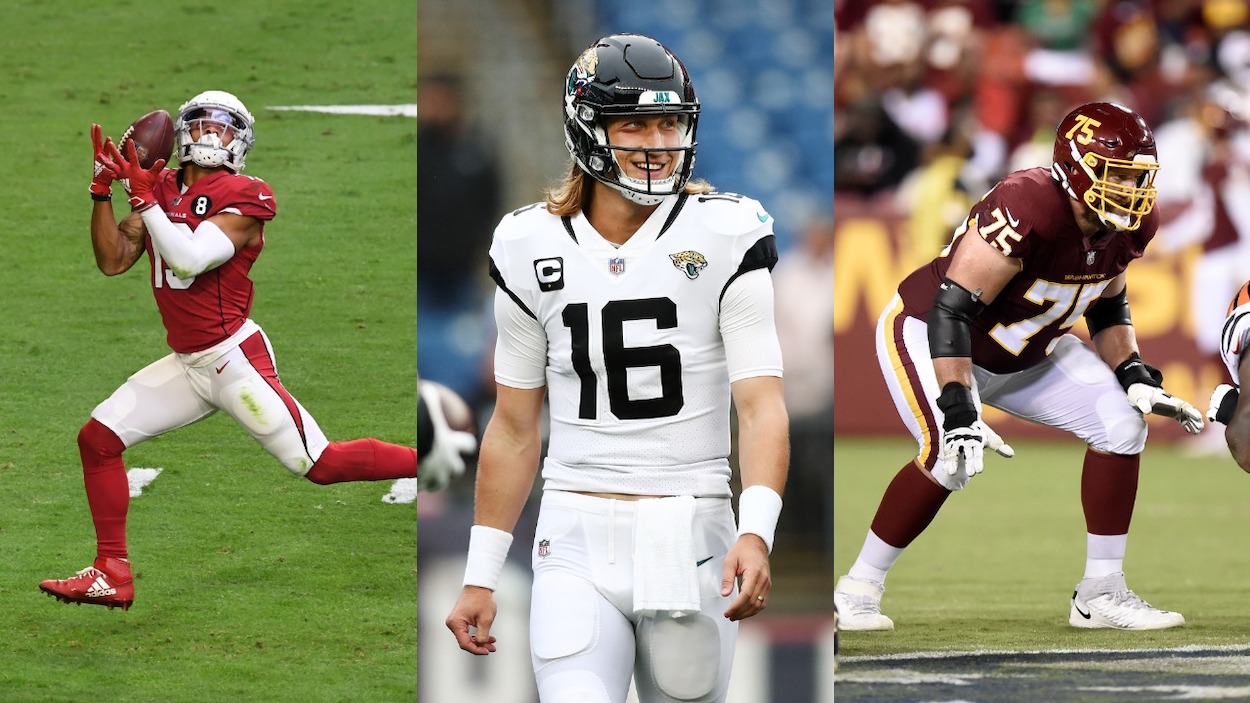 The Jacksonville Jaguars Spent Almost a Quarter-Billion Dollars in 1 Day to Help Trevor Lawrence
The Jacksonville Jaguars had a monster spending spree on day 1 of NFL free agency to help support QB Trevor Lawrence.
There's always that one person in a fantasy football auction who blows all their money in the first 10 minutes of the draft. If that person were an NFL team, they'd be the Jacksonville Jaguars. On the first day of the 2022 offseason free agency period, the Jags spent almost a quarter-billion dollars on signing free agents and also locked up their own players in a bid to support their 2021 No. 1 overall pick, quarterback Trevor Lawrence.
It was a bold move by the Jaguars, a franchise that's been to the playoffs just three times this century. Here's the thing, though, about the person who blows their budget right away in the fantasy draft or the team that makes a bold move in the offseason: Sometimes it works out, and they win.
The Jacksonville Jaguars went wild on the first day of free agency with a focus on supporting Trevor Lawrence
The Jacksonville Jaguars' $229.5 million spending spree on the first day of free agency wasn't just wildly throwing around money. The team had a cohesive, targeted plan on what they wanted to do in order to get better and take the next step as a team.
The plan was to support their 22-year-old quarterback in every way possible.
Jacksonville gave out two big defensive contracts to former Atlanta Falcons LB Foye Oluokun (three years, $45M) and former New York Jets DT Foley Fatukasi (three years, $30M). Outside of that, it was all about Lawrence.
Linemen and pass-catchers were the order of the day for the Jaguars as the organization spent $154.5 million on that side of the ball.
The now-Washington Commanders took Brandon Scherff (three years, $49.5M) as a tackle out of Iowa No. 5 overall in the 2015 draft. He didn't become the OL anchor the team hoped, but sliding inside, he did become one of the best guards in the league. In seven seasons, Scherff has made five Pro Bowls and an All-Pro team.
Flanking the new-look offensive line will be three new weapons for Lawrence to employ. The Jaguars signed former New York Giants TE Evan Engram (one year, $9M), and WRs Christian Kirk (four years, $72M), and Zay Jones (three years, $24M), previously of the Arizona Cardinals and Las Vegas Raiders, respectively.
The pass-catching trio's 2021 stat lines look like this:
Christian Kirk: 77 catches, 982 yards, five TDs
Zay Jones: 47 catches, 546 yards, one TD
Evan Engram: 46 catches, 408 yards, three TDs
The Jaguars add these pieces to WRs Marvin Jones and Laviska Shenault Jr., RBs James Robinson and Travis Etienne, and TE Dan Arnold. Now Lawrence has an impressive stable of options that should help his development.
The offensive line is the key to making free agency spending pay off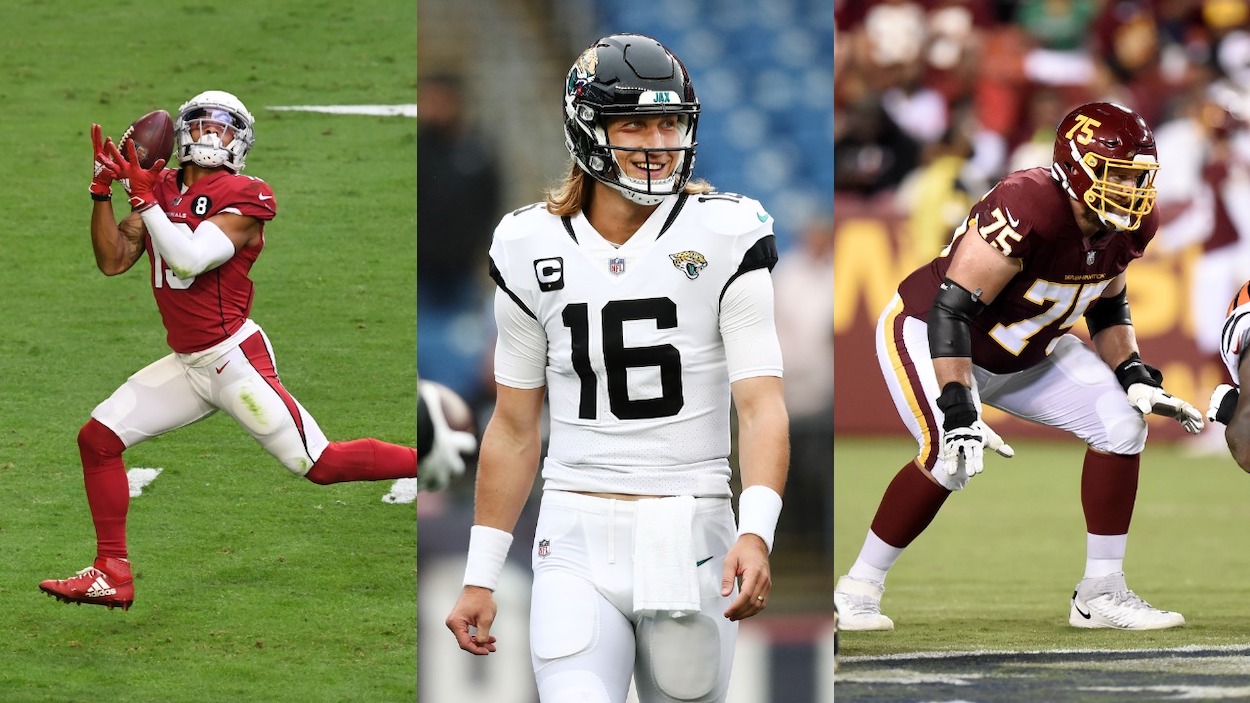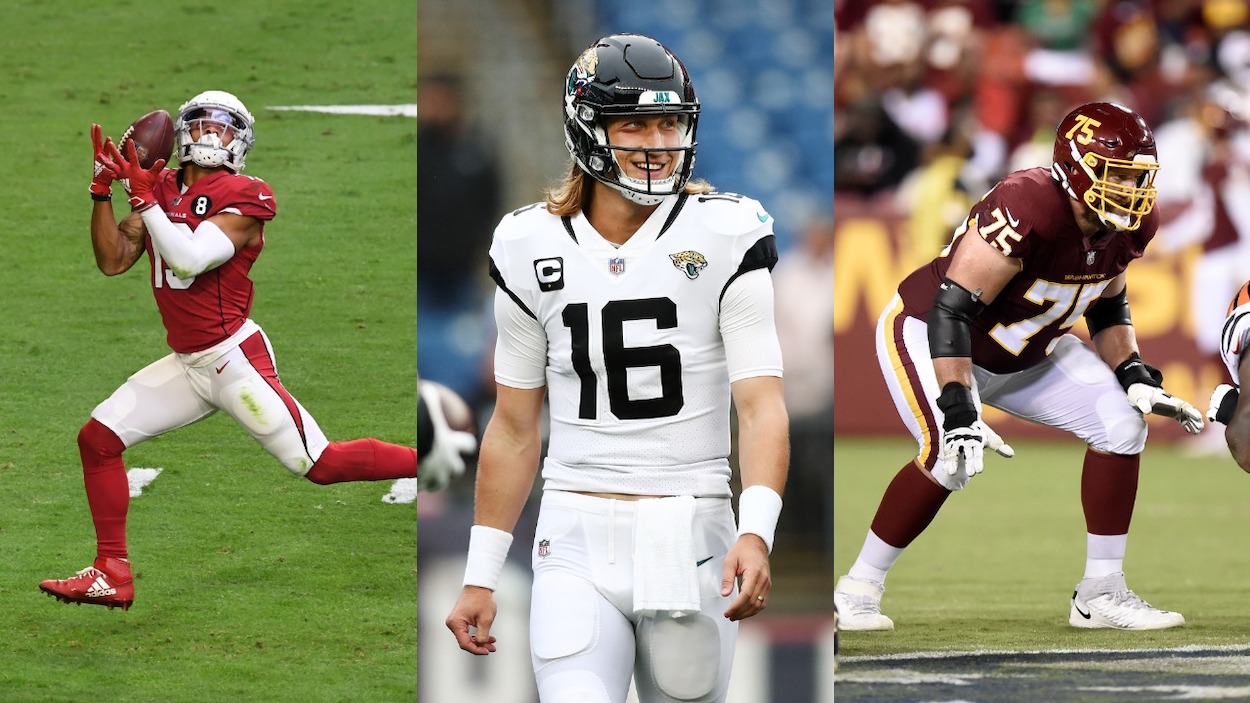 An NFL quarterback like Trevor Lawrence can have all the offensive weapons in the world, but if they are running for their life on every play or ending up on their back, it's all for naught.
The Jacksonville Jaguars recognize this issue and spent even more money solidifying their offensive line so that Lawrence will have time to find all his talented skill players.
In addition to bringing in Brandon Scherff, the Jaguars also took care of their own. The team re-signed C Tyler Shatley (two years, $6.8M) and slapped the franchise tag on OT Cam Robinson (one year, $16.6M).
Additionally, the Jaguars still have two highly-drafted tackles on the roster. 2021 second-round pick OT Walker Little played well in three starts last season, and 2019 second-round pick Jawaan Taylor wasn't great in 2021.
Jacksonville is light at guard, so one of those players might kick inside, especially since the franchise is likely to draft either Alabama OT Evan Neal or NC State OT Ikem Ekwonu No. 1 overall in the 2022 draft.
A 2022 OL of Neal/Ekwonu, Little, Shatley, Scherff, and Robinson with Taylor as the swing tackle is a formidable group. A unit like that should help Lawrence cut down on his league-leading 17 interceptions from 2021 and his 32 sacks.
The Jaguars could break the all-time record for free agent spending
During the 2021 offseason, Bill Belichick and the New England Patriots spent a record $268 million on free-agent contracts. The team brought in the likes of LBs Matthew Judon and Kyle Van Noy, TEs Hunter Henry and Jonnu Smith, WRs Nelson Agholor and Kendrick Bourne, and S Jalen Mills.
The result for the Pats was a solid foundation in place that allowed 2021 No. 15 overall pick Mac Jones to come in and succeed right away.
The Jacksonville Jaguars are following this blueprint and are already 85% of the way to New England's record free agency dollar amount after just 24 hours.
Despite the massive spending spree, there's a good chance the Jaguars aren't done yet. The team is still in need of talent, mainly on the defensive side of the ball at this point, and the organization incredibly still has over $19 million in salary-cap space. That's good for 13th-most in the NFL right now.
With the Jaguars likely spending a record amount in free agency, a staggering 15 picks in the 2022 NFL draft, and a QB prospect like Trevor Lawrence, things could get real good down in Duval Country real quick in 2022 and beyond.
All stats courtesy of Pro Football Reference and contract figures courtesy of Spotrac