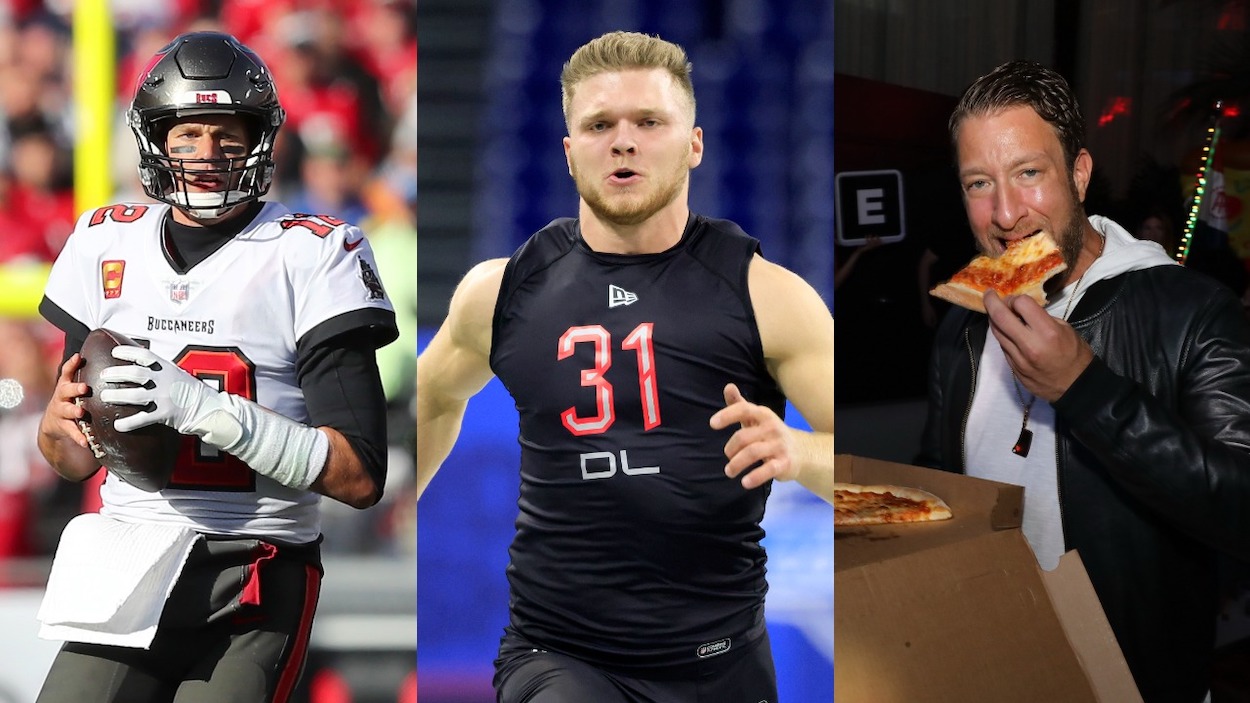 Aidan Hutchinson Broke Tom Brady's TB12 Diet Rules With Dave Portnoy: 'It's That Damn Piece of Pizza'
Top NFL draft prospect Aidan Hutchinson broke Tom Brady's TB12 diet rules by sharing a slice of pizza with Dave Portnoy.
Michigan's Aidan Hutchinson is one of the top prospects in the 2022 NFL Draft. The fearsome pass-rusher is big, strong, fast, skilled, and a leader on the field. On top of all that, he's serious about his nutrition and fitness. He's so serious, in fact, that he's following the lead of another pretty successful former Wolverine when it comes to his diet: Tom Brady.
Hutchinson followed all the TB12 rules leading up to the combine until he had to break them to taste-test pizza with Barstool Sports' Dave Portnoy. It's something the defensive end still regrets.
Aidan Hutchinson is the No. 1 prospect in the 2022 NFL Draft
Former Michigan Wolverine Aidan Hutchinson may not be the No. 1 pick in the 2022 NFL Draft. The Jacksonville Jaguars own that top pick. With Josh Allen already in place rushing the passer, the organization's focus will likely be on supporting last year's first selection, QB Trevor Lawrence. 
That means an offensive tackle (possibly Alabama's Evan Neal) should go first on Thursday, April 28. 
However, the prospect with the highest ceiling is Hutchinson. During his time at the University of Michigan, he racked up 160 tackles (28 for a loss), nine passes defended, four forced fumbles, and 18.5 career sacks, which included 14 during his senior season, per MGoBlue.com.
At the NFL Combine, he measured and tested out with all the physical characteristics teams want in a star pass rusher. The Michigan native is 6-foot-7, 260-pounds with 32 1/8 -inch arms and 10 ¼-inch hands. He ran a 4.74 40-yard dash and posted a 36-inch vertical jump, 117-inch broad jump, and 6.73-second 3-cone drill, per NFL.com. 
While preparing to put up these excellent numbers in the combine, Hutchinson put himself on Tom Brady's TB12 diet. 
Hutchinson trained like Tom Brady with the TB12 diet
In 2000, a Michigan Wolverine quarterback went No. 199 in the draft and became the greatest quarterback in history. Two decades later, a Michigan man who will come off draft boards much higher is trying to emulate that QB's preparation. 
Aidan Hutchinson practiced Tom Brady's restrictive TB12 diet, according to Sports Illustrated. The "retired" signal-caller's diet calls for cutting out things like gluten and dairy, which Hutchinson did, with one notable exception. 
In the run-up to the combine, Hutchinson took part in a pizza review with Barstool Sports' Dave Portnoy. The taste test took place at Big Mama's and Papa's in West Hollywood, California. 
While the DE did admit the pizza "was freaking delicious," he also regretted straying from Brady's strict tutelage: 
Because it was in the middle of training, I was like, 'To have dairy, gluten, just like, what am I doing to myself? So, I had that piece of pizza, and it always just sits in the back of my mind. And if I'm ever feeling bad, with my body or something, I'm like, 'It's that damn piece of pizza.'

Aidan Hutchinson on breaking Tom Brady's TB12 diet rules
The pizza didn't stop Hutchinson from performing well at the combine, and now he's likely headed to an NFL home that's near (literally) and dear to his heart. 
The Detroit Lions will likely take the DE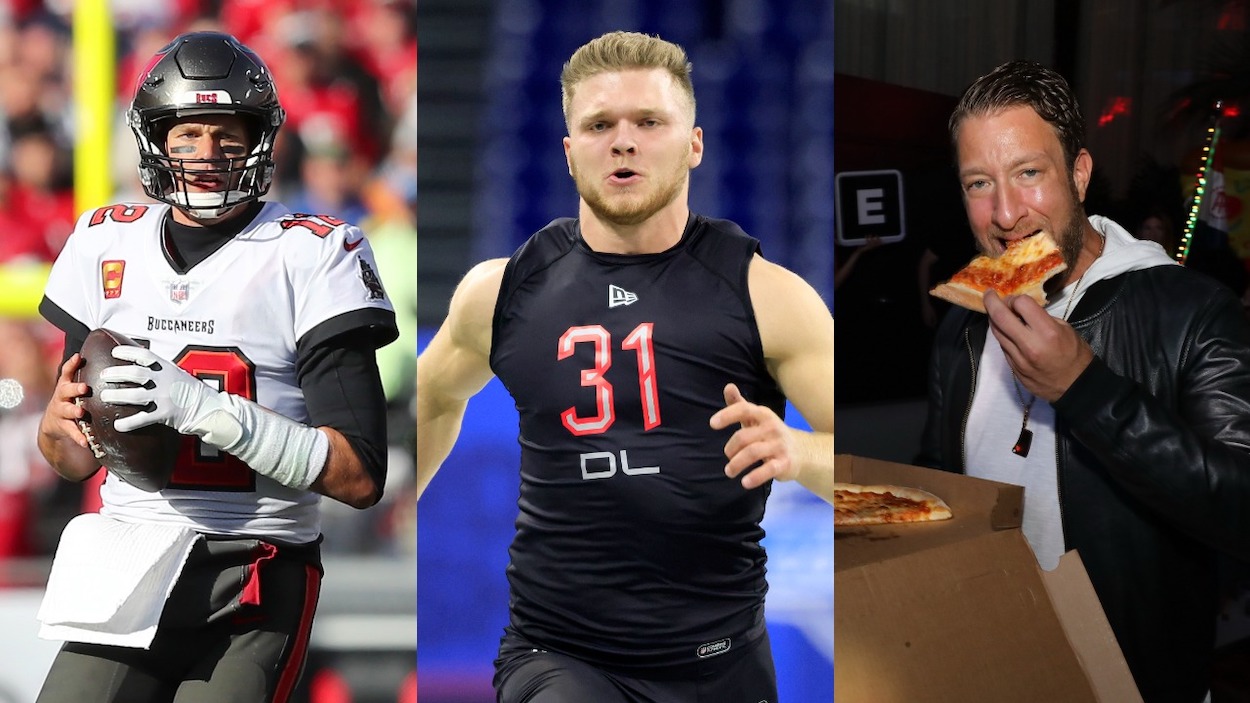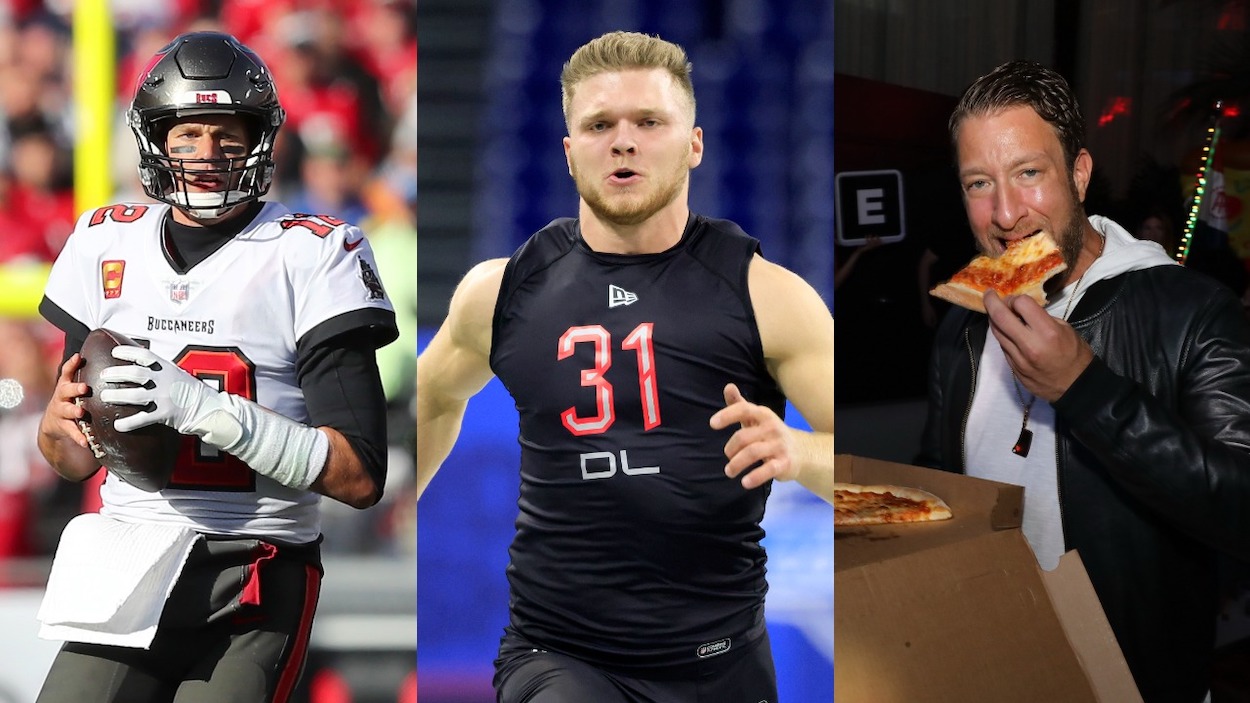 Aidan Hutchinson grew up in Dearborn, Michigan, about 30 miles east of Ann Arbor, where he went to college. Now, there's a strong chance he's going to end up not having to leave the state to play pro ball. The Detroit Lions, who play at Ford Field, exactly 15.1 miles from Hutchinson's high school stadium, have the No. 2 overall pick. 
In the Lions' second year under head coach Dan Campbell, the franchise has one mission: add top-tier talent. The roster has holes all around, and in the 2022 draft, Campbell and general manager Brad Holmes just need to pick the best player available. At No. 2, that's Hutchinson. 
The pass-rusher also has a toughness and a motor that Campbell will absolutely love. He'll also upgrade a defense that finished 31st in points allowed and 29th in yards allowed. 
As NFL fans know, a serious pass rush can lift an entire defense, so picking Hutchinson that high makes sense and could pay dividends immediately. 
Aidan Hutchinson may not lead his hometown team to seven Super Bowls to equal Tom Brady, but if he lives up to his potential, he could lead the Lions to the franchise's first playoff appearance since 2016 and its first-ever trip to the Super Bowl. 
Like Sportscasting on Facebook. Follow us on Twitter @sportscasting19