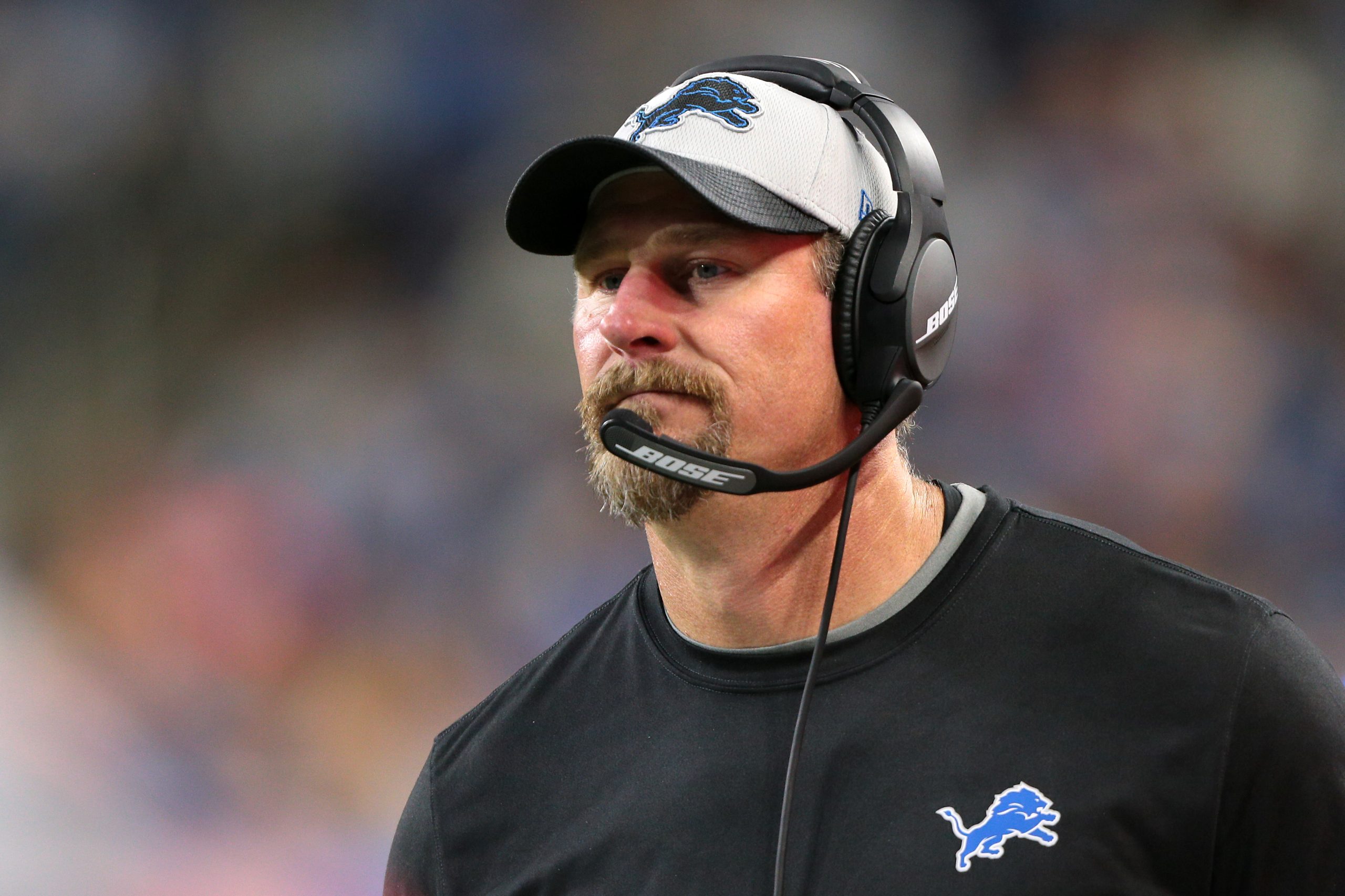 Dan Campbell Reveals What He's Looking for in Future Detroit Lions at the 2022 Senior Bowl: 'They're Not Gonna Be Flag Machines'
Dan Campbell's Detroit Lions staff is coaching the 2022 Senior Bowl, which might give the franchise a leg up in the upcoming NFL Draft.
We all know Detroit Lions head coach Dan Campbell wants knee-biters. But what else is he looking for in future Lions? As the leader of the coaching staff in charge of one of the 2022 Senior Bowl teams, the fascinating former tight end shared some traits he'll be looking for in the 2022 NFL Draft as he tries to (finally) build a winning culture in the Motor City.  
Dan Campbell is building a new Detroit Lions culture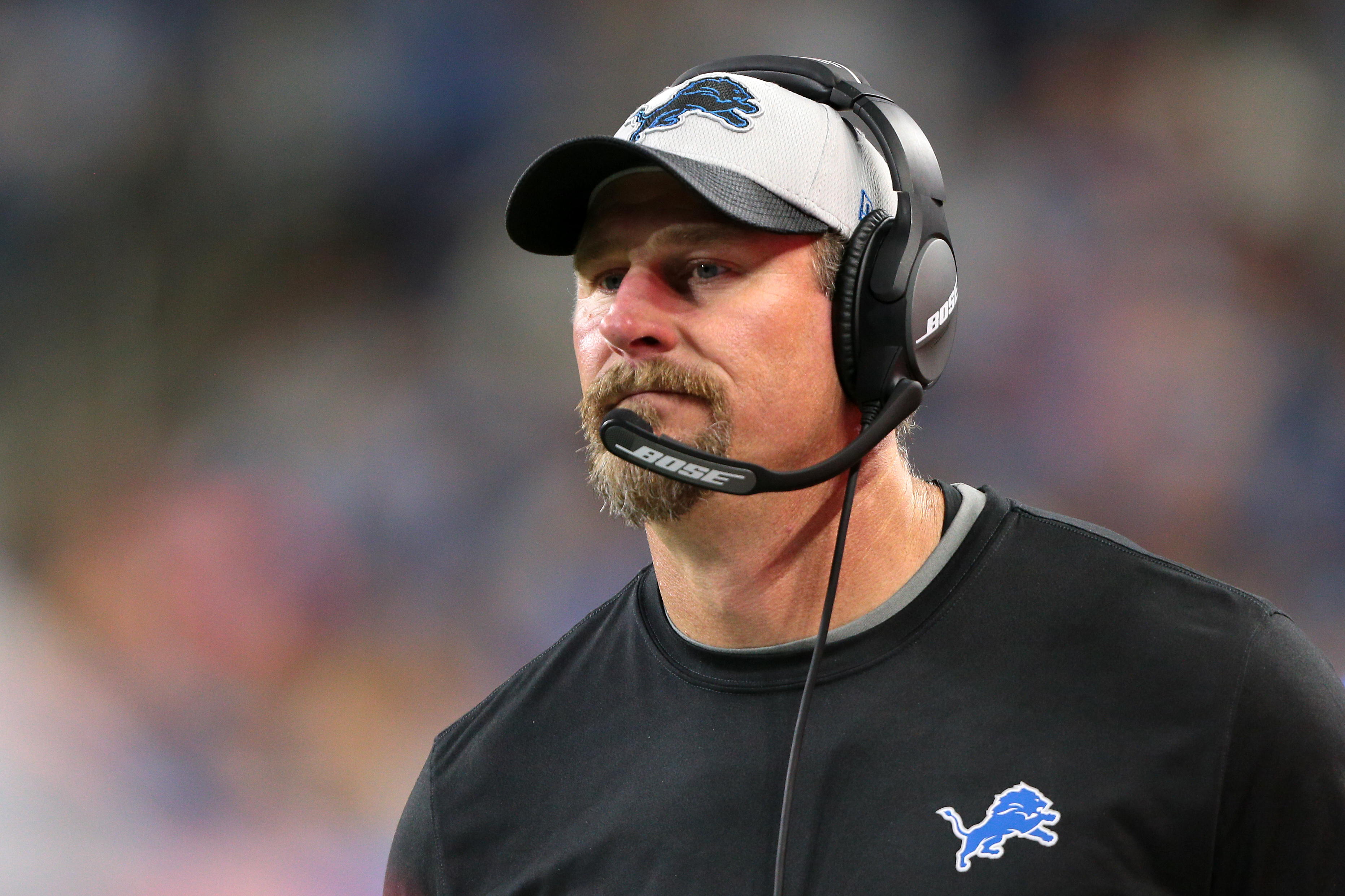 When Dan Campbell took over as Detroit Lions head coach before the 2021 season, he came in like, well, a lion. Campbell played in the NFL for a decade and distinguished himself as one of the most physical tight ends in the game for the Dallas Cowboys, New York Giants, and Lions.
With his wild, flowing, long blonde hair and a 6-foot-5, 265-pound frame, he punished defenders and allowed his tight end teammates like Jeremy Shockey and Jason Witten to get the glory.
As a coach, he brings the same mentality to the sideline. To understand Campbell's attitude, look no further than his nickname, MCDC. The nod to the rock band AC/DC stands for Motor City Dan Campbell and is a moniker befitting his demeanor.
In 2021, Campbell took the reins of a team that finished 14-36 under its last head coach, Matt Patricia. And he did so without the Lions' longtime franchise QB, Matthew Stafford.
The team finished 3-13, but that was better than many expected and completely based on the sheer dearth of talent on the roster. Campbell had his ragtag bunch of football players playing hard from the opening snap of Week 1 to the final whistle of Week 18 (a 37-30 win over the Green Bay Packers).
Now, the head coach looks to start year 2 of the Dan Campbell Regime by building on his 2021 success and bringing in players who fit the MCDC mold.
Campbell shared what he's looking for at the 2022 Senior Bowl
As a 2022 Senior Bowl coach staff, Dan Campbell, assistant Deuce Staley (who is the Senior Bowl head coach), and the Detroit Lions coaches have a unique opportunity to gain more insight into this year's draft prospects than most others.
Leading up to the game, the NFL Network's Tom Pellisero interviewed Campbell and said to him, "I know you're always trying to find 'cultural fits.' So, what are some of those little things you are trying to identify in these guys to say, 'I can see them as Lions?'"
I think you're looking for guys who have a little bite back to them. That have a little resiliency. You see some of these guys, how do they handle the adversity? If they mess something up, how do they respond? Do they go in the tank? Do they snap back? If they don't like something, are they willing to stand up for themselves? But yet keep their emotions under control? They're not going to be flag machines, so you're just looking for those little things.
Campbell's response is an interesting look into what a coach, specifically one who is drafting for cultural fit as much as talent, is looking for.
How are Senior Bowl coaches picked? 
In the 2022 Senior Bowl, the Detroit Lions and New York Jets staffs are coaching the two sides. The coaching staffs are selected in reverse draft order, but organizations that are hiring a new coach (like the 2022 Jacksonville Jaguars) are exempt.
Coaching a Senior Bowl squad allows these coaching staffs to get a first-hand look at some of the top talent in the upcoming NFL Draft. It can be a boon for the organizations that do it, too.
In 2019, Kyle Shanahan and the San Francisco 49ers staff led one of the squads. In that draft, the organization has selected 2019 Defensive Rookie of the Year Nick Bosa and 2021 All-Pro Deebo Samuel. That same year, the Las Vegas Raiders staff took the other side and walked away with Josh Jacobs, Maxx Crosby, and Hunter Renfrow in that draft.
In 2020, Zac Taylor's Cincinnati Bengals staff took charge of one of the teams. A few months later, the former "Bungles" picked Joe Burrow No. 1 overall and starters like WR Tee Higgins, LB Logan Wilson, and OL Hakeem Adeniji, helping turn the team into the Bengals Super Bowl side we have today.
Coaching the Senior Bowl seems to give coaches a leg up in that year's draft. If that trend continues, watch out for Dan Campbell and the 2022 Detroit Lions.
Like Sportscasting on Facebook. Follow us on Twitter @sportscasting19