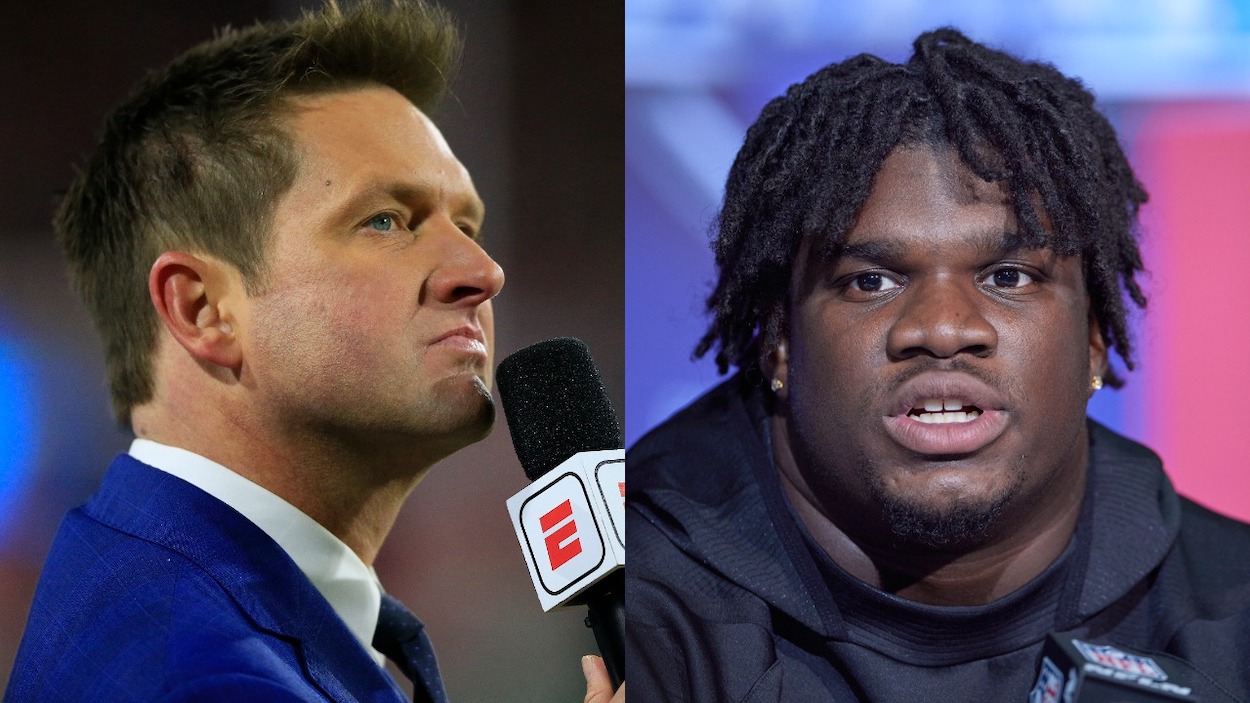 2022 NFL Draft Prospect Becomes 'Fourth Face' on Todd McShay's Mount Rushmore of Combine Workouts
NFL draft expert Todd McShay says Georgia DT Jordan Davis' combine workout was among the most impressive he's seen in 22 years covering the event.
ESPN's NFL Draft guru Todd McShay's been covering pro football's annual selection show since 1999 and doing it for "The Worldwide Leader" since 2006. In that time, he's seen a lot of NFL Combine workouts.
In 2022, one prospect had such an incredible combine week that he joined the ranks of the most impressive specimens to ever work out in Indianapolis on McShay's Mount Rushmore. That new face on the (hypothetical) mountain of honor is Georgia defensive tackle Jordan Davis.
Todd McShay had three NFL players on his combine Mount Rushmore
On ESPN's First Draft podcast with Todd McShay, Mel Kiper, and Field Yates, the host, Yates, asked McShay who his biggest standout from the 2022 NFL Combine was.
The former Richmond Spiders backup QB prefaced his answer by saying that, before this year, he had three incredible combine workouts on his "Mount Rushmore."
The first was from Hall of Fame wide receiver Calvin Johnson. McShay explained the Georgia Tech pass-catcher showed up at the 2007 combine weighing 239-pounds. His size led to "all this buzz" among NFL scouts about whether "Megatron" was more suited for tight end or if he was just out of shape.
Johnson answered his doubters by running a blazing 4.39-second 40-yard dash in Indy, and the rest is history.
Next came Pro Bowl tight end Vernon Davis out of Maryland. McShay said Davis had the "best tight end workout probably ever" in 2006. The workout earned Davis "a lot of [sponsorship] money from Under Armor," but never translated to the field the way Johnson's workout did.
Finally, McShay has (eventual) Hall of Fame running back Adrian Peterson on his list. The draft expert summed up the Oklahoma Sooners' 2007 combine as "all the drills, just doing what Adrian Peterson does."
Any football fan who watched Peterson run over, around, and through defenses in his NFL career will know exactly what that means.
The issue with McShay's Mount Rushmore was that he didn't have a fourth face for the monument.
Until 2022.
Georgia DT Jordan Davis had an incredible NFL Combine
When Todd McShay finally got around to answering Field Yates' question, his answer as to who was the biggest (both literally and figuratively) standout of the 2022 NFL Combine was the Georgia Bulldogs' DT Jordan Davis.
The NFL draft expert said that he couldn't think of a better day, overall, than this Saturday, when the 2022 defensive linemen and linebackers tested. He said it was the most impressive group in his 22 years of going to the combine.
A big part of that was Davis:
It kicked off with the big fella, Jordan Davis from Georgia. What an unbelievable workout he had. … I finally got a fourth face for that Mount Rushmore of the combine, and it's Jordan Davis. Four-seven-eight he ran in the 40-yard dash. A 4.78 at 341-pounds, 6-foot-6!

Todd McShay on 2022 NFL Draft prospect Jordan Davis
McShay continued raving about Davis' athleticism, noting that Davis also set a broad jump record for players over 300-pounds at 10-feet, 3-inches. He also pointed out that the big man's 40 time is faster than a lot of "guys he's going to be chasing after in the NFL." This includes star QBs like Patrick Mahomes, who was 116-pounds lighter at his combine than Davis.
The ESPN pundit did admit that the biggest problem with Davis at Georgia and in the future is his ability to keep his weight down. McShay summed up by saying that if Davis can keep his weight down, "maybe he's more than a 25-play-per-game guy."
Which team will take Jordan Davis in the 2022 NFL Draft?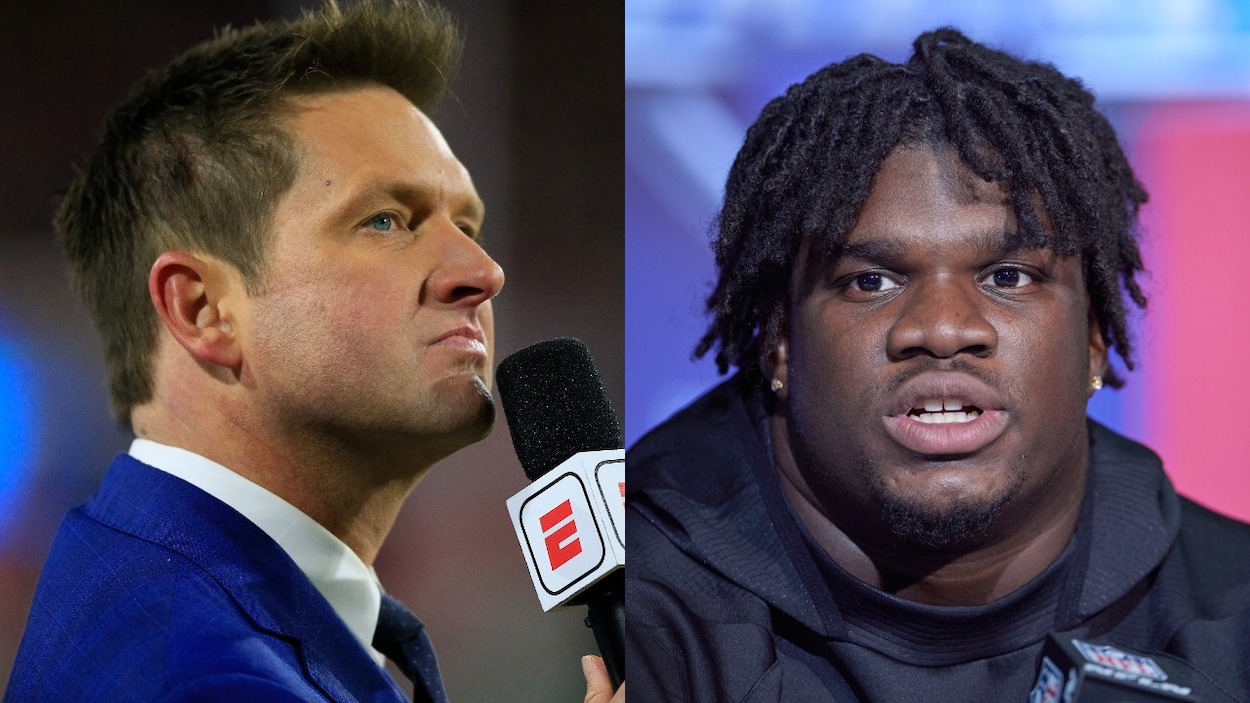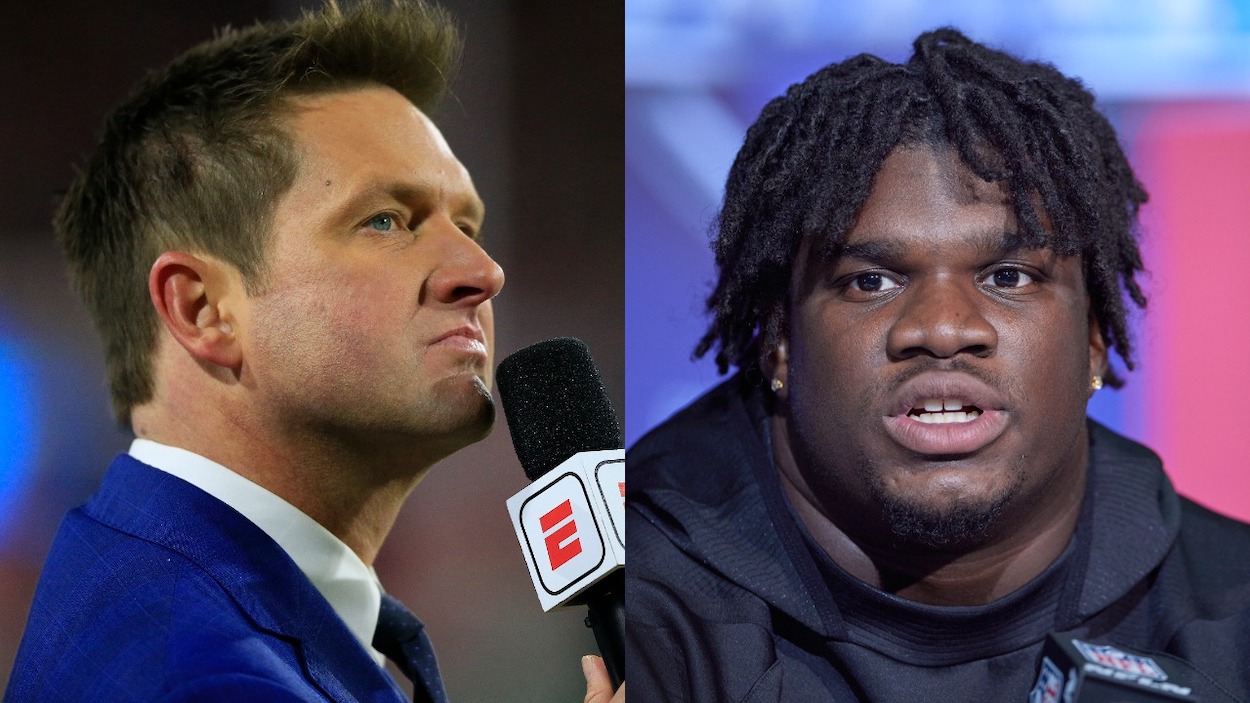 What makes Jordan Davis one of the fascinating players in the draft is the weight and athleticism question. If he's a 25-play-per-game run-stuffing DT, that's a relatively valuable NFL player.
If he's a five-inches-bigger, 60-pound-heavier Aaron Donald, that's something truly special.
Before the combine, Todd McShay had Davis outside of the first round in his last ESPN.com mock draft. While discussing Davis' Georgia DT partner Devonte Wyatt, McShay wrote that the "massive nose tackle … has a chance to go in Round 1 to a team that runs a 3-4 D."
After his NFL Combine performance, the defensive lineman is flying up draft boards.
CBS Sports' Ryan Wilson has Davis as high as No. 13 to the Cleveland Browns in his first post-combine mock draft.
If teams now see Davis as a three-down player and as one who can play in multiple schemes, teams like the Baltimore Ravens (No. 14), Arizona Cardinals (No. 23), or Buffalo Bills (No. 25) could get interested.
Like Sportscasting on Facebook. Follow us on Twitter @sportscasting19