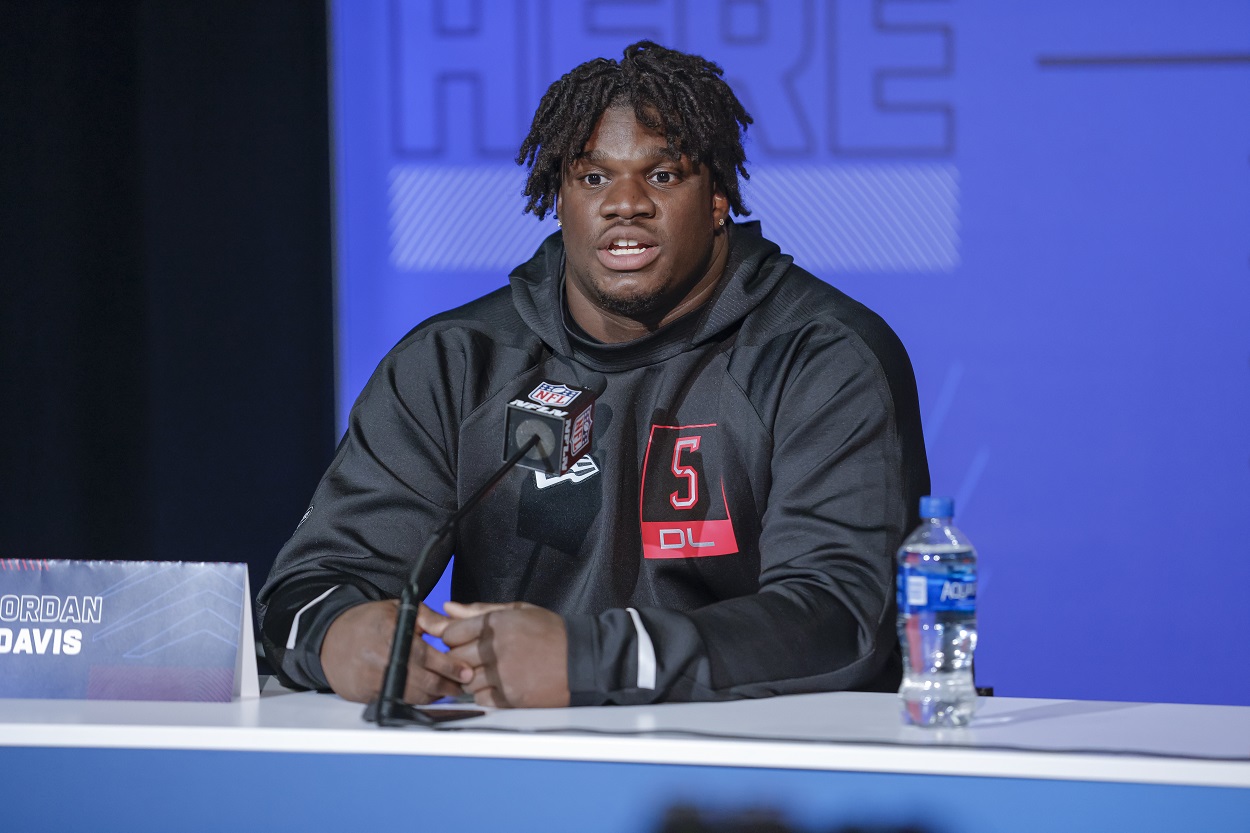 2022 NFL Combine: Amare' Barno, Jordan Davis Lead Record Day For Defensive Lineman
Amare' Barno and Jordan Davis had record-setting runs at the NFL Combine on Saturday.
That sound you kept hearing Saturday afternoon and evening was every current starting quarterback in the NFL shrieking in abject terror.
Saturday was the defensive linemen's turn to take center stage at the NFL Scouting Combine in Indianapolis, and the performances turned in during the 40-yard dash were as historic as they were downright frightening.
After watching what behemoths like Georgia's Jordan Davis and Virginia Tech's Amare' Barno accomplished, quarterbacks will be having nightmares all summer about their passing pockets collapsing with the snap of a finger.
Here is a breakdown of the best performances by defensive lineman on Day 3 of the Combine:
Barno sets Combine record for fastest 40-yard dash with breathtaking sprint
Coaches and talent evaluators had barely time to settle into their seats when Barno, the 6-foot-6, 245-pound edge rusher from Virginia Tech, got into his running stance. If those onlookers weren't careful they would have missed it.
Barno ran his 40-yard dash in 4.36 seconds, a number that rivaled the top wide receiver times at this year's Combine, and was the fastest 40 ever recorded by a defensive lineman at a Combine dating back to 2003.
But even with his incredible run, Barno is still expected to be a second-day selection, although he certainly turned heads – whiplash style – with his record run.
Davis sets a different 40-yard dash record with a weighty accomplishment
A more-likely first-round selection, Davis was one of a trio of Georgia defensive linemen expected to go in the first round who turned in impressive performances on Saturday.
Davis stood out by running his own remarkable 40-yard dash, clocking in at 4.78. That number paled in comparison to Barno's, but it was a Combine record nonetheless, as it was officially the fastest 40 ever run by a defensive lineman weighing over 310 pounds. And Davis didn't just clear the bar. He ran that record time at an official weight of 341 pounds, drawing raves from all who witnessed it.
"Jordan Davis lol!!!! Freak!" tweeted Dallas Cowboys edge rusher Micah Parsons.
And lest anyone think Davis was only about the dash on Saturday, he also had a 10-foot-3 broad jump, the longest since 2003 at the Combine for anyone weighing over 300 pounds.
Wyatt, Walker gave Georgia a Big Three to carry into the first round in April
Not to be outdone by the historic performances of their Georgia teammate, Devonte Wyatt and Travon Walker also had solid workouts on Saturday.
Saturday was a big day for Walker, who spent the bulk of his Bulldogs career playing as an interior lineman, but got to showcase his edge skills at the Combine, posting a 4.51-second 40, a 35.5-inch vertical leap, a 10-foot-3 broad jump and a 6.89-second three-cone drill.
Wyatt, who checked in at 304 pounds, wasn't eligible for the record that Davis set, but still turned in a 4.77 40-yard dash, which was no less impressive than his teammate's.
The only question remaining is which of the trio will be the fastest to shake commissioner Roger Goodell's hand on the first night of the draft.
Stats courtesy of Pro Football Reference