Pat McAfee Takes the High Road After Barstool Sports' Dave Portnoy Slams the Former NFL Punter's $120 Million FanDuel Deal: 'Thanks for Leading the Way, Cheers Boss'
Hours after Pat McAfee signed a $120 million deal with FanDuel, Barstool Sports founder Dave Portnoy put out a snarky tweet which McAfee answered perfectly.
Former Indianapolis Colts punter Pat McAfee took a big chance when he walked away from his lucrative NFL career in his prime to take a chance on doing something that he loved more than football: sports media. This week, that gamble paid off.
On Thursday, he announced a $120 million ($30 million per year) deal with FanDuel to keep his show going. His old boss, Barstool Sports' Dave Portnoy, put out a snarky tweet about the new pact. However, McAfee stayed classy and above the fray, which illustrates exactly why he's become so successful. 
Pat McAfee started his post-football career with Barstool Sports
At the age of 29, Indianapolis Colts punter Pat McAfee walked away from football. In the last year of his five-year, $14 million contract, McAfee was named to the Pro Bowl and was in line for another multimillion-dollar contract. 
Instead, he left the NFL for a not-yet-understood comedy/sports writing/podcast career. He joined the bro-centric Barstool Sports and fit in seamlessly on the platform's podcast and video platforms. 
After just two years, though, the relationship between McAfee and Barstool soured. On Aug. 18, 2018, the former West Virginia Mountaineer announced that he was leaving Barstool Sports via Twitter. 
The decision was largely financial. McAfee said that being based in Indiana while the business of Barstool was happening in New York became a problem. The host wrote in his departure announcement: 
Financial decisions were being made for me by people I had never met, deals were getting made AND PULLED without my knowledge. The transparency of everything became obsolete, and also very expensive.

Pat McAfee on leaving Barstool Sports
While leaving the company, McAfee was careful to make it known that his separation from the platform had nothing to do with Barstool founder Dave "El Presidente" Portnoy or CEO of Barstool Sports Erika Nardini. 
Portnoy was complimentary of McAfee when he left, tweeting, "I love + respect Pat. I begged him to stay, but he's got to do what he thinks is right for him. He's a complex dude and he rightfully lost some trust in some of our business folks."
The relationship has stayed publically cordial over the last three years as the former punter built his own Pat McAfee Show into a sports media juggernaut. However, Portnoy did tweet a somewhat snarky message after McAfee landed his first deal with FanDuel in July 2020. 
"I'd be a lot richer and @PatMcAfeeShow would be alot poorer if I didn't teach him how to bet on sports a couple years ago," Portnoy wrote. "I feel like I deserve 9 of those bags for increasing my limits and then having him bail on me."
McAfee responded perfectly to Portnoy's sour grapes after $120 million FanDuel deal announcemnt
On Dec. 9, 2021, Pat McAfee announced that he had signed a new megadeal with FanDuel for a reported $30 million a year for four years with an opt-out after three. 
The host also shared that he was making his parents "millionaires," giving each of his co-hosts and producers $250,000 bonuses, and giving away at least $6 million to charity. 
It was a feel-good day all around. 
Except maybe for Dave Portnoy. The media mogul took the opportunity to make the day and McAfee's giant new deal about him and Barstool Sports. Portnoy tweeted: 
This deal is specifically because of us. Fanduel declined to make an offer on Barstool and they could have had myself, pmt, Mcaffee and everybody else and they balked at 100 million. Barstool has redefined everybody's worth by our success. 

Ps – I taught Mcaffee how to bet

Barstool Sports founder Dave Portnoy on Pat McAfee's FanDuel deal
After Portnoy's self-serving tweet, McAfee just kept the good vibes of the day going and responded with his trademark positivity: 
We're lucky to be a part of the incredible collection of folks that have gotten the opportunity to work for the Pirate Ship.. Thanks for leading the way. 

Cheers boss. 

Pat McAfee's response to Dave Portnoy
The tweets were perfectly on-brand for both the surly, controversial Portnoy and the relentlessly positive ball of energy McAfee. They also illustrate why, in today's media landscape, FanDuel rewarded the Pat McAfee Show and not Barstool Sports. 
A new era of sports talk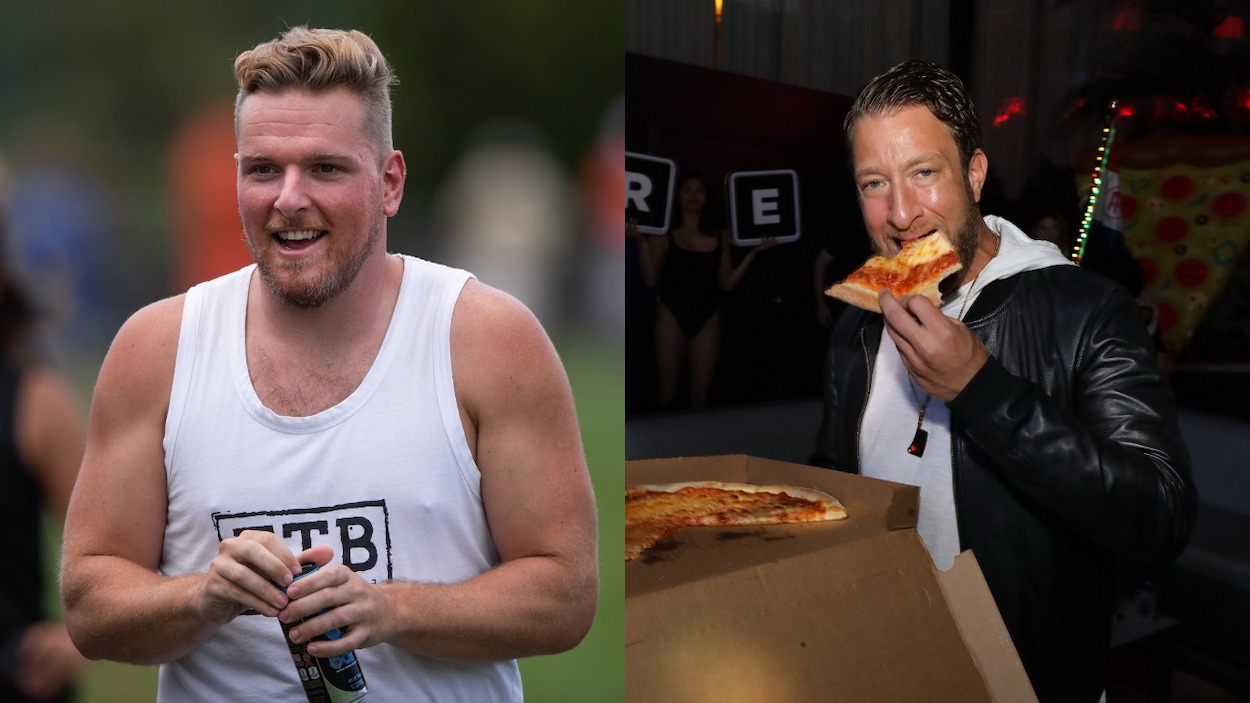 In the era of Maxim Magazine and Girls Gone Wild, Dave Portnoy founded Barstool Sports in the early 2000s. The free Boston-based print rag became a multimedia conglomerate and one of the biggest internet success stories ever.  
Led by El Presidente and driven by either frat house culture or toxic masculinity (depending on your point of view), Barstool Sports courted controversy on its pages and off. This led to rapid growth for the outlet for years. Recently, though, these controversies have driven down stock prices every time Portnoy makes headline news. 
Pat McAfee may have learned the internet media business from Portnoy and Barstool, but he's a very different person with a very different style than most of the Barstool universe. 
Being an ex-pro athlete gives McAfee instant credibility in the sports world. It also means he doesn't have to rely on outrageous stunts for attention. And, it helps him get current and former athletes to open up without having to be shocking. 
Sure, there's plenty of f-bombs on any given episode of the Pat McAfee Show. Still, as the host said during his FanDuel deal announcement video, he expects his cohorts on the show "to be positive and happy every single day and to bring juice," and that comes through. 
McAfee has created the evolutionary Barstool Sports with his show — a kinder, gentler, happier bro. One who's just here to have a good time and not hurt anyone while talking with his friends about sports. 
It's obvious what FanDuel sees in both the host and the show and why the company was willing to pony up that kind of money for McAfee's outfit and not Portnoy's. 
As the world continues to change, so will the content that wins on the internet, and McAfee has set himself up to do just that for a long time now. 
Like Sportscasting on Facebook. Follow us on Twitter @sportscasting19