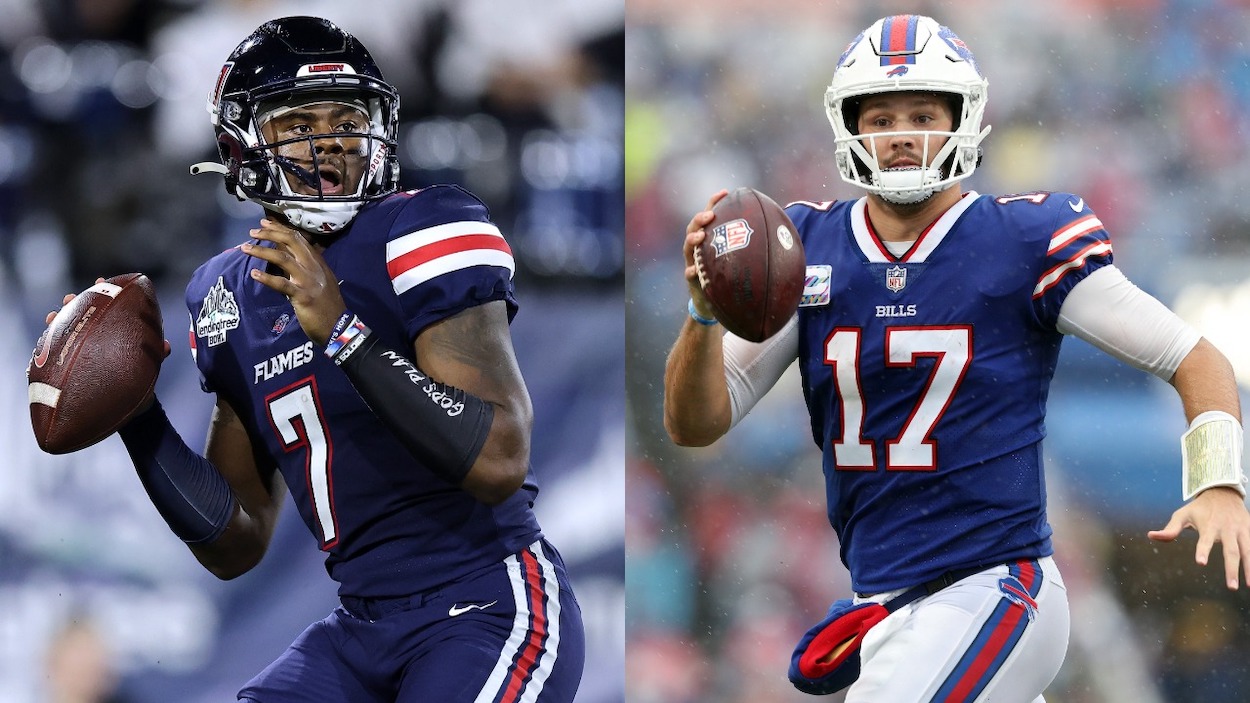 NFL Draft: Dan Orlovsky Is High on Malik Willis' 'Josh Allen Type of Vibes'
Several NFL teams could turn their franchise around by drafting Liberty QB Malik Willis, who may be a smaller Josh Allen.
With all the offseason quarterback moves, it's easy to forget that some NFL teams will be picking a new signal-caller in the upcoming NFL Draft. For teams that didn't get their guy or ones who ended up a less-than-inspiring option, drafting a QB — like Liberty's Malik Willis — is another option.
For teams considering drafting a passer near the top of the draft, ESPN's Dan Orlovsky — a former NFL QB himself — recommends Willis due to the similarities between the prospect and a proven young rising star, Buffalo Bills QB Josh Allen.
The QB carousel is spinning in the NFL, which will affect the upcoming draft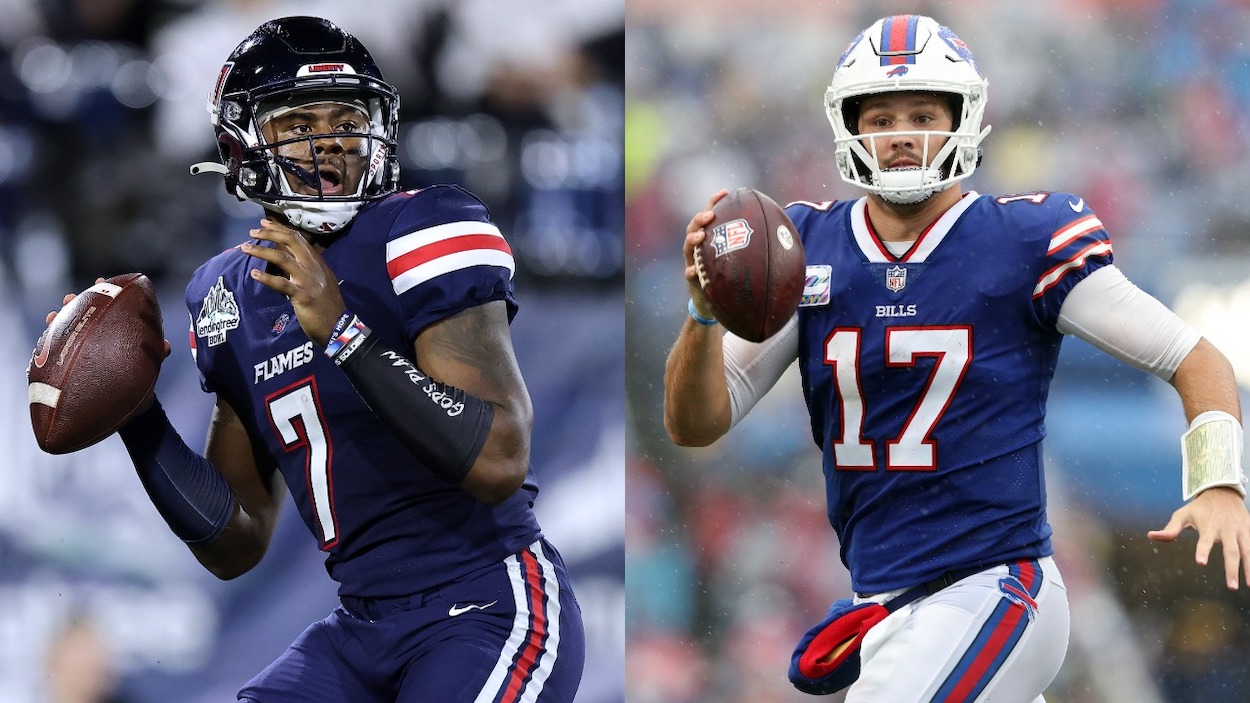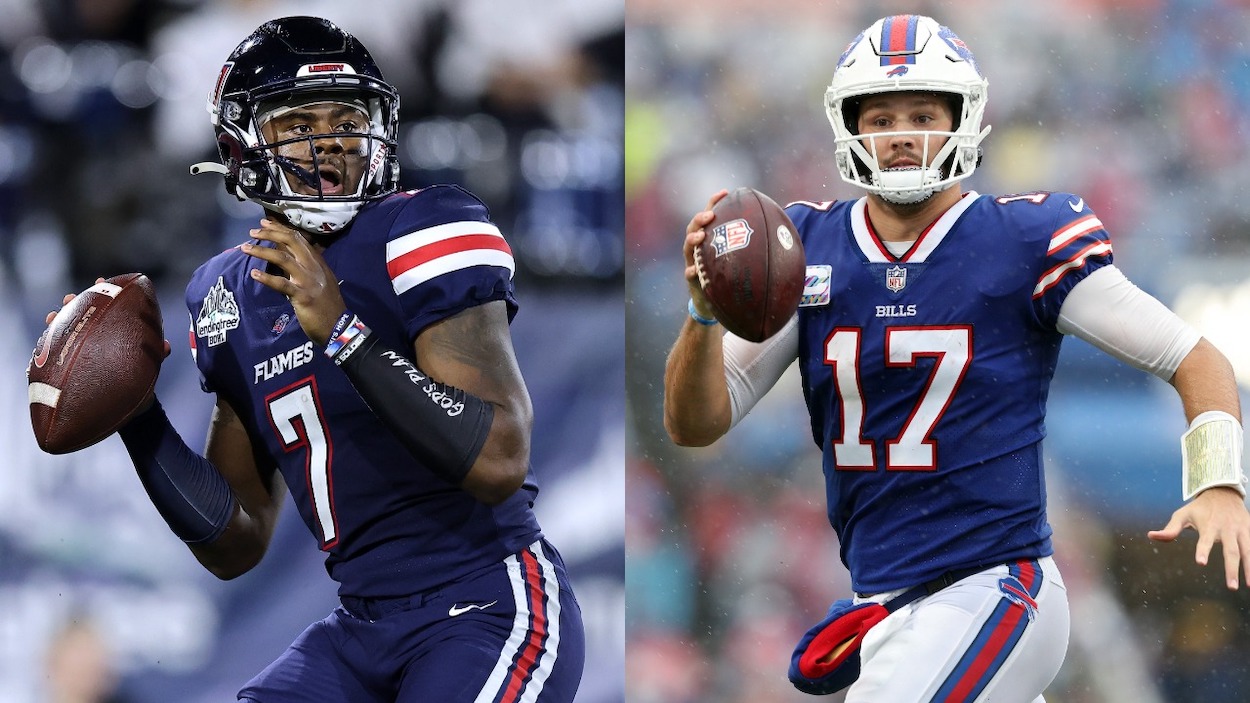 In mid-March 2022, NFL teams are playing a game of quarterback musical chairs. Teams are circling, and when the music stops, everyone grabs a QB. Some teams end up with the same one they started the game with (Aaron Rodgers), and some end up in a new spot for better (Russell Wilson) or worse (Carson Wentz).  
The teams that end up without a legit QB when the music stops could definitely be in the market for a passing prospect come April 28. Right now, the teams without a real starter include the Indianapolis Colts, New Orleans Saints, Carolina Panthers, and Seattle Seahawks.
Additionally, teams like Cleveland Browns, Houston Texans, New York Giants, Detroit Lions, and Atlanta Falcons have possibly unsettled or uninspiring signal-caller situations.
There are still some major dominoes to fall in the NFL QB market. The fates of Jimmy Garoppolo, Deshaun Watson, and Baker Mayfield will change the quarterback landscape even more in the next few weeks.
For those teams that don't figure out a long-term solution in the next month, drafting a QB will become the next best move, and according to ESPN's Dan Orlovsky, Malik Willis is the best a team can do.
Malik Willis is now the No. 1 QB prospect in the NFL draft
Heading into the 2022 draft season, several quarterbacks were in contention to be the first off the board. Early on, Liberty's Malik Willis, Pittsburgh's Kenny Pickett, North Carolina's Sam Howell, Cincinnati's Desmond Ridder, and Ole Miss' Matt Corral were all in consideration.
Willis and Pickett began to separate themselves as the draft process wore on. After the NFL Combine, where Willis showed off his athleticism, arm talent, and poise, the small-school signal-caller seemed to take a stranglehold on the top player at the position.
The only knocks on Willis are the fact that he went to a tiny school — Liberty, where he transferred to from Auburn — and his size. At the combine, he measured just a skosh over 6-feet.
That doesn't bother ESPN analyst and former NFL QB Dan Orlovsky. The analyst recently told Pat McAfee on the Pat McAfee Show that Willis' height doesn't bother him and, in fact, the way he plays reminds him of a much bigger, successful NFL passer.
"I'm intrigued by the kid," Orlovsky told McAfee. "Because he's got Josh Allen type of vibes written all over him. He just isn't as big."
That's high praise for a QB prospect as Allen has taken the league by storm the last two seasons and turned the Buffalo Bills from a two-decade-long loser to a Super Bowl contender.
If Willis does have "Josh Allen type of vibes," which team will take a chance on those and possibly change the fortunes of their franchise?
Which team should pick Malik Willis? 
If Malik Willis is, in fact, the best quarterback in the 2022 NFL Draft, which team will pick him?
The newest rumor is that Willis could go as high as No. 2 to the Detroit Lions. The Lions need a QB, but two is high for a player that didn't have success against big-time competition. Although, North Dakota State's Carson Wentz went No. 2 in 2016, and Trey Lance went No. 3 last year from the same school. Josh Allen is another example of this working out. He went No. 7 in 2018 out of Wyoming.
If the Lions can't get hometown hero Aidan Hutchison from Michigan, Willis could be the pick.
After that, if things stay more or less the same as they are now in mid-March (which they certainly won't), the Houston Texans (No. 3), Carolina Panthers (No. 6), Atlanta Falcons (No. 8), and Seattle Seahawks (No. 9) are the most likely spots in the top 10.
If Willis falls out of the top half of the draft, there are still landing spots in the first round. The Cleveland Browns (No. 13), if they lose Baker Mayfield, New Orleans Saints (No. 18), and Pittsburgh Steelers (No. 20), are likely Willis' floor.
Whichever team takes a chance on Willis, they are taking a risk, but if he truly has Josh Allen-level potential, as Dan Orlovsky suggests, it will be worth it.
All stats courtesy of Pro Football Reference