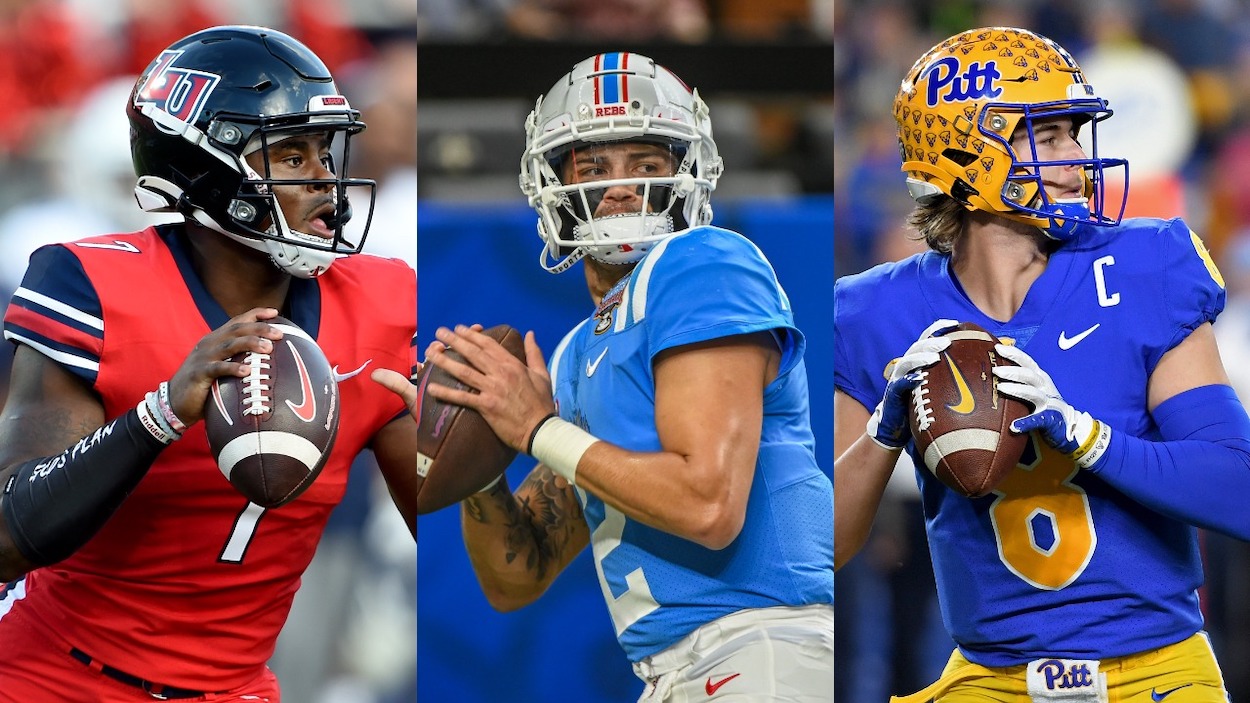 NFL Draft: NFL Network's Chad Reuter Has the 3 Top QBs Going Laughably High
At least three QBs are likely to go in the first round of the 2022 NFL Draft, but they shouldn't go nearly as high as the NFL Network's Chad Reuter predicts.
Quarterback is the most crucial position in football. As such, NFL teams draft players at the position higher than they probably should. In the 2022 NFL Draft, the top signal-caller group isn't nearly as strong as last year, when five QBs went in the first 15 picks.
Despite that fact, QB-needy NFL teams will surely reach and draft passers ahead of where their talent dictates. However, if teams draft this year's top three quarterbacks as high as NFL Network draft guru Chad Reuter thinks they will, it will be a disaster.
This year's QB class is not strong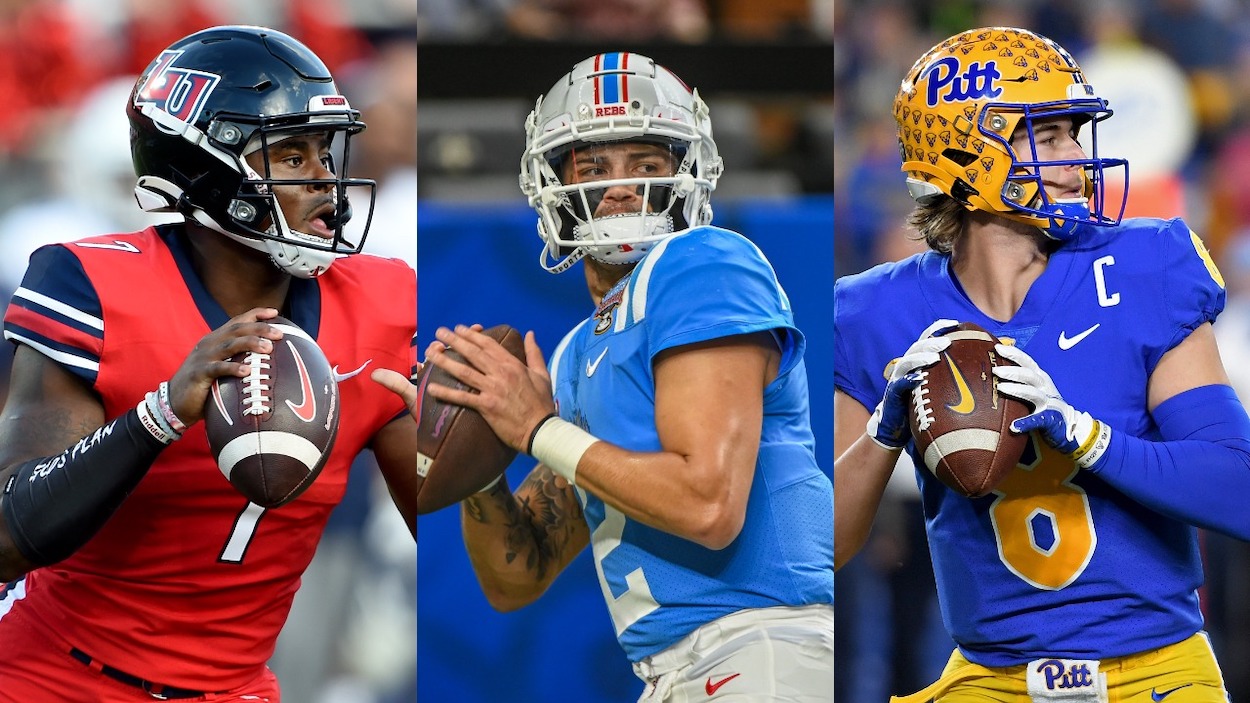 The 2021 NFL Draft quarterback class was one for the ages. It has a generational prospect (Trevor Lawrence), a one-year college wonder (Zach Wilson), an intriguing small school athlete (Trey Lance), an intriguing big program athlete (Justin Fields), and a big school winner (Mac Jones). It was like The Breakfast Club of QB drafts.
This year? Not so much.
Malik Willis has become the clear No. 1 prospect while going through the pre-draft process. He started his college career at Auburn before transferring to tiny Liberty University. There, he put up 5,107 yards with 47 touchdowns and 18 interceptions.
He's an excellent athlete and has a rocket arm. ESPN's Dan Orlovsky even compared him to Josh Allen. The only problem with that, though, is that while Allen is 6-foot-5, 240-pounds, Willis is just 6-feet and 219-pounds. Height doesn't matter as much as it used to in the NFL draft, but it will still give some teams pause.
Pittsburgh's Kenny Pickett spent five seasons with the Panthers and threw at least 300 passes in four of those years. He was a relatively average QB for the first four seasons at Pitt but broke out in 2021. Pickett threw for 4,319 yards in his redshirt senior year with 42 TDs and seven INTs.
The issue here isn't his much-publicized hand size, but this: Did Pickett dominate in 2021 because he finally found something that will allow him to continue to develop in the NFL? Or was his success due to the fact that he was a 23-year-old man playing against 18- to 21-year-old kids?
Finally, there is Ole Miss' Matt Corral. He spent four seasons in Oxford, Mississippi, and had two good seasons in '20 and '21. Last season, he threw for 3,349 yards, 20 TDs, and five INTs while also rushing for 614 yards and 11 TDs.
Corral has a good arm, good athleticism, and decent size (6-foot-2), although he's a little slight for an NFL running QB at just 212-pounds. Corral is a fine prospect, but nothing jumps off the page and makes you say, "wow," and that's how it was for four years in the SEC.
NFL Network's Chad Reuter has three QBs in the top six picks
Amidst a sea of mock drafts, NFL Network's Chad Reuter recently released his Mock Draft 1.0. Like almost all draft analysts (save for Maurice Jones-Drew), Reuter has Michigan pass-rusher Aiden Hutchinson No. 1 overall to the Jacksonville Jaguars.
After that, it starts to get weird.
Reuter has Malik Willis No. 2 to the Detroit Lions. This isn't entirely out of the realm of possibility, but it seems unlikely. The Lions have so many needs at so many positions, drafting a blue-chip prospect here like Georgia's Travon Walker, Oregon's Kayvon Thibodeaux, or Notre Dame's Kyle Hamilton seems more plausible.
Whether the Lions draft Willis No. 2 or not, what seems even more unlikely is that the Atlanta Falcons follow that up with Kenny Pickett. Yes, Matt Ryan is no longer there, and Marcus Mariota isn't the long-term answer. However, making a panic QB pick at No. 3 to start a long-haul rebuild doesn't seem likely.
Finally, at No. 6, Reuter has the Carolina Panthers taking Matt Corral. This seems the most plausible spot for the first QB to come off the board this year. If Willis does go earlier than expected, this could be QB2. But, QB3 at six? That's a bridge too far.
Yes, NFL teams desperately need franchise QBs. Still, after years of cautionary tales like Daniel Jones, Mitchell Trubisky, Jared Goff, Jameis Winston, Blake Bortles, and EJ Manuel, you'd think the powers that be in pro football have smartened up.
Or at least enough that three of the top six teams picking in the 2022 NFL Draft won't make the same mistakes.
Possible trades are still out there
In addition to the question marks surrounding the 2022 NFL Draft class at the quarterback position, there is another reason why QBs won't fly off the board early in this year's draft. That's because there are still plenty of veteran options out there that teams can turn to.
After an offseason that has already seen an unprecedented number of high-profile quarterback trades (Russell Wilson, Carson Wentz, Deshaun Watson, Matt Ryan), free-agent signings (Mitchell Trubisky, Marcus Mariota), and non/un-retirements (Aaron Rodgers, Tom Brady), there are still more dominoes to fall.
The free-agent passer market is getting slim. Ryan Fitzpatrick, Cam Newton, Andy Dalton, and Geno Smith are the last unsigned signal-callers who could conceivably start in 2022.
That said, there are still more QB trades on the horizon.
There's a good chance that the Cleveland Browns will still ship Baker Mayfield out, and the San Francisco 49ers can still pull the trigger on a Jimmy Garoppolo trade as well. The Lions, Falcons, and Panthers can all consider those options, as could the Houston Texans with pick Nos. 3 and 13 Seattle Seahawks at No. 9, the Philadelphia Eagles at Nos. 15 and 16, or the New Orleans Saints at No. 18.
Usually, the NFL draft presents teams with one last chance to get a starting QB for the upcoming season. This year, that's not the case, which means teams will be less likely to reach for a problematic passer.
Then again, NFL teams do extreme things to find their franchise QB. So, if Chad Reuter is correct, it would be a shock, but it wouldn't come as a total surprise.
All stats courtesy of Pro Football Reference and Sports Reference