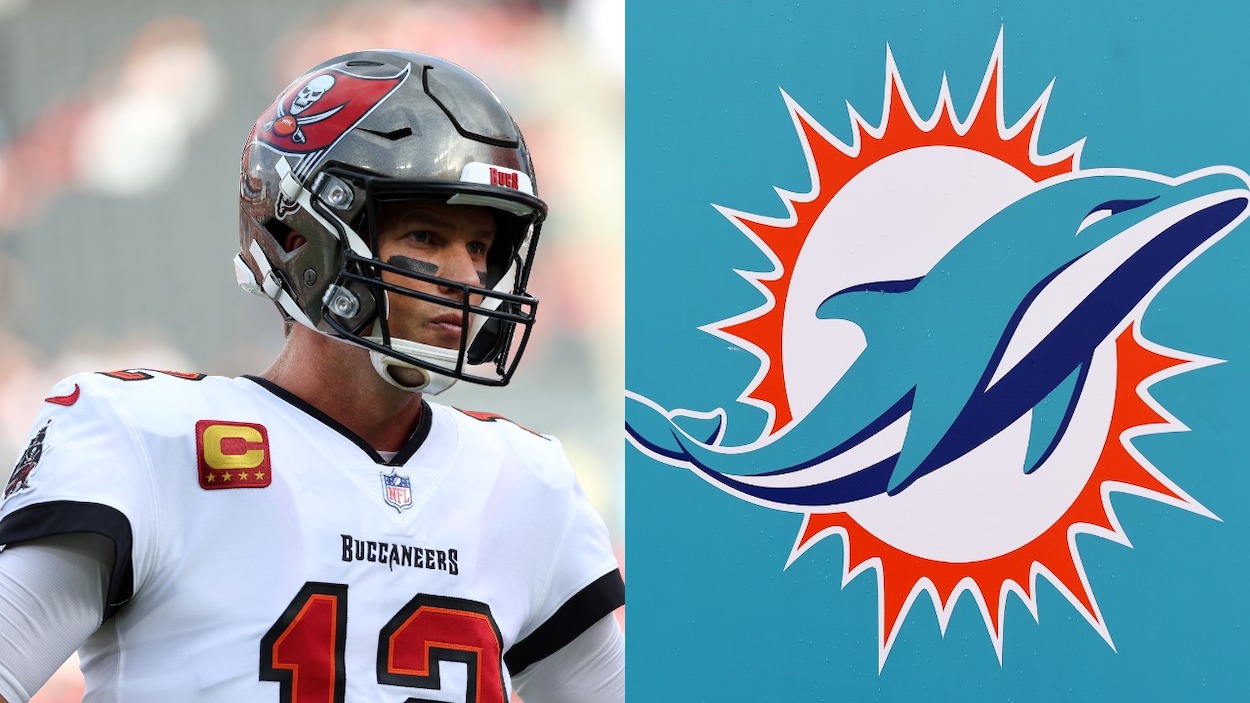 NFL Insider Ian Rapoport Reveals 3 Reasons Tom Brady to the Miami Dolphins 'Doesn't Make Any Sense'
Ian Rapoport isn't buying any of the rumors that Tom Brady is taking his talents to South Beach with the Miami Dolphins in 2022.
The Tom Brady retirement saga has taken many twists and turns this offseason, and it's only March. The initial news of the 44-year-old quarterback retiring was surprising, given his incredibly high level of play in 2021 and his stated goal of playing until at least 45. His abrupt return to the Tampa Bay Buccaneers after just 40 days of "retirement" was even more eyebrow-raising, and, now, the rumor that he might be on his way to the Miami Dolphins is the shocker of them all.
However, Miami Dolphins fans might want to sit tight before they start preordering their No. 12 jerseys. NFL insider Ian Rapoport poured cold water on the Brady to South Beach rumors and gave three convincing reasons why.
Reason No. 1: Tom Brady's contract with the Tampa Bay Buccaneers
NFL Network insider Ian Rapoport joined the Pat McAfee Show on Friday, as he regularly does, to discuss the goings-on around pro football. The conversation turned to Tom Brady after NESN hockey commentator Dale Arnold sparked a rumor on Twitter that Brady could head "further South" than Tampa for next season.
Rapoport was quick to shoot this rumor down, and the first reason is straightforward:
I haven't heard anything to corroborate any of [the Brady to Miami rumors]. Look, rumors happen, and, sometime, I am a part of them, so I can't make fun of all rumors. That is what drives all of us. This one doesn't make any sense. Brady is under contract with the Bucs.

Ian Rapoport on the Tom Brady to the Miami Dolphins rumors
While having a player under contract doesn't give NFL teams as much control as it used to over players, especially superstar QBs, the fact that Brady has a one-year, $25 million deal with the Tampa Bay Buccaneers still means that is the most likely team he'll play for in 2021.
Additionally, Buccaneers head coach Brue Arians has taken a hard line since Brady's retirement (and un-retirement) announcements that the organization has a contract with the signal-caller and the organization fully expects the seven-time Super Bowl-winner to honor that contract.
Reason No. 2: Brady has convened his buddies to stay in The Bay 
The contract isn't the only reason Ian Rapoport poo-pooed the Tom Brady to the Miami Dolphins rumors. The insider also explained that his actions since his return have spoken louder than his words on paper:
Plus, if I remember correctly, he did recruit a couple guys to sign back with Tampa, including his buddy Leonard Fournette, including Chris Godwin, including several other free agents. And is he really going to do that? I mean, Ryan Jensen came back. Is he really going to do that and then bail?

Ian Rapoport on the Tom Brady to the Miami Dolphins rumors
Love him or hate him, the one thing everyone seems to have to admit about TB12 is that his teammates love him and think he's a standup guy. That makes it hard to believe Brady would allow his running back, his No. 1 pass-catching target, and his center to believe he was truly coming back if he knows he isn't.
One conspiracy theory to note, though, is that, as the aforementioned Dale Arnold also pointed out in a different tweet, "And notice that @RobGronkowski hasn't re-signed with @Buccaneers yet?"
It's one thing for Brady not to show his cards to a few of his relatively new teammates. It's entirely different to mislead his best buddy, Rob Gronkowski. The day Gronk re-ups with the Bucs is the day we can all be sure Brady will play his home games in Raymond James Stadium in 2022.
Reason No. 3: The Brian Flores lawsuit
The third reason Ian Rapoport notes that Tom Brady won't (or possibly can't) force a move to the Miami Dolphins is the most serious and, perhaps, the most convincing:
Plus, if we remember correctly, there was kind of like a tampering thing that was part of the Brian Flores lawsuit involving the Miami Dolphins. So, after all this, after that allegation — which has not been proven — do the Dolphins then get him? None of this makes sense.  
The NFL is in the midst of a bombshell lawsuit. One of the allegations involves Dolphins owner Stephen Ross attempting to force, then trick, former head coach Brian Flores into tampering with an unnamed superstar QB. NFL insiders have almost universally identified that anonymous player as Brady.
If Brady comes back and forces his way to Miami, it could codify Flores' charges in the court of public opinion and possibly even in a court of law.
With all the other salacious allegations in that lawsuit regarding Ross, Bill Belichick and the New York Giants, John Elway and the Denver Broncos, and the league as a whole, it does seem like Commissioner Roger Goodell would throw his body in front of a Brady to Miami deal for the good of the league.
Like Sportscasting on Facebook. Follow us on Twitter @sportscasting19.