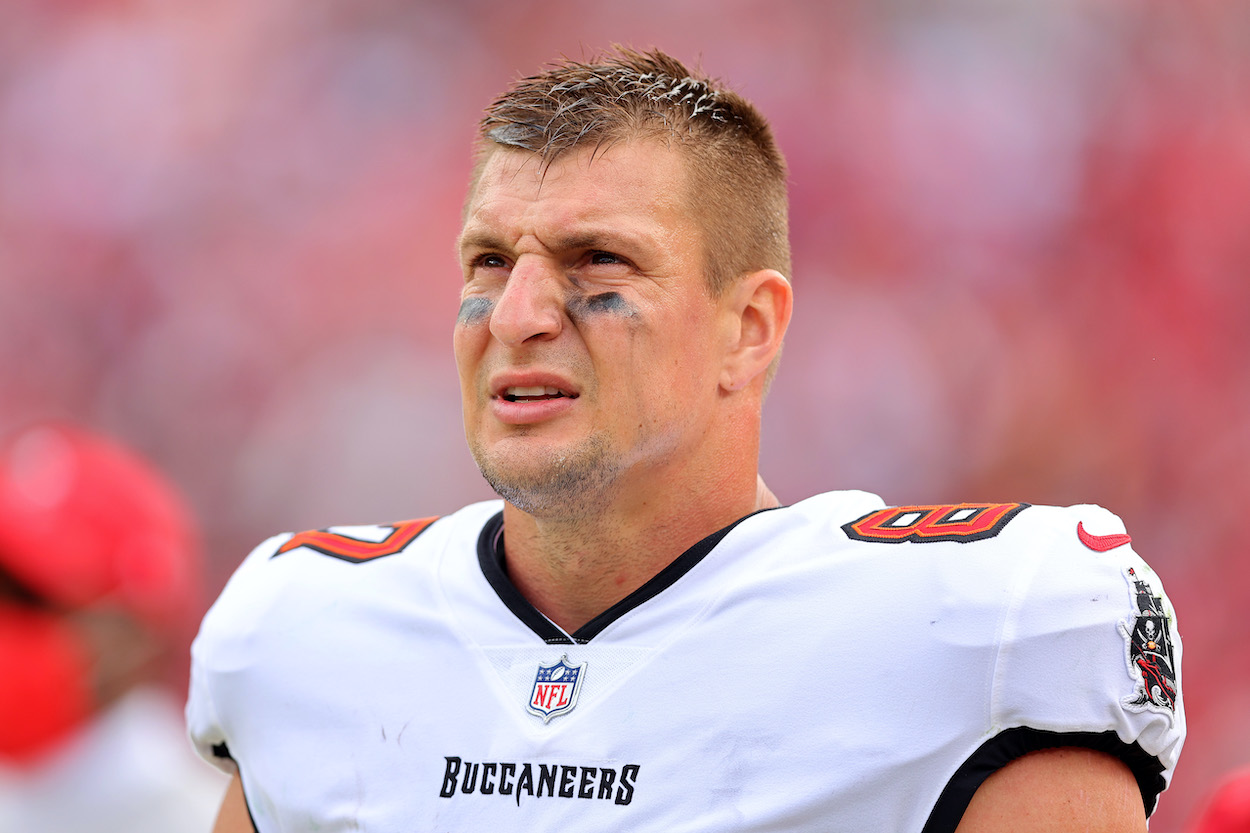 Rob Gronkowski Reveals the 'Real Job' He Said He'd Have to Get if He Didn't Hit His $1M Incentive
Tampa Bay Buccaneers tight end Rob Gronkowski said if he wasn't a football player, he'd be happiest doing a job he used to do back when he was a kid.
NFL fans can probably come up with a lot of jokes about what Tampa Bay Buccaneers tight end Rob Gronkowski would be doing if he wasn't a future Hall of Fame football player. However, after an interview last week, we no longer have to speculate or guess as Gronk revealed what job he thinks he would be doing if not catching touchdown passes from Tom Brady.
Rob Gronkowski made $1M in Week 18 with a bit of help from Tom Brady
The Tampa Bay Buccaneers came into their Week 18 matchup vs. the Carolina Panthers with their playoff seeding mostly locked up. The team did want to win, though, because a win — coupled with a Los Angeles Rams loss — would give the team the NFC No. 2 seed.
For Buccaneers tight end Rob Gronkowski, there was something else on the line as well.
Gronkowski came into the game with 48 catches, 565 receiving yards, and six touchdowns. According to a tweet from NFL insider Adam Schefter, Gronk's contract included a $500,000 incentive for 55 catches and a $500,000 incentive for 650 receiving yards this season.
His season totals put him seven catches and 85-yards short of earning $1 million.
Sure, the former New England Patriots star has earned $70.6 million in his career so far, but who couldn't use another million bucks?
It wasn't just Gronkowski who knew what he had to do during the game. His longtime buddy Tom Brady knew too. The QB targeted the 6-foot-6 tight end 10 times, resulting in seven catches, 137 yards, and a cool million dollars in Gronkowski's bank account.
The Buccaneers also won the game 41-17 and secured the No. 2 spot in their division.
Gronkowski admitted he thinks he'd be a landscaper if he weren't a football player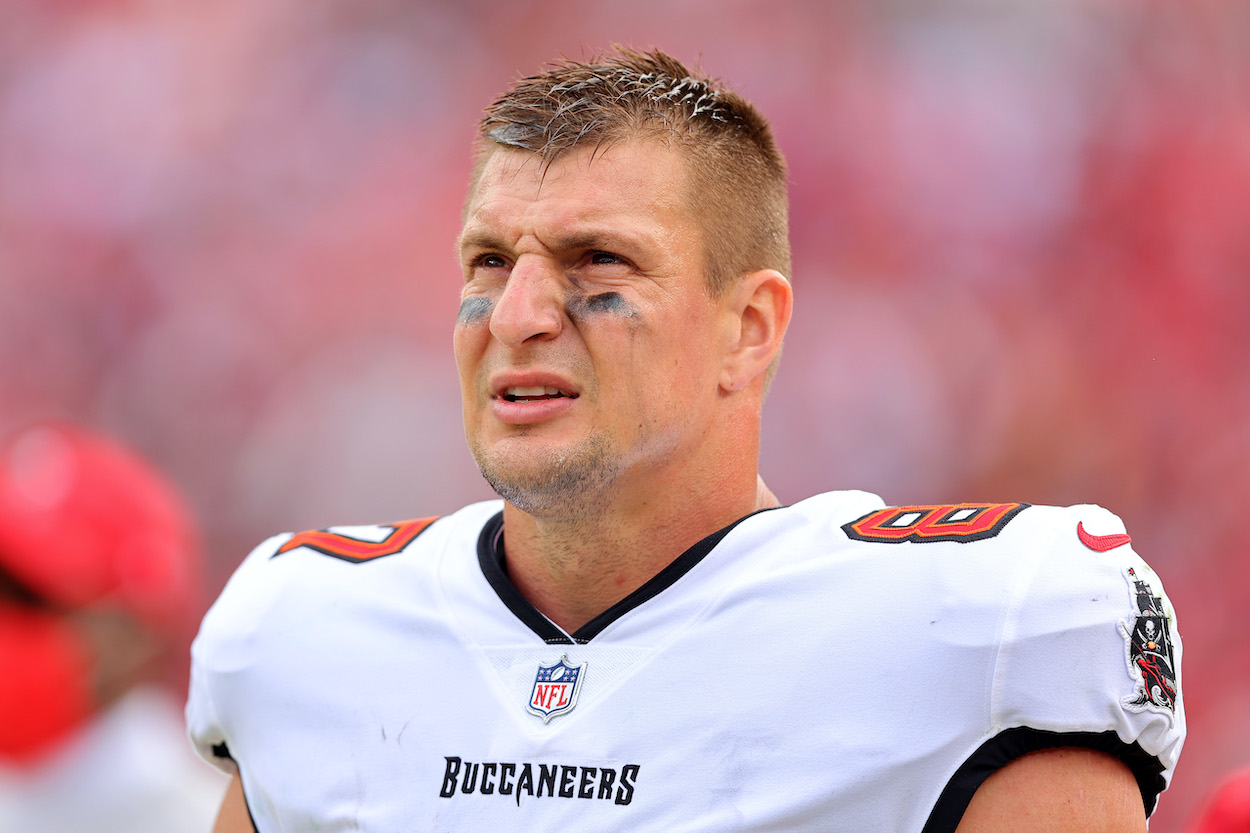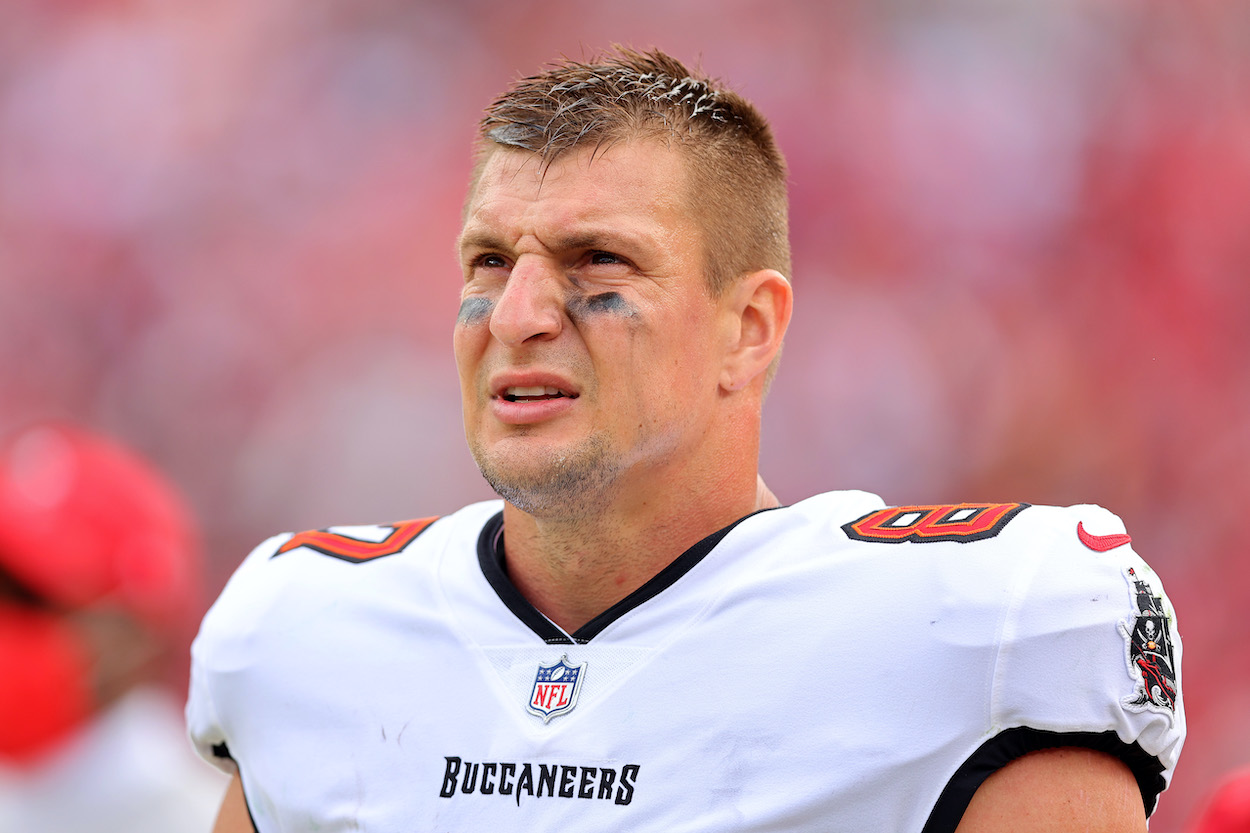 Ahead of the Tampa Bay Buccaneers 31-15 destruction of the Philadelphia Eagles in the Wild Card Round, Rob Gronkowski sat down with Erin Andrews on the FOX NFL Sunday pregame show.
During the segment at the Bucs' practice facility, Andrews brought up Gronk earning his "milly" in incentives in Week 18. The reporter then showed a clip from the game where a mic'ed up Gronkowski tells a Buccaneers' staff member, "If I don't hit [the incentives], I have to go get a real job."
Andrews told the tight end, "let's talk about what type of real job Robby G would want."
Gronkowski then shared the "real" job he thinks he'd have if he weren't a future Hall of Fame TE:
If you really want to know, I actually used to cut the lawn when I was growing up. And then I was just walking over here, and I saw all the people that take care of ort lawn just cutting it just now right after practice. And I'm like, 'Man, that's cool. I've always wanted to do that.' The finished product after you mow the lawn.

Rob Gronkowski on being a landscaper
Picturing All-Pro Rob Gronkowski admiring a lawn he freshly cut is both hilarious and something that you can totally see being real if his life took a different direction.
For now, though, Brady and the Buccaneers are surely glad that Gronk put down the lawnmower and picked up a football all those years ago in the Buffalo suburbs.
Could the Tampa Bay Buccaneers Divisional Round Game vs. the LA Rams be Gronk and Brady's last ride?
Whenever the first year is that the duo is eligible, Rob Gronkowski and Tom Brady will walk into the Pro Football Hall of Fame in Canton, Ohio, without much debate. The pair has the second-most TDs of any duo in history, and both are widely considered the best player ever to play their positions.
While the Brady/Gronk induction ceremony could be years away, it also could be closer than many think.
Conventional wisdom is that Gronkowski will play for as long as Brady does, and when his pass-thrower retires, the pass-catcher will as well. And, while Brady has given no indication that retirement is close, at 44, it's fair to speculate.
NFL Network's Peter Schrager recently said on the Bill Simmons Podcast that it's "eerily quiet" on the Brady retirement front, and it wouldn't completely shock him if, after a loss in the Divisional Round to the LA Rams or after the two subsequent rounds, Brady decided to hang it up.
That means two things for football fans.
One is that we should all be savoring every last Brady and Gronkowski play this weekend in case that happens. And two, Rob Gronkowski Landscaping may be coming to a town near you soon.
All stats courtesy of Pro Football Reference