Rob Gronkowski's Week 18 Statistics Will Say Plenty About Tom Brady and the Buccaneers' Feelings Toward Antonio Brown
The list of people fully conversant in the ins and outs of the week-long Antonio Brown saga probably consists solely of the 12th-year NFL wide receiver, Tampa Bay Buccaneers coach Bruce Arians, and general manager Jason Licht.
Brown has had plenty to say since his Week 17 meltdown and subsequent termination, but Arians and Licht have remained tight-lipped. However, quarterback Tom Brady might tell the pro football world all it needs to know by how often he targets longtime teammate Rob Gronkowski on Sunday against the Carolina Panthers.
Tom Brady, Rob Gronkowski, and the Tampa Bay Buccaneers have work to do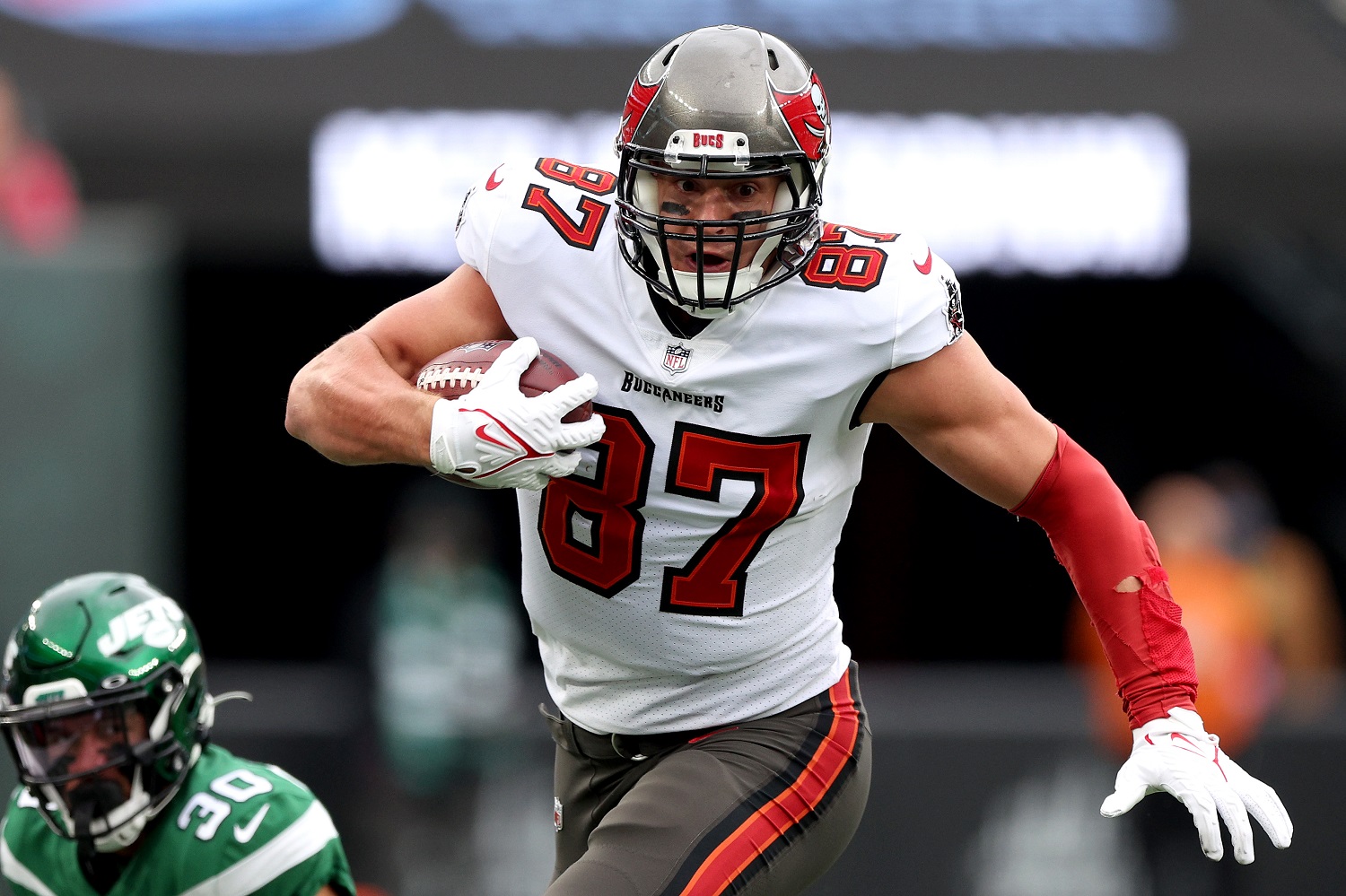 The Tampa Bay Buccaneers are heading to the NFC playoffs regardless of the outcome in Week 18 against the Carolina Panthers, but they still have something on the line. If the Los Angeles Rams lose to the San Francisco 49ers and the Bucs knock off the Panthers, then Tampa Bay heads to the postseason as a No. 2 seed, which brings with it the possibility of an additional home playoff game.
That in itself is motivation to stay focused, but quarterback Tom Brady and tight end Rob Gronkowski have something on the line, too. Brady has the opportunity to show his professionalism, and Gronkowski is in prime position to cash in on contract incentives.
Brady owns a record seven Super Bowl rings but recently sacked Bucs receiver Antonio Brown has thrown him under the bus by suggesting that the quarterback bases friendships on whether a player can contribute to his continued success, according to ESPN.
How much of what Brown said about Brady, widely believed to have lobbied to bring the receiver to Tampa Bay a year ago, is genuine or just blowing off steam after the abrupt ending to his Buccaneers career is subject to debate.
Rob Gronkowski's Week 18 stat line bears watching
According to Spotrac, which tracks sports contract information, Rob Gronkowski has earned a little more than $70 million from the New England Patriots and Tampa Bay Buccaneers in his NFL career. However, the highly accomplished tight end lives a modest lifestyle by star athlete standards and has banked most if not all of his football money while living off endorsement deals.
In that context, Week 18 of the NFL season against the Carolina Panthers shouldn't mean much for Gronkowski. However, the 11th-year pro out of the University of Arizona has money on the line, and whether he collects bears watching.
According to a tweet from ESPN's Adam Schefter, Gronk needs seven catches and 85 receiving yards in the regular-season finale. Each of those feats earns him $500,000 in incentives. (Note: Schefter's tweet likely contains a pair of typos, since he already has 665 yards and the goal is presumably 750.)
Gronkowski has played his entire NFL career alongside Tom Brady, who recruited the tight end out of retirement to join him in Tampa. Gronk, an unabashed fan of the QB, is undoubtedly a meaningful part of the Bucs' game plan. But if the game is in hand and the tight end still needs catches and yardage, don't be shocked to see Brady force-feed him the ball.
The juxtaposition between Gronk and Antonio Brown is interesting
Antonio Brown storming off the field during the Tampa Bay Buccaneers' victory over the New York Jets overshadowed just about all other NFL news in Week 17.
However, contract incentives were likely to have been a factor in Brown's tantrum, which led to the team releasing the receiver. The Spotrac Twitter account cited Brown being 28 catches, 255 yards, three touchdowns away from $2 million in incentives.
Other reports point to half that sum being within more reasonable reach for Brown. Thus, there has been conjecture that he may have wanted the Buccaneers to guarantee some or all the bonus money in order to potentially avoid playing while injured.
Again, only people deep on the inside know the specifics of what transpired. But if the Bucs did turn down AB's request to honor the incentive clauses and they force-feed Rob Gronkowski the ball a week later so that he could cash in, then fans would have a better read on just how the organization has felt about Brown for the better part of two years.
Like Sportscasting on Facebook. Follow us on Twitter @sportscasting19.