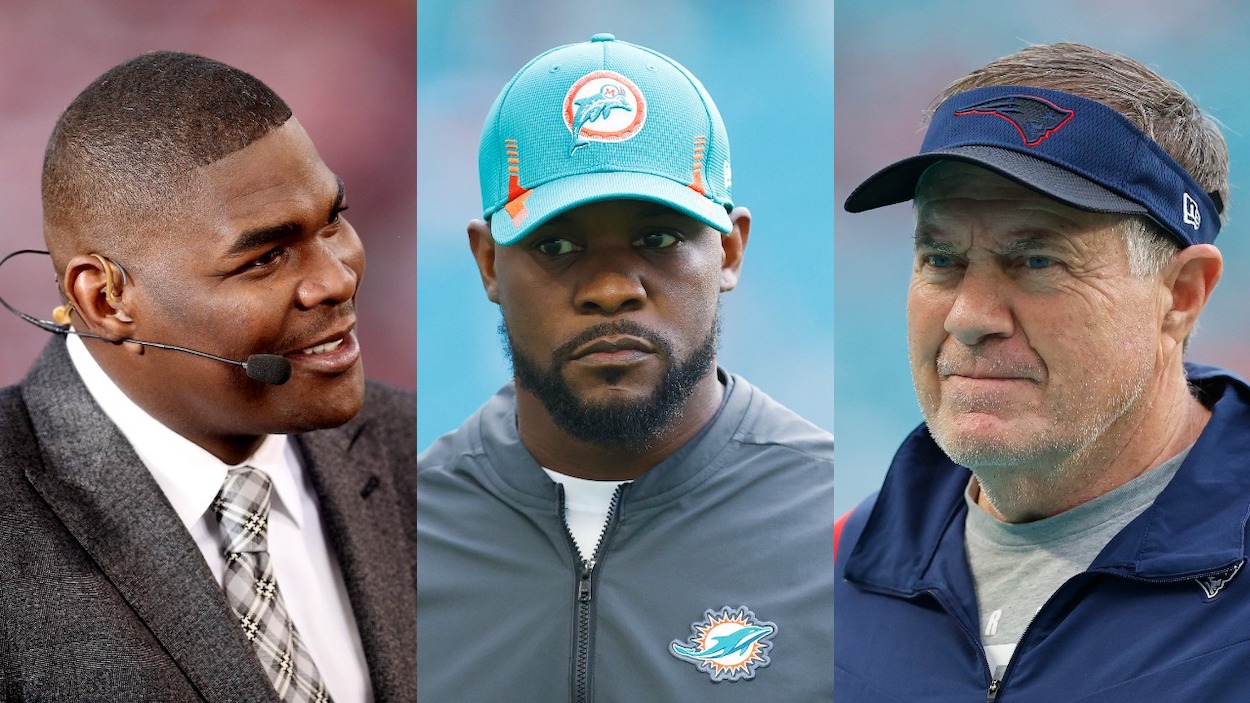 Keyshawn Johnson Defends Bill Belichick's Role in the Brian Flores Lawsuit: 'He's Not Egregious'
Bill Belichick is a major player in the Brian Flores lawsuit, but ESPN's Keyshawn Johnson says the coach didn't do anything wrong.
The groundbreaking Brian Flores lawsuit rocked the NFL this week, attacking the league's hiring practices surrounding Black and minority candidates. The suit includes a text message from New England Patriots coach Bill Belichick which, the former Miami Dolphins head coach and his lawyers say, helps prove that the New York Giants' compliance with the Rooney Rule is a "sham." Whether it does or not, former NFL star Keyshawn Johnson says Belichick isn't at fault.
Bill Belichick plays a key role in the Brian Flores lawsuit
The Brian Flores lawsuit (which you can read in full here) levies charges against the New York Giants, Miami Dolphins, Denver Broncos, and the NFL as a whole.
The accusations against the Giants are that the team interviewed Flores just to satisfy the Rooney Rule, even though new general manager Joe Schoen and primary owners John Mara and Steve Tisch had already decided on hiring Buffalo Bills offensive coordinator Brian Daboll.
As proof that this is how the Giants interview process played out, the Flores lawsuit includes text messages between Bill Belichick and Flores.
In the texts, Belichick congratulates Flores because the Patriots coach — who was defensive coordinator for the Giants from 1985-90 — says he heard his former assistant got the Giants job.
Flores responded, confused because his interview with the franchise wasn't until the next day. Eventually, it came out that Belichick texted the wrong Brian. The six-time Super Bowl winner thought he was texting another former assistant, Brian Daboll.
Belichick ends his part of the correspondence by writing, "Sorry — I f***** this up. I double checked & misread the text. I think they are naming Daboll. I'm sorry about that. BB."
This text exchange seems like it could be a major smoking gun for Flores' team. Whether it turns out to be or not, former Pro Bowl wide receiver Keyshawn Johnson says don't blame Belichick.
Keyshawn Johnson defends Belichick for mistaken texts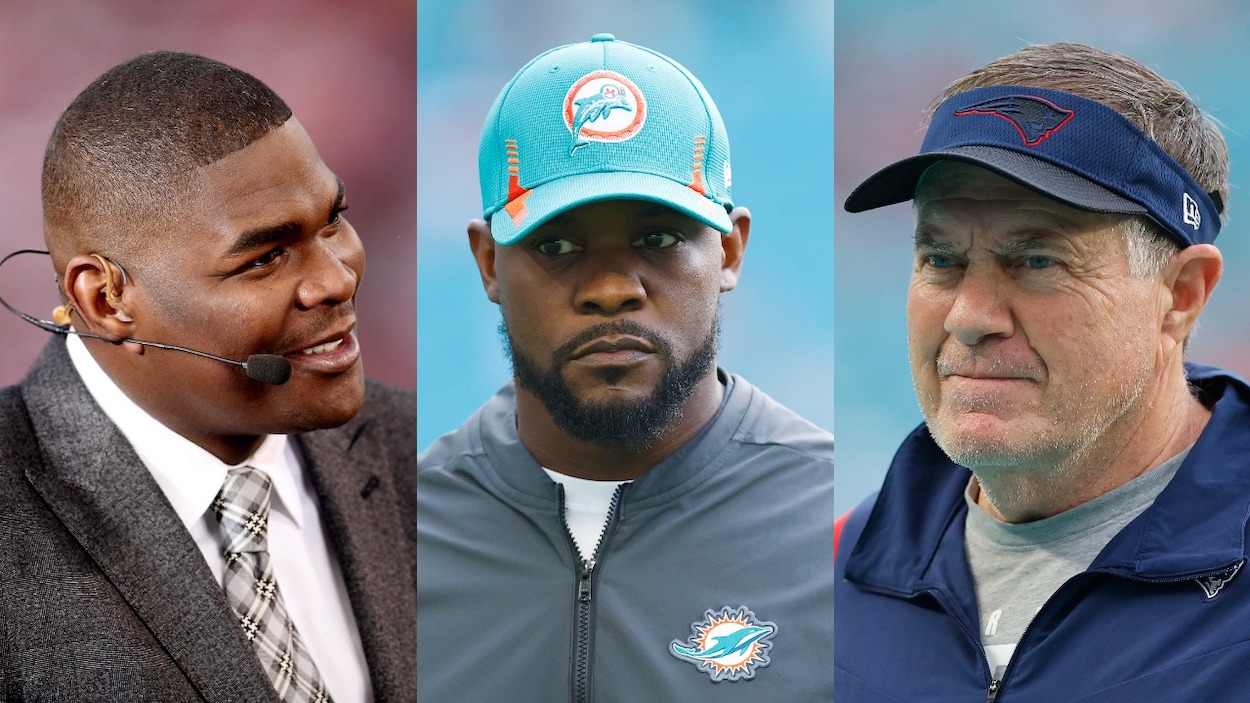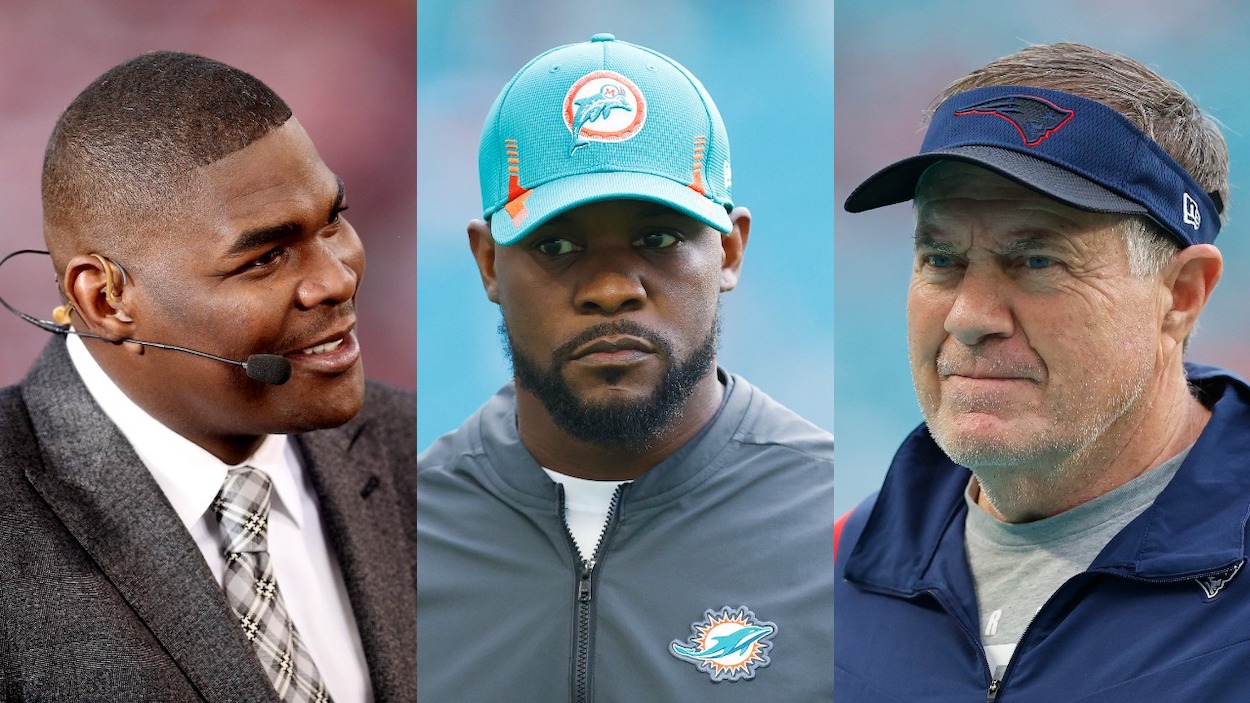 On ESPN's First Take the morning after the Brian Flores lawsuit came out, co-hosts Stephen A. Smith, Keyshawn Johnson, and Molly Qerim discussed Bill Belichick's role in the complaint and the situation.
As a longtime New York Giants assistant, the hosts agreed that Belichick is likely plugged-in to the organization. And, the owners probably reached out to him to ask about any former assistants (be it Flores or Daboll) that they were considering.
Johnson explained that these types of conversations are commonplace in the world of pro football. He also said that Belichick is involved now, and other conversations will come out. However, for now, his only mistake was the very relatable one of texting the wrong Brian.
"As far as Bill Belichick goes, he's not egregious," Johnson said. "He's not hiding things and playing games with Brian Flores at all."
Qerim asked Smith and Johnson if they thought history might go the other way on Belichick, and he would be lauded for his role in helping change minority hiring practices. The co-hosts didn't believe this would happen either because, once again, it was a simple mistake by a 69-year-old coach and not a malicious or benevolent move.
Will Brian Flores get another NFL head coaching job?
There is rampant speculation among NFL circles, media, and even fans that the Brian Flores lawsuit is a career killer. Will any team give Flores a head coaching job again after he essentially sued the 32 (or so) men who control these jobs?
This hiring cycle, five teams have filled their vacant head coaching roles (all with white men, it's worth noting). This list includes the New York Giants (Brian Daboll), Chicago Bears (Matt Eberflus), Denver Broncos (Nathaniel Hackett), Las Vegas Raiders (Josh McDaniels), and Minnesota Vikings (Kevin O'Connell).
That leaves four head coaching jobs available for 2022.
The Jacksonville Jaguars didn't interview Flores, and the Miami Dolphins fired him, so those jobs are out. This leaves two teams he did interview with, the Houston Texans and New Orleans Saints.
The favorite for the Texans' job seems to be high school coach Josh McCowan, who is close with Houston's executive vice president of football operations, Jack Easterby. As for the Saints, there isn't a clear frontrunner, but it wouldn't be a surprise if current defensive coordinator Dennis Allen got the job after Sean Payton's shocking retirement.
All this points to the fact that Flores' chances to get a new job this hiring cycles are slim. After that, we'll have to see how the lawsuit plays out.
Flores is an excellent coach who did amazing things with a not-that-talented team in Miami. We don't know now if he will get another job soon, but what's certain is he should.
Like Sportscasting on Facebook. Follow us on Twitter @sportscasting19