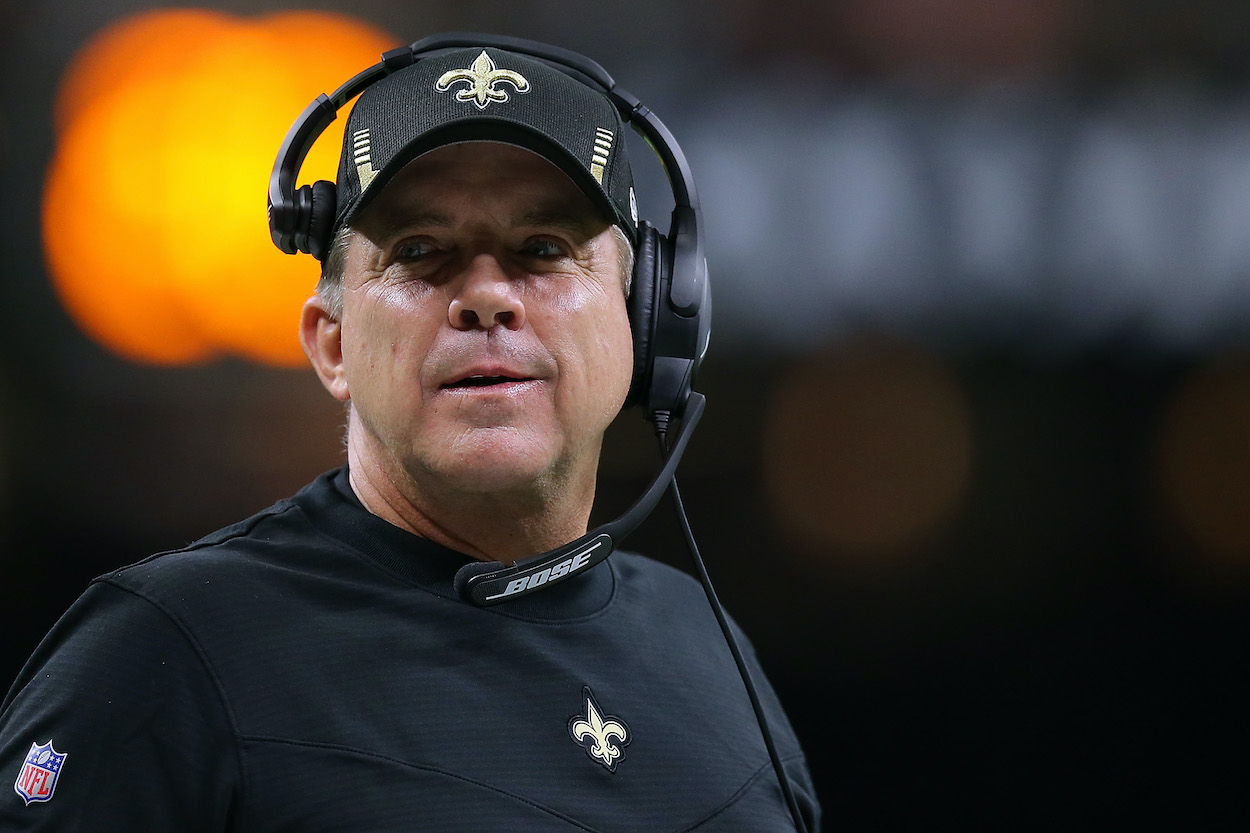 Sean Payton Decided to Leave the New Orleans Saints After 'He Played Golf, He Drank Tequila' in Cabo, According to NFL Insider Tom Pelissero
Tom Pelissero and Dan Patrick discussed why Sean Payton stepped down as head coach of the New Orleans Saints and what could be next for the former Dallas Cowboys assistant.
Sean Payton spent 16 years with the New Orleans Saints organization. After a tumultuous year without his Hall of Fame QB, the head coach decided to step down from his position with the Saints. NFL Network insider Tom Pelissero told Dan Patrick how Payton came to that decision. Still, Patrick doesn't completely buy the explanation or the narrative that the former Dallas Cowboys assistant will take 2022 off from coaching.
Sean Payton is leaving the New Orleans Saints after a decade and a half in charge
Outside of Bill Belichick and the New England Patriots, Sean Payton and the New Orleans Saints were the longest-paired team and head coach in the NFL.
Payton's 16 years with the organization give him one more year than the Pittsburgh Steelers and Mike Tomlin and two more than the Baltimore Ravens and John Harbaugh. Although he did lose a year due to the BountyGate suspension. That makes him tied with Tomlin and one ahead of Harbaugh in actual seasons coached.
Rumors of Payton's departure have festered for years. It's no secret that one of Dallas Cowboys owner Jerry Jones' biggest regret is letting Payton go in Bill Parcells' last season as Cowboys coach. Since then, every time the 'Boys have struggled, talk of Jones making a raid for Payton surfaced.
Despite the interest from the neighboring state, Payton stayed loyal to New Orleans and the Saints.
When the innovative offensive coach showed up in the Big Easy in 2006, it was a trying time for the city. On the football side, the team had just two winning seasons in the last 10 years. And, on the much more serious real-life side, New Orleans was in the midst of trying to recover from the devastation of Hurricane Katrina.
Payton, and the free-agent quarterback he signed that offseason, Drew Brees, helped heal New Orleans from a football and real-life perspective by giving the proud city a winning team to rally around.
The Saints went 10-6 that first year and, three years later, won the franchise's first Super Bowl.
All told, Payton finishes his career in New Orleans with a 152-89 record and nine playoff appearances. The team struggled this season, though, the first without Brees. Despite the challenges, the squad still managed a 9-8 record and fought for a playoff spot until the bitter end.
In a somewhat unexpected move on Jan. 22, 2022, Payton announced he was stepping down as the head coach of the Saints.
NFL Insider Tom Pelissero explained what went into the coach's decision to step away
Tom Pelissero of the NFL Network joined the Dan Patrick Show this week to discuss various NFL topics, including Sean Payton's departure. Patrick asked Pelissero about Payton. The reporter explained that the coach needs some "time away" following "such a trying season.
Pelissero listed the New Orleans Saints struggles this year, from opening the season with a home game in Jacksonville, Florida because of Hurricane Ida to losing quarterback Jameis Winston for the season to "starting Ian Book in a nationally televised game" thanks to COVID-19 issues.
He then explained Payton's process for coming to a decision after the season ended:
Shortly after the season ended, he flew down to Cabo. He played golf, he drank tequila, he thought about his future, and he came back, and he just thought, "I need a break."

Tom Pelissero on Sean Payton
That all makes complete sense.
With the real-life stresses of a hurricane and a global pandemic, combined with the professional stress of facing a future without a Hall of Fame QB, it makes sense that Payton would see now as a good time to step away.
The standard narrative is that Payton will move to the broadcast booth for the 2022 season and reevaluate his desire and opportunities to coach after that.
However, some, including Dan Patrick, think the timing of the coach's announcement is too coincidental not to point to something else: Becoming head coach of the Dallas Cowboys.
Could Sean Payton be the next head coach of the Dallas Cowboys?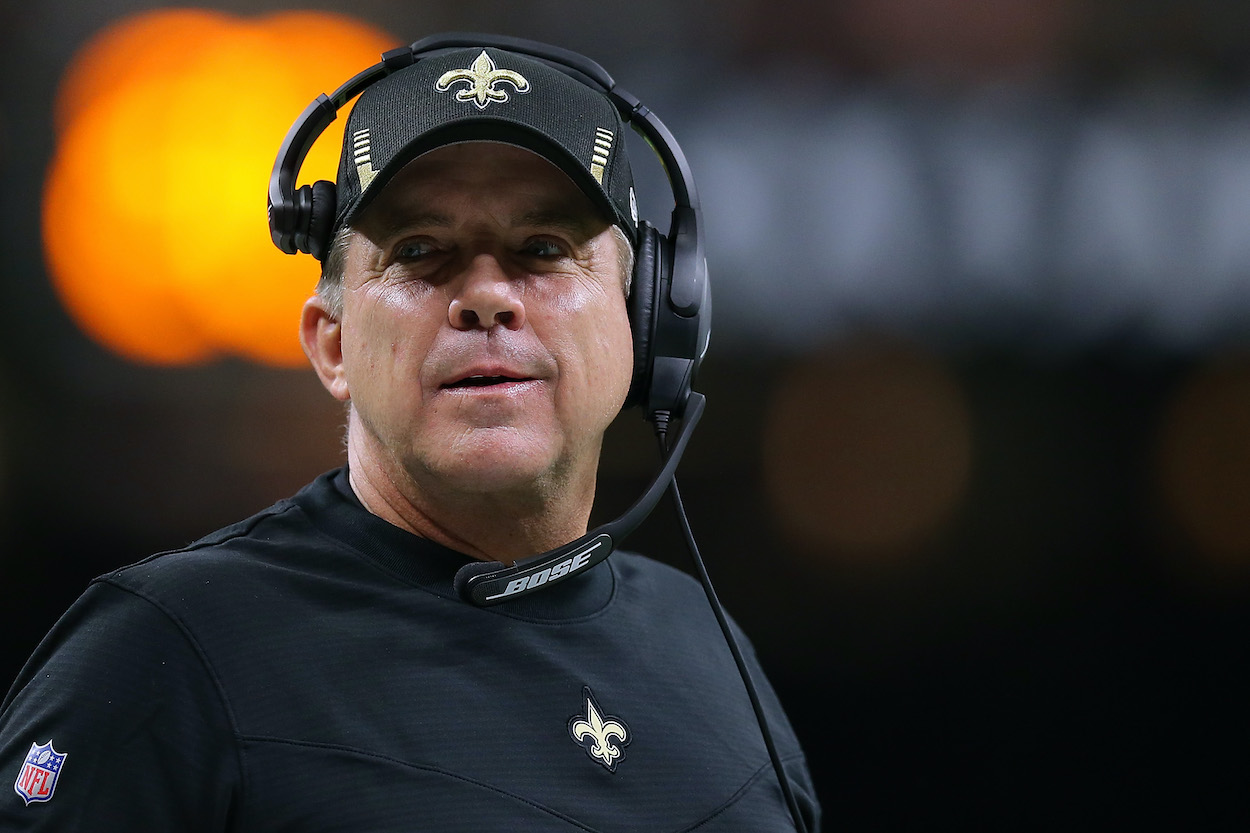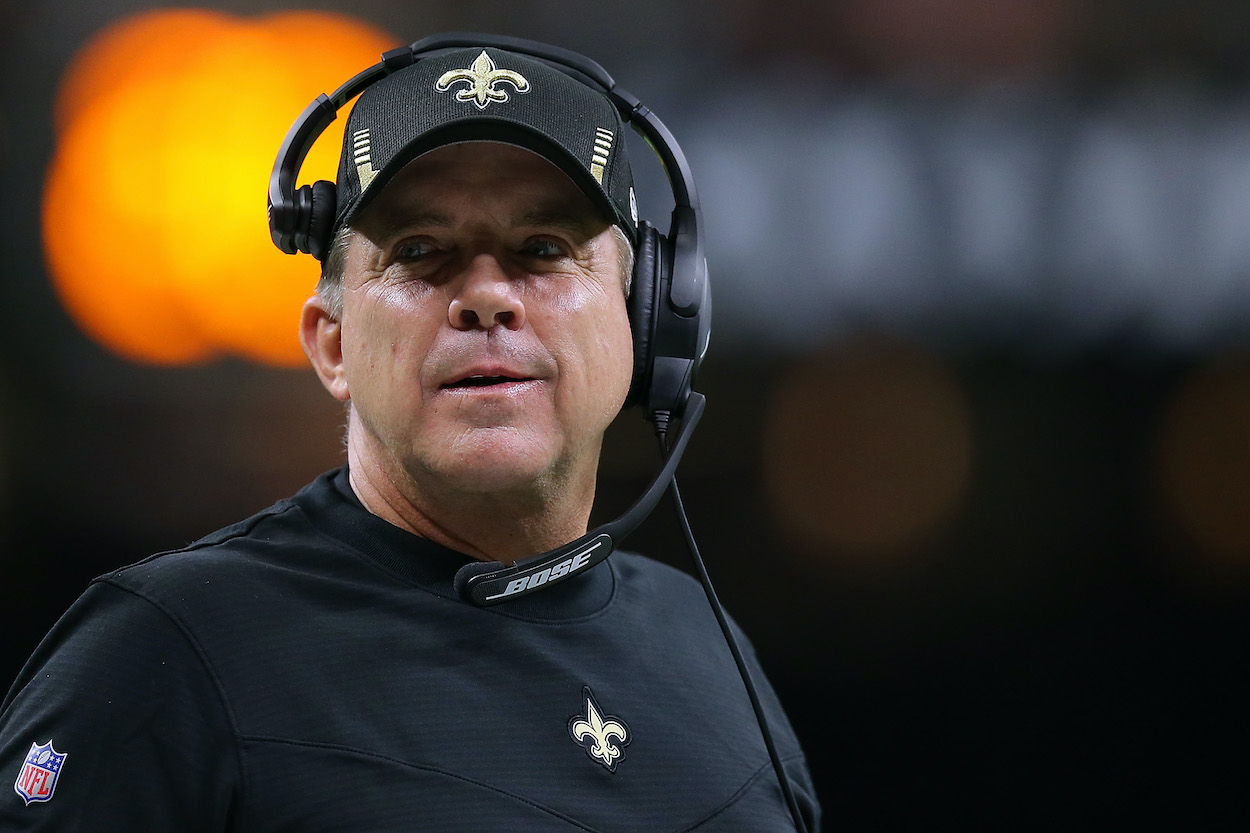 There is a massive shakeup going on in the NFL broadcasting world. With Amazon entering the fray in 2022, the networks are playing broadcaster roulette with longtime NFL commentators like Al Michaels and Troy Aikman.
One common rumor out there right now is that if Aikman leaves for Amazon, FOX's top target to replace him would be Sean Payton.
However, sports talk host Dan Patrick has another theory, and he ran his idea by Tom Pelissero during their conversation:
Look, Jerry Jones is going to be 80 years of age. He's not given the stamp of approval for Mike McCarthy coming back. The timing of this is just too strange. Why wait an extra year for Sean Payton when you could get him now? And you give the Saints money and/or picks, and you've got your coach. A coach that you've always wanted.

Dan Patrick on Sean Payton and Jerry Jones
Pelissero told Patrick "never say never" and admitted other owners, in addition to Jerry Jones, are monitoring Payton's situation closely. The reporter did tell Patrick, though, that he genuinely believes, right now, Payton's "intention is to take 2022 off."
So, it does sound like we will all get to enjoy Payton commentating on games in 2022. That said, after the debacle that was the Dallas Cowboys playoff exit, don't completely rule out Jones making Payton a Godfather offer and finally getting his man.
All stats courtesy of Pro Football Reference