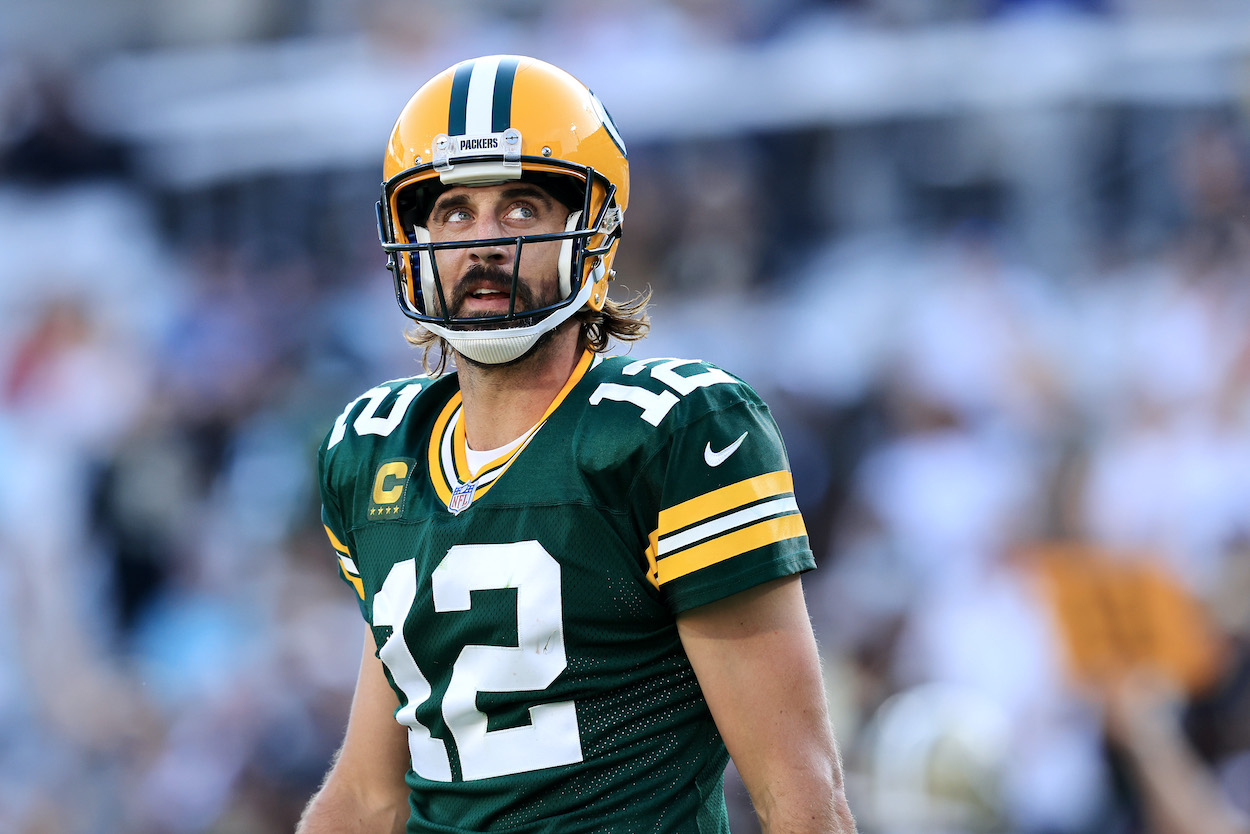 Aaron Rodgers Debuts the 2021 Version of His Famous 'Relax' Quote After Embarrassing New Orleans Saints Blowout
Seven years ago, the Green Bay Packers started terribly and QB Aaron Rodgers told fans to "relax." Now, he's got a new mantra for 2021. The veteran signal-caller explained why as bad as the Week 1 loss was, fans shouldn't panic.
The mythology of Aaron Rodgers is built on many things. From his draft day slide to his time behind Brett Favre to his Super Bowl win and his three MVPs, Rodgers has had a legendary career. One of the most iconic things Rodgers ever did was to tell Packers fans to calm down. This followed three bad games to open the 2014 NFL season. After doing so, the quarterback went out and backed up his talk in a way few people in sports ever could.
Now, the Green Bay Packers are once again in an unexpected early-season hole after an embarrassing blowout at the hands of the transitioning New Orleans Saints. The one thing that came out of Sunday afternoon that Packers fans can feel good about is that, like in 2014, Rodgers doesn't seem worried.
Aaron Rodgers told everyone to "relax" in 2014
In 2014, the Green Bay Packers' season also didn't start well. The Seattle Seahawks blew out Rodgers' squad in Week 1, 36-16. Then, after just a touchdown win over the lowly New York Jets in Week 2, the Detroit Lions took the Pack down 19-7.
With the panic meter in Wisconsin cranked to 11, Rodgers took to the airwaves of ESPN Radio Wisconsin. There, he delivered his now-famous advice to panicky Packers fans:
Five letters here just for everybody out there in Packer-land: R-E-L-A-X. Relax. We're going to be OK.

Aaron Rodgers to Green Bay Packers fans in 2014
The quarterback's words were prophetic. Green Bay wasn't just "OK." The team (and especially Rodgers) were fantastic from there on out. The team won its next two games by a combined 52 points and, overall, following Rodgers' reminder, the Packers won 11 of the next 13 games to finish the season 12-4.
The former Cal QB made the Pro Bowl, first-team All-Pro, and won the NFL MVP Award. The team made it to the NFC Championship game, where it lost a nail-biter to the Seattle Seahawks in overtime 28-22.
After an embarrassing blowout by the Saints, Rodgers debuted his new saying
After a summer of drama surrounding Aaron Rodgers, the wayward passer showed up at Packers training camp. Everything seemed to be trending in the right direction for the 2021 season.
Even Green Bay's first opponent seemed tailor-made to help Rodgers and the Pack get off to a good start. The team faced a New Orleans Saints squad in its first post-Drew Brees contest. The game was in Jacksonville, too, because of Hurricane Ida's effect on Louisiana.  
The game did not go according to plan for the Packers, though.
The Jameis Winston-led Saints jumped out early and never let up. Rodgers struggled mightily and put up a horrendous performance. When the dust settled on the Saints' 38-3 victory, Rodgers' final stat line was 15-of-28 completions (53.6%), 133 passing yards, zero touchdowns, and two interceptions. In the fourth quarter, he even took a seat on the bench to get backup Jordan Love some reps.
In his postgame press conference, a reporter told Rodgers that his head coach, Matt LaFleur, used the words "shocking, embarrassing, and humbling" to describe the loss. That's when Rodgers debuted his 2021 soundbite to calm and reassure the worried masses:
I'll let him use those words, and I'll use, It's just one game. Ya know, we played bad, I played bad, offensively we didn't execute very well. One game, we got 16 to go.

Aaron Rodgers on the Green Bay Packers Week 1 loss
Whether it's Packers fans saying, "it's just one game" delightedly as the team rips off win after win, or the critics use it sarcastically as Rodger's possible last season in Green Bay turns into a massive disappointment, we'll likely be hearing "it's just one game" a lot this season in reference to the Packers now.
The Green Bay Packers can right the ship in Week 2 on 'Monday Night Football'
Most prognosticators probably had Green Bay penciled in for a 2-0 record heading into the Week 3 Sunday Night Football battle against the San Francisco 49ers.
Now, after a blowout loss, the team's Week 2 Monday Night Football divisional showdown against the Detroit Lions doesn't look nearly as inevitable as it did just a few days ago.
In addition to the Packers looking so bad against the Saints, the Lions looked surprisingly competent in a close, eight-point loss to San Fran. The team's much-maligned signal-caller Jared Goff threw for 338 yards with three touchdowns and one pick. Running backs D'Andre Swift and Jamaal Williams and tight end T.J. Hockenson all looked dangerous. If the defense can get it together, Detroit might not be the cupcake that many believed.
Despite the Lions' frisky start, Aaron Rodgers and the Green Bay should be able to get back on track against their lowly division foe.  
If not, even though "it's just one game," Packers fans everywhere will no longer be able to "relax" about the 2021 season.
All stats courtesy of Pro Football Reference