Aaron Rodgers is Trolling the Packers on Social Media to Get Yet Another Ex-Teammate Back
The 2021 NFL offseason was the summer of Aaron Rodgers' discontent. He openly waged war against the Packers front office – specifically general manager Brian Gutekunst – and caused six months of mass speculation as to whether or not he'd be back for his 17th season at Lambeau Field. When he finally did return, Rodgers held an astonishing, soul-bearing press conference where he laid out his beefs with the organization, including trading or releasing his friends without consulting him first.
It seems like Gutekunst and company made several concessions to get Rodgers back in the building, including a possible secret deal to trade him after the 2021 season. Another pact the two sides seem to have is that they will bring back some old-time Rodgers favorites. Randall Cobb was the first, now Rodgers is campaigning on social media for another.
Aaron Rodgers is not happy that the Packers got rid of his buddies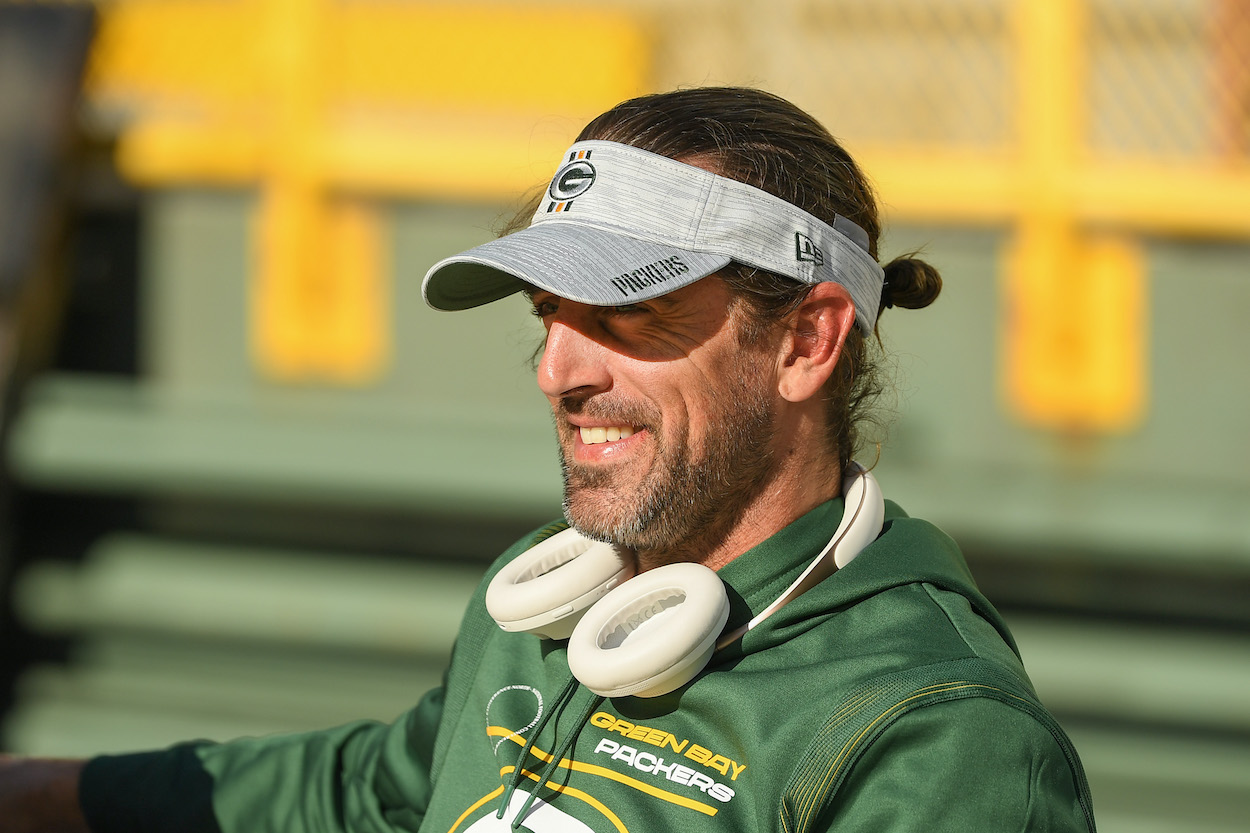 One major piece of speculation around the Aaron Rodgers saga this offseason centered around a little-known wide receiver named Jake Kumerow. The Packers released the former University of Wisconsin-Whitewater pass-catcher right before the 2020 season, which upset the QB.
Rodgers confirmed that the treatment of players by the front office was a major reason for his bad feelings in the offseason. He said at his press conference:
I wanted to help the organization maybe learn from some of the mistakes in the past, in my opinion, about the way some of the outgoing veterans were treated and just the fact that we didn't retain a number of players that I thought were core players to our foundation, to our locker room, high-character guys. I'm talking about Charles Woodson, Jordy Nelson, Julius Peppers, Clay Matthews, Randall Cobb, James Jones, John Kuhn, Brett Goode, T.J. Lang, Bryan Bulaga, Casey Hayward, Micah Hyde.

Aaron Rodgers on the Green Bay Packers organization
To help smooth the way for Rodgers to return, Gutekunst made a peace offering by trading a late-round pick to the Houston Texans to bring back Cobb. Now, Cobb seems to also be trying to get the old Packers band back together, and Rodgers appears to support that fully.
Now Rodgers wants Clay Matthews back
One of the players Rodgers explicitly mentioned in his takedown of the Packers front office is 35-year-old outside linebacker Clay Matthews II.
The former USC Trojan – who is the son of a former Cleveland Browns linebacker Clay Matthews, brother of another NFL linebacker Casey Matthews, and nephew of Pro Football Hall of Fame tackle Bruce Matthews – last played in the NFL in 2019.
Cobb posted a photo of Clay Matthews in a Green Bay uniform on his Instagram account, and Rodgers took that for his Story. On top of the picture, Rodgers wrote "BRING HIM BACK #" and "@CLAYMATTHEWS52 SUP?"
Rodgers may not understand how hashtags work, but it does seem clear he's trying to get back as many of the veterans he thinks the organization disrespected in the past as possible.
The Jordan Love Era could be here soon
One of the few small benefits that the Packers got from Rodgers being away from the club this offseason is that the coaches focused on second-year QB Jordan Love's development. He got all the first-team reps in minicamps and OTAs while the franchise didn't know if Rodgers was coming back.  
These reps seem to have paid off as Love played well in the Packers' first preseason game. Rodgers didn't play, so the former Utah State Aggie got the start.
The Houston Texans took home the meaningless 26-7 victory, but the real story was Love. He completed 12 of 17 passes for 122 yards and a touchdown in limited time. This has to make Packers fans (and the front office) feel good about the future if this is indeed Rodgers' last season.
Drafting Love without consulting him is another move that added to Rodgers' disillusionment with the team. However, this is just how the Packers roll, and Rodgers should be that surprised.
In 2005, the Packers had a 36-year-old, 15-year veteran with one Super Bowl named Brett Favre. Even though their star QB had a few good years left, the Pack decided to take a QB out of Cal at No. 25 in that year's draft: Aaron Rodgers.
Three seasons later, Favre was gone, and Rodgers took the reins. A decade and a half later, it looks like history is repeating itself, and that might be what bothers Rodgers most of all.
Like Sportscasting on Facebook. Follow us on Twitter @sportscasting19