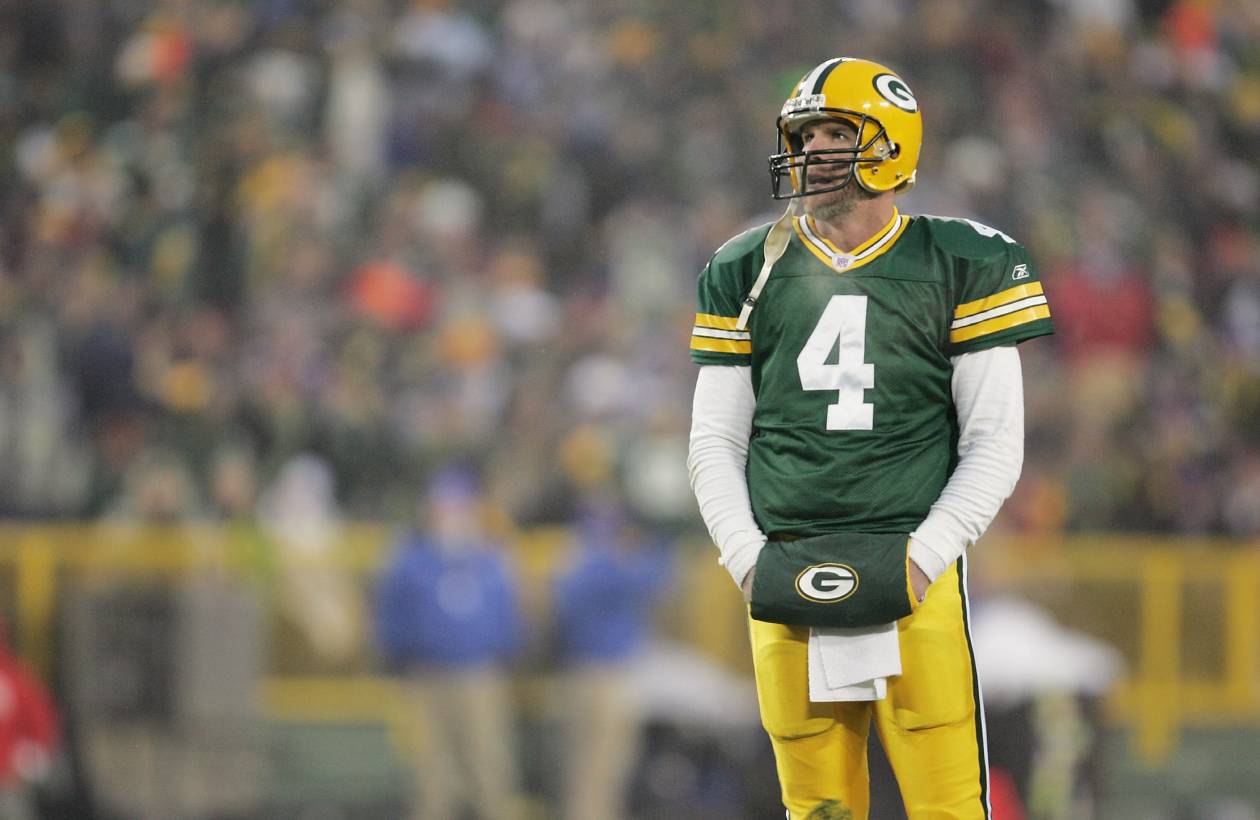 Brett Favre Threw an NFL-Record 336 Interceptions but Had a Simple Way to Avoid Stressing over Turnovers
Longtime Green Bay Packers quarterback Brett Favre had a simple way of not stressing about any of his NFL-record 336 interceptions.
Green Bay Packers legend Brett Favre's gunslinging habits tended to come back and haunt him.
Although he retired as the NFL's all-time leader in passing yards and touchdowns, the Pro Football Hall of Fame quarterback also ended his career with an NFL record 336 interceptions. When one turns the ball over as much as Favre did, it made sense that he'd want to find a way of coping and moving past it.
Brett Favre tried not to stress when he threw interceptions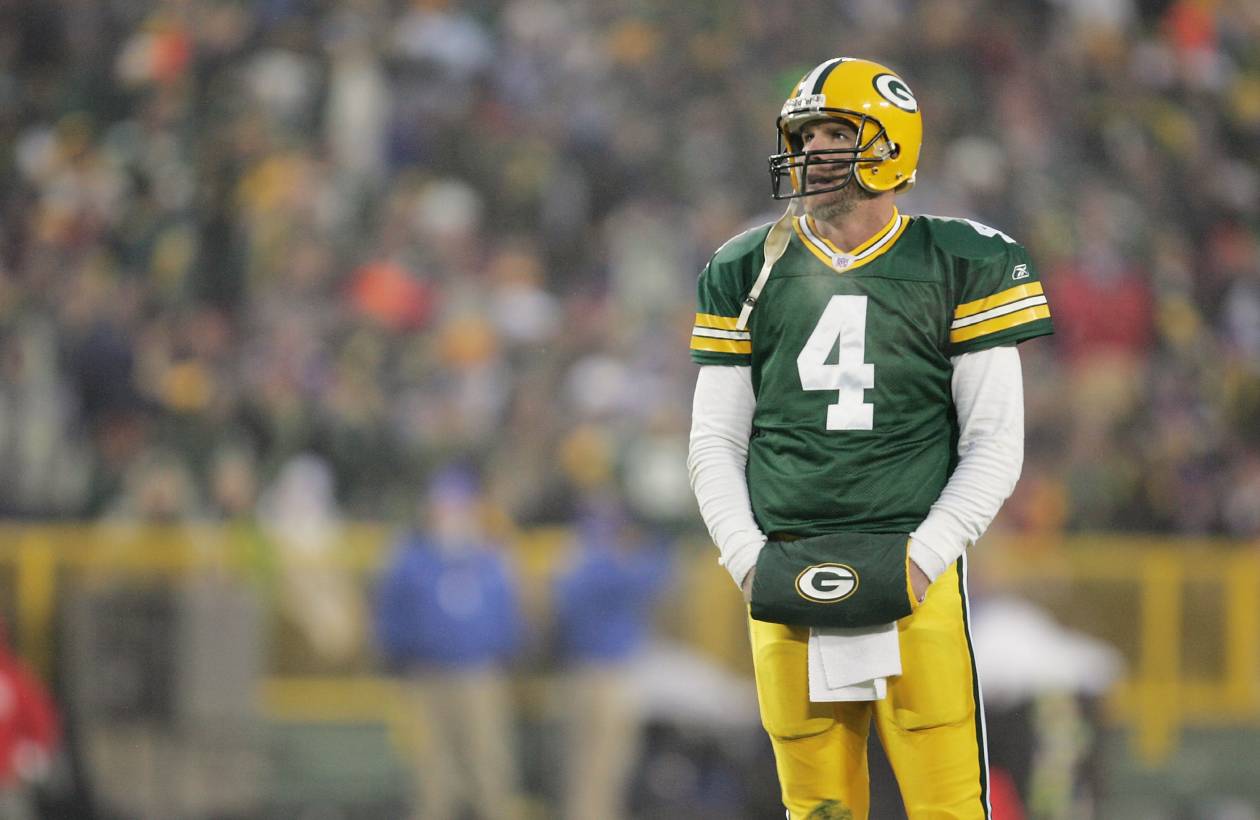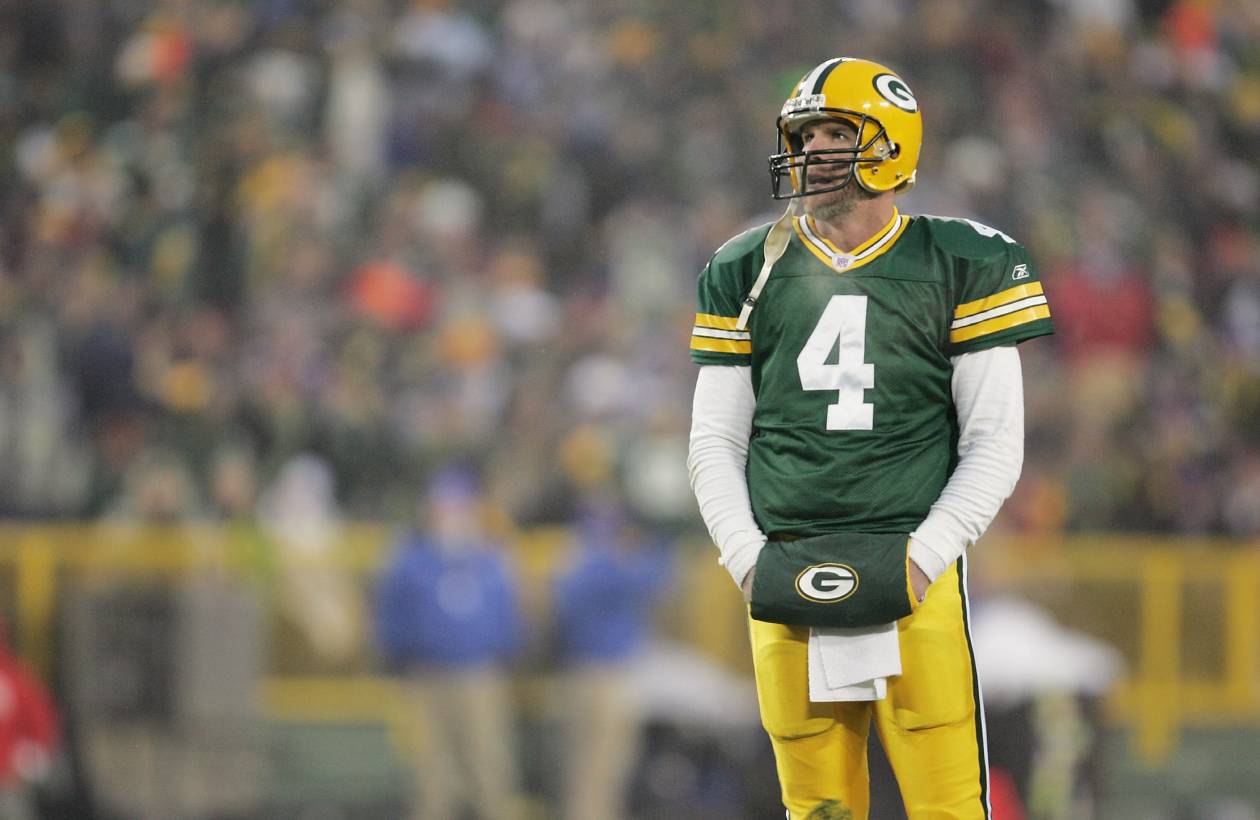 Brett Favre spent the bulk of his career as one of the NFL's top quarterbacks, both from statistical standpoints and as someone who frequently had his team in the postseason.
But for as many touchdowns as he'd throw, the former second-round pick also had his fair share of turnovers. He retired after the 2010 season with 336 career interceptions, by far the most in league history. That total stands at 366 when his 30 postseason interceptions are considered.
The Packers' official website transcribed comments that Favre made about his turnover habits during a 2002 press conference. He explained that he'd learned over the years — he turned 33 midway through that season — not to dwell on the mistakes.
"As much as an interception hurts and as much as you feel like you let the team down, let it go and just go on. A tough loss is a tough loss. You have got to come back, and I just kind of treat both of them, believe it or not, equally. I know that may sound strange to people, but I am on an even keel out there now."

Brett Favre
For the record, the Packers' star quarterback threw 16 interceptions in 551 attempts during the 2002 season.
Favre threw some memorable interceptions in his career
Favre may have had it all figured on how to handle throwing interceptions, but there are some that if they don't sting for him, they surely have his fans wondering, "what if?"
In January 2008, the Packers hosted Eli Manning and the New York Giants in the NFC championship game. Giants cornerback Corey Webster intercepted Favre in overtime, setting up an opportunity for Lawrence Tynes to eventually drill a 47-yard field goal for the win.
Two years later, Favre — now playing for the Minnesota Vikings — faced Drew Brees and the Saints in the NFC championship game. Once again, the legendary gunslinger threw a late-game interception, this time to Saints linebacker Jonathan Vilma at the end of regulation.
Brees led the Saints down the field on the first overtime possession. The Saints ended that drive with a field goal and sent Favre and teammates home.
Who is the NFL's active leader in interceptions thrown?
Favre doesn't only hold the NFL's passing interceptions record, but he's the only quarterback ever to throw 300 interceptions.
Steelers star Ben Roethlisberger leads all active quarterbacks with 201 interceptions, the 29th-highest total in league history. Drew Brees (243) and Philip Rivers (209) each retired after the 2020 season.
Tom Brady is 33rd all-time with 191 interceptions, and Ryan Fitzpatrick is third among active players — and 48th in league history — with 169 interceptions.
All stats courtesy of Pro-Football-Reference.