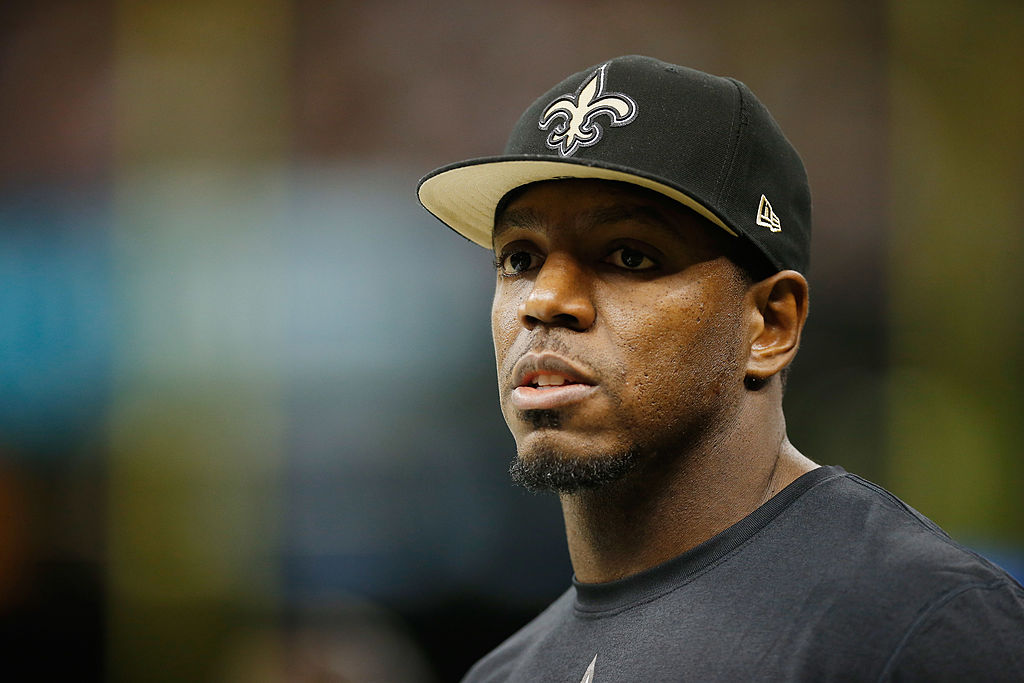 New Fox NFL Analyst Jonathan Vilma Got Roger Goodell Banned From a Restaurant
Former New Orleans Saints linebacker Jonathan Vilma was successful in getting two Bountygate suspensions overturned.
Roger Goodell has had his share of battles with players like "Pacman" Jones, Ray Rice, and Tom Brady over the years. As commissioner of the NFL, he usually has the last word — often to the frustration of those players or the fans of their teams.
There was one notable instance, though, when Goodell not only lost to Jonathan Villa in a high-profile disciplinary matter but got banned from a restaurant in the process.
The NFL comes down hard on the Saints
The New Orleans Saints won Super Bowl XLIV in February 2010. Two years later, the team was in hot water with the NFL over what came to be known as Bountygate. Commissioner Roger Goodell revealed evidence that he said showed Saints players and coaches participated in a bounty system that paid defenders for knocking opponents out of games.
The repercussions were severe. Defensive coordinator Gregg Williams, who by then had moved over to the same position with the Los Angeles Rams, was suspended for a season after initially being banned indefinitely. Saints head coach Sean Payton was suspended for a season, general manager Mickey Loomis got eight games, and assistant coach Joe Vitt got six.
The Saints were also fined and stripped of draft picks.
Among players, linebacker Jonathan Vilma was hit hardest. The former New York Jets first-round draft pick was accused of offering a $10,000 bounty to any teammate knocking Brett Favre out of the 2009 NFC Championship Game.
That led to Goodell determining Vilma was a leader of the bounty program. He suspended Vilma in May for the entire 2012 season, but the three-time Pro Bowl selection was adamant about his innocence.
Jonathan Vilma beats Roger Goodell
New Orleans Saints linebacker Jonathan Vilma appeared before an appeals panel under the terms of the collective bargaining agreement to get his year-long suspension overturned on the basis of commissioner Roger Goodell misrepresenting the facts of the Bountygate case.
The panel vacated suspensions for Vilma and three others on the eve of the new season, but the ruling left open the possibility that Goodell could start a new process to discipline the players on the basis of an intent to injure. That ruling came down a month into the 2012 season, with Goodell suspending Vilma for the remainder of the season.
Vilma wasn't done fighting, however, and retired commissioner Paul Tagliabue overturned the suspension on Dec. 11, allowing Vilma to dodge what would have been the longest suspension in league history for an on-the-field incident.
Vilma's winning streak with Goodell ended there as a defamation lawsuit was rejected in court. But the former University of Miami star did get one bit of revenge against Goodell.
While Vilma was waiting for the arbitration panel to rule in the summer, the Brother Jimmy's BBQ in Miami posted pictures of Goodell next to a sign saying, "Do not serve this man."
The restaurant and other chain locations in New York City, Saint Maarten, and San Juan, were co-owned by Vilma and two other former Hurricanes players.
What's Jonathan Vilma up to now?
Jonathan Vilma will be starting a new job this fall. After working in the studio at ESPN and ABC for four seasons as a college football analyst, Vilma will begin work at Fox Sports as an NFL game analyst.
The New York Post reported Vilma, 38, is likely to be teamed with Kenny Albert on Sundays to call games on the network's schedule each week. He replaces Ronde Barber, whose contract was up.