Brett Favre Sends out a Serious Warning to the Packers About Aaron Rodgers: 'He Ain't Going to Play'
It seems as if we have gotten everyone's opinion about the Aaron Rodgers and Green Bay Packers situation except for Rodgers'. However, a notable person who somewhat understands what Rodgers is going through just added his name to the list: Brett Favre.
Favre had a messy divorce with the Packers, which led to Rodgers becoming the starter in Green Bay in 2008. Now, over a decade later, Favre is sharing his opinions about his former backup's situation. He ultimately sent out a serious warning, too.
Aaron Rodgers' future with the Packers is unclear
Once the Packers decided to take quarterback Jordan Love in the 2020 NFL draft, football fans knew we were potentially in for a messy divorce sooner than later.
Not much surfaced about Rodgers and Green Bay during the season. Since then, though, reports of the quarterback's unhappiness have transitioned from whispers to screams.
The team has failed to give Rodgers a contract extension so far this offseason, and it also chose not to even restructure his current deal. This all led to ESPN reporting that Rodgers has discussed potentially not coming back to Green Bay next year. Yahoo Sports then reported that the nine-time Pro Bowler doesn't want to return unless Green Bay gets rid of general manager Brian Gutekunst.
There have also been rumors saying Rodgers could retire, while others have said he is highly interested in other teams like the San Francisco 49ers and Denver Broncos.
Overall, no matter what reports you believe, the consensus seems to be that Rodgers wants the Packers to show they are committed to him and that they are not quietly preparing for his exit. Rodgers also appears to desire more of a say in the team's personnel decisions.
This, however, is all speculation. Rodgers hasn't come out and said anything. His former teammate, though, recently shared his thoughts.
Brett Favre shared his opinions about Aaron Rodgers' situation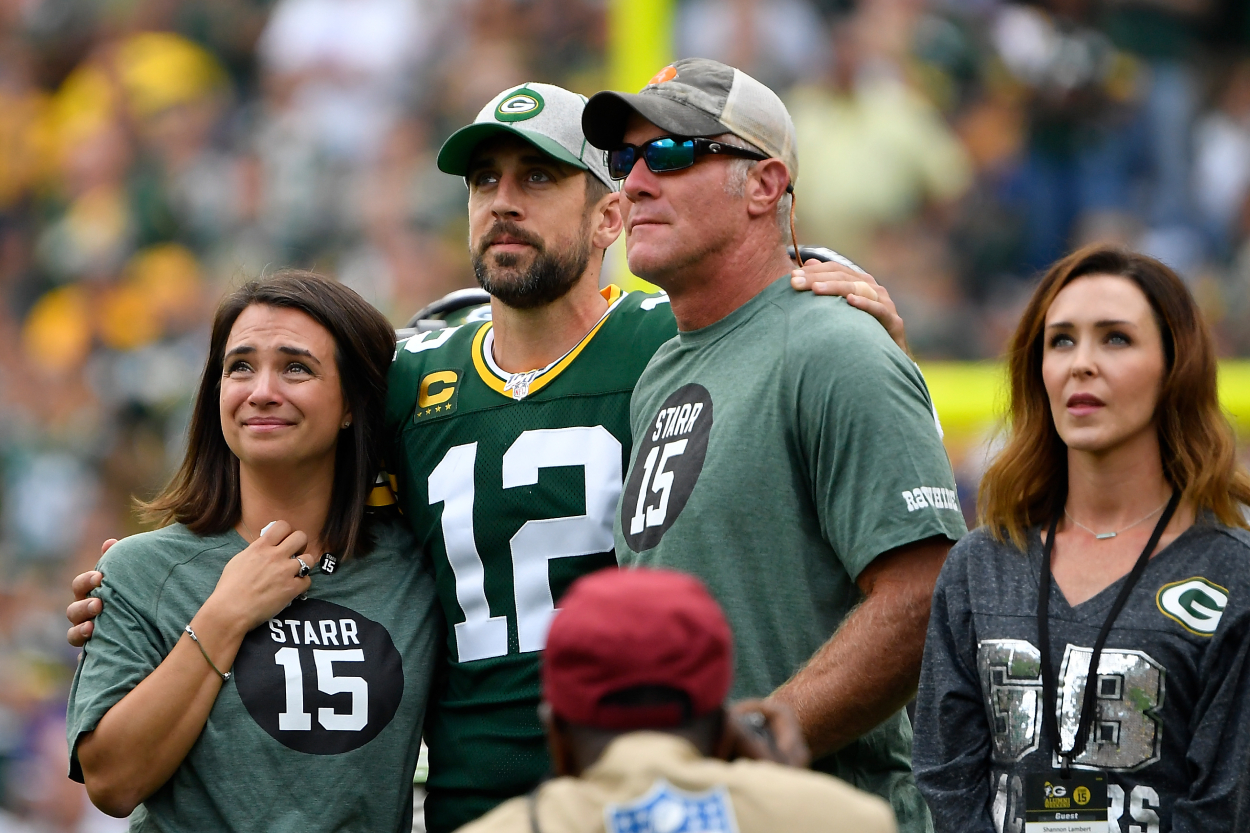 Favre is a Green Bay legend. He won three MVPs with the Packers and one Super Bowl, which is exactly what Rodgers has accomplished so far. He ultimately played on the team for 16 seasons, with his last coming in 2007.
Rodgers ended up serving as Favre's backup for three seasons, so Favre recently shared his opinions about his former teammate. This came in response to Terry Bradshaw's recent comments, which saw the former quarterback call Rodgers "weak."
"That's a fair assessment," Favre said on the May 4 episode of his Bolling with Favre podcast, per TMZ. "But I think, again, I caution anyone making assumptions. Maybe his disgruntled nature or anger or animosity or whatever is something else. Something that we don't know about."
Favre then sent a warning about what he thinks Rodgers could do if his issues aren't resolved in some way or another.
"Knowing Aaron, and I think I know him fairly well, if he has a grudge, whether it be against the organization or a player or an arch rival or family, friends — he ain't budging," Favre added. "… Whatever the issue is, if it's not resolved — or even if it's resolved, but he feels like they got one up on him — he ain't going to play. Knowing Aaron, he would sit."
That probably isn't something Packers fans want to hear. Favre also said he thinks Rodgers has a lot of football left in him despite being 37 years old.
"I think he's better right now than he's ever been — physically and mentally. Which is scary for opponents," Favre said.
It's hard to tell what Rodgers is going to do next. If anyone has any idea about how he's feeling, though, it's Favre.
Brett Favre knows a thing or two about having a rift with the Packers
Favre became one of the greatest quarterbacks in NFL history with the Packers. He threw for 61,655 yards, 442 touchdowns, and 286 interceptions during his 16 years in Green Bay.
However, after losing to the New York Giants in the NFC Championship Game during the 2007 season, Favre announced his retirement. He later unretired and revealed he still wanted to be the Packers' starter, but Green Bay decided to move on and go with Rodgers. This led to Favre playing for the New York Jets and Minnesota Vikings in his final three seasons.
Their situations may not be identical, but they're somewhat similar, so Favre sharing his opinions on the current state of Rodgers and the Packers holds at least a little weight. We'll see if they have similar outcomes.
Stats courtesy of Pro Football Reference