The Green Bay Packers Screwed Aaron Rodgers, but His Retirement Ploy Shouldn't Fool Them
The Green Bay Packers didn't just screw over Aaron Rodgers in 2020. They hurt the entire organization. One win away from a Super Bowl berth, GM Brian Gutekunst drafted like his team went 4-12 and began building for the future. Gutekunst rubbed some serious salt in the wound by trading up to select Rodgers' eventual replacement in the first round. Rodgers clearly wasn't – and still isn't – happy, but the Pack shouldn't let a likely retirement ploy by their quarterback fool them.
The Packers' 2020 draft was as bad as they come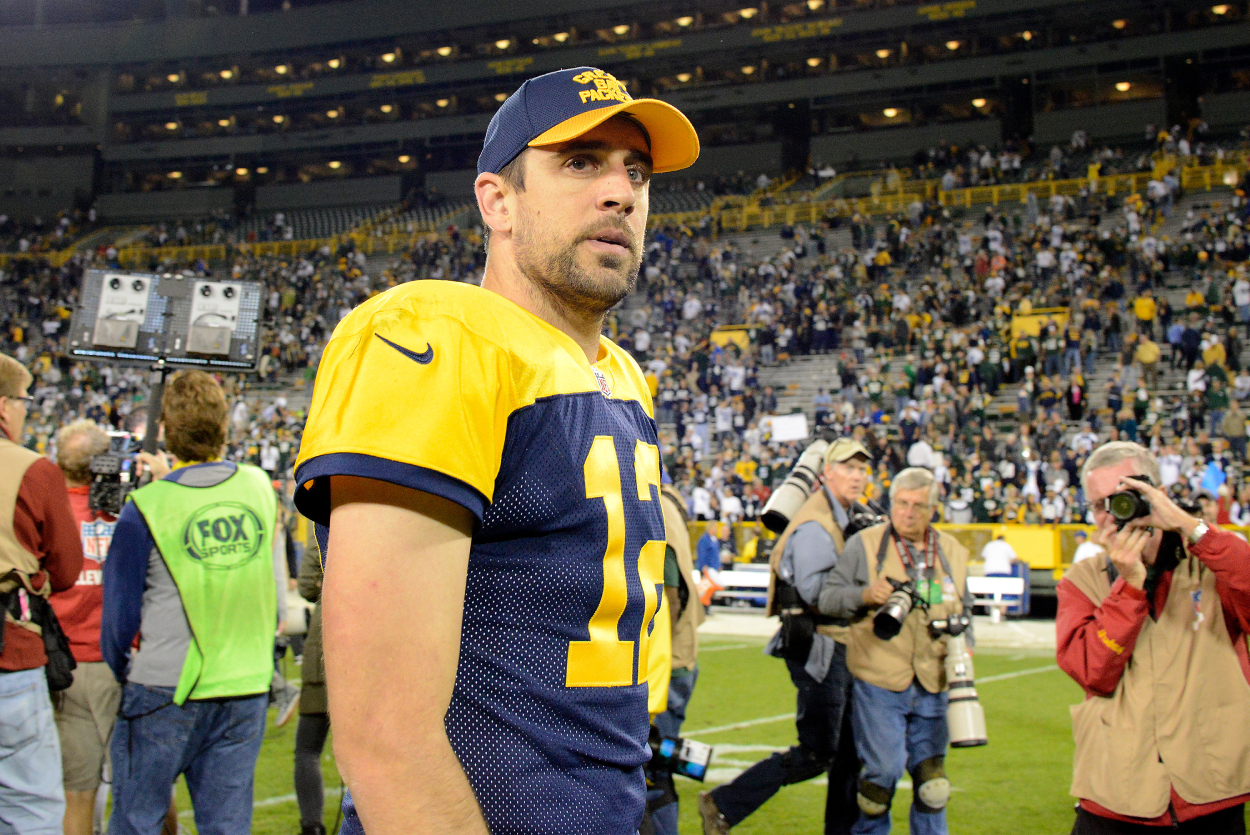 Simply put, Gutekunst blew the 2020 NFL draft for the Packers. This isn't a case of hindsight. He was ripped by many after his first-round pick. Then he did it again with the second-round pick. If the Packers were rebuilding, Gutekunst may have had the right idea. They, however, were one game removed from the Super Bowl, yet the GM elected to build for 2024.
Drafting Jordan Love in the first round was foolish. Trading up to snag him was ludicrous. Even then, it wasn't about Rodgers. It was about the Packers. In Round 2, the Packers selected running back A.J. Dillon. No knock on Dillon, but Green Bay already had the multi-talented Aaron Jones. Had it been a given Jones would be gone after the 2020 season, there might be a reason to take a running back that high. Gutekunst re-signed Jones in the offseason.
The first two picks were wasted on players who weren't likely to see the field. Had they drafted a cornerback who could provide immediate help, maybe Kevin King doesn't get burned for a touchdown right before the half of the NFC title game. Maybe if they drafted a wide receiver, they might've capitalized on just one of the three Tom Brady interceptions in the second half of that game with a touchdown.
Aaron Rodgers has had enough with the Green Bay Packers
The only way the Packers trading up to snag Love in the first round could make any sense is if this feud was steaming well before the 2020 NFL draft. If the team knew its relationship with the veteran quarterback was irreparable at that point and it would eventually come down to him forcing his way out, then it's a sensible pick. In any other case, it's a bad move.
Rodgers is whining and wants out of Green Bay. Yes, the Packers made a bizarre pick that may have ruffled some feathers. Nobody is going to feel sorry for a guy making $33.5 million per year playing football.
Rodgers, at 37, might be the best quarterback in the game. He threw an NFL-high 48 touchdown passes and completed a league-high 70.7% of his throws last year, but still only has one Super Bowl appearance. He's 1-4 in NFC title games. He went 6-10 as a starter in the league. Maybe if things get so bad, the Packers bite the bullet for a year and throw in Love, the guy they think so highly of.
The Packers can't be fooled by a retirement ploy
Rodgers may demand a trade. He'll probably threaten to hold out if things don't get better. He could even threaten retirement. The Packers don't owe Rodgers anything. Nothing. They've rewarded him handsomely with a four-year extension worth $134 million during the 2018 preseason, making him the NFL's highest-paid player at the time. He still had two years on his previous deal.
If Rodgers throws the word 'retirement' out there, the Packers should pay no attention to it. He's not retiring. Despite being past the NFL retirement age at 37, he has so much left in the tank, is coming off an MVP season, and was one game shy of the Super Bowl his last two seasons. He also has an ego the size of Wisconsin. Despite his status as an elite quarterback, he's developed the reputation of not coming up big when it counts. He's not going out this way. No way Rodgers walks away from the game.
The Packers hold the cards. They don't owe him any more guaranteed money, and he still has three years left on his contract. Sure, they could trade him and stockpile some draft picks. You know what else they could do? They could play their first-round pick from 2020 and watching Rodgers whine from a distance.
All stats courtesy of Pro Football Reference.