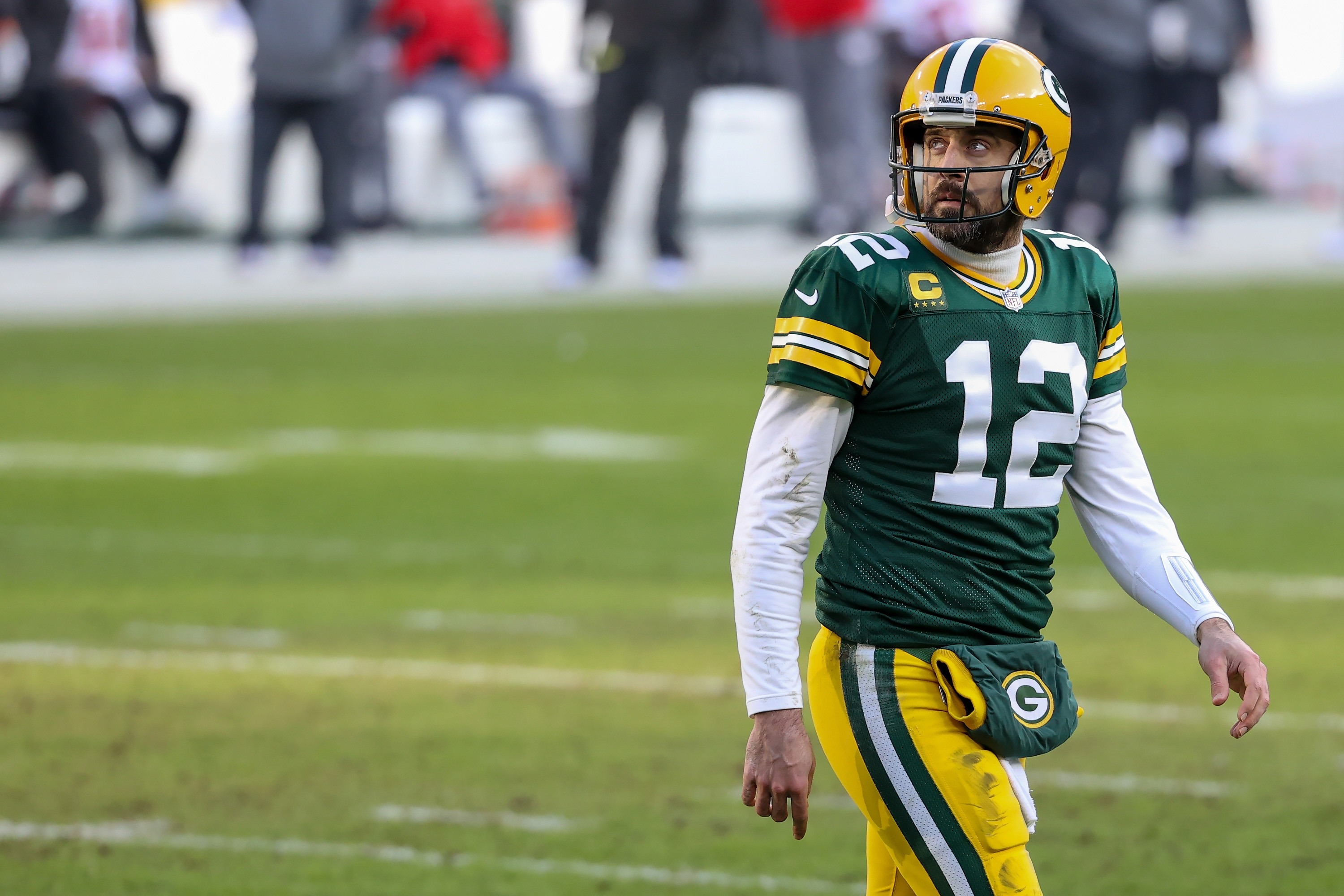 Aaron Rodgers Wants Out of Green Bay; Here Are a Few Unique but Proven Ways He Could Do It
If Aaron Rodgers really doesn't want to play in Green Bay next season, he should try some of these extreme but previously successful tactics.
Aaron Rodgers wants out of Green Bay. He started talking about this following the team's playoff loss in January. The disgruntled quarterback doubled down on this request by leaking his trade demand leading up to the 2021 NFL draft.  
The problem is, it isn't as easy for an NFL player to get traded as it is in other leagues like the NBA. The way the salary cap and contacts work, the teams have most of the leverage. That said, there are a few NFL players that have resorted to extreme tactics to get shipped out. Here is how Rodgers could follow suit if he really wants out of Green Bay.
Carson Palmer threatened to retire because he saved wisely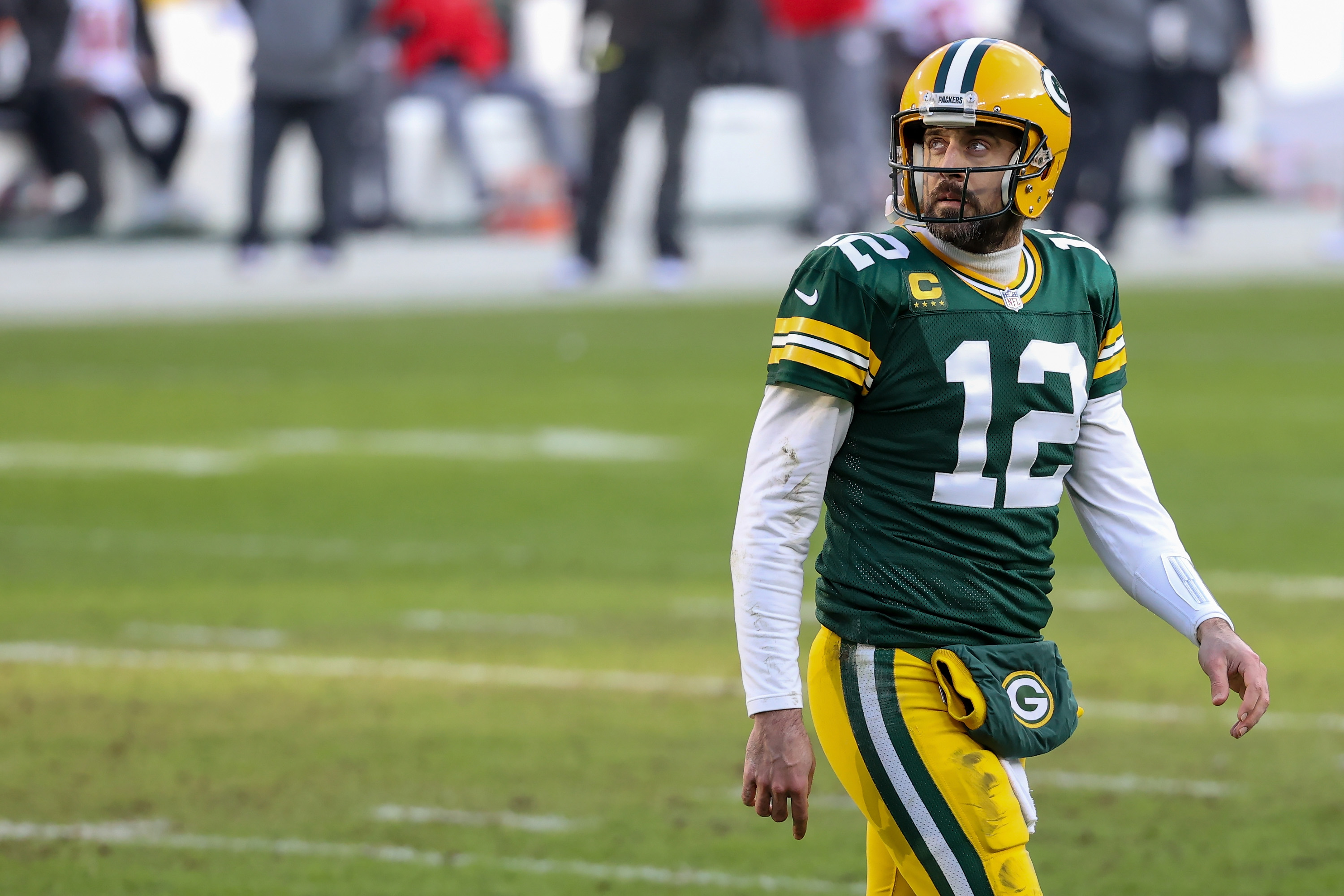 In 2011, following a 4-10 season, Cincinnati Bengals quarterback Carson Palmer demanded a trade, as told by the Cincinnati Enquirer. In response to this demand, Bengals owner Mike Brown said of Palmer, "He was told that we are not in a position to trade him."
Reports came out shortly thereafter that Palmer would be just fine retiring rather than play for the Bengals again because he "can retire with $80 million in the bank." Palmer never filed his retirement papers, but his not showing up for camp, combined with the early success of rookie quarterback Andy Dalton, led to the Bengals finally trading Palmer to the Raiders after Week 9 of the season.
While no one knows exactly what Rodgers has in the bank, chances are it is substantial. The Cal-Berkley product has made $240,943,304 in his 16-year NFL career.
Le'Veon Bell sat out a whole year
An NFL player's primary form of leverage is holding out. This happens quite a bit throughout the league when players are unhappy. Teams can fine players that holdout a significant amount of money though, so the holdout usually ends with the player coming back to the team. That wasn't the case for Pittsburgh Steelers running back Le'Veon Bell.
Bell sat out the entire 2018 season instead of playing under the franchise tag. This commitment to the full-season holdout led to the Steelers not offering him the franchise tag again the following year, as reported by Sports Illustrated. The running back became a free agent and subsequently signed a lucrative deal with the New York Jets.
While the move worked for the then-26-year-old Bell, Rodgers may not be so lucky if he skips the season. The Green Bay quarterback is more than a decade older than Bell was at the time and still has three years left on his deal before becoming a free agent.
Randy Moss stopped trying
Diva wide receivers are nothing new in the NFL. The position has given us an outsized number of characters over the years. This means that when a wide receiver wants out, they really know how to do it in style.
Randy Moss did not enjoy his time in Oakland with the Raiders. The Las Vegas Journal-Review relays a quote from the receiver about his time in the Silver and Black where he says, "It's crazy around here, man. I'm just not thrilled with the way things are going on around here." These feelings shouldn't be surprising as the team produced a 6-26 record while Moss was a Raider.
Moss didn't help with that record much, putting up two of the worst statistical seasons of his career. However, Raiders fans still hold a grudge against Moss to this day. The New England Patriots traded for Moss leading up to the 2007 season, and there, he suddenly regained his Hall of Fame form.
Brandon Marshall gave up completely
While Moss didn't try hard in Oakland, former Denver Broncos wide receiver Brandon Marshall took not trying to new heights in an effort to get out of the Mile High City. At the time, ESPN reported that Marshall was unhappy with his contract and the team's handling of his previous injury.
The team suspended Marshall in training camp for "throwing a tantrum" that included sitting on his pads during practice and showing up on the practice field in what looked like Broncos pajama pants. The receiver would have a good season regardless, but the antics would lead to him being traded to the Miami Dolphins the following offseason.
Giving up and embarrassing a franchise might not be the most respectable way to force your way out of town, but it may be the most effective. If Rodgers truly wants out of Green Bay, he should forget about Jeopardy! and media leaks. The best thing he could do is dig out his favorite pair of Packers pajama pants and get to work.
All contract figures courtesy of sportrac.