Aaron Rodgers' Friend Blasts Terry Bradshaw, Says He Looks Like a 'Hypocrite' and an 'Idiot'
Over the past few months, some football fans have been strong supporters of Aaron Rodgers, while others have been behind the Green Bay Packers. NFL legend Terry Bradshaw falls into that second classification, as he recently blasted Rodgers, calling him "weak" on one radio show, and then saying he's "dumber than a box of rocks" on another. His comments caught many by surprise and drew a strong reaction from Rodgers' friend, Pat McAfee.
In fact, McAfee went on his radio show and had stern words about Bradshaw, even saying he looks like a "hypocrite" and an "idiot."
Terry Bradshaw blasted Aaron Rodgers…twice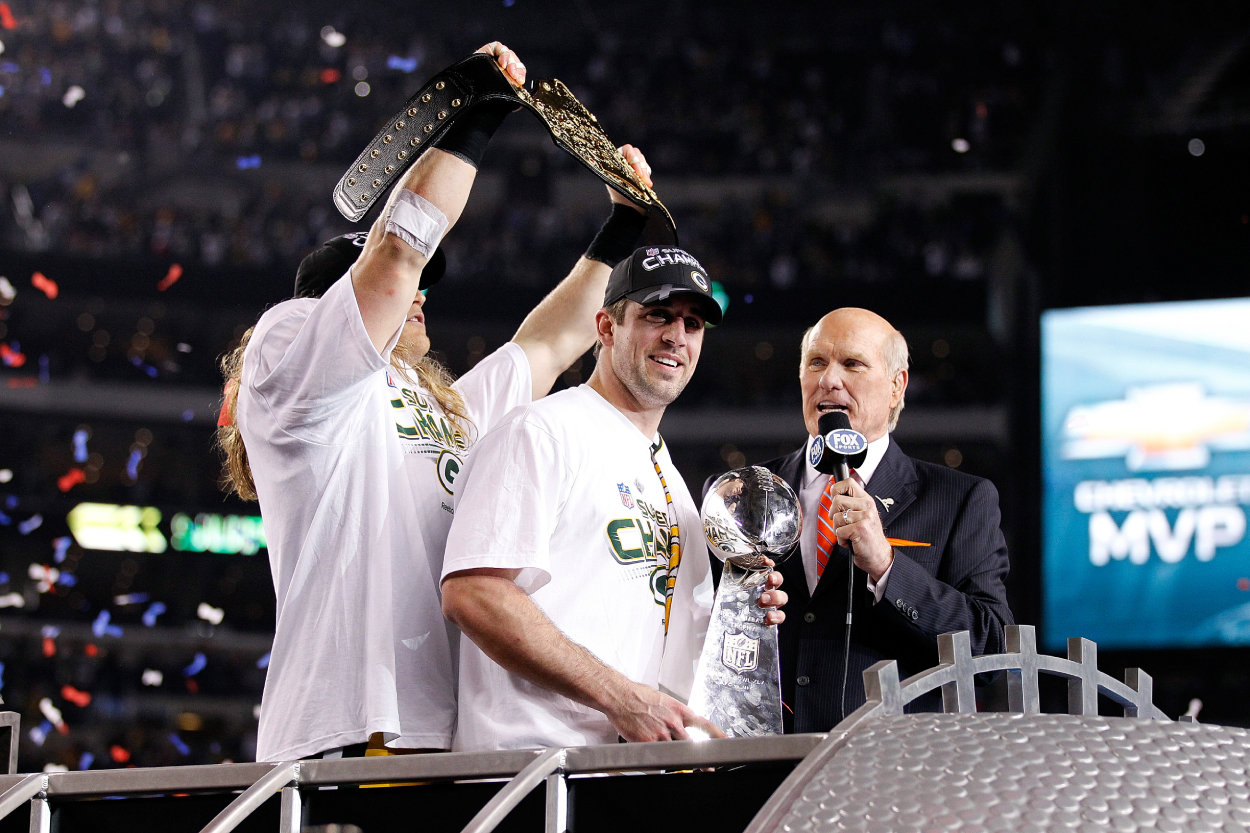 Bradshaw made headlines when he went on WFAN's Moose and Maggie and had criticism about Rodgers.
"With him being that upset shows me just how weak he is," he said. "Who the hell cares who you draft? I mean, he's a three-time MVP in the league, and he's worried about this guy they drafted last year at No. 1?"
However, he said even more on 670 The Score's Parkins & Spiegel Show.
"Well, (Rodgers is) just dumber than a box of rocks, isn't he?" Bradshaw said, per NESN. "I mean, he signed that contract, he didn't have to sign that extension. He got all that money. I don't know what happened there, they draft (Jordan Love) last year and he wasn't happy about it. He goes out and becomes the MVP of the league, now he wants out. Now he's claiming that they said they would trade him or what."
Bradshaw didn't hold back. Now, Pat McAfee isn't holding back.
Pat McAfee fired shots at Terry Bradshaw
McAfee has become a known friend of Rodgers. The quarterback made weekly appearances on McAfee's radio show during the 2020 season and even thanked him in his MVP acceptance speech.
During the May 4 episode of The Pat McAfee Show, McAfee had strong words about Bradshaw.
"It feels like when he opened his mouth here about Aaron Rodgers, I've never seen somebody look like a bigger hypocrite," McAfee — who also claimed that Bradshaw looked like an "idiot" — said.
"There's no reason for Terry Bradshaw to bury Aaron Rodgers like this. Terry Bradshaw's been through some beefs and things, especially with the Steelers organization, I do believe. He's come out and said some things that have been blatantly wrong about people because of personal feelings. So, I don't think Terry Bradshaw is a human that should feel OK talking about this situation, but I do have respect for the career that Terry Bradshaw has had."
McAfee did admit Bradshaw's voice and opinion hold a lot of weight, but he thinks he's wrong in this case, especially with the "dumber than a box of rocks" comment.
"Aaron is one of those dude's, he's a smart guy, like he's an actual smart guy, like 'hey, that guy's super smart' guy,'" McAfee said. "… He's one of our smarts we have in this entire thing. So, the 'dumber than box of rocks,' if you're going to go after him, I would put that one back into the holster, and I would pull out another one that maybe has a little bit more relevance to the certain situation you're in."
No matter who you support — Rodgers or the Packers — the one clear thing is that we have no idea what the future holds for Green Bay and their legendary quarterback.
Aaron Rodgers' Packers future is unclear
Rodgers is one of the greatest quarterbacks of all time. He is a three-time NFL MVP and a Super Bowl champion. However, ever since the Packers selected quarterback Jordan Love in the first round of the 2020 NFL draft, many have wondered if he could eventually leave Green Bay.
While it all seemed good — to a degree — during the 2020 regular season, several reports have come out about Rodgers and the Packers since then.
ESPN reported that Rodgers has spoken to people within the organization about not wanting to return next season. Yahoo Sports also came out and said Rodgers reportedly only wants to return if the Packers show general manager Brian Gutekunst the door. Those reports came out after Green Bay failed to give Rodgers an extension or restructure his contract this offseason, and released receiver Jake Kumerow last year after Rodgers praised him through comments he made publicly.
There have also been whispers about Rodgers strongly considering retirement and others about him liking the Broncos.
Either way, we have no idea what's in store for Rodgers and the Packers. Maybe, guys like Bradshaw, though, should wait until everything comes out.