Brett Favre Was Just Blasted by His Fellow Pro Football Hall of Famer Who Said He's 'Stuck in His Own Little World'
Brett Favre was one of the most loved players in the NFL during the years he starred for multiple teams, most notably the Green Bay Packers. However, within the past year, some (but not all) fans have turned against Favre after hearing him share some of his political beliefs. He recently took this a step further with some controversial comments that ultimately got a reaction out of a fellow Pro Football Hall of Famer.
That Hall of Famer was Shannon Sharpe.
Brett Favre made controversial comments — again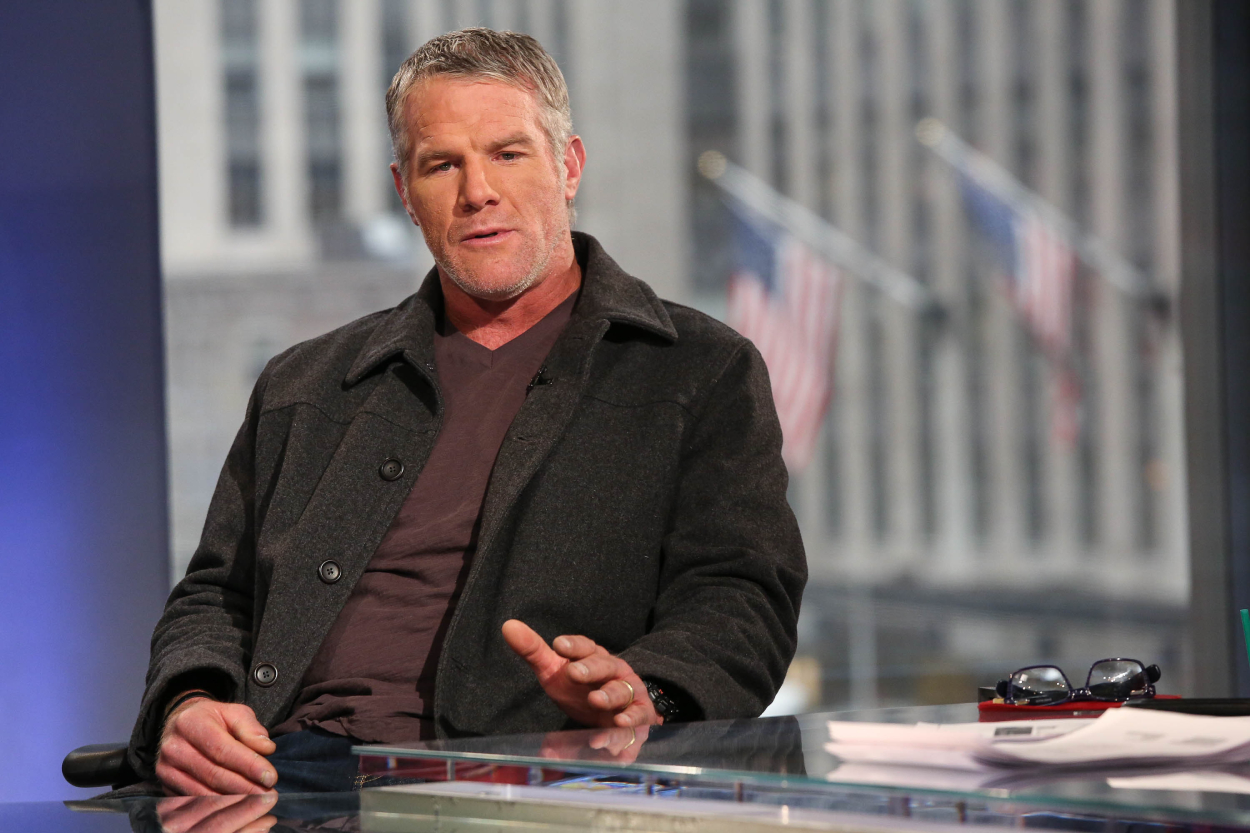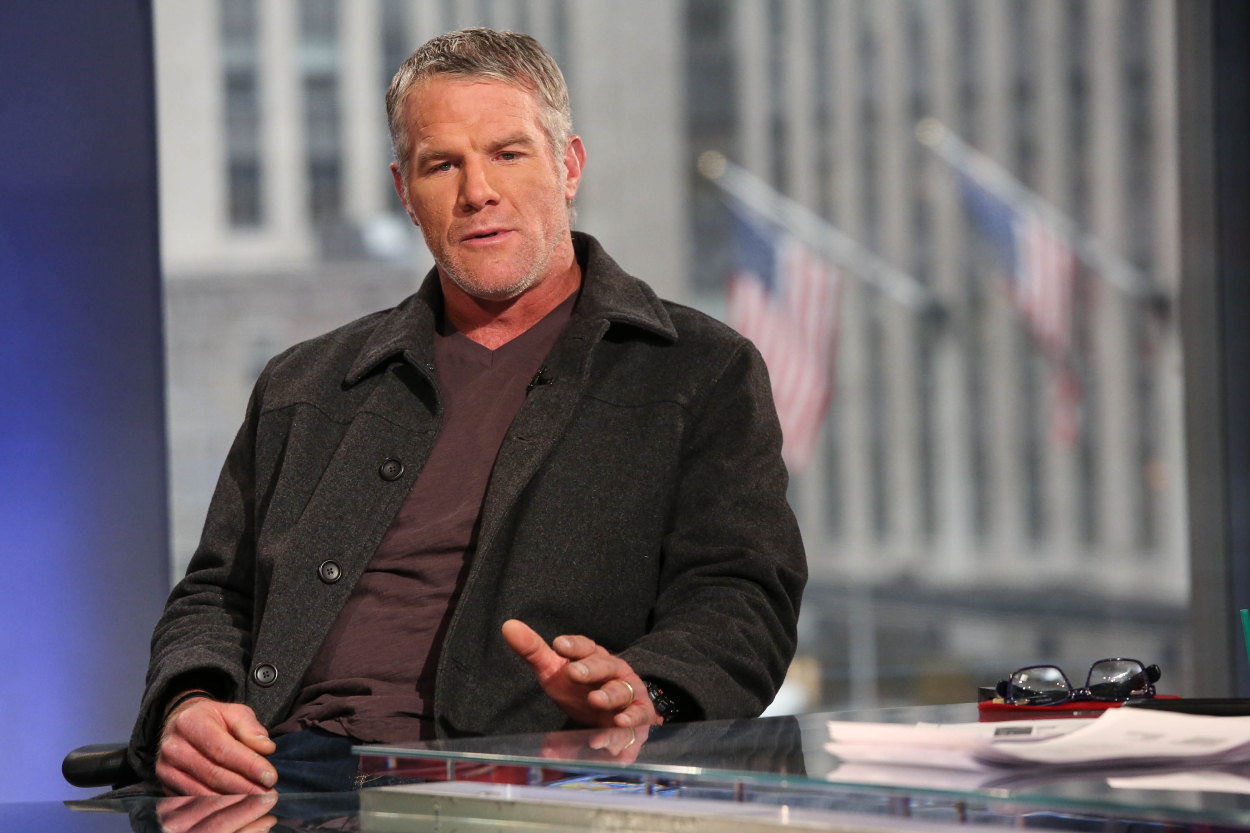 Brett Favre hasn't been afraid to say things somewhat controversial within the past year. After golfing with former U.S. President Donald Trump in 2020 — during the same time the COVID-19 pandemic was potentially at one of its worst stages and tension around the country was at an all-time high due to social unrest — Favre insinuated that political messages have led to lower ratings for the NFL and NBA.
"The NBA and the NFL are struggling with lower ratings, as fans clearly do not want political messaging mixed with their sports," Favre said to Trump during a Town Hall, per an October 2020 Sportscasting article. 
Favre also made several other controversial comments in the months that followed, including when he stated that football players "make too much money to voice an opinion." Now, the Green Bay Packers legend is in the news again after saying that politics should stay out of sports.
"I know when I turn on a game, I want to watch a game. I want to watch players play and teams win, lose, come from behind," he recently said on The Andrew Klavan Show, according to USA Today. "I want to watch all the important parts of the game, not what's going on outside of the game, and I think the general fan feels the same way."
He continued: "I can't tell you how many people have said to me, 'I don't watch anymore; it's not about the game anymore.' And I tend to agree."
Favre also said that kneeling during the national anthem "created more turmoil than good," per USA Today.
Shannon Sharpe blasted the former Packers QB
Pro Football Hall of Famer Shannon Sharpe recently appeared on his show, Undisputed, and he had a lot to say about Brett Favre's recent comments.
"Typical white, conservative male that's stuck in his own little world that doesn't give a damn about anything that doesn't impact him," Sharpe said to his co-host Skip Bayless on the April 15 episode. "You would think Brett Favre, born and raised in Kiln, Mississippi … does any place in America have any more racist history than Mississippi? But Brett Favre is unaware. You see what they've done, Skip. If it's an issue, they've made it political. Damn politics — right and wrong. Can you see that Brett Favre? Right, wrong; take politics out of it."
He continued: "It isn't about politics. It's about right and wrong. And this is what I'm starting to see. He didn't criticize J.J. Watt when he raised that money for Hurricane Harvey. He didn't say a damn thing. But see, what we're starting to see, America, is that if it doesn't impact white America, white America don't give a damn about it. … 'Politics, politics, politics,' man, stop. Brett Favre, you know you're full of it. If I'd see him, I'd tell him he's full of it."
Sharpe clearly wasn't happy with what Favre said. Favre's comments justifiably frustrated many others, too, but he also probably made the fans who agree with his beliefs love him even more. Many believe athletes should use their platforms for good, while others believe they should stick to sports.
This certainly won't be the last time we hear about politics and sports. It's a polarizing topic in America. However, it'll be interesting to see if Favre ever faces those former and current athletes who take issue with his stances.
Brett Favre and Shannon Sharpe became NFL legends on multiple teams
The reason so many people hold the opinions of Brett Favre and Shannon Sharpe in such high regard — especially when it comes to sports — is because of what they accomplished on the football field.
Brett Favre, who played on four teams but is known for his Green Bay Packers tenure, was one of the greatest quarterbacks of all time. He earned 11 Pro Bowl selections and three NFL MVP awards, and he won the Super Bowl during the 1996 season. Favre is also fourth in NFL history in passing touchdowns with 508 and passing yards with 71,838.
Sharpe, on the other hand, was one of the greatest tight ends to ever play. He earned eight Pro Bowl selections with the Denver Broncos and Baltimore Ravens. Sharpe also won three Super Bowls and caught 815 passes for 10,060 yards and 62 touchdowns.
Since Brett Favre and Shannon Sharpe both had such strong NFL careers and both have bold opinions, this probably won't be the last time we hear about them having differing viewpoints on a specific topic.
Stats courtesy of Pro Football Reference