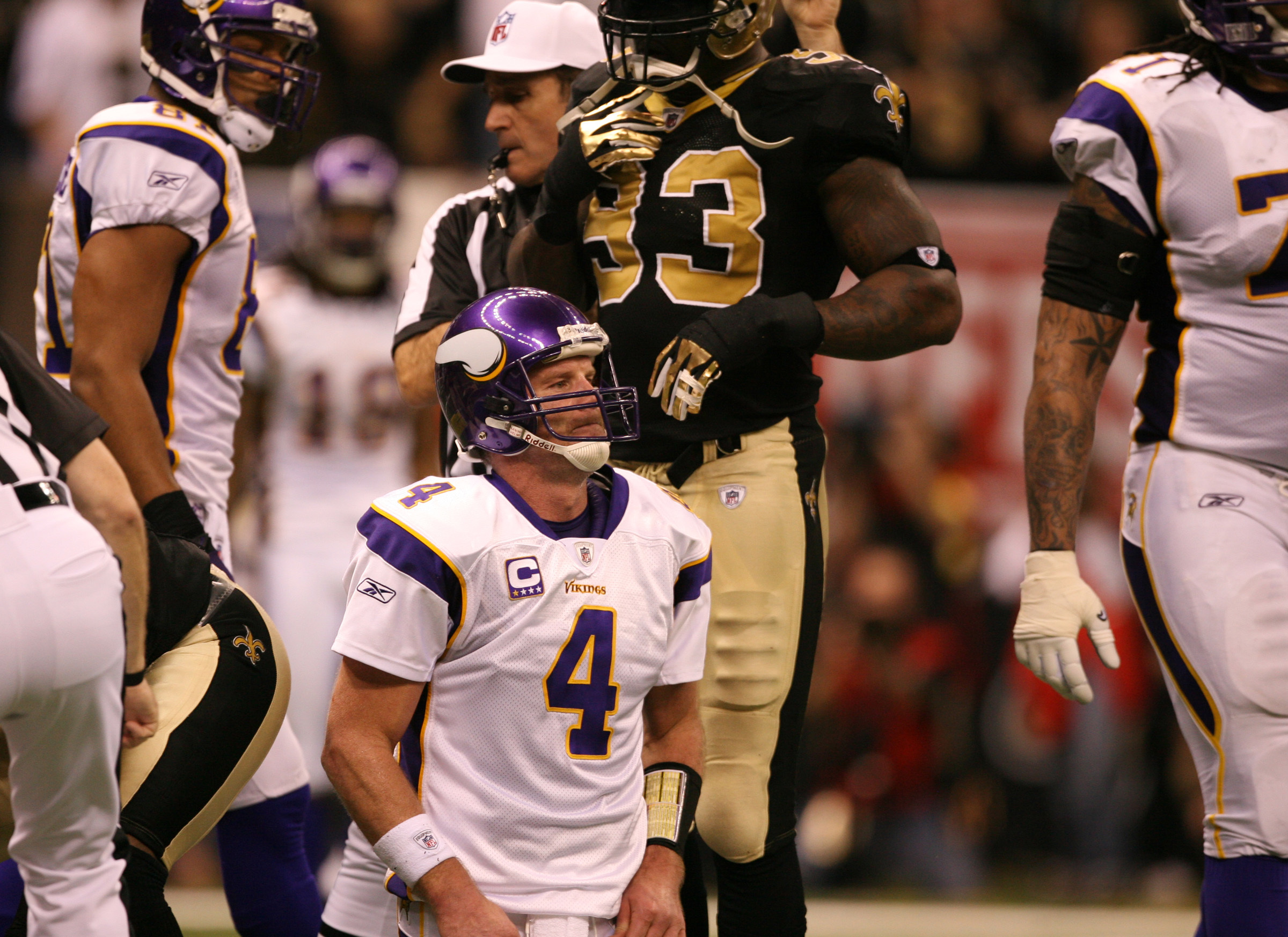 Brett Favre's Former Teammate Helped Him Realize Something Was Up in a BountyGate Game When the Saints Nearly Killed Him
Brett Favre figured something was different during the 2010 NFC title game because of a former teammate, who was playing against him.
Brett Favre was a target of the New Orleans Saints in 2010. No, the Saints didn't want him to play for them. They wanted to hurt him, and he wasn't alone. Several other stars, including quarterback Kurt Warner, were on the Saints' radar during a 'Bountygate' scandal between 2009-2011. Led by defensive coordinator Gregg Williams, the Saints put bounties on players they wanted out of the game. There was a reward for knocking out star players due to vicious injuries. Favre doesn't hold anything against Williams or the Saints but remembers the play of a former teammate in that game that tipped him off to make him think something was a bit strange.
Bountygate got out of control
It had allegedly been going on since 2009, but hit its peak in the 2010 NFC Championship Game. The New Orleans Saints finally got caught and paid a hefty price. The Saints were paying bonuses, later referred to as bounties, for taking opposing players out of the game with vicious hits.
According to Sports Illustrated, the price to knock Minnesota Vikings quarterback Brett Favre out of the NFC title game was $35,000. The NFL said in 2012 that Saints linebacker Jonathan Vilma offered two "five stacks" ($10,000) to knock Favre out of the game. Former Saints defensive end Charles Grant and Mike Ornstein, an outsider and convicted felon, also pledged $10,000. Assistant coach Joe Vitt added $5,000 to account for the $35,000.
Back then, Favre was more upset his team lost. "My feeling, and I mean this wholeheartedly, is that I really don't care," he said, according to Sports Illustrated. "What bothers me is we didn't win the game. And they didn't take me out of the game. They came close, but a lot of people have come close. I'm too stubborn to come out. Plus, that was kind of a big game. I'm not going to sit the last three minutes. I'm going to go out there with bones sticking out of the skin, I'm going to finish it."
The Saints paid a hefty price for their actions
The bounty program reportedly began in 2009, the year the New Orleans Saints won the Super Bowl. According to ESPN, pool amounts reached their height of $50,000 during that first year. The NFL said between 22 and 27 defensive players were involved in the program, which was headed by defensive coordinator Gregg Williams. Head coach Sean Payton was also aware of it.
"I want to express my sincere regret and apology to the NFL, Mr. Benson, and the New Orleans Saints fans for my participation in the 'pay for performance' program while I was with the Saints," Williams said in a statement, according to ESPN. "It was a terrible mistake, and we knew it was wrong while we were doing it. Instead of getting caught up in it, I should have stopped it. I take full responsibility for my role. I am truly sorry."
Williams was suspended indefinitely. Payton was suspended for the entire 2021 season. The organization was fined $500,000 and lost second-round draft picks in 2012 and 2013. GM Mickey Loomis and assistant coach Joe Vitt were also suspended, along with several players.
Favre holds no grudge but had a feeling something was up
Brett Favre knew he was going up against an aggressive defense led by defensive coordinator Gregg Williams in the 2010 NFC Championship Game. The Minnesota Vikings quarterback knew Williams was a blitzing guy, but realized something might be a little bit different. It all came to light because of a former teammate, who was then playing for the New Orleans Saints.
"Darren Sharper, who was a friend of mine and teammate of about seven years in Green Bay, was an extremely talented safety," Favre said this week on the Pardon My Take podcast. "He could cover the entire field. But he wasn't a hitter. He was a good tackler, but he wasn't a big hitter like Ronnie Lott. He had two – one they called and one they didn't that was worse – unsportsmanlike (penalties) on the quarterback where he went after my head with his helmet. It was way late. I had thrown the ball already.
"It was that type of game. I think they called like five roughing the quarterbacks, but they should've called like 12. I don't hate Gregg Williams. It is what it is. We still had a chance to win the game. When I think about that game, not for a second am I thinking about how they played against me."