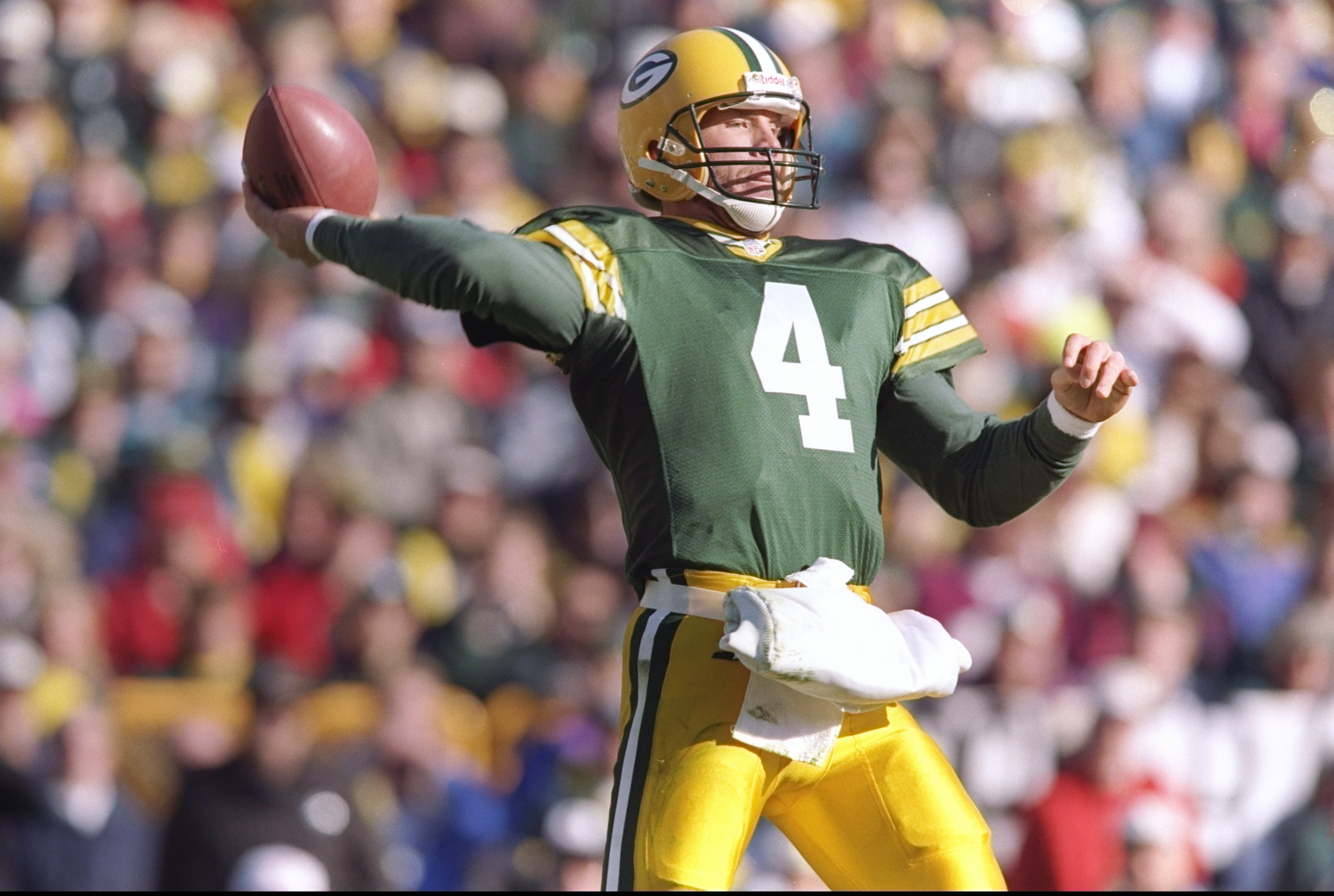 Brett Favre's Little Secret About His Iron-Man Streak
Former Green Bay Packers quarterback Brett Favre may have been fearless on the field, but off it, he was always fearful.
Brett Favre owns a record in the NFL that may never be broken. The Green Bay Packers Hall-of-Famer started 297 consecutive games as a quarterback in the NFL. Favre was a gunslinger and a fearless player. Or so we thought.
Brett Favre's football career
After playing college football at Southern Mississippi, the Atlanta Falcons selected Brett Favre in the second round of the 1991 NFL draft. The Falcons took a shot with the rifle-armed quarterback from Kiln, Mississippi, but he never completed a pass for the Falcons. He went 0-for-4 in his rookie year with Atlanta and was traded to the Green Bay Packers prior to the 1992 season.
Favre began the 1992 season as the backup to Don Majkowski. Favre was pressed into action during a September game against the Cincinnati Bengals when Majkowski went down with an ankle injury. He rallied the team to victory and never looked back. Favre went on to win three MVPs and a Super Bowl.
Favre spent 16 of his 20 years in the NFL with the Packers. He threw 442 of his 508 touchdowns as the Green Bay quarterback. After a rocky ending in Green Bay where he flip-flopped over retirement, he went on to play for the New York Jets and the Minnesota Vikings. Favre was an 11-time Pro Bowler and was inducted into the Pro Football Hall of Fame in 2016.
Favre's impressive string of 297 straight starts
The day was Sept. 20, 1992, and Brett Favre was on the sideline like he normally was, backing up starter Don Majkowski. Majkowski went down early in the game with an ankle injury and Favre got the call. Favre impressed the Lambeau Field crowd on his team's final drive.
With 1:07 remaining and the Packers trailing 23-17, Favre mounted a game-winning drive that began his illustrious Green Bay career, while ending Majkowski's. Favre marched the Packers down the field and hit Kitrick Taylor with a touchdown pass with just 13 seconds remaining to give the Packers a 24-23 victory.
Favre battled through injuries and the death of his father to put together one of the greatest streaks in professional sports. On Dec. 10, 2010, when Favre was a member of the Minnesota Vikings, his streak came to an end. A sore shoulder at the age of 41 kept Favre out of a game against the New York Giants. "Seems like I've been hurt a lot worse," Favre said in an ESPN article after the game. "I can't believe something like this hasn't happened before."
Favre reveals he was always scared during his streak
For someone to make 297 consecutive starts as a quarterback in the NFL, there has to be some toughness to them. Brett Favre was physically tough. He battled through pain to play. In an interview with Graham Bensinger, Favre said he wasn't as tough mentally. In fact, he said he was scared during his streak. He remembered how he got the opportunity to start and was concerned that someone else could take his job the way he took Don Majkowski's.
A big part of Favre's streak was fear. The fear of losing his job. "I always had that little man on my shoulder saying, 'Remember how you played. You came into a game because the guy in front of you got hurt.'" Favre said. "'No one knew who you were and now no one knows who he is.' That's the way it worked. You always had to look over your shoulder.
"I had won three MVPs in a row. From the outside looking in, you may have thought, 'that guy's not worried about his job.' I always was worried about my job."
Statistics courtesy of Pro Football Reference.