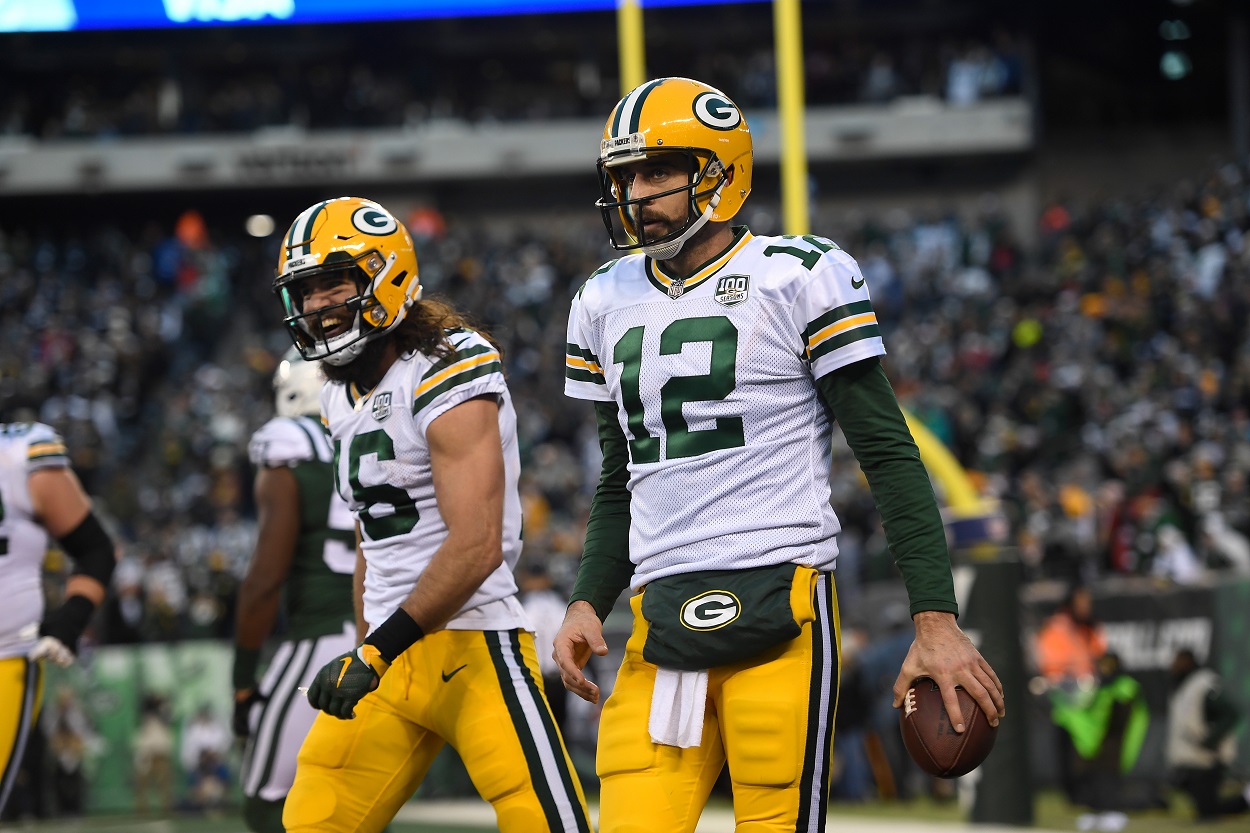 Exploring the Career of Jake Kumerow, the Apparent Reason for the Rift Between Aaron Rodgers and the Green Bay Packers
A look at the career of wide receiver Jake Kumerow, who is at the center of the ongoing vendetta between Aaron Rodgers and the Green Bay Packers.
For those who have been following the ongoing war between Aaron Rodgers and the Green Bay Packers, you've likely heard the name Jake Kumerow thrown around quite a bit. Rodgers was apparently upset the Packers released Kumerow just ahead of the 2020 season, a move that was made just after Rodgers had publicly praised the young wide receiver. And it still appears to be a very sore subject for the three-time NFL MVP.
So exactly who is Jake Kumerow? As his name continues to pop up in discussions about the Rodgers-Packers saga, we thought we'd take a quick look at his career and perhaps try to understand just why Rodgers is so upset about his release.
Jake Kumerow began his college career with Illinois but finished it with Division III Wisconsin-Whitewater
The son of former Miami Dolphins defensive end/linebacker Eric Kumerow, Jake was born in the village of Bartlett, Illinois, located approximately 35 miles northwest of Chicago, and attended high school in nearby South Elgin before beginning his college football career at the University of Illinois as a preferred walk-on.
Kumerow redshirted the 2010 season and made his debut for the Fighting Illini in 2011, catching just three passes for 15 yards. As Illinois cleaned house following the season, firing essentially the entire coaching staff, he transferred to Division III Wisconsin-Whitewater. And as transfer rules are different when switching divisions, he was immediately eligible to play for the Warhawks in 2012, a season in which he caught 15 passes for 201 yards and three touchdowns.
In 2013, he earned Division III All-American honorable mention honors and caught 77 passes, setting school records for receiving yards (1,331) and receiving touchdowns (19). As a senior in 2014, Kumerow caught 66 passes for 1,116 yards and 14 touchdowns and was the lone Division III player selected to the NFLPA Collegiate Bowl. Ironically, he suited up for then-Packers head coach Mike McCarthy but didn't catch a pass.
He was on the practice squads of the Bengals and Patriots before signing with the Packers
After not being selected in the 2015 NFL draft, Kumerow signed with the Cincinnati Bengals and spent two seasons with the team as a member of the practice squad. He was promoted to the active roster for the final game of the 2016 season but didn't play a single snap.
On the first day of training camp in 2017, he suffered an ankle injury and was released soon after under the Waived/Injured category. After clearing waivers, he was placed on the injured reserve list and fully released from the team on September 22 with an injury settlement. Kumerow signed on to become a member of the New England Patriots practice squad in late October but was released two weeks later.
The day after Christmas, he signed with the Packers' practice squad and signed a reserve/future contract with the team a week later. Kumerow had a strong preseason for Green Bay in 2018 but another injury put him back on IR. He was activated on December 1 and made his first regular-season NFL catch a day later on an 11-yard pass from Rodgers. Three weeks later, he scored his first official NFL touchdown on a 49-yard pass from Rodgers and finished the season with eight catches for 103 yards and that lone score.
Kumerow remained with Green Bay for the 2019 season and appeared in 14 games, even starting four of them, catching 12 passes for 219 yards and a touchdown.
Kumerow was released by the Packers ahead of the 2020 season just after Aaron Rodgers publicly praised him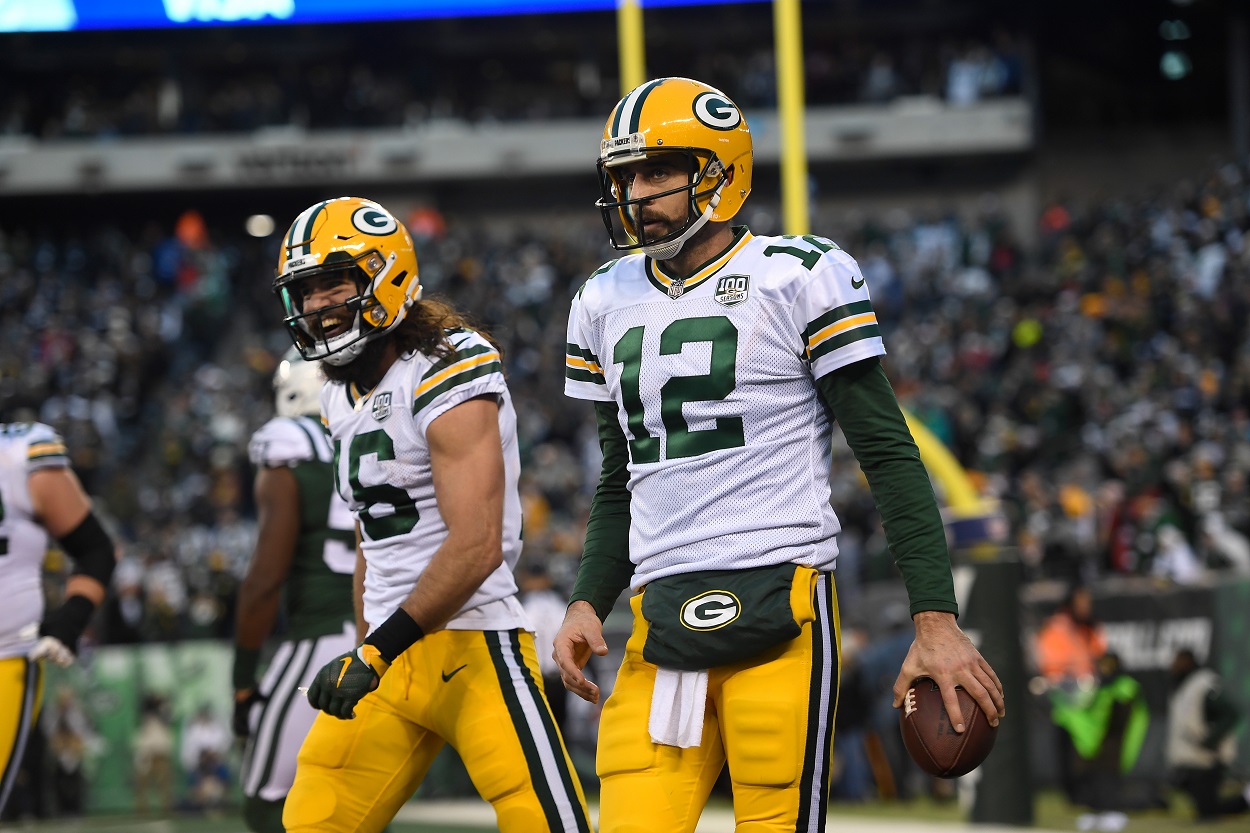 Ahead of the 2020 season, Kumerow re-signed with the Packers and was battling with Malik Taylor, a Division II player who'd spent his rookie season in 2019 on the Tampa Bay Buccaneers practice squad, for the final wide receiver spot on Green Bay's main roster.
Just as final cuts were about to be made in early September, Rodgers appeared on SiriusXM NFL Radio and discussed how much he loved having Kumerow around, calling him a "solid performer" and a "fantastic, steady player." Less than 24 hours later, Kumerow was cut completely, a move that apparently still upsets Rodgers to this day. For the record, Taylor earned the spot and made five catches for 66 yards and a touchdown in 15 games in 2020.
Kumerow went on to sign with the Buffalo Bills and split time between the practice squad and the main roster before being released, at which point the New Orleans Saints snatched him up for a few weeks. He re-signed in Buffalo two days after the Bills lost the AFC Championship Game to the Kansas City Chiefs and will vie for a roster spot when training camp begins this summer.
As for Rodgers, it's hard to know exactly why he's so upset about the Packers releasing Kumerow. While you certainly have to respect everything Kumerow did just to get to the NFL and that he's managed to stick around for six years now, it's not as if he's ever going to be any quarterback's top weapon.
Perhaps Rodgers didn't like being embarrassed after showering praise on a guy that got cut a day later. Or perhaps it's that whole thing about not being consulted when the Packers made the move, just as he wasn't consulted when Green Bay drafted Jordan Love.
But whatever it is, Rodgers seems to be adamant about never playing another down in Green Bay. Maybe if things don't work out for Kumerow in Buffalo this summer, the Packers can bring him back. That'll fix everything, right?
Stats courtesy of Sports Reference