Aaron Rodgers Gets Called Out on Twitter for 'Bullying' Reporter Over His Polarizing Fashion Choice
After a long summer of discontent, Aaron Rodgers is finally back on the field with the Green Bay Packers. The reigning NFL MVP asserted during his entire prolonged offseason saga that his beef wasn't with anyone – teammates, coaches, media, fans – other than very specific Packers front office personnel.
After getting that all off his chest in an epic press conference at the start of training camp, Rodgers seems to be back having fun with football. The QB's new, lighter attitude heading into the season was on display when a beat reporter tweeted a lounge-in-cheek plea to the team to discipline its star for making fun of his unpopular fashion choice.
Aaron Rodgers is back with the Green Bay Packers looking to duplicate (most of) his 2020 season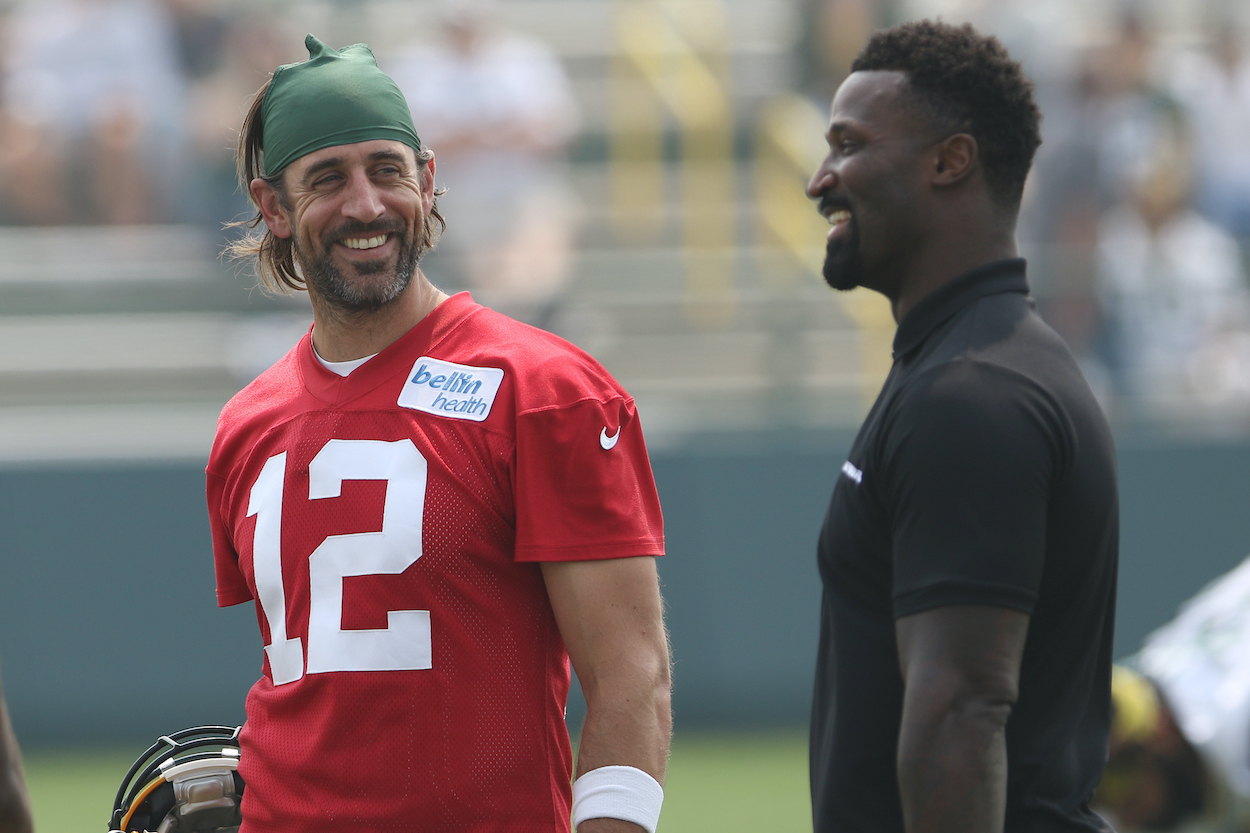 At the age of 37, Aaron Rodgers put up one of the best seasons of his career. In 2020, the former Cal Bear passed for 4,299 yards with just five interceptions. He also led the league in passing touchdowns (48), completion percentage (70.7%), touchdown rate (9.1%), interception rate (1.0%), and just about every QB rating scale you can think of.
These lofty numbers earned Rodgers his third NFL MVP Award but didn't translate into his second Super Bowl win.
Despite a stellar 13-3 regular-season record and home-field advantage in their two playoff games, the Packers lost in the NFC Championship Game 31-26 to the eventual champs, Tom Brady and the Tampa Bay Buccaneers.
The season ended in frustrating fashion, through no fault of Rodgers. Head coach Matt LaFleur made the boneheaded decision to kick a field goal on fourth down with 2:22 left in the team's final game, which led to the loss.
If Rodgers can play close to as well in 2021 as he did last season and LaFleur can stay away from terrible decisions in big games, the Packers could have a real chance of besting last year's team accomplishments.
A Packers beat reporter tweeted the Packers after Rodgers picked on him for his fashion choices
After an offseason where Rodgers openly warred with his franchise, the dust finally settled. The star QB is in training camp with the team. Fans worried about whether Rodgers will be able to put this behind him and focus on football got a good sign this week.
It seems like Rodgers is back to his old self and is not letting offseason drama seep into the new year. Demonstrating this, a Packers beat reporter hilariously tweeted the Packers organization, asking them to discipline the star for making fun of him.
The Athletic's Matt Schneidman tweeted Tuesday:
Hi @packers I'm currently getting bullied by your starting QB at practice because I'm wearing crocs with socks because I decided to wear comfortable footwear and don't need my bare feet sweating in this heat. Please consider internal discipline.

via @mattschneidman
The "crocks with socks" look is a polarizing one, to say the least. The reporter's tweet set off a social media debate where well-known NFL media personalities like Kevin Clark, Pat McAfee, and Ian Rapoport all came down on Rodgers' side of the argument.
The Packers' official account didn't weigh in on the topic. Still, you can bet that after the offseason the franchise had with Rodgers, the Pack are supporting QB1 in everything he says and does, even when it comes to fashionable footwear.
Did the Packers improve in the offseason? 
The Packers are undoubtedly one of the winners of the NFL offseason because they got their MVP QB back.
However, the Packers did what the Packers do in the offseason, just like every other offseason. The franchise kept their own, largely ignored free agency, and tried to address their issues through the draft.
The team brought back running back Aaron Jones and tight ends Mercedes Lewis and Robert Tonyan. Their draft got the team several players to help with the defense, the wide receiver position, and offensive line depth. The first five picks by general manager Brian Gutekunst in the 2021 NFL Draft were Georgia CB Eric Stokes (No. 29), Ohio State G/C Josh Myers (No. 62), Clemson WR Amari Rodgers (No. 85), Ole Miss OL Royce Newman (No. 142), and Florida DL T.J. Slayton (No. 173). 
The relative status quo might be good enough for the Packers as long as Aaron Rodgers turns in another Rodgers-like performance in 2021. But this is a big season in Green Bay as it may be the superstar QB's last in Wisconsin. If the team doesn't make the Super Bowl, it may leave fans questioning whether Gutekunst did enough. 
All stats courtesy of Pro Football Reference