NFL
Why Patrick Mahomes Should Be Thrilled He Won't Win NFL MVP Heading Into Super Bowl 55
For the second straight season, Patrick Mahomes has the Kansas City Chiefs in the Super Bowl and the vast majority of oddsmakers have them hoisting another Vince Lombardi Trophy. And if the Chiefs do end up winning a second consecutive Super Bowl, it's safe to say the odds are also pretty strong that Mahomes would win a second consecutive Super Bowl MVP trophy.
Another set of trophies will be handed out the night before Super Bowl 55 as the annual NFL Honors show is set for Saturday night on CBS, which is where this season's NFL MVP will be named.
With yet another fantastic season, Patrick Mahomes, who won the award following the 2018 season, certainly put himself in the conversation but he'll likely finish second to Green Bay Packers quarterback Aaron Rodgers, who had a phenomenal season in his own right.
And Mahomes should actually be thrilled about that as the last nine NFL MVP winners to play in the big game have lost, a fact his counterpart in Super Bowl 55, Buccaneers quarterback Tom Brady, knows all too well.
Patrick Mahomes had an MVP-caliber season but still won't win NFL MVP
RELATED: How Old Was Patrick Mahomes When Tom Brady Won His First Super Bowl?
If Patrick Mahomes actually does win NFL MVP on Saturday night, it's not as if he won't be deserving of the award. In 15 starts for the Kansas City Chiefs during the regular season — he sat out the final game of the year as KC had already clinched the No. 1 seed in the AFC — Mahomes went 14-1 and completed 66.3% of his passes for 4,740 yards with 38 touchdowns against just six interceptions, also adding 308 yards and two scores on the ground. Pretty amazing stats for the third year in a row.
It's just that Aaron Rodgers' stats were a little bit better.
Aaron Rodgers seems like a lock to win the award
RELATED: Aaron Rodgers Set an NFL Record in the NFC Championship Game But Not the Good Kind
Aaron Rodgers, who won NFL MVP following the 2011 and 2014 seasons, led the Packers to the No. 1 seed in the NFC with a 13-3 record, completing an NFL-best 70.7% of his passes for 4,299 yards with a league-leading 48 touchdowns against only five interceptions, adding 149 rushing yards and three touchdowns.
So he's pretty much a lock and Patrick Mahomes shouldn't be upset with that at all, which he likely isn't anyway seeing as how he and the Kansas City Chiefs are headed to the big game while Rodgers and the Packers will be watching it on TV with the rest of us.
Patrick Mahomes should be happy to not win the award as the last nine NFL MVP winners to play in the Super Bowl have lost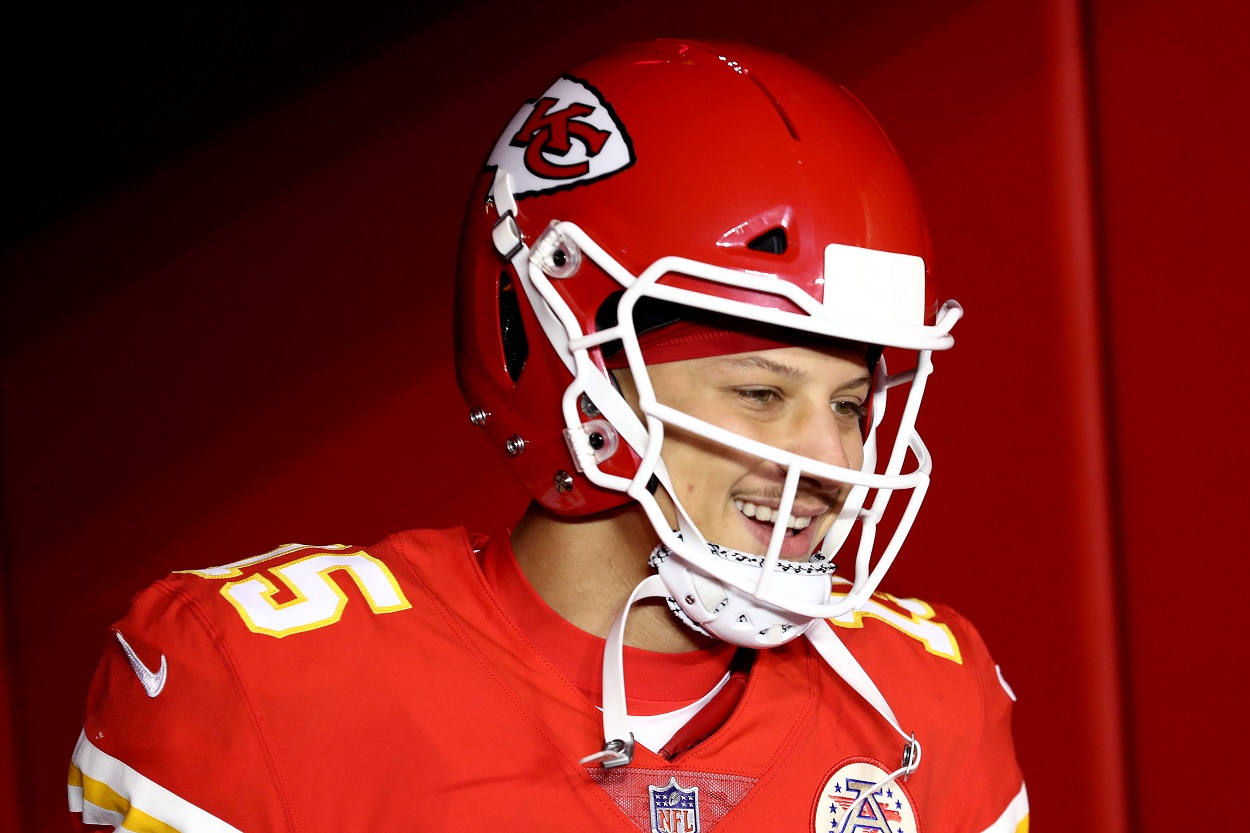 RELATED: Patrick Mahomes and Tom Brady Will Make NFL History One Second Into Super Bowl 55
So here's the fun part on why Patrick Mahomes should be happy that he won't win NFL MVP.
Since the 1999 season in which Kurt Warner won NFL MVP and led the St. Louis Rams to victory in Super Bowl 34, the last nine men to win the award and reach the big game in the same season have lost. Well, it's actually seven men but Tom Brady and Peyton Manning did it twice.
2001: Kurt Warner, St. Louis Rams — lost Super Bowl 36 to the New England Patriots
2002: Rich Gannon, Oakland Raiders — lost Super Bowl 37 to the Tampa Bay Buccaneers
2005: Shaun Alexander, Seattle Seahawks — lost Super Bowl 40 to the Pittsburgh Steelers
2007: Tom Brady, New England Patriots — lost Super Bowl 42 to the New York Giants
2009: Peyton Manning, Indianapolis Colts — lost Super Bowl 44 to the New Orleans Saints
2013: Peyton Manning, Denver Broncos — lost Super Bowl 48 to the Seattle Seahawks
2015: Cam Newton, Carolina Panthers — lost Super Bowl 50 to the Denver Broncos
2016: Matt Ryan, Atlanta Falcons — lost Super Bowl 51 to the New England Patriots
2017: Tom Brady, New England Patriots — lost Super Bowl 52 to the Philadelphia Eagles
As for Patrick Mahomes' MVP season back in 2018, he didn't get a chance to break the streak as the Chiefs lost to Tom Brady's Patriots in the AFC title game. But something tells me he's going to have plenty of chances to win NFL MVP and a Super Bowl in the same season as his career rolls along.
Stats courtesy of Pro Football Reference