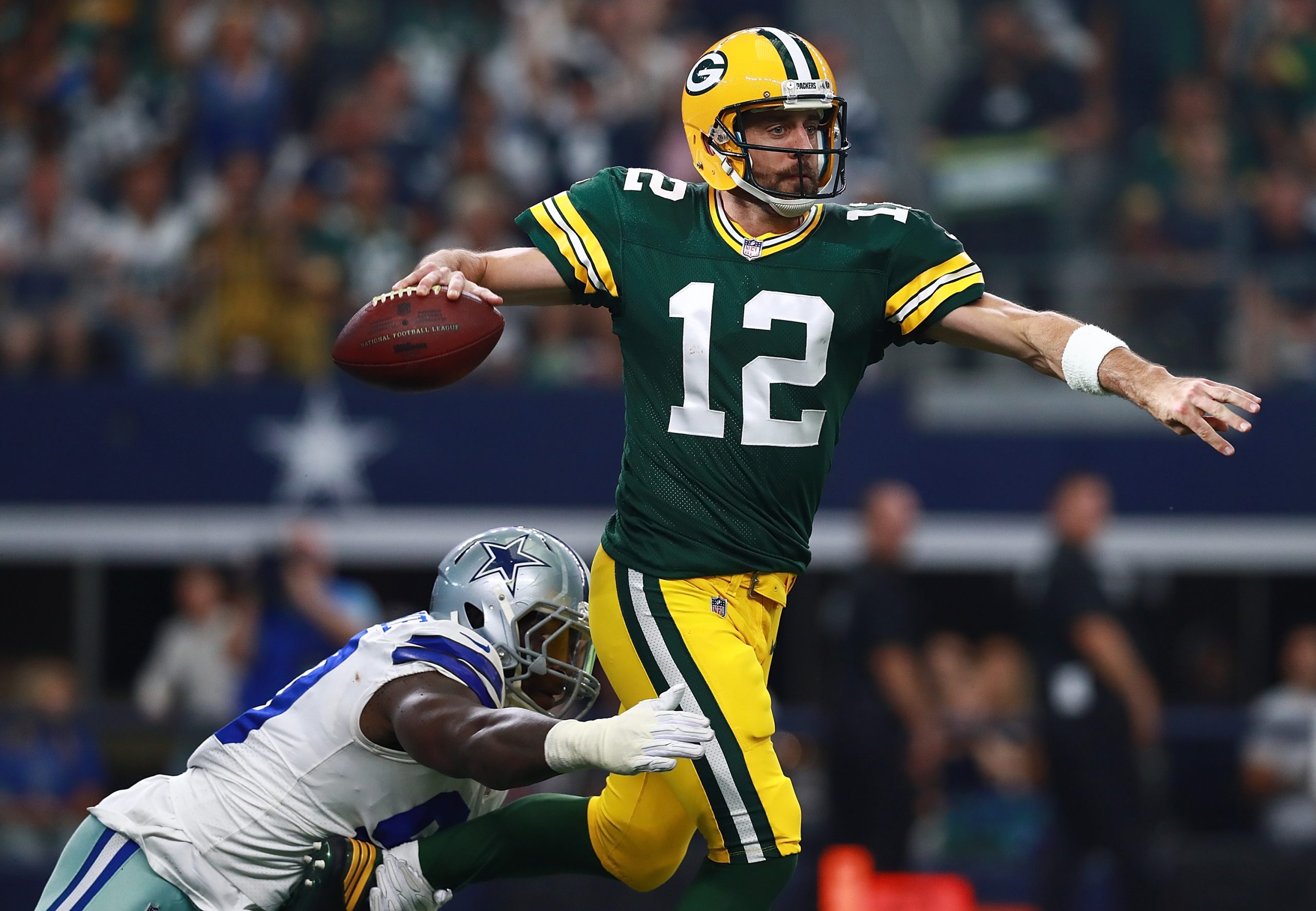 Aaron Rodgers Making Brett Favre's Packers Drama Seem Painless
Aaron Rodgers continues to play hardball with the Green Bay Packers.
Remember when Brett Favre cemented his way out of the Green Bay Packers organization by flip-flopping through retirement? It was frustrating for both the organization and its fans as Favre said his goodbyes in a tearful retirement only to unretire as Aaron Rodgers waited in the wings.
Now Rodgers appears to be working his way out of Green Bay. For Rodgers, it's personal. He's being selfish and controlling while making Favre's breakup with the team seem much more painless.
Aaron Rodgers is making himself look like the bad guy
The beginning of the end for Rodgers may have been on draft night in 2020. It was a night when the Packers may have put together one of the ugliest draft plans of all time. Fresh off a berth in the NFC Championship Game, the team decided to draft for the future instead of plugging in a hole or two that might've put them over the top.
The Packers made things worse by trading up to select Rodgers' eventual replacement, Jordan Love from Utah State. Then they selected running back A.J. Dillion before re-signing their Pro Bowl running back Aaron Jones. Love and Dillon are both quality players, but they didn't fit the immediate need for a win-now team.
Rodgers then went out and earned his third MVP and brought the Packers back to the conference championship. After the season, Adam Schefter reported he no longer wanted to play for the team. Was it because the Packers drafted Love? Was it because they didn't make him aware of the move? Rodgers isn't saying anything despite GM Brian Gutekunst admitting the team should have had better communication with Rodgers during that draft.
Rodgers has three years left on his deal. Schefter reported the team recently offered him a two-year extension that would make him the highest-paid quarterback. He turned it down. Yes, the team may have messed up that draft, but Rodgers is making himself look foolish. He looks like the bad guy and is alienating himself from the franchise and its fans.
The Aaron Rodgers drama is erasing the nightmare of Brett Favre's breakup
Favre had a tough time letting go. Rodgers wants to go. Favre frustrated Packers fans with his waffling back and forth between retiring and returning. Rodgers has frustrated fans with his selfishness. Favre's problem was he just couldn't make up his mind.
The Packers drafted Rodgers in the first round of the 2005 NFL Draft. As Rodgers is finding out now, speculation grew about Favre's future in Green Bay. There had been talk of retirement after the 2006 season, but he returned to lead the Packers to the NFC Championship in the 2007 season. In March of 2008, he announced his retirement in a tearful goodbye.
Four months later, he wanted to return. The Packers had committed to Rodgers as their starter, so Favre asked for his release, which Green Bay didn't grant. Favre later said he understood the team's commitment to Rodgers, but he wanted to be released rather than traded so he could choose his team and play for a competitive team at the end of his career.
Favre reported to Packers camp, but both parties knew his presence would be nothing but a distraction. The team traded him to the New York Jets.
Like Rodgers, Favre had a problem with the front office. Unlike Rodgers, Favre was already replaced as the starter. For now, the job starting job in Green Bay still belongs to Rodgers. He'd rather sulk and hold a grudge than return as the highest-paid quarterback at 37 years old.
The Packers seemingly have done their part to repair their relationship with Rodgers
The Packers owe Rodgers nothing. Zero. They admitted they should've handled the draft situation better and have offered an aging quarterback, who did win the MVP, a two-year extension. They have repeatedly stated they will not trade him, and they shouldn't.
Rodgers has given the Packers one Super Bowl. He's 1-4 in NFC Championship Games. Some of those failed conference titles can be attributed to a botched onside kick recovery or a poor defensive performance, but Rodgers isn't completely off the hook.
Last year, the Packers picked off Tom Brady three times in the second half. Rodgers went three-and-out on the last two of those turnovers with his team down by five points.
Rodgers is sending a message to the Packers. They should send one right back and continue to refuse to trade him. Forget the draft picks that come with dealing him. They thought enough of Love to trade up in the first round to select him. Throw him out there. Rodgers is too competitive to sit out the year. His ego is too big.
Sitting out the entire year at 38 (he turns 38 on Dec. 2) isn't a smart move. Being effective at 39 after not playing in two years isn't likely. The Packers hold the cards.
At least Favre wanted to be there.