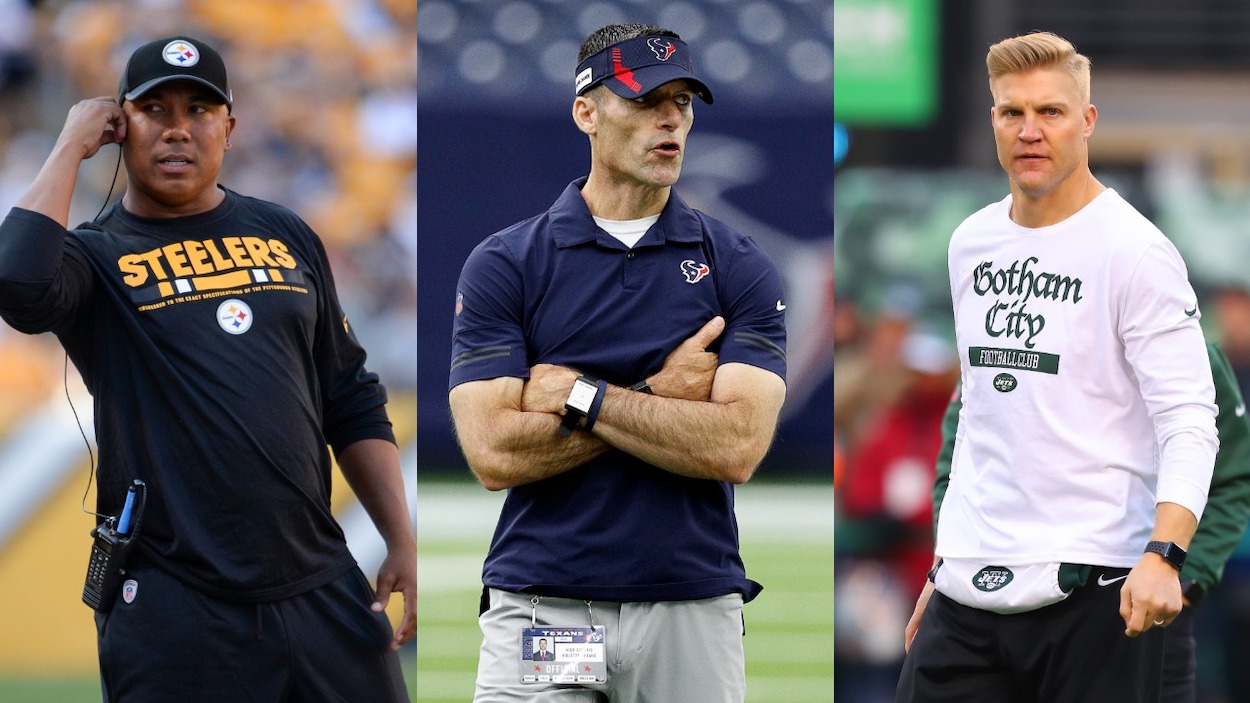 Hines Ward and Josh McCown are Among the Houston Texans 'Outside the Box' Head Coaching Candidates
Recently retired NFL players with little to no NFL coaching experience Hines Ward and Josh McCown are real head coaching candidates for the Houston Texans.
The Houston Texans had no star quarterback in 2021, a one-and-done head coach, and not a single Pro Bowl player. You can make an argument that the team was the least interesting franchise in the NFL season. Now, though, as teams around the league are searching for their next head coach, the Texans are taking an "outside the box" approach, interviewing inexperienced candidates like Hines Ward and Josh McCown. This makes the formerly uninteresting Texans' search one of the most interesting ones happening in the 2022 offseason.
The Houston Texans already have an "outside the box" front office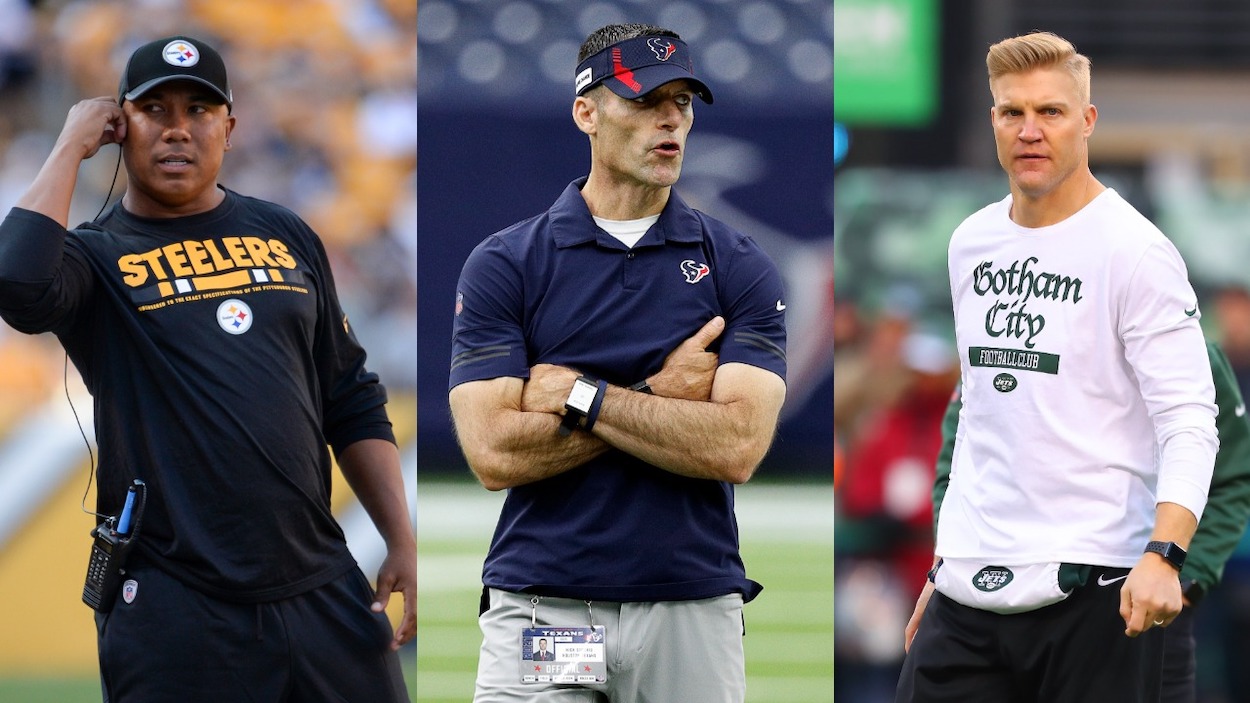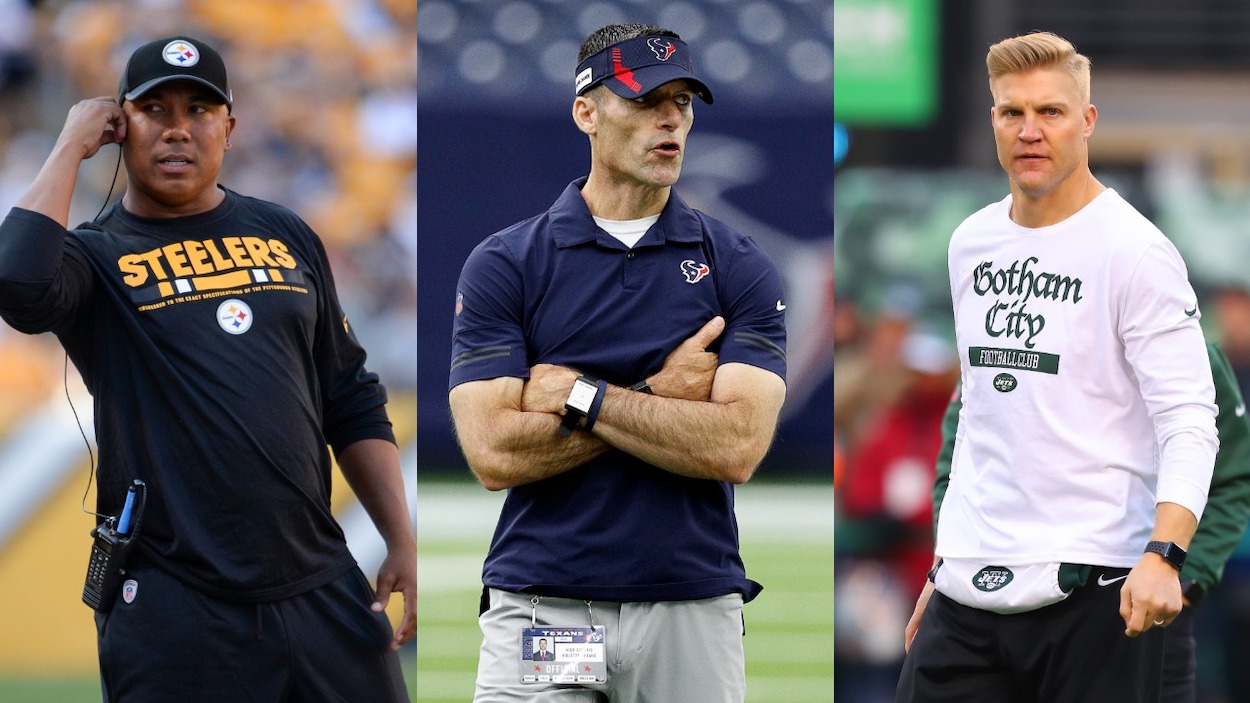 It shouldn't be a surprise that the Houston Texans are running their coaching search a little differently than most. The organization is led by people who are a little different than most.
Janice McNair, the wife of the franchise's late owner and co-founder, Bob McNair, owns the team. Texans Chair and CEO Cal McNair, Janice and Bob's son, runs the team's day-to-day operations.
Cal is controversial on several levels. The Texans' CEO recently had to apologize "or using an anti-Asian slur during a team charity golf tournament in May," per Sports Illustrated's Mike Fisher. This shouldn't come as a complete surprise as his father once had to issue a similar apology for comparing his player to "inmates running the prison," per Tom Schad of USA Today.
The founders' son has also stirred up controversy for elevating former New England Patriots team chaplain Jack Easterby to Executive Vice President of Football Operations, essentially giving him control of the team.
The polarizing Easterby is the one responsible for bringing in former Patriots pro personnel wiz Nick Caserio as general manager (which led to tampering allegations from the Pats, per Sports Illustrated's Jenny Vrentas and Greg Bishop) and for hiring and firing former head coach David Culley in a single year.
McNair, Easterby, and Caserio are now responsible for hiring the organization's next coach. With this threesome in charge, it should not be a shock they are considering candidates who other NFL franchises aren't.
The Texans are interviewing some non-traditional candidates
During the 2022 hiring cycle, NFL teams with coaching vacancies are (more or less) all interviewing the same people.
Ex-Miami Dolphins HC Brian Flores, Dallas Cowboys OC Kellen Moore and DC Dan Quinn, Buffalo Bills OC Brian Daboll, and DC Leslie Frazier, Tapa Bay Buccaneers OC Byron Leftwich, and Green Bay Packers OC Nathaniel Hackett are some of the names that are popping up on every team's list of potential head coaches.
Some teams are going a little bit further. The Broncos interviewed the Packers' QB coach/passing game coordinator Luke Getsy, and the Dolphins have talked to the LA Rams running backs coach/assistant head coach Thomas Brown, but these younger guys are about as wild as it gets for most teams.
The Houston Texans are doing things a little differently, though.
While most teams have an extensive list of interviewees already, per CBS Sports, the Texans only have four. They're talking to Flores, LA Chargers OC Joe Lombardi. That's not strange.
What is a little different is that they are also interviewing Florida Atlantic special assistant (and former NFL WR) Hines Ward, and high school football coach (and former NFL QB) Josh McCown.
These two names are familiar to NFL fans, for sure. But not for anything having to do with coaching. So, what would the legendary Pro Bowl receiver and the journeyman backup QB bring to the table as head coach of the Houston Texans?
What do Josh McCown and Hines Ward bring to the table?
Hiring players shortly after their playing days end and without going through the traditional steps to become a head coach is not uncommon in other sports. Aaron Boone (New York Yankees) and David Ross (Chicago Cubs) are good examples of this in Major League Baseball. And in the NBA, Steve Nash (Brooklyn Nets) and Jason Kidd (Dallas Mavericks) fit this bill.
In the NFL, however, that's not the case. Coaches traditionally come from the coordinator ranks. Sometimes a college head coach will get a job or, even or even fewer occasions, a position coach.
Hines Ward is currently an assistant at FAU coaching the wide receivers. However, he does have some very low-level offensive assistant experience with the Pittsburgh Steelers and New York Jets.
Ward's draw is that he was a motivational leader on two Steelers Super Bowl teams. Also, he was one of the toughest and most respected pass-catchers of his era. NFL head coaches need to be CEOs and leaders first. They can get help with the play-calling. That's why Ward is such an exciting possibility.
Josh McCown spent 16 years in the NFL and played for nine different teams. He started just 76 games in his career, producing a 23-53 record. However, during this time in QB rooms around the NFL, he's learned from countless veterans and helped mentor a handful of young QBs.
In today's NFL, developing young quarterbacks or creating a great relationship with a veteran passer are some of the most critical tasks for a coaching staff. McCown did that as a player for almost two decades. As a head coach, would (hypothetically) be able to do the same thing.
Ward and McCown might not be on most teams' list of potential head coaches, but if the Houston Texans hire one of them and they have success, more recently-retired players like them may get more consideration soon.
All stats courtesy of Pro Football Reference