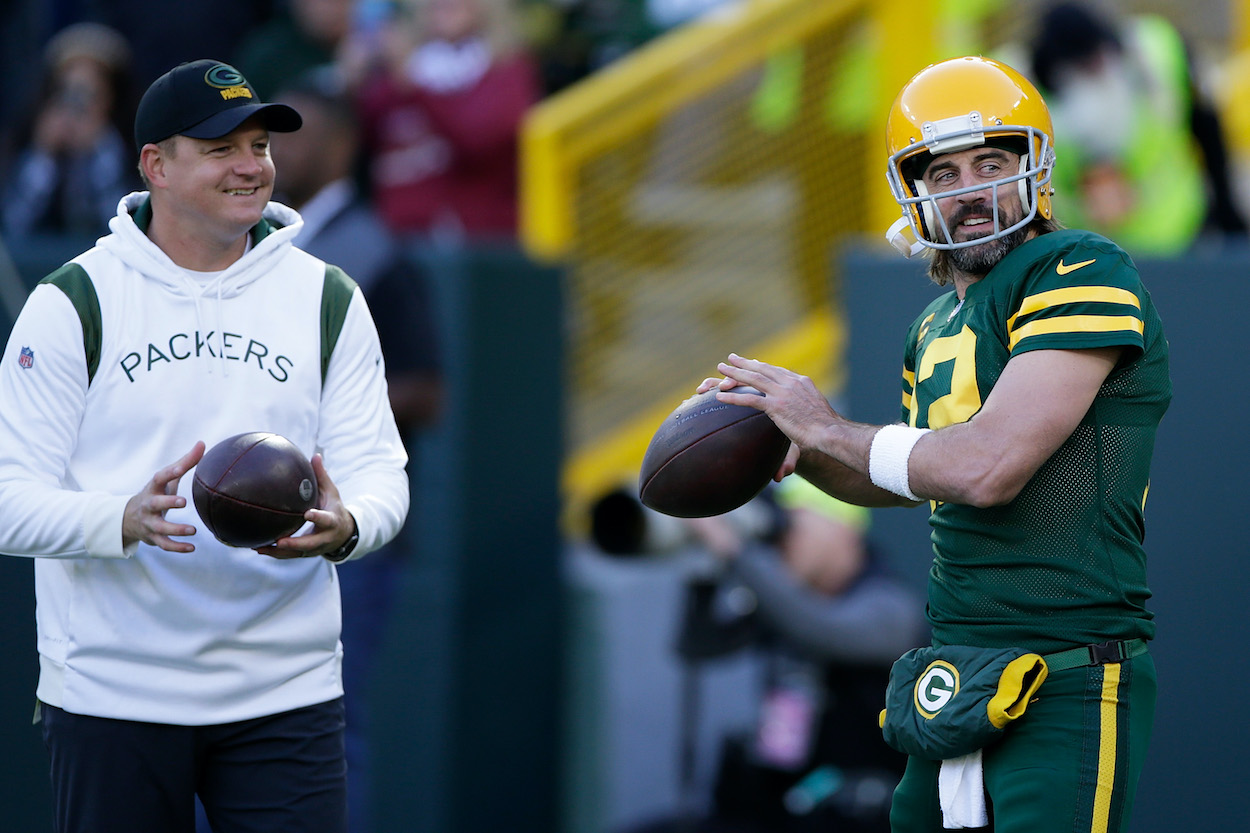 Aaron Rodgers Heaps Praise on Denver Broncos Head Coaching Candidates Nathaniel Hackett and Luke Getsy Fueling Speculation About the QBs Next Team
Are the Denver Broncos (or other teams) interviewing Green Bay Packers coaches Nathaniel Hackett and Luke Getsy to maybe get Aaron Rodgers?
After a contentious offseason, Aaron Rodgers and the Green Bay Packers organization seem to have found a way to work together. The quarterback and the franchise as a whole had a great year, fueling the idea that the formerly unhappy QB might be willing to stay in 2022. However, the Denver Broncos are interviewing Packers offensive coaches Nathaniel Hackett and Luke Getsy, creating speculation that the AFC West team is already wooing Rodgers.
Green Bay Packers assistants Nathaniel Hackett and Luke Getsy are interviewing for vacant head coaching positions
The 2021 NFL season saw one coach resign (Jon Gruden) and one fired (Urban Meyer). Six coaches received pink slips during the week following the last regular-season games (Mike Zimmer, Matt Nagy, Vic Fangio, Joe Judge, David Culley, and Brian Flores).
Now the offseason head coaching carousel starts, and the teams are beginning to interview candidates for the open positions.
As often happens, the coaches from the most successful teams draw the most interest, as bad teams want to be more like good teams. Therefore, it's no surprise that two Green Bay Packers offensive coaches are getting serious looks from coach-less organizations.
One of these coaches is offensive coordinator Nathaniel Hackett.
Nathaniel is the son of longtime NFL offensive assistant (and short-time Pitt and USC head coach) Paul Hackett. The younger Hackett started his NFL coaching career as a quality control assistant with the Tampa Bay Buccaneers while his dad was the team's quarterbacks coach.
Nathaniel worked his way up in the league and, after a few years at the University of Syracuse, was offensive coordinator for the Buffalo Bills and Jacksonville Jaguars. For the last three seasons, he's been Matt LaFleur's top offensive coach in Green Bay.
Luke Getsy was a record-breaking QB at Akron before heading into coaching. He's bounced between college and the pros since 2009, most notably becoming offensive coordinator for Mississippi State in 2017.
In 2019, he rejoined Green Bay, where he was quality control assistant and wide receivers coach from 2014-16. He started as quarterbacks coach in his second go-round and, in 2020, added passing game coordinator to his title.
So far, in this coaching cycle, the Denver Broncos, Chicago Bears, and Jacksonville Jaguars have interviewed Nathaniel Hackett while the Broncos have interviewed Getsy.
Aaron Rodgers heaped praise on his offensive coaches
As Aaron Rodgers and the Green Bay Packers get ready to kick back and watch Super Wild Card Weekend on TV, thanks to their first-round bye, the QB joined Pat McAfee and his former teammate A.J. Hawk — as he does every Tuesday — on the Pat McAfee Show.
Hawk asked Rodgers how he feels about his coaches getting interviewed for new gigs. The signal-caller told the former linebacker that he was "very happy for these guys." He then launched into a glowing recommendation for his offensive coordinator, Nathaniel Hackett:  
I'm really happy for Nathaniel. I think this is a little overdue, to be honest. I think he's been around the game for a long time. What he did in Jacksonville was pure magic. Getting them within a quarter of the Super Bowl was incredible. He's a great coach. I love spending time with him. He's a fantastic teacher. He's incredible in front of the room, and I'm really happy for him.

Aaron Rodgers on Nathaniel Hackett
Rodgers also had high praise on his young passing game coordinator:
And Luke Getsy as well. He's about a month younger than me, so that's pretty awesome for him to get an opportunity. But he's been around the game a long time. He was in the QB room, the receiver room, then he went down to college and was offensive coordinator in the SEC and then came back. He's been in our room for three years now, and he's a fantastic coach. He's a really good teacher of the game. I'm excited for him as well.

Aaron Rodgers on Luke Getsy
It's nice for Packers fans to hear that Rodgers likes and appreciates Hackett and Getsy so much. However, the question is now, are Rodgers' feelings so strong he would follow Hackett or Getsy to a new team?
Will hiring Hackett or Getsy get you Rodgers?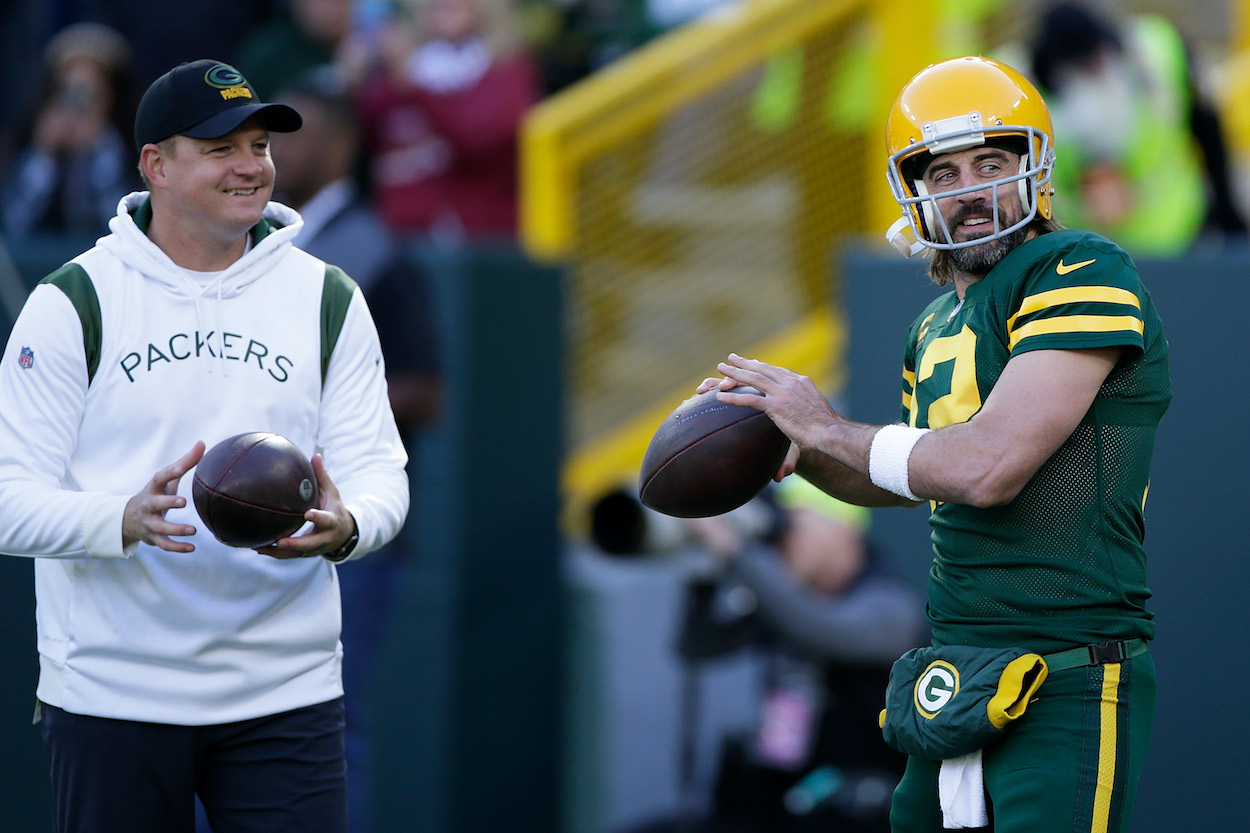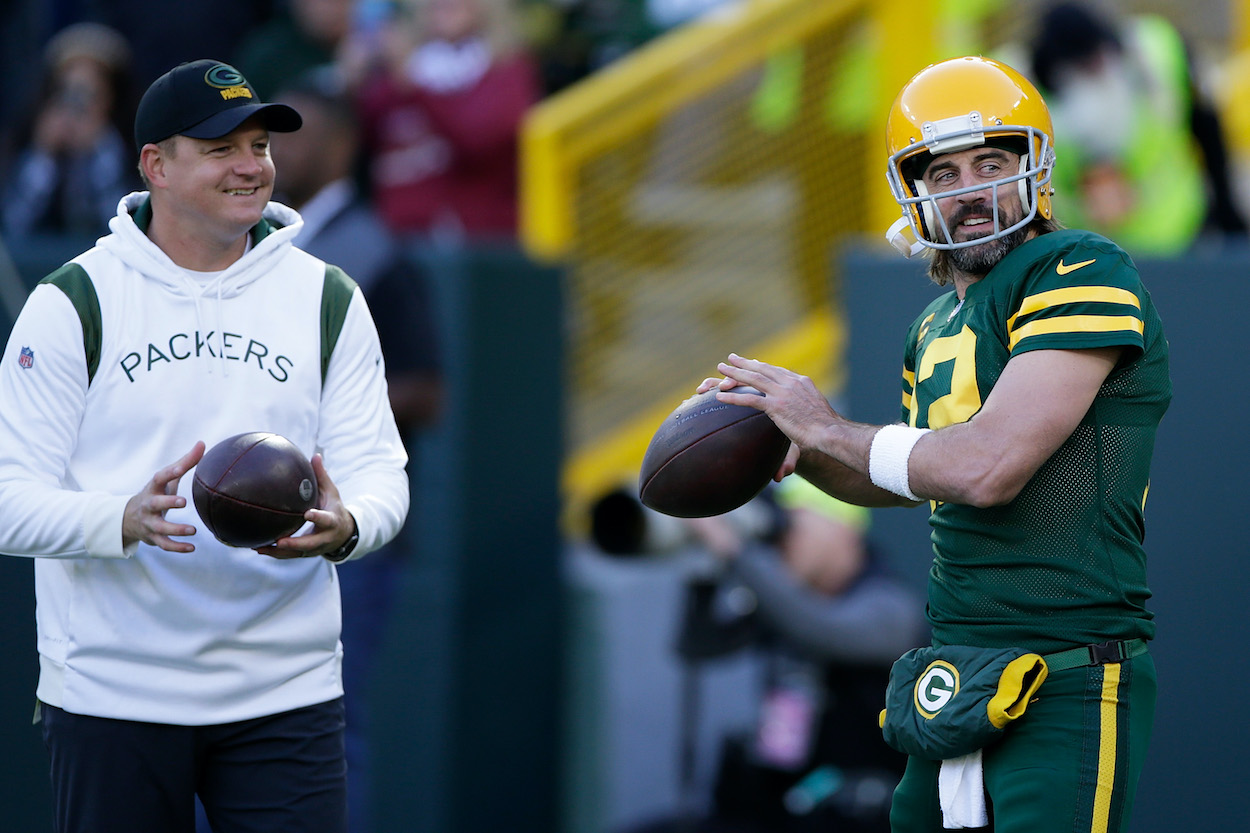 Nathaniel Hackett and Luke Getsy both deserve opportunities to become head coaches in the NFL. Hackett has a long, successful track record in the league, and Getsy is a young phenom who learned at the feet of a young phenom (Matt LaFleur), who learned at the feet of a young phenom (Sean McVay).
Despite all the qualifications, Hackett and Getsy might have one thing going for them that other coaches don't. If Aaron Rodgers returns to his stance that he wants to leave the Green Bay Packers this offseason, a team with Hackett or Getsy as head coach would have a leg up in the rest of the league.
Former Packer A.J. Hawk certainly thinks this is the case.
When asking Rodgers about Hackett and Getsy, the former Ohio State Buckeye asked the QB if he thinks "they're trying to clear the path to get you to Denver" by interviewing the pair.
While Rodgers dodged the question, choosing to focus on his affinity for the coaches themselves.
If Hackett or Getsy do ultimately get hired, though, expect there to be a lot more questions surrounding Rodgers' big offseason decision, especially when it comes to his possible connection to the Denver Broncos.
All stats courtesy of Pro Football Reference