Jalen Ramsey Is Relieved Tom Brady Is Un-Retiring for 1 Important Reason
Jalen Ramsey is relieved that Tom Brady is coming back to the NFL, even though it makes the LA Rams path to repeat more difficult.
When Tom Brady announced he will be coming back to the Tampa Bay Buccaneers in 2022, the Los Angeles Rams' path to repeat as Super Bowl champions became more difficult. However, one Rams player — All-Pro cornerback Jalen Ramsey — tweeted out his relief at Brady's return due to what happened the last time the two players met on the field.
Tom Brady lost to Jalen Ramsey's LA Rams in what seemed like his last NFL game
Even at 44, Tom Brady was still Tom Brady in what seemed like his last NFL game.
The Tampa Bay Buccaneers faced Jalen Ramsey and the eventual Super Bowl champion LA Rams in the Divisional Round of the 2021 NFL Playoffs. Brady was missing two of his top receivers in Chris Godwin and Antonio Brown, and the entire running back group came into the postseason banged up.
In the first half, Brady and the Buccaneers looked like a team that had run out of gas. Then the team came out of the locker room down 20-3 after halftime, and Brady donned his TB12 cape one more time.
Brady led his team on a furious comeback in the final two frames. The Bucs outscored the Rams 24-7 to tie the game at 27 all with 42-seconds to play. The no-doubt first-ballot Hall of Fame quarterback was 20-of-32 for 217 yards and a touchdown in the second half.
Despite Brady's Herculean effort, Matthew Stafford led the Rams on a 63-yard field goal drive in the final 42-seconds. The Rams won the game, and ultimately the Super Bowl.
When Brady announced his retirement in February, it seemed like this final Brady-shouldered comeback would be the lasting memory of the all-time great QB's final game.
Then Brady announced on March 13 he's coming back for 2022, and there was one player on the Rams who was incredibly relieved.
Ramsey tweeted out his relief about Brady's un-retirement
Tom Brady threw what looked like his last NFL touchdown pass during his incredible second-half comeback in the Tampa Bay Buccaneers Divisional Round game vs. the LA Rams.
On 2nd-and-7 from his own 45-yard line with under four minutes to play in the game, Brady uncorked a deep ball and found WR Mike Evans streaking down the right sideline. Evans beat his defender, caught the ball, and scampered the final 10-yards into the end zone.
That defender was Rams All-Pro CB Jalen Ramsey.
On Sunday, Brady took to Twitter and announced that he "realized [his] place is still on the field and not in the stands" and that he's "coming back for [his] 23rd season in Tampa."
Fourteen minutes later, a relieved Ramsey retweeted Brady's post, writing, "THANK YOU ! throw that last touchdown on somebody else," followed by a laughing emoji.
While Ramsey might be the most relieved non-Buccaneer in regard to Brady's comeback, there is at least one person who will be incredibly upset by this news. That's the person who recently bought the ball Brady threw to Evans with Ramsey in coverage this weekend.
The ball previously believed to be from Brady's last NFL TD sold at auction for $518,000, per Jenna Laine on ESPN.
The LA Rams and Tampa Bay Buccaneers are now among the NFC favorites in 2022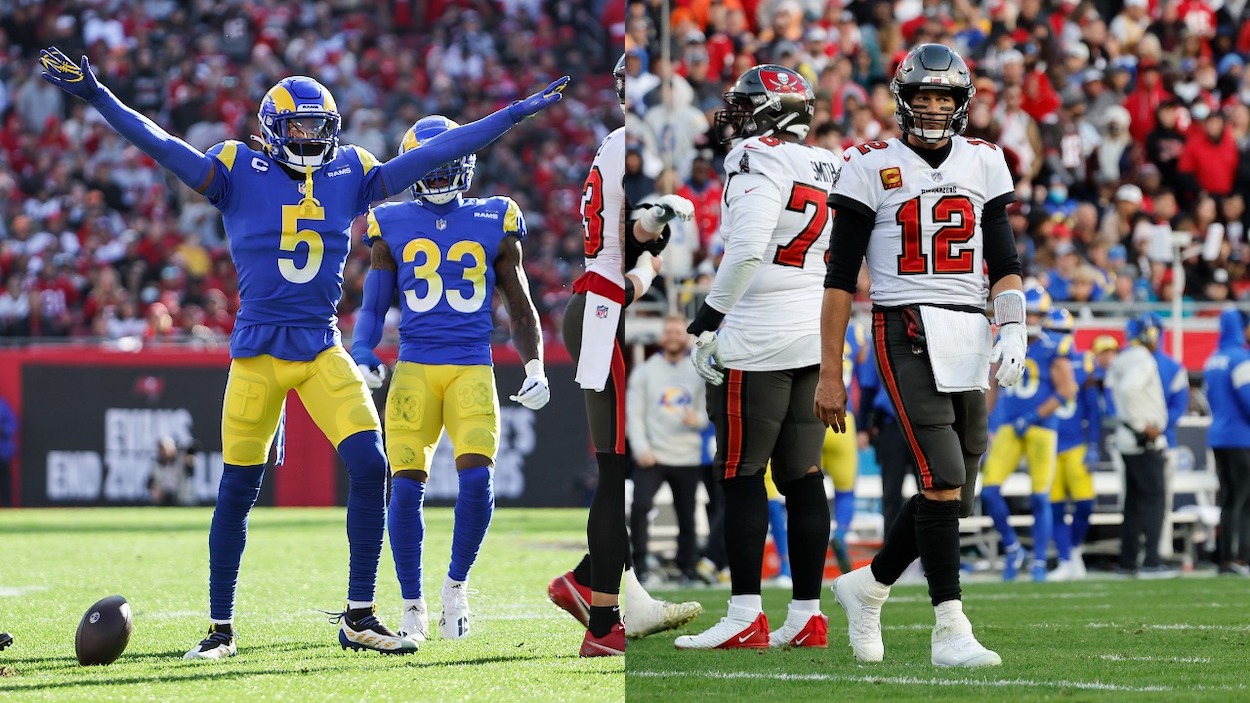 Whatever the true reasons Tom Brady decided to return in 2022, he had to at least consider that his chances of reaching the Super Bowl next season are pretty good due to the weakness of the NFC.
Heading into the offseason free agency period, the New Orleans Saints lost head coach Sean Payton, the Seattle Seahawks traded Russell Wilson to the AFC, the Arizona Cardinals are at war with their starting QB, and the San Francisco 49ers are on track to start Trey Lance next season, who's thrown just 71 career passes.
A lot can happen between now and Thursday, September 8, when the 2022 NFL season officially kicks off. However, with the attrition so far, it looks like just three NFC teams are genuine Super Bowl contenders.
The back-to-back NFL MVP Aaron Rodgers stayed with the Green Bay Packers, keeping that team as a conference favorite. The defending Super Bowl champion LA Rams are bringing most of their championship team back, which means they could repeat. And any team with Brady under center can win a Lombardi Trophy.
Outside of that, a second level of fringe contenders could make noise in 2022 if things go right. This includes the 49ers, Cardinals, and Dallas Cowboys.
Also, in the NFL, teams can come out of nowhere and make a run. Teams with solid or promising QBS and/or new head coaches have a chance to leap into contention. This list includes the Minnesota Vikings, Chicago Bears, Philadelphia Eagles, and Washington Commanders.
All that said, if the 2022 NFC Championship game features Tom Brady vs. Jalen Ramsey, don't be surprised.
All stats courtesy of Pro Football Reference