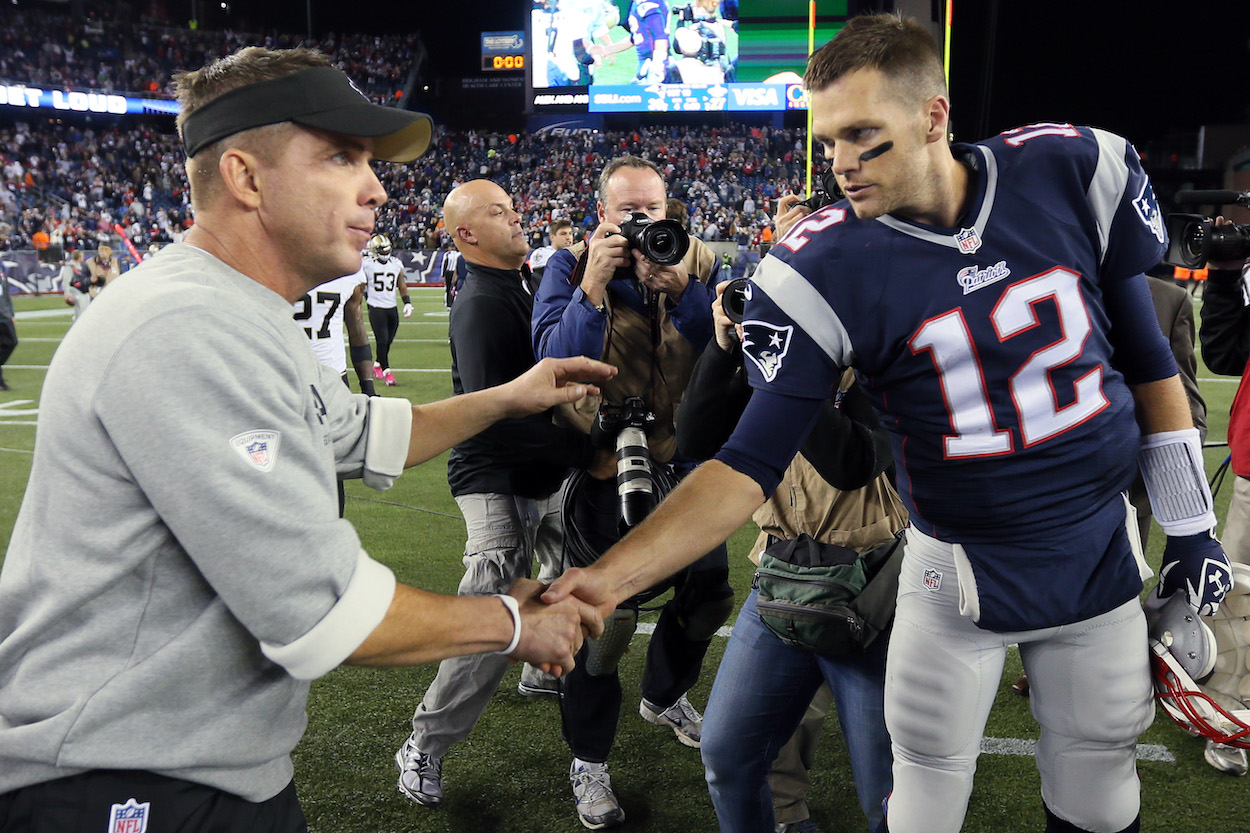 Did Tom Brady and Sean Payton Almost Come Back as a 'Package Deal'?
Tom Brady and Sean Payton shocked the NFL world by retiring in 2022, but how close were the pair to coming back to a team together?
In the year 2000, the New England Patriots picked Tom Brady out of Michigan No. 199 overall in the NFL Draft. That same offseason, the New York Giants head coach Jim Fassel elevated his quarterbacks coach, Sean Payton, to offensive coordinator.
After twenty-plus years as two of the NFL's most familiar faces, both Brady and Payton shockingly walked away in 2022. This upcoming season will be strange without them. However, according to one report, fans of one team almost got them both back for next season.
Tom Brady and Sean Payton both surprisingly retired in 2022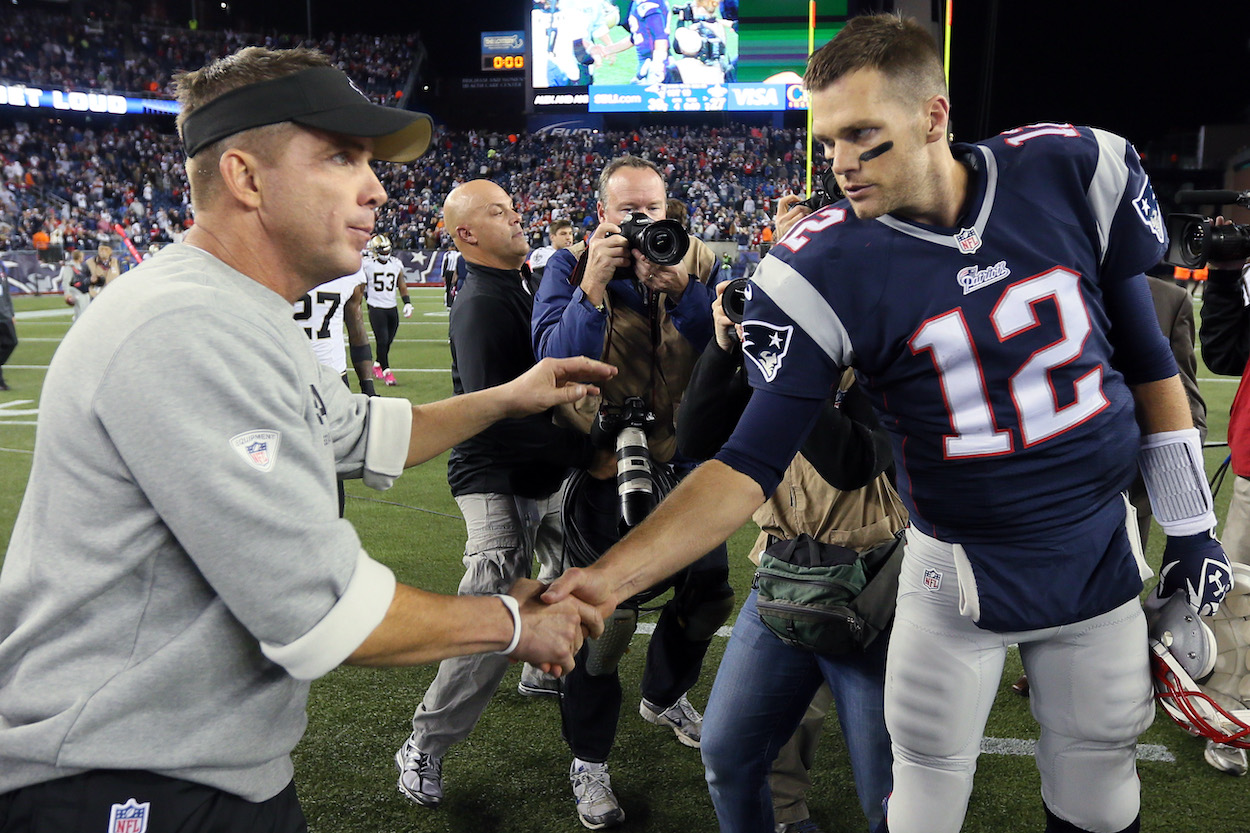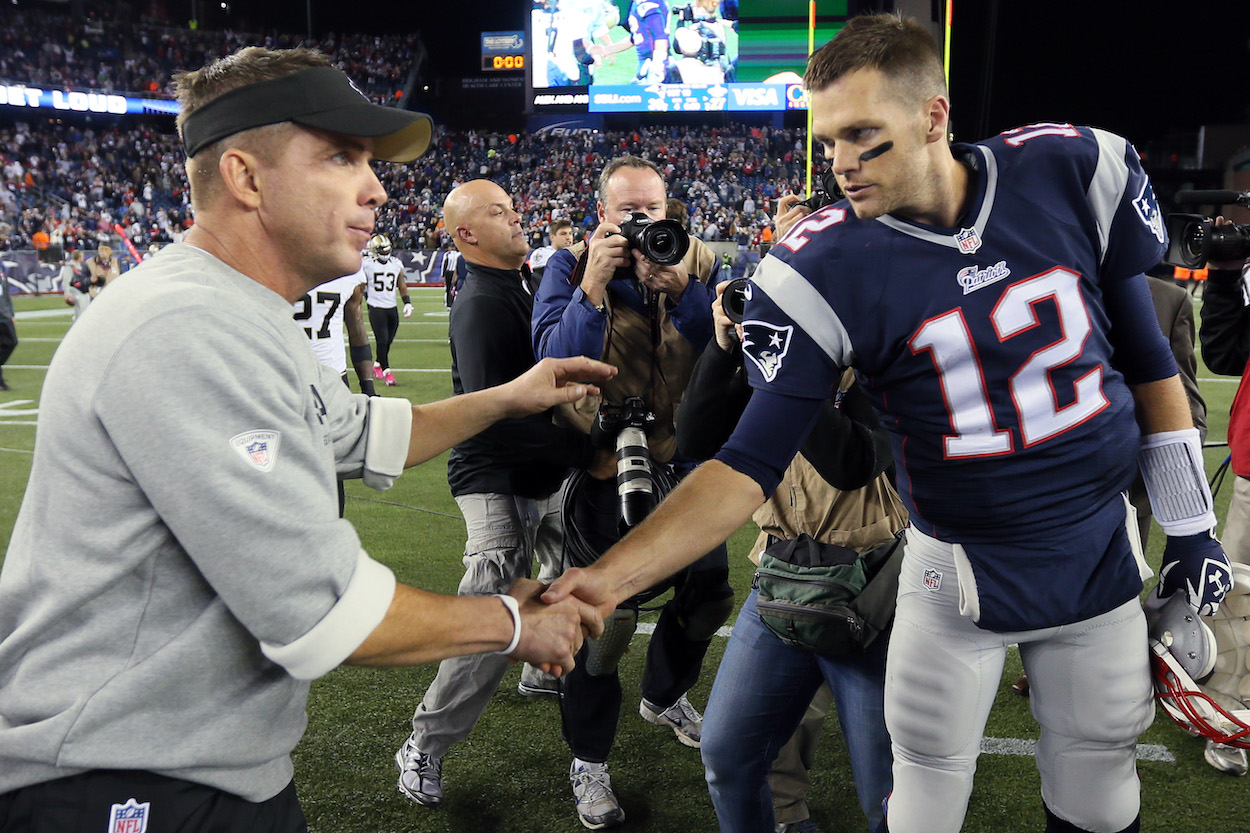 NFL watchers generally thought that Tom Brady would retire after the 2022 season. That's when his Tampa Bay Buccaneers contract expired. Also, Brady has said in the past he thought he could play pro football through the age of 45, which he will turn in August.
Also, in 2021, he was among the best QBs in the league and in the MVP conversation. He certainly has at least a year left (or maybe more) of talent and ability.
For Sean Payton, many assumed he would retire when his superstar signal-caller Drew Brees did at the end of the 2020 season. However, the Super Bowl-winning coach held on and had — although not his most successful — easily one of his most impressive seasons in 2021.
Despite starting Jameis Winston, Taysom Hill, Trevor Siemian, and Ian Book at QB, Payton led his team to a respectable 9-8 record. The squad fought for a playoff berth until the bitter end.
On the heels of solid seasons, nearly everyone headed into the offseason thinking Brady and Payton would be back for 2022.
Then it happened.
Sean Payton took a golf trip to Cabo and came back and announced he was done coaching the Saints. Then, with chatter building about Brady waking away to spend more time with his family, he eventually posted his goodbye on Instagram.
Now, these two legends are done with football. Or so it seemed.
Mike Florio and PFT reported Brady and Payton could be a 'package deal'
Pro Football Talk's Mike Florio recently joined the Rich Eisen Show to discuss the state of NFL quarterbacks heading into the 2022 offseason. After discussing Carson Wentz, Aaron Rodgers, and Russell Wilson, talk inevitably turned to Tom Brady and Sean Payton.
"And you're reporting that Brady's retired and Sean Payton steps away," Eisen asked Florio. "and then the [Miami] Dolphins swooped in and said, 'how about the both of you together right here?' before they hired Mike McDaniel?"
Florio responded:
They were planning to go after both guys, and the [Brian] Flores lawsuit resulted in them pulling the plug on it. I don't know whether they decided to pull the plug, or maybe the league office said, 'you can't do this because of the Flores lawsuit.' But I poked around yesterday and sought comment from the Dolphins. And, on the record, they declined comment. But, off the record, multiple team sources said they actually made a request for permission to speak to Sean Payton after Payton resigned from the Saints. … And with Brady, all the Dolphins sources would acknowledge is there's has been discussions about him becoming a minority owner.

Mike Florio on Tom Brady and Sean Payton
Florio also said to Eisen that the Dolphins have flirted with Brady in the past. The NFL insider told the talk show host in no uncertain terms that Brady is the unnamed QB that Dolphins owner Stephen Ross tried to get Flores to tamper with while he was still the head coach.
Interestingly, Florio also talked about the situation on the Dan Patrick Show. The reporter told the host that he's trying to find out if at least part of the motivation of the Flores lawsuit was to kill the "package deal" to hurt the Dolphins.
Will the legendary QB and Super Bowl-winning coach team up?
If Sean Payton can win nine games with Winston/Hill/Siemian/Book, think about what he could do with Tom Brady!
How close did this dream team come to pairing up?
Florio said that the Dolphins didn't get permission to talk to Payton. However, he noted that it would make a ton of sense for the New Orleans Saints to trade him to the Miami Dolphins if the coach wanted to come back. Instead of letting him walk to another NFC team (Dallas Cowboys) for free next year or the year after, the team could get something in return by trading him.
As for Brady, Florio noted that the GOAT is extremely close with minority Dolphins owner Bruce Beal. The insider went so far as to say that the New England Patriots were "petrified" in 2020 that the QB would choose to stay in the division with the Dolphins.
Florio's reporting makes it sound like Miami would have been the perfect spot for the coach and QB to get together. However, on Feb. 1, 2021, ex-head coach Brian Flores filed his lawsuit. Then, a week later, the team hired San Francisco OC Mike McDaniel as its next head coach.
Now that NFL teams have filled all the vacant head coaching positions for 2022, it seems highly unlikely Payton will be on the sidelines to start the season. Brady can still come back for the upcoming season, but it looks like it won't be with Payton.
If the two do team up, it would have to be in 2023. At that point, a 46-year-old Brady (who may have sat out a year) doesn't seem quite as appealing. So, while it was a fascinating pipe dream, it now seems like the Tom Brady and Sean Payton combo will never happen.
Like Sportscasting on Facebook. Follow us on Twitter @sportscasting19