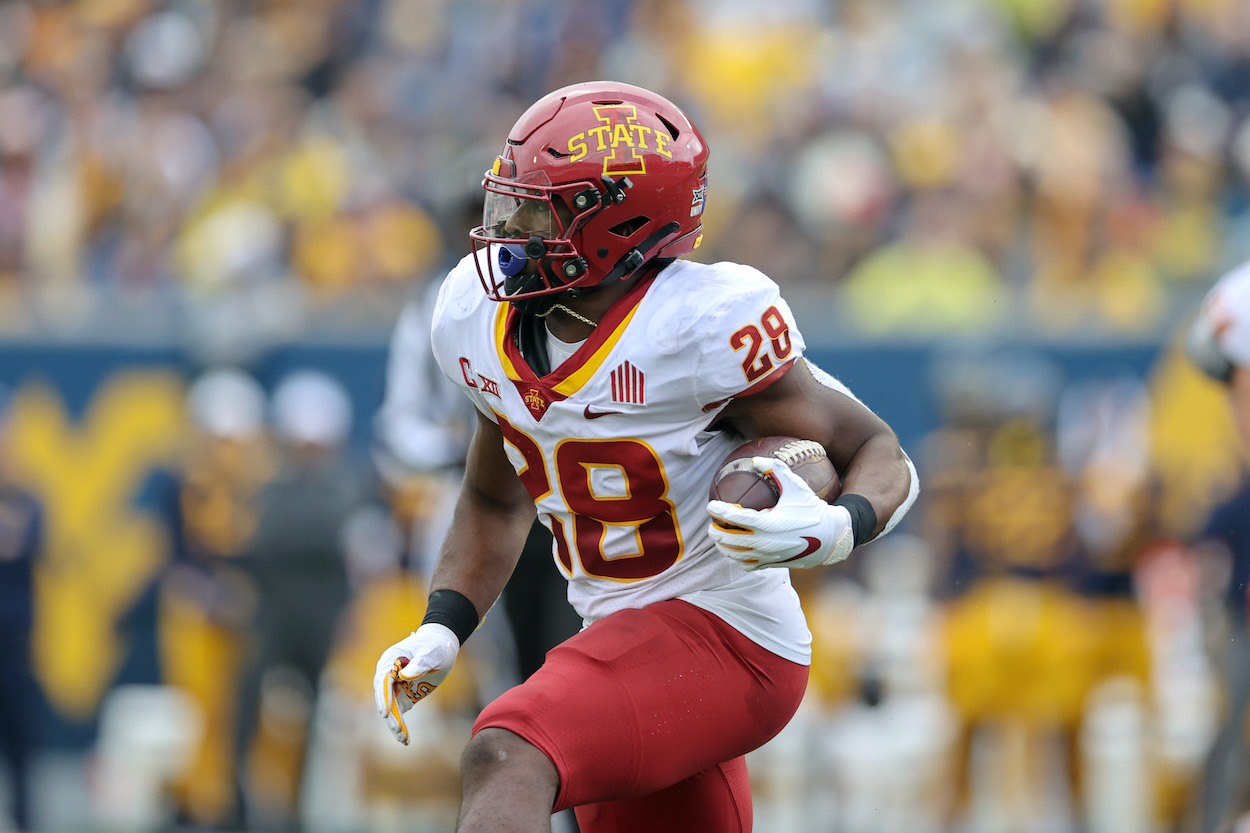 NFL Draft: Daniel Jeremiah Predicts Buffalo Bills Repeat Old First-Round Mistakes
For years, the Buffalo Bills made the same sort of mistakes in the NFL draft and now, one draft expert thinks they'll do it again in 2022.
In 1999, Wade Phillips' Buffalo Bills walked off the field stunned after losing a Wild Card Game in Nashville, Tennessee. The game would become iconic thanks to the final scoring play. With (what Bills fans consider) an illegal forward pass on a kick return from Tennessee Titan tight end Frank Wycheck to wide receiver Kevin Dyson, the Titans knocked the Bills out of the playoffs, and Buffalo did return for 18 years.
After that game, the first nearly two decades of the 2000s were rough for the Bills organization. Bad decisions, bad performances, and bad luck condemned the franchise as one of the worst in the league. Making NFL draft mistakes was a big part of this extended malaise.
In 2022, the Bills are in a wholly different spot than in the first part of the century. Still, if NFL Network draft guru Daniel Jeremiah is right, they're about to make a mistake they made several times in those bad ol' days.
The Buffalo Bills made the same type of NFL draft mistakes for years
After a decade-plus of astronomical success with quarterback Jim Kelly, wide receiver Andre Reed, and running back Thurman Thomas, the Bills brass became obsessed with finding that trio's replacements and used their first-round picks to do it. The problem is, they over-drafted players, misidentified talent, picked the wrong guy, or sometimes chose a skill position player and didn't set them up for success because of the team around them.
From 2000 to 2014, the Bills took a QB, WR, or RB in the first round of half those drafts.
The QBs (J.P. Losman, EJ Manuel) were busts, and the WRs (Lee Evans, Sammy Watkins) were OK. The real sin, though, was the first-round running backs.
The Bills took Miami's Willis McGahee, coming off a brutal knee injury in the national championship game vs. Ohio State, No. 23 overall in the 2003 NFL Draft. McGahee had three decently productive seasons in Buffalo, rushing for over 1,000 yards twice. However, he had his two Pro Bowl seasons after leaving Buffalo with the Baltimore Ravens (2007) and Denver Broncos (2011).
The Bills took Cal's Marshawn Lynch at No. 12 overall four years later. Lynch also rushed for 1K-plus twice in his three and a half seasons in the AFC East and even made a Pro Bowl in 2008. However, he didn't become the All-Pro "Beast Mode" until the Bills traded him to the Seattle Seahawks.
Finally, in 2010, the Bills picked a RB even higher, with worse results. Clemson's C.J. Spiller came off the board to the Bills at No. 9. Spiller stayed in Buffalo the longest of these highly-drafted running backs, making it five seasons. He also produced the least, hitting 1,000 yards only once, in his lone Pro Bowl season of 2012.
The moral of this story is this: Don't draft running backs in the first round of the NFL draft, except in extremely rare cases. It's a lesson many NFL teams, not just the Bills, have learned in the last 20 years, but one that teams still break to this day.
The Buffalo Bills of 2022 are very different than the Bills organization of the 2000s and 2010s. However, if the NFL Network's Daniel Jeremiah is right in his most recent mock draft, the franchise is about to make a very familiar mistake.
Daniel Jeremiah projects another first-round RB for the Bills in the 2022 NFL Draft
NFL teams know they shouldn't draft running backs in the first round of the draft. Still, like all of us, pro football general managers tell themselves little lies to justify doing things they know they shouldn't do.
They'll tell themselves that this RB is special or that an elite RB is the missing piece to their potential championship team.
The problem is, these two lies rarely stand up. If a team is drafting high enough to take a truly elite college back, they don't have the infrastructure around the player to succeed (see Saquon Barkley, Ezekiel Elliott). The other fact is, you can find great NFL RBs in the later rounds.
This second point has bared out time and time again. Look at the leading rushers in 2021. The top 10 featured two first-round picks (rookie Najee Harris, Elliott), four second-round picks (Jonathan Taylor, Joe Mixon, Nick Chubb, Derrick Henry), and three third-round picks (Antonio Gibson, Alvin Kamara, David Montgomery). The top 15 also included Elijah Mitchell (sixth round) and Austin Eckler (undrafted).
In 2022, many draft experts don't have a running back going in the first round. However, in Daniel Jeremiah's NFL Network mock draft, he has the Buffalo Bills taking Iowa State RB Breece Hall at No. 25.
That would be a mistake.
Why Buffalo shouldn't draft Hall in the first round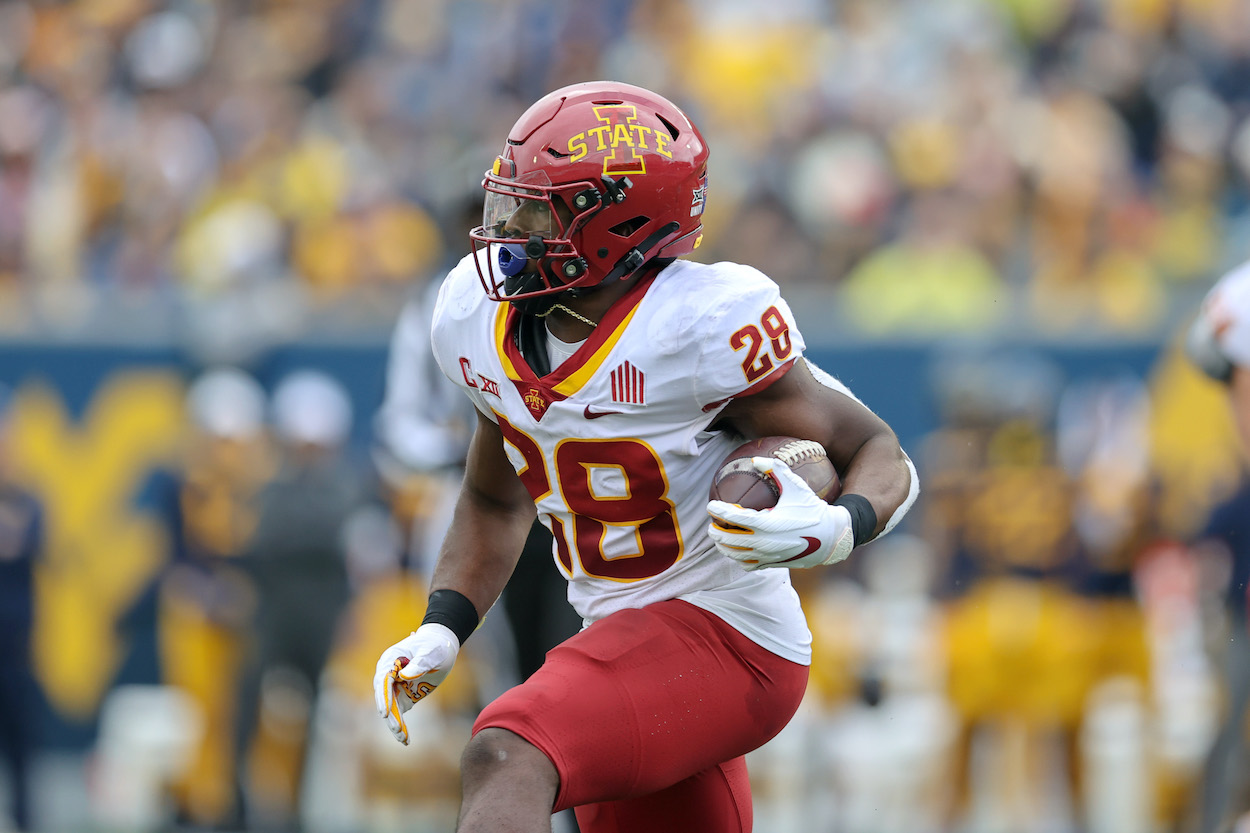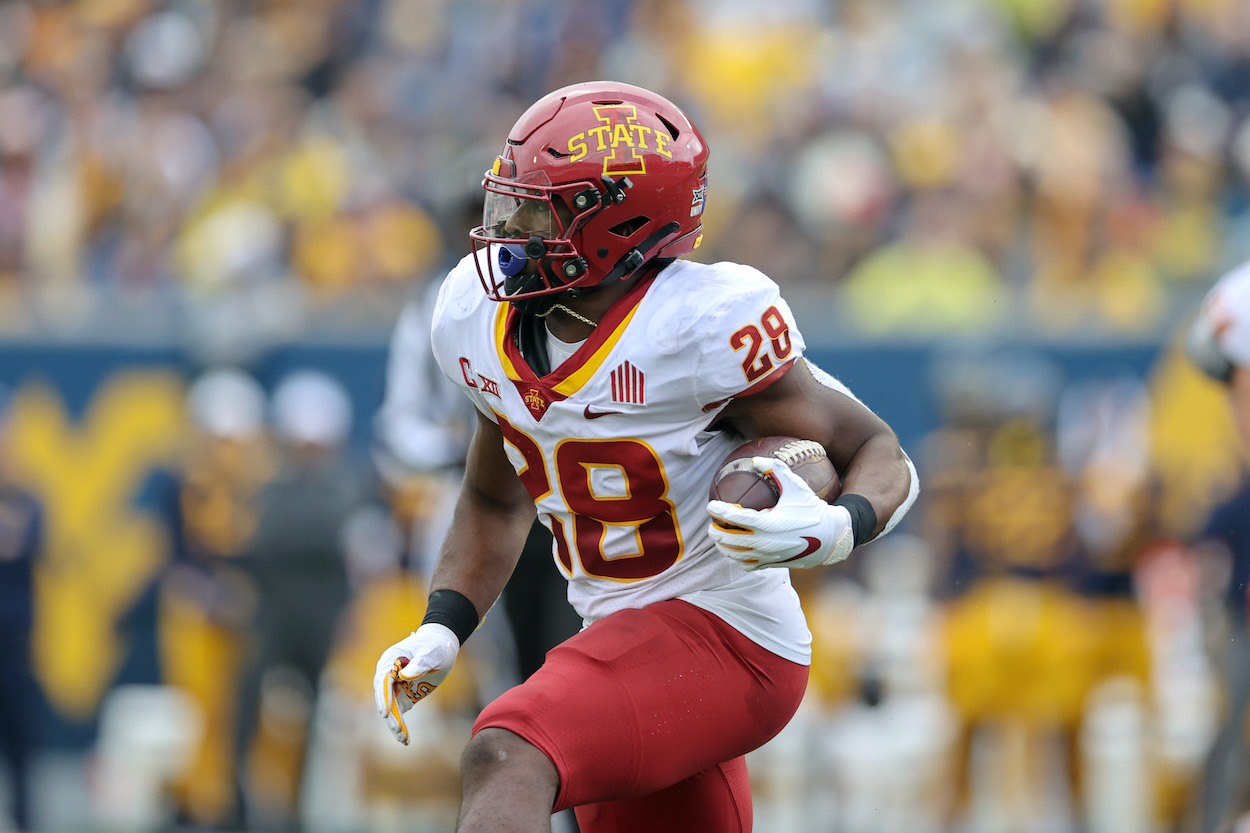 If Buffalo Bills GM Brandon Beane and head coach Sean McDermott are, in fact, considering Breece Hall in the first round, it's likely because they believe he's special and that a true bell-cow back is the missing piece to a championship.
It seems likely that neither of these things are true.
Breece Hall is a big, fast back from Iowa State. At 5-foot-11, 217-pounds, Hall ran a 4.39-second 40-yard dash at the combine. His measurements didn't quite match his 6-foot-1, 220-pound billing in college, but he's definitely big and strong enough to be a high-volume back in the NFL.
Hall was incredibly productive in college, too. He carried the ball 718 times in three seasons in Ames and produced 3,941 rushing yards, and scored 56 total touchdowns, per Cyclones.com.
NFL.com's scouting report compares him to former NFL star Matt Forte. That's a good comparison, but it's important to note that Forte went in the second round, which was good value.
The Bills already have three decent RBs in Devin Singletary, Zach Moss, and Duke Johnson (after missing out on J.D. McKissic). Plus, the team's best and most important runner is QB Josh Allen.
Picking a running back in the NFL draft this year is not a bad idea. It just shouldn't happen in the first round. The Bills would be better served by picking a player at their greatest position of need on defense, cornerback. If an uber-talented receiver, linebacker, or interior offensive or defensive lineman falls to the late first round, that will work, too.
Bills fans just have to hope that Beane and McDermott learn from past mistakes instead of repeating them.
All stats courtesy of Pro Football Reference