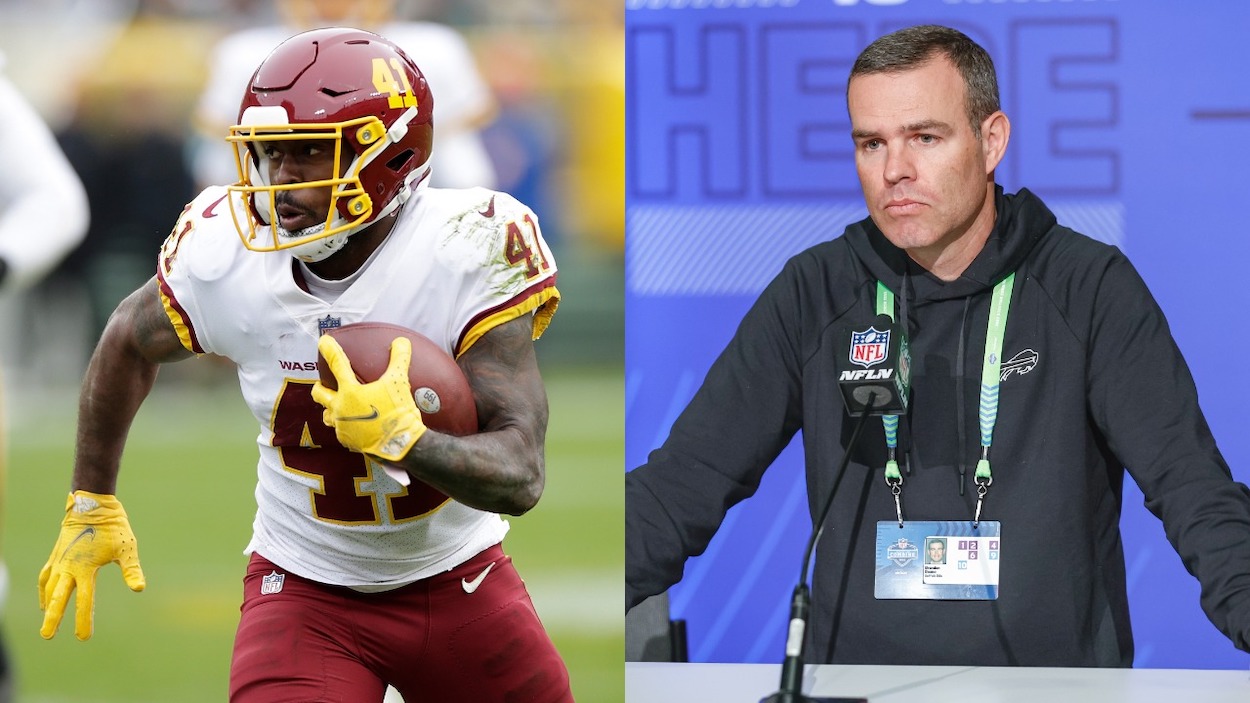 Buffalo Bills GM Brandon Beane Blames Washington Commanders Front Office for Failed J.D. McKissic Deal
Buffalo Bills GM Brandon Beane had a lot to say about why the Washington Commanders are to blame for J.D. McKissic backing out of his deal.
When the NFL media announces free agency deals, you can usually take that info to the bank. Once an agreement is reached and the information is "leaked" to an NFL insider, that transaction is almost certain to happen. Unfortunately for the Buffalo Bills, that didn't hold true in the case of running back J.D. McKissic, who went back to the Washington Commanders after agreeing in principle to join the Bills.
How did this happen? To hear Bills general manager Brandon Beane tell it, everyone did the right thing, except for one party. And that's why Beane places the blame for the failed deal squarely with the Commanders.
RB J.D. McKissic backed out of his deal with the Buffalo Bills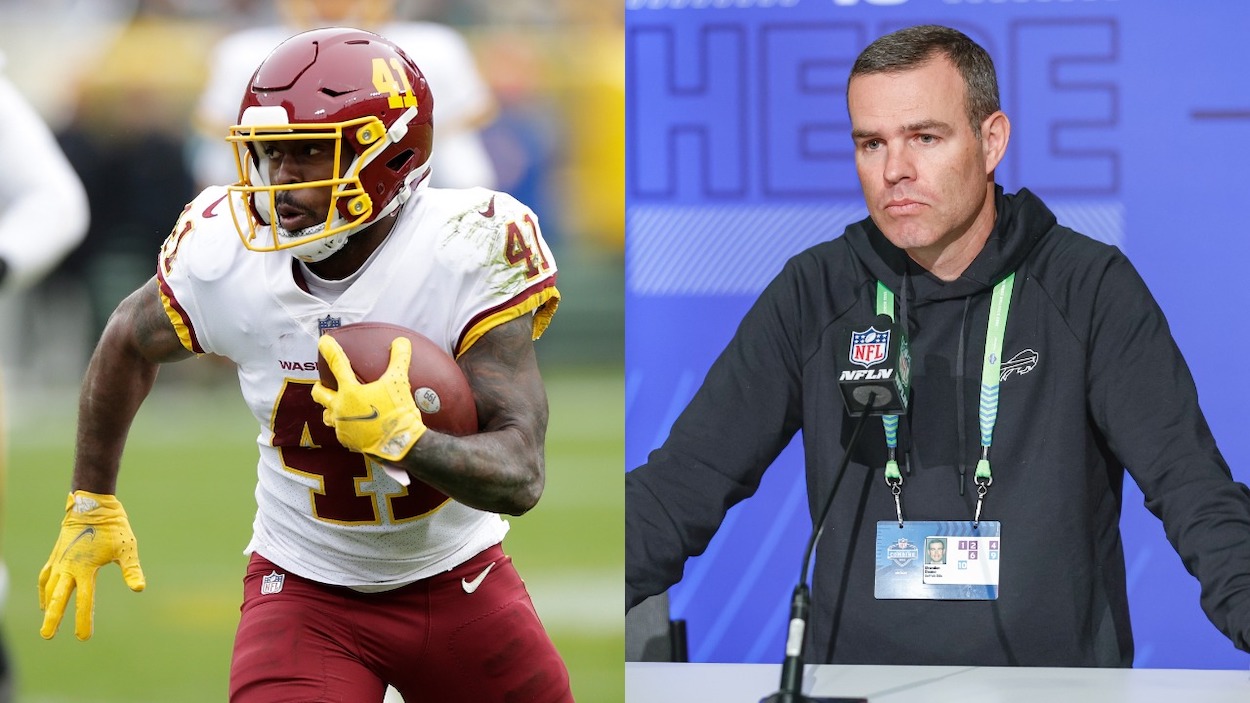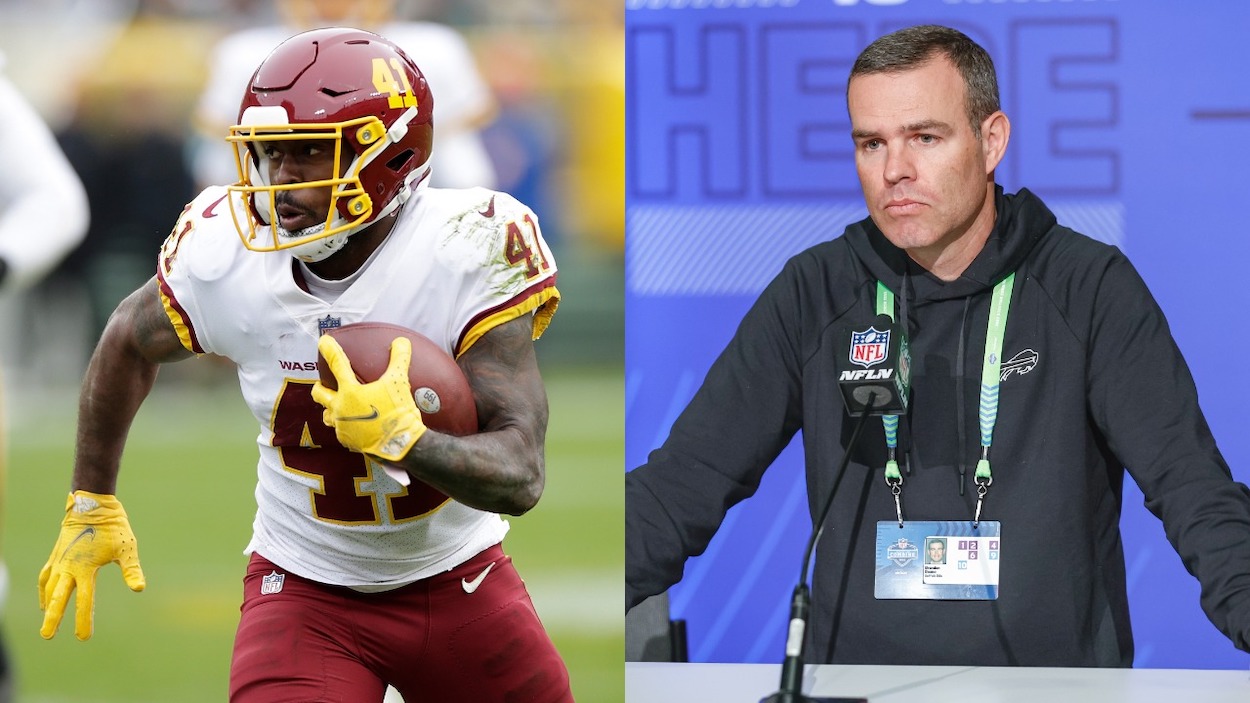 The Buffalo Bills fell a heartbreaking 13-seconds short of a second consecutive AFC Championship Game last season. Despite the disappointing end, the team and its fans found consolation in the fact that the Bills would have one of the most complete rosters in the NFL heading into the 2022 season and be among the favorites to win it all.
That didn't mean that GM Brandon Beane and head coach Doug McDermott could take the offseason off. The Bills front office still had targeted issues to address and moves to make to upgrade the team's talent.
One of those issues is at the running back position.
Last season, the Bills' three main RBs were:
Devin Singletary: 188 carries, 870 yards, 40 catches, 228 yards, eight TDs, and five fumbles
Zack Moss: 96 carries, 345 yards, 23 catches, 197 yards, five TDs, and two fumbles
Matt Breida: 26 carries, 125 yards, seven catches, 72 yards, three TDs, and one fumble
Overall, the Bills finished sixth in the league in rushing with 2,209 yards. However, if you take away quarterback Josh Allen's 763 yards, the rushing production drops the team down to 31st in the 32-team league.
To address the RB position, Beane planned to bring in a back who could compliment Singletary, especially in the passing game. Last season, in just 11 games, J.D. McKissic put up 48 carries for 212 yards and 43 catches for 397 yards with four TDs and zero fumbles.
It was an excellent signing that would have rounded out the Bills running back group in a way that could have improved the offense in 2022.
Then McKissic backed out of the deal.
Brandon Beane blames the Washington Commanders for not following the unwritten rules of the NFL 
After the shocking and, frankly, embarrassing news that J.D. McKissic backed out of his free-agent deal with the Buffalo Bills, GM Brandon Beane explained to the media what happened from his vantage point.
The former Carolina Panthers personnel exec didn't hold back when he placed blame squarely on one party, the Washington Commanders front office.
A visibly frustrated Beane told reporters how the McKissic deal went down in a press conference in the days following the announcement:
That was tough. Obviously, [McKissic] was a guy we had targeted, and in this business in general, when you have an agreement, it's good. But until there's ink on the paper … There were some things that went down with the other organization, which is painful. But they chose to do what they did, and I couldn't stop it.

Brandon Beane on Washington Commanders
Beane went on to praise McKissic's agent. He said he's been in situations before where agents play the teams against each other to get more money or a better deal, but in this situation, that was not the case.
"Once you have an agreement, the agent is supposed to say, 'It's over.' And this agent did that," Beane told reporters. "And this agent told the other club, 'It's over.' But the other club didn't back off."
While no more specifics were available, Beane's understated attack on another club's front office said a lot. NFL executives are a tight-knit group and, despite what the members might think of each other, rarely do they go public like this about closed-door disagreements.
Suffice it to say, the Buffalo Bills and Washington Commanders likely won't be doing any deals together any time soon.
Duke Johnson replaces McKissic in the Bills' running back room
With McKissic returning to the Washington Commanders, Brandon Beane and the Buffalo Bills still had a hole at running back to fill. The team still has Devin Singletary and Zack Moss under contract for 2022, but Matt Breida is a free agent and the Bills' brain trust obviously still wanted to bring in at least one more veteran.
On Monday, March 21, Beane filled that role with former Miami Dolphins RB Duke Johnson. Johnson is a seven-year NFL vet from the University of Miami who's also played for the Houston Texans and Cleveland Browns.
After the Texans cut Johnson early in the 2021 season, he signed with the Dolphins in October. The back suffered a hip injury in his first action down in Florida in Week 11, before returning and having some productive games in Weeks 15 through 18.  
In his last full NFL season (2019), Johnson put up 83 carries for 410 yards and 44 catches for 410 yards with five touchdowns and one fumble.
Johnson brings a similar style to Buffalo that McKissic would have, which is helpful. However, the production from Johnson hasn't been as good of late, and, although the two are the same age, Johnson's injury history is troubling.
Beane didn't get his man this time, but he did get someone similar, which is good. That said, after hearing Beane's anger at the Washington Commanders, no matter how Johnson does in 2022, the GM is not likely to forget this incident any time soon.
All stats courtesy of Pro Football Reference