NBA
Does Russell Westbrook Have the Most Triple-Doubles in NBA History?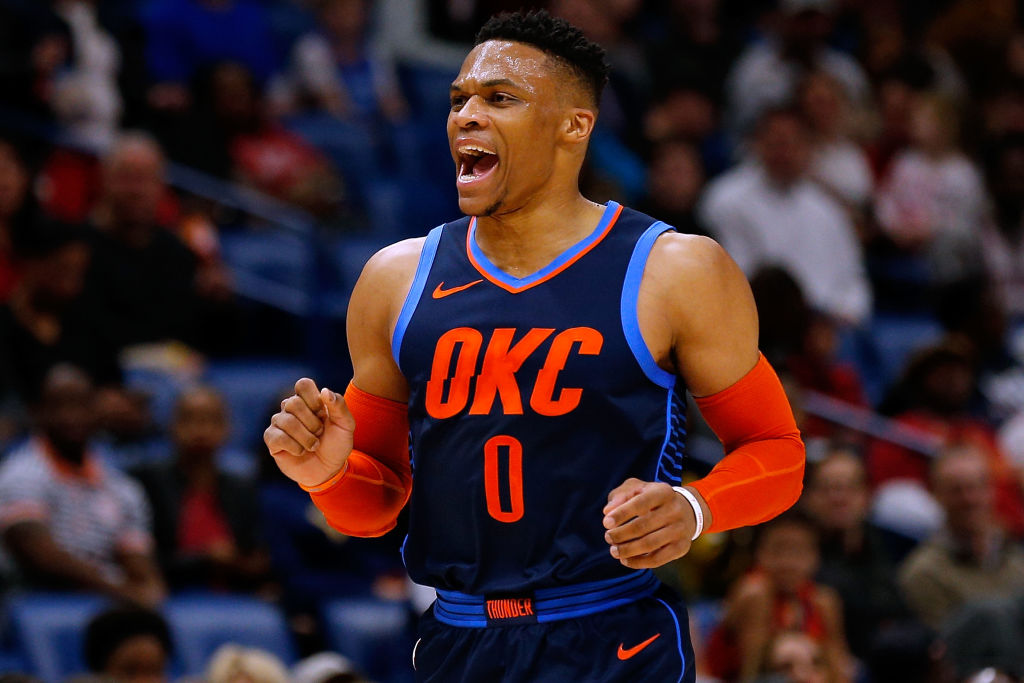 Over the last couple of seasons, Oklahoma City Thunder point guard Russell Westbrook has put up a historic run that we haven't seen since Oscar Robinson was still in the league. The 2017 NBA MVP has used his excellent athleticism and ability to get to the hole while averaging a triple-double each of the past two seasons.
He's well on his way to averaging a third this year, as Oklahoma City looks to secure a top seed in the Western Conference playoffs. Even with this historic run is Russell Westbrook the all-time leader triple doubles? We have our list of the top five players all time so let's take a look at where Russell lands on the list.
5. LeBron James and Wilt Chamberlain — 78
LeBron and Wilt Chamberlain come in tied on our list with 78 career triple doubles each. Wilt Chamberlain was one of the most dominant players to ever play in the league and holds the record for most points in a game with 100.
LeBron James is well on his way to finishing his career as the greatest player of all time, but at the age of 34, he doesn't have many high-level years left. Look for James to probably reach around 100 career triple-doubles when all is said and done.
4. Jason Kidd — 107
Jason Kidd was always a threat to pick up a triple-double, and it wasn't uncommon for fans to see him pull down a rebound and take the ball coast to coast before making an easy pass to a teammate for a slam. The 10-time NBA All-Star has now moved into coaching, and he should be a lock for the Hall of Fame when he becomes eligible.
3. Russell Westbrook — 128
The headliner of our article currently sits in third place on the all-time career triple-doubles list. However, he isn't too far behind the number two person and could finish the year with the number one spot in his sights for the 2019-20 season.
As we mentioned earlier, Westbrook has averaged a triple-double for each of the last two seasons. Russell Westbrook is just 30 years old and barring any injuries has a healthy five or six years left at playing at a high level, so it shouldn't be long before he gets to the top of this list.
2. Magic Johnson — 138
The five-time NBA champion was a physically dominant point guard during his time in the NBA. No one in the league had seen a 6-foot-9 point guard that could create passing lanes when there wasn't one and still have the ability to take over any position on the floor.
Magic Johnson could score with the best players in the league, was an excellent rebounder, and is in the top five for all-time assists. His career was cut short due to illness, and you can only wonder how much higher he would be on the list if he had a few more seasons to play the game. Regardless, he's one of the greatest NBA point guards of all time.
1. Oscar Robertson — 181
Although Russell Westbrook has put up back to back triple-double seasons, "The Big O" was the first player in league history to do that. During his triple-double season in 1961-62, Robertson averaged 30.8 points, 12.5 rebounds, and 11.4 assists per game and you can make a strong argument that he is the best all-around point guard in league history.
Although the pace of the game was much faster during his era, there's no denying that Robertson's numbers would still translate to an All-NBA level at today's current pace.
Will he finish as the all-time leader?
When you take a look at the top five list of players who have recorded triple-doubles in the NBA, which players stand outside you on the list? The playoffs are right around the corner so it will be amazing to see how much of an impact Russell Westbrook's triple-doubles have on the run to the Larry O'Brien trophy.