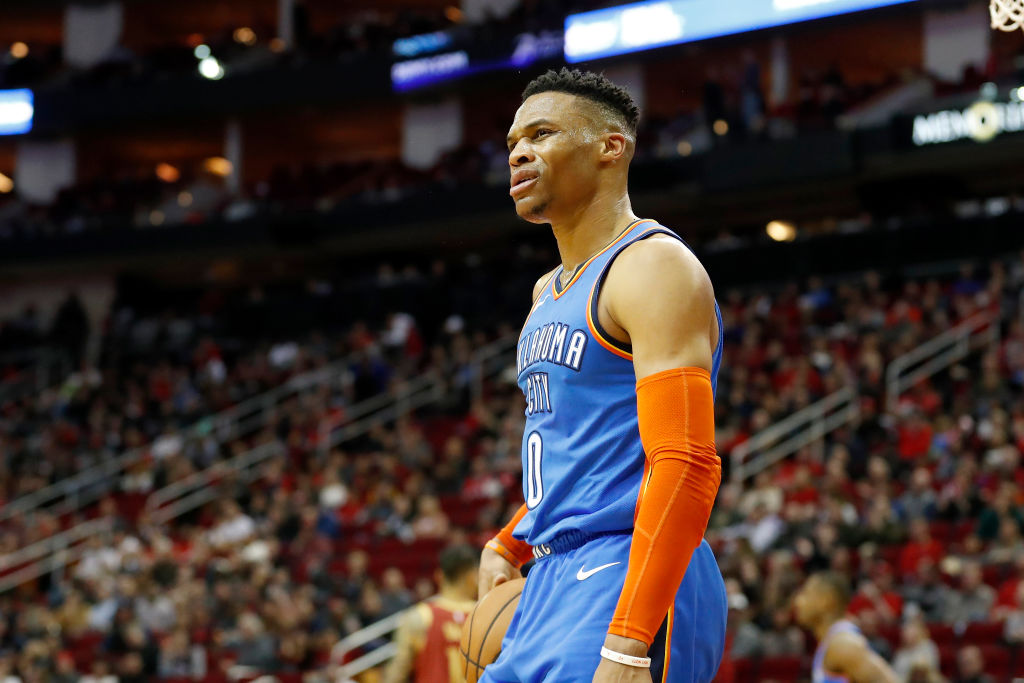 Is Russell Westbrook 1 of the Most Underrated NBA Players Ever?
Is Russell Westbrook underrated? Let's look at his NBA career as it stands now and where he will end up when it's all said and done.
Is Russell Westbrook underrated? The All-NBA talent has been a triple-double machine for the last couple of seasons and looks to be well on his way to a Hall of Fame career. During the 2016-17 season, Westbrook did the unthinkable and became the first player since Oscar Robertson to average a triple-double. That season earned him an MVP award, and fans marveled at how dominant Westbrook was without having another superstar on the roster after Kevin Durant left. Then, he followed up with two more triple-double seasons.

Westbrook's recent 20-20-20 triple-double game (the second one ever) left fans and media astounded. In that game against the Lakers, he put up 20 points, 20 rebounds, and 21 assists in honor of late rapper Nipsey Hussle.  
Russell Westbrook didn't win the MVP last season, and he doesn't look to be in the running again this year even though this is his third straight regular season averaging a triple-double.

Could we be taking his talent for granted? Is Russell Westbrook underrated and fans are just living in the now with James Harden's offensive explosions and the all-around talent of budding NBA superstar Giannis Antetokounmpo? Let's look at Westbrook's career as it stands now and where he will end up when it's all said and done.

His career statistics rival most other NBA stars
Russell Westbrook is an eight-time All-Star who has two All-Star game MVPs to his name in his 10 seasons in the NBA. Westbrook also has seven  All-NBA team selections on his resume.

Last season, he led the league with 10.3 assists per game. The two-time scoring champ has also helped the Thunder become a regular playoff contender throughout his time in the NBA.

Westbrook's efficiency decreased this season, but he still has an excellent Player Efficiency Rating (PER) of 21.1, only a few points below his career average. The real knock on Westbrook this season has been his shooting. He started the season off slow and has improved over time, but he shot just 29% from behind the arc this season.

Elusive playoff success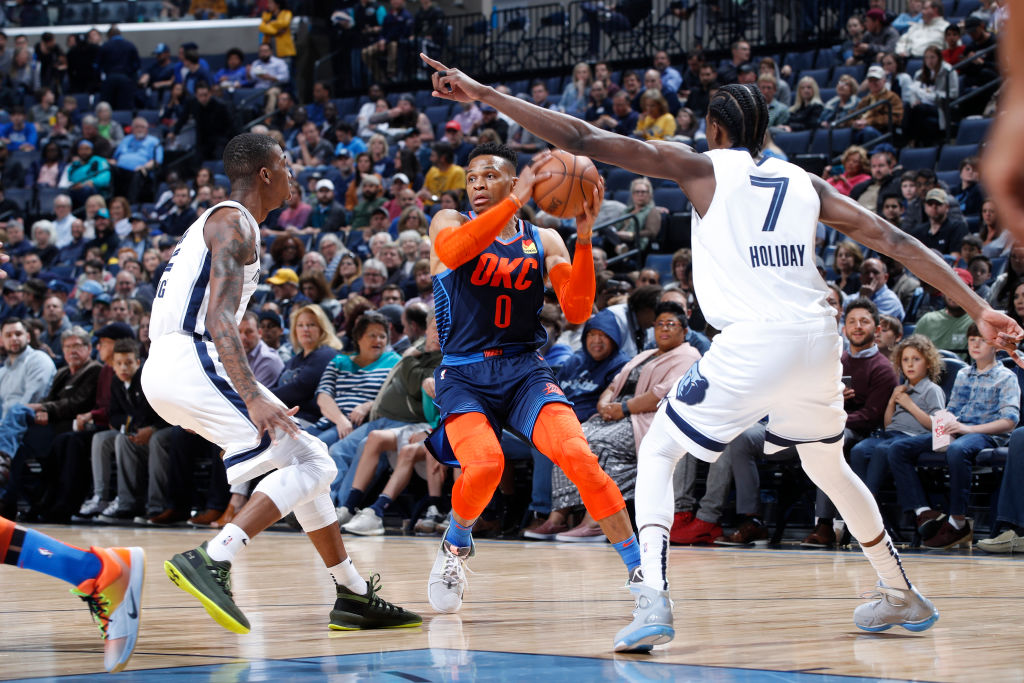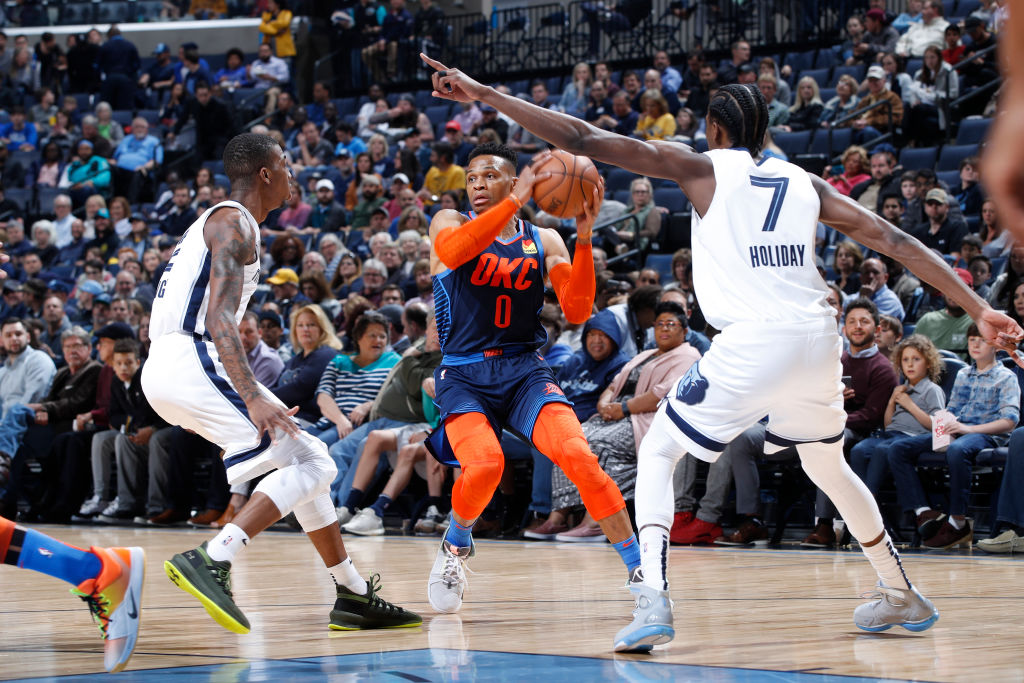 The postseason is where things can go either way with Russell Westbrook. He was part of the young core in Oklahoma City that went to the 2012 NBA Finals, but since then he has been on the wrong side of a lot of playoff failures.

Before Kevin Durant left for Golden State, the Thunder were up 3-1 on the Warriors in their 2016 Western Conference finals series. Oklahoma City should have been able to walk into the NBA Finals, but questionable play by both Durant and Westbrook opened the door for a stunning upset.

The Thunder were also bounced out of the first round against Utah in 2018, and it went down 0-2 against the Trailblazers in the first round in 2019. Westbrook was 1-of-10 from 3-point range and shooting just 36% from the field in the first two games against Portland.
Paul George and Westbrook will need to make a big comeback to avoid getting eliminated in the first round for the second straight year.

Where does he go from here?
Westbrook is on the wrong side of 30, but he cashed in his supermax deal before the 2018-19 season and will earn $206.7 million through the 2022-23 season, according to Spotrac. He is the first $200 million player in league history.

Even if his game declines because of a decrease in his athleticism, Westbrook will still put up excellent numbers. Even with the inevitable decline, we expect him to finish his career with an average of around 21 points, seven rebounds, and nine assists per game. At that rate, he might join LeBron James in the top-10 all-time in points, rebounds, and assists.

If you look at the list of best point guards of all time, Russell Westbrook is quickly moving into the top five.

Is Russell Westbrook underrated? Yes!
LeBron James, James Harden, Stephen Curry, Kevin Durant, and Giannis Anteokounmpo overshadow Russell Westbrook in today's NBA. After going through Westbrook's accomplishments, however, it seems he falls on the underrated end of the spectrum. He's a two-time scoring champ with three straight triple-double seasons who scores like a shooting guard, distributes like a point guard, and rebounds like a power forward. His singular athletic ability is astounding, but he's overshadowed by some of his contemporaries. We're sure he'd give us a quizzical look if we told him, but Russell Westbrook, you are underrated.