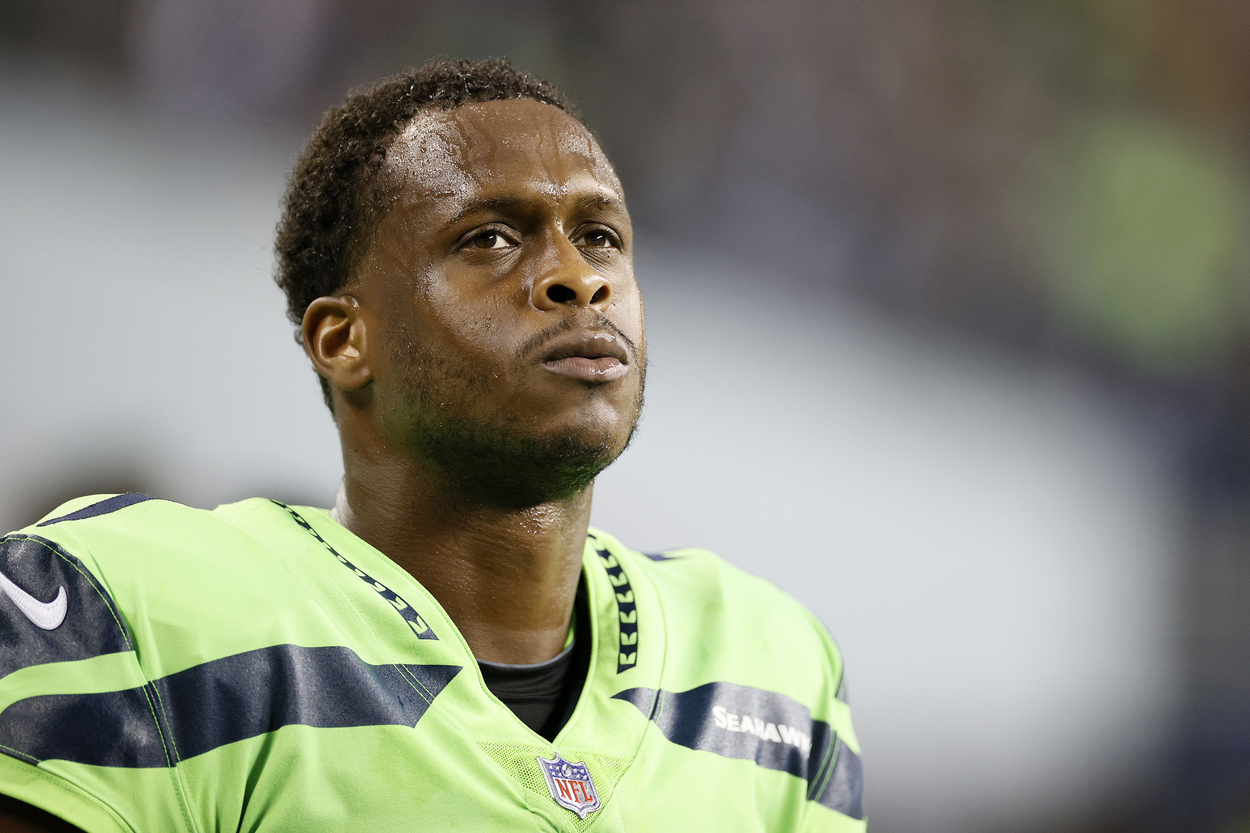 Seahawks Starting QB Geno Smith, Who Plays Most of His Season on the West Coast, Didn't Know About Time Zones Until Reaching the NFL
Seattle Seahawks quarterback Geno Smith didn't fully understand time zones during his early NFL seasons.
For the majority of his early life, Seattle Seahawks quarterback Geno Smith didn't need to know about time zones. He grew up in Florida, played college football at West Virginia, and began his NFL career with the New York Jets.
All of those locations are on the East Coast and operate under Eastern Time. It wasn't until a 2014 trip to California, when Smith was in his second season with the Jets, that he realized time zones exist and can prove problematic depending on the situation.
Geno Smith infamously missed a meeting in 2014 after failing to realize the differences in time zones
History books will point to either New York Giants receiver Victor Cruz's 99-yard touchdown on Christmas Eve 2011 or Mark Sanchez's infamous "Butt Fumble" in November 2012 as the moment that turned the Jets into the NFL's current laughing stock.
Those were bad moments in their own rights, but at least those happened on the field. We can't say that for what you're about to read.
In October 2014, Smith and the 1-3 Jets traveled to San Diego for a matchup with Philip Rivers and the Chargers. This marked the first time the West Virginia product would play an NFL game on the West Coast, and the Jets desperately needed a victory.
On the Saturday before the game, Smith and some teammates went to the movies around 5 p.m. PT, thinking they had three hours to spare before attending an 8 p.m. meeting. It turned out the meeting was scheduled for 8 p.m. ET … or 5 p.m. local time.
According to the New York Post, Smith realized his mistake 30 minutes into the movie. After calling a teammate, the second-year quarterback rushed back to the hotel and arrived 10 minutes after the meeting ended.
When he spoke with reporters two days later, Smith owned up to his mistake.
"I kind of felt like I let a lot of people down. That's definitely not of my character to not be on time for a meeting. I was just very apologetic in that instance."
Then-Jets head coach Rex Ryan called the incident an "honest mistake."
"He felt terrible about it," Ryan said. "It's a mistake. He's not the only guy this has ever happened to … I think he'll learn from it. I know he will."
Smith's weekend only got worse when he faced the Chargers that Sunday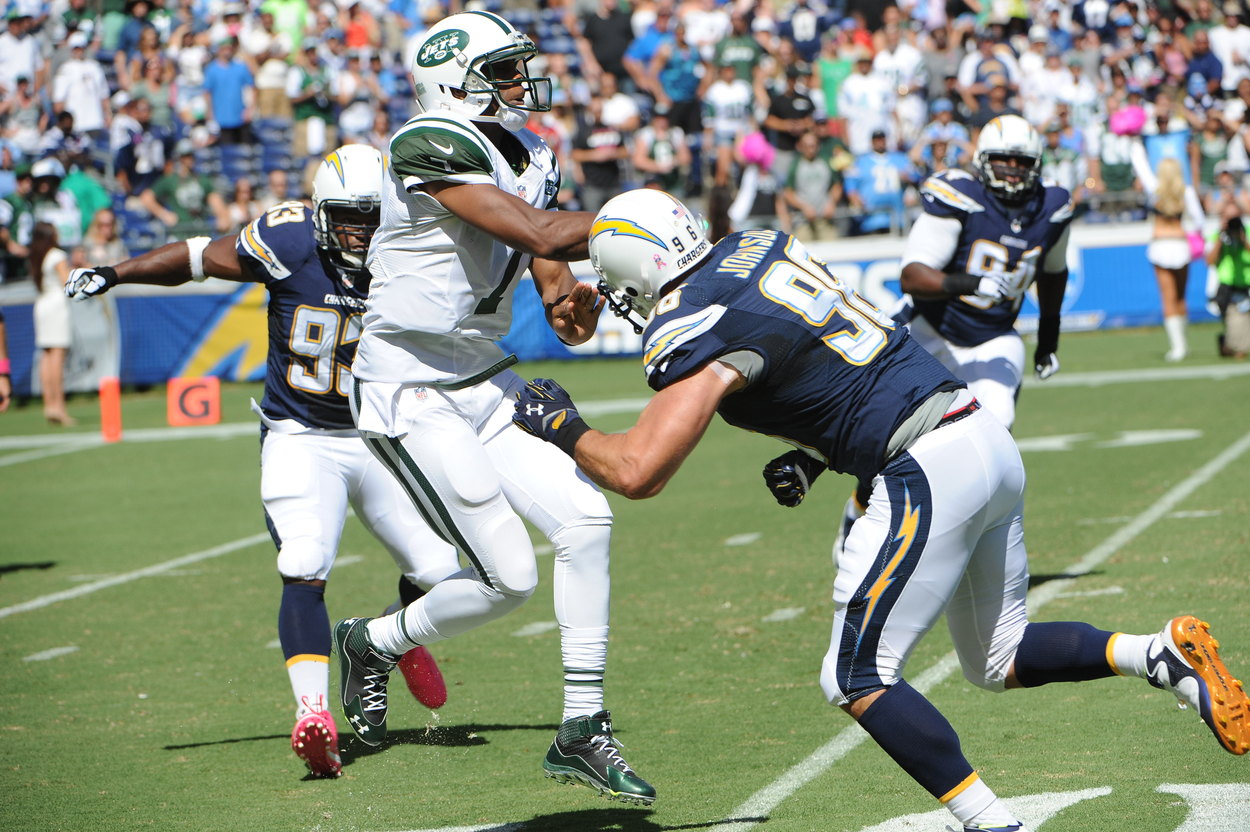 Even after the embarrassing mistake, Smith started against the Chargers on Sunday, Oct. 5. The Jets needed a strong performance from their second-year quarterback if they were to snap a three-game losing streak.
How did it go? Let's just say the Jets lived up to their reputation that afternoon.
The Jets benched Smith at halftime after he completed four of 12 passes for 27 yards and interception. Michael Vick — yes, Vick played for the Jets at one point — didn't fare much better, only going 8-of-19 in a 31-0 loss.
New York lost another four games en route to a 1-8 start and a 4-12 finish. The Jets fired Ryan after the season and acquired then-Houston Texans quarterback Ryan Fitzpatrick in the spring of 2015.
The rest of Smith's tenure with the Jets only got worse. Defensive end I.K. Enemkpali broke Smith's jaw in the summer of 2015 over an argument regarding a $600 plane ticket. When the dual-threat quarterback got another chance to start in October 2016, he tore his ACL in the second quarter of a victory over the Baltimore Ravens. The two sides parted ways after that season.
It certainly appears that Smith understands time zones now
There were plenty of jokes to be made when Smith signed with the Chargers, who had since moved to Los Angeles, in 2018. However, Seahawks fans understandably aren't in a playful mood right now.
Seahawks legend Russell Wilson went on injured reserve because of a finger injury during the 2021 NFL season, making Smith the interim starting quarterback. After taking over in Week 6, he completed 65 of 95 passes for 702 yards, five touchdowns, and a single interception.
Unfortunately for Smith and the Seahawks, two costly turnovers cost them in late losses to the Los Angeles Rams and Pittsburgh Steelers. He threw a game-sealing interception against the Rams in Week 5 when receiver Tyler Lockett fell down. Steelers pass-rusher T.J. Watt forced Smith to fumble in overtime during their Week 6 showdown. Pittsburgh's Chris Boswell kicked a game-winning 37-yard field goal three plays later.
Still, Smith did enough to earn the starting job over Drew Lock in 2022 after an offseason trade sent Wilson to the Denver Broncos. And he held off Wilson's Broncos in Week 1, going 23-of-28 for 195 yards, two touchdowns, and no picks to earn the victory and move to 1-0 on the year.
Only time will tell how many more exhilarating and stressful finishes Smith and the Seahawks will need to deal with this season. But hey, the man now knows his time zones, which is probably ideal considering the Seahawks have plenty more West Coast games this year.
Like Sportscasting on Facebook. Follow us on Twitter @sportscasting19.