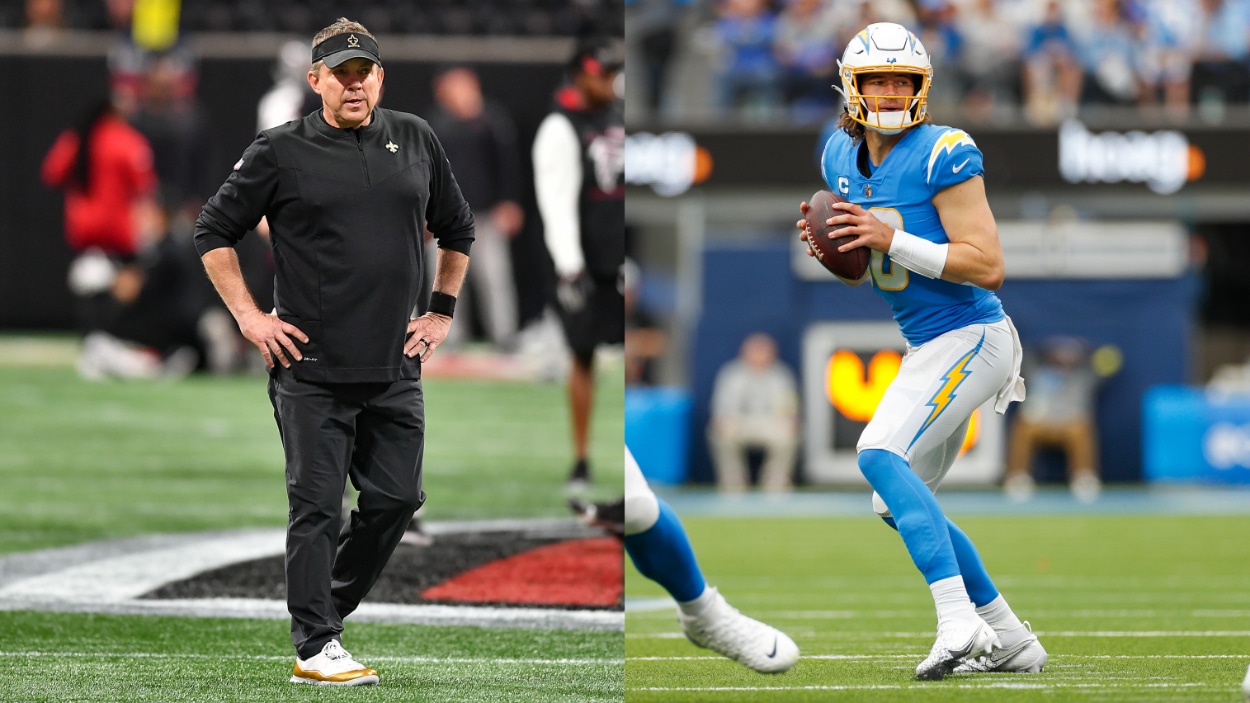 Sean Payton Chargers: Justin Herbert Makes LA the Ideal Job for Coach
If Brandon Staley gets fired in LA, a Sean Payton-Chargers marriage would be the best thing for the coach and Justin Herbert.
The biggest question of the 2023 coaching carousel is where will Sean Payton end up? The Super Bowl-winning coach is taking interviews and talking to teams, but he has put gone on record saying that there is only about a 30% chance that he will take a job this go-round. However, he said that before any playoff teams fired their head coaches. One postseason team that may (and should) be parting ways with its leader is the Los Angeles Chargers with Brandon Staley. And if that happens, a Sean Payton-Chargers marriage would be ideal for both the coach and Justin Herbert.  
Sean Payton and Justin Herbert are a perfect match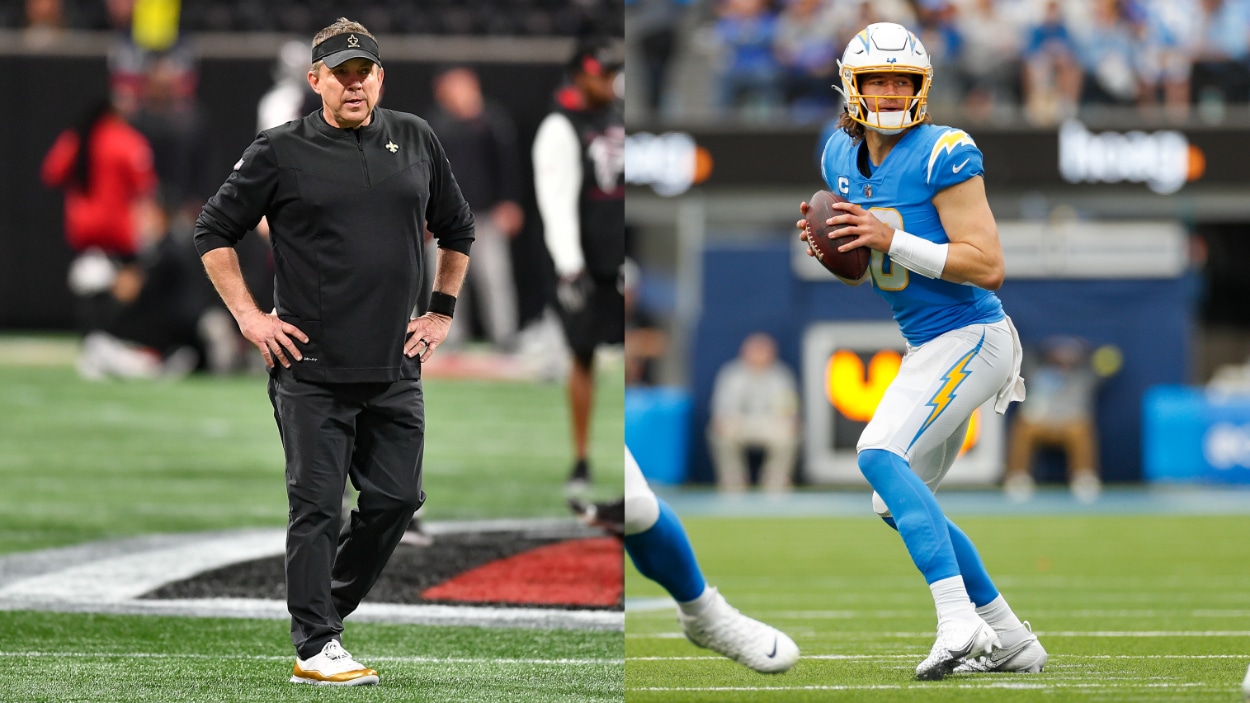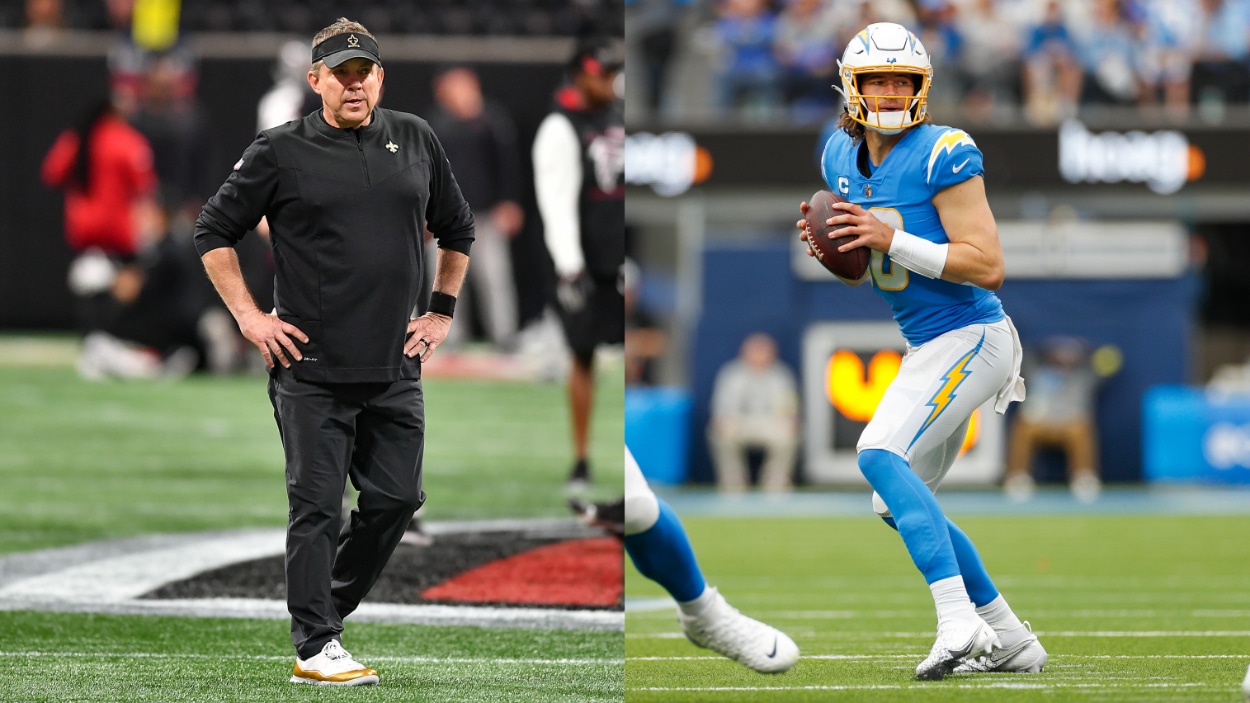 Brandon Staley has to be out as the head coach of the Chargers after allowing the third-biggest playoff comeback in NFL history (but there's more on that below). And if the AFC LA side is looking for a new head coach, a Sean Payton-Chargers union would be ideal.
Payton has a stellar 152-89 record as a head coach with the New Orleans Saints, and more specifically, with quarterback Drew Brees. While Justin Herbert (6-foot-6, 236 pounds) is the polar opposite physically of Brees (6-foot, 209 pounds), the two have a lot in common in terms of play style and personality.
Both Brees and Herbert are quiet gunslingers. They are cerebral QBs who like to sling it around the field and lead by example more than demonstrably.
They also put up similar statistics. In Herbert's Pro Bowl 2021 season, he put up 5,014 passing yards with a 65.9% completion rate with 38 touchdowns and 15 interceptions. He was also sacked 31 times that season (seven fewer times than this year).
In Brees' best season under Payton, he threw for 5,476 yards with a 71.2% completion rate and 46 touchdowns to 14 interceptions. He was also sacked 24 times that season.
If a Sean Payton-Chargers connection happens, there is no reason Herbert can't put up numbers like that. Brees never had a ton of superstar skill position players, yet Payton got a ton out of his QB anyway. The coach should be able to do the same with the uber-talented Herbert.
Whether Payton ends up taking the job or not, though, the key thing here is that Brandon Staley must go.
Brandon Staley has to go in LA 
With less than five minutes left in the first half in the LA Chargers 2023 Wild Card game vs. the Jacksonville Jaguars, Justin Herbert and company had a 27-0 lead.
Thirty-four minutes and 25 seconds later, the Jaguars were up 31-30, having completed the third-biggest comeback in playoff history. Only the 1993 Buffalo Bills (32 points vs. the Houston Oilers) and 2014 Indianapolis Colts (28 points vs. the Kansas Coty Chiefs) have done it better.
The fact that Staley couldn't pull his team out of their second-half tailspin is telling of his tenure in LA. He cost his team a potential playoff berth last season against the Las Vegas Raiders by calling an ill-advised timeout, and his 4th-down strategy has been wildly inconsistent.
Franchise quarterbacks don't come around that often, especially with the talent of Justin Herbert. The Chargers can't afford to waste any more prime Herbert years, which is why they need to change coaches immediately.
And if Brandon Staley goes, a Sean Payton-Chargers match should immediately follow.