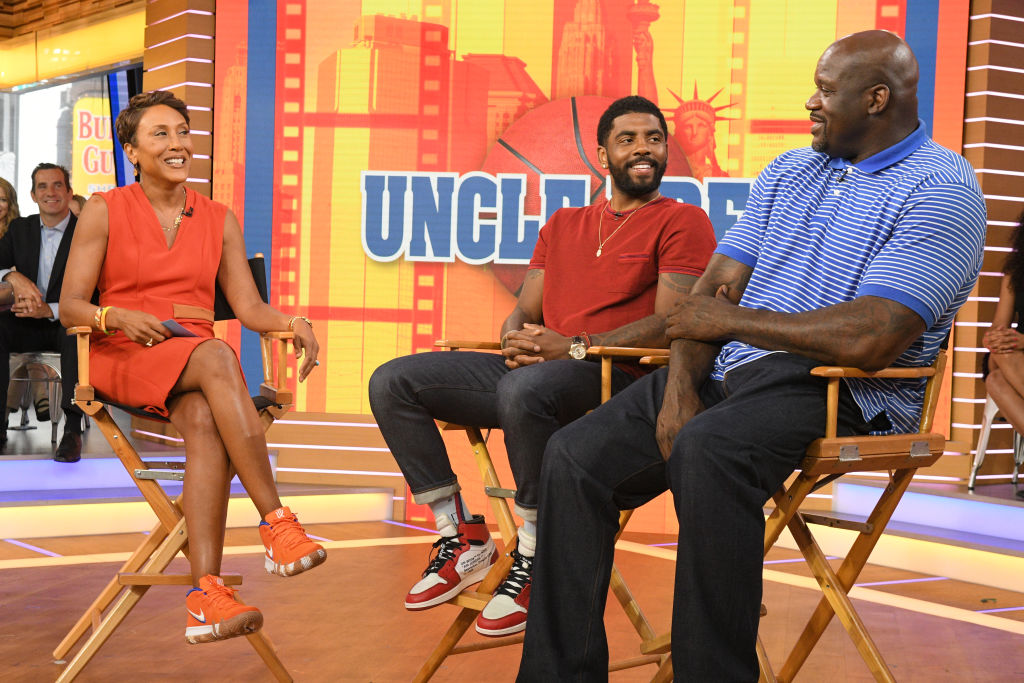 Shaquille O'Neal Has Some Advice for Boston Star Kyrie Irving
Shaquille O'Neal recently offered up some advice for Kyrie Irving on how to make this season a great one in Boston, and it's genius in its simplicity.
Shaquille O'Neal is one of the best big men in NBA history and a basketball Hall-of-Famer. While Shag and Kyrie Irving are two completely different players on the court, they have similarities that would surprise the casual fan.

Both players are excellent scorers, and both have seen unique opportunities to work with young talents during the prime of their careers. For O'Neal, it was in Orlando and Los Angeles, while Irving has seen it happen in Boston. O'Neal recently offered up some advice for Irving on how to make this season a great one in Beantown.
Play with your young players
Shaq believes Kyrie Irving needs to play with the talent around him, not simply try to play hero-ball. He saw major success in Orlando and Los Angeles with Penny Hardaway and Kobe Bryant, ultimately winning three straight titles with the Lakers. O'Neal's ability to score in the post was a key part of his team's offenses, allowing Penny and Bryant to take control of the game on the perimeter.

Shaq was always viewed as the dominant player on his team during his 20s, but his ability to let Hardaway and Bryant get their buckets on a nightly basis made the teams better.

"As a superstar, the best decision I ever made in my life was when I decided [to] let my young dogs play," O'Neal said on TNT's pregame show. "When I first came in, it was all about me. I wanted to do it by myself. There was a kid named Penny Hardaway. I let him play. We both went to work. Then when I got to (the Los Angeles Lakers), I left Orlando and I wanted to do the same thing … as soon as I said, 'You know what? Kobe, play with me,' best decision I made. Kyrie has to let those guys play. They wanna play, use them."

Irving will need to do the same with budding star Jayson Tatum, who looks to be a perennial All-Star candidate, and Jaylen Brown. Both were the No. 3 pick in their respective drafts and can attack the basket or spot and shoot from deep when open.
Boston's postseason success without Irving
One issue regarding Kyrie Irving and the Celtics' play was the team's success last year in the playoffs while Irving was injured. With no one there to shoulder the offensive load, Tatum became a playoff star in the making, averaging more than 18 points per game in the postseason while pushing LeBron James and the Cavs to seven games in the Eastern Conference finals.

Along with Tatum playing valuable minutes, Jaylen Brown and Terry Rozier also held their own against the top teams in the East. Brown put up 18 points and nearly five rebounds per game, while Rozier chipped in with 16 points, five rebounds, and five assists.

The Celtics offense looked like a mirror of Golden State's out West, as they were able to distribute the ball through Rozier and veteran center Al Horford, who had an excellent playoff run.
How can Irving play with teammates?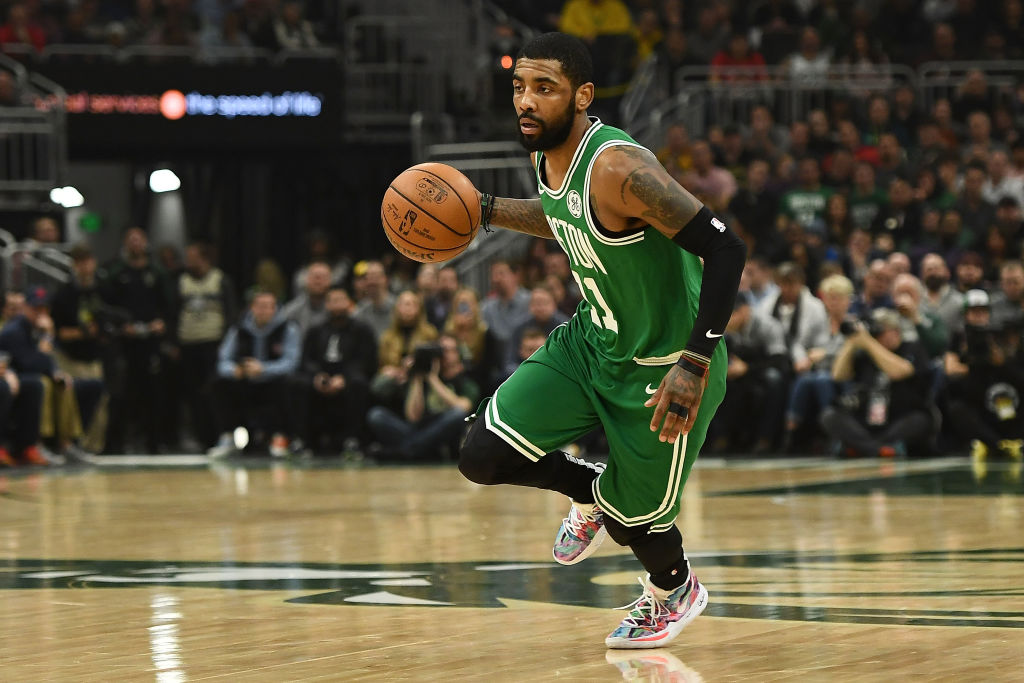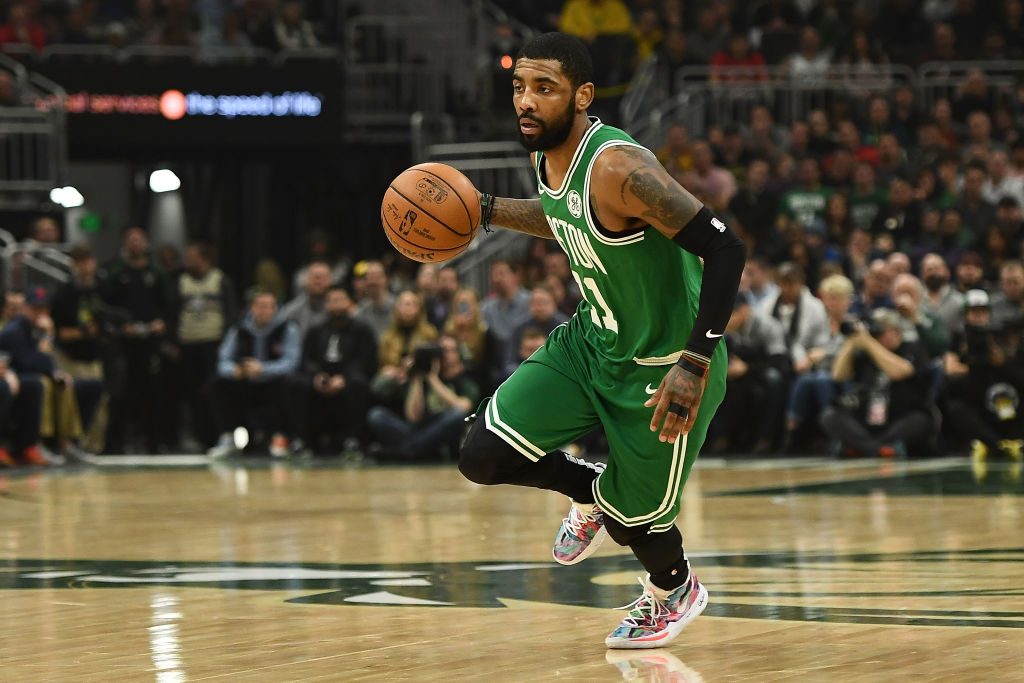 On paper, you would think Irving would have a great time playing with players of this caliber. Rozier can be an excellent distributor, and Tatum and Brown can put up 30 on any given night. However as a collective whole, their numbers are all down compared to last season, and Boston is struggling to stay in the top four in the East.

When you add in Gordon Hayward (recovering from a broken leg), who hasn't been like the former All-Star fans saw in Utah, it's a recipe for disaster during a long 82 game season.
Will this help Kyrie Irving stay?
When Boston looks back on this season, will a deep run in the playoffs be the only thing that could keep Kyrie Irving from leaving during free agency? Or will Shaq's advice help sway Irving to stay in Boston regardless of the postseason? If the Celtics aren't able to gel by mid-April we could see Irving in a new uniform in 2019.