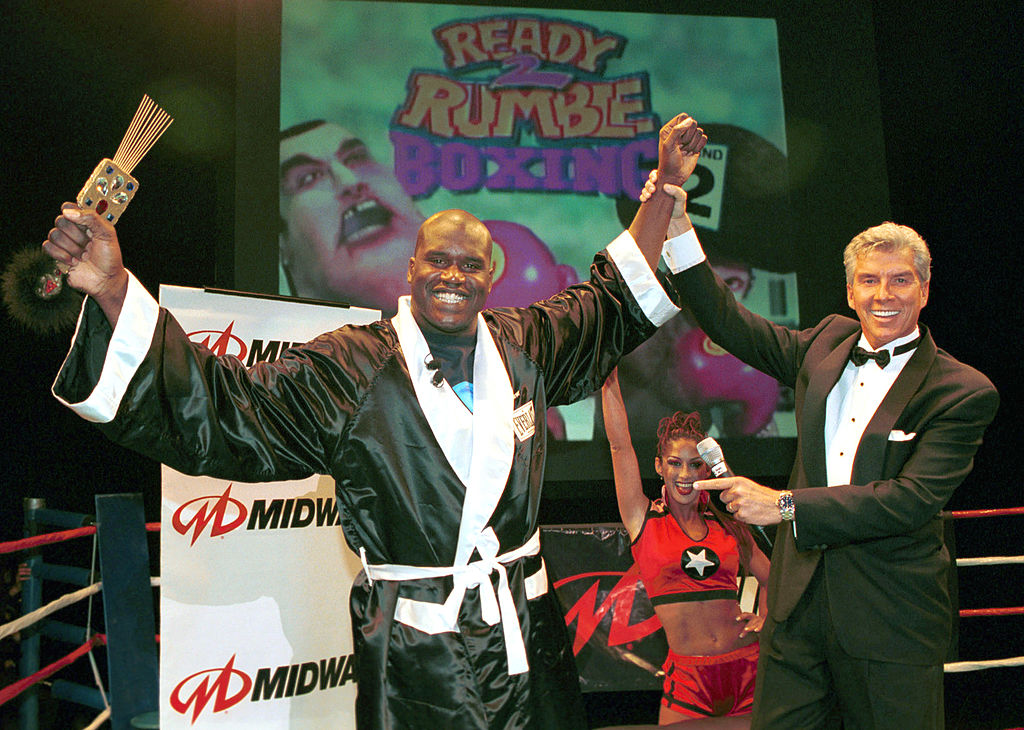 Shaquille O'Neal Once Boxed "Sugar" Shane Mosley and Almost Won
Shaquille O'Neal once got in the ring with "Sugar" Shane Mosley for his television show in 2010. He did better than you might expect.
Shaquille O'Neal was an incredible force on the basketball court, but his build always made you think how dominant he could be in the boxing ring. O'Neal could've been a heavyweight fighter with his size and strength, and he gave the fans a taste of his boxing abilities in 2010. Shaq actually hopped in the ring with "Sugar" Shane Mosley for his television show at the time. He gave the boxing legend all he could ask for and more.
Shaquille O'Neal used to star in a reality show called "Shaq vs"
At the end of his NBA career, Shaq decided to get into the entertainment business. In 2009, he started his own television show called "Shaq vs." The premise was simple: Shaq would challenge other athletes to athletic competitions on their turf. If he won, O'Neal could brag and claim he was better at their sport than them.
Stupid, yes, but Shaq can make anything entertaining.
O'Neal dueled against Michael Phelps, Ben Roethlisberger, Albert Pujols, and others for the show. He would have a week to train for each contest. Of course, O'Neal needed a handicap to make the matchups competitive, so he would negotiate with the other athlete and set the terms beforehand.
The show premiered in 2009, but it only lasted for 10 episodes. Luckily, Shaq got in the ring with Mosley before "Shaq vs" was canceled.
Shaq boxed "Sugar" Shane Mosley in an episode of "Shaq vs"
In season two on "Shaq vs," O'Neal tried his hand at professional boxing. He got in the ring with "Sugar" Shane Mosley in 2010 and actually put up one heck of a fight.
Both O'Neal and Mosley were around 38 years old at the time, so it was a fair fight in that regard. However, Shaq had a massive height and weight advantage. He stands 7-foot-1 and 325 pounds, while Mosley is 5-foot-9 and 150 pounds. So, Shaq had a height advantage of over a foot and weighed more than double what Mosley did at the time.
If Shaq landed one clean punch to Mosley's head, he could've knocked him out cold with his superhuman strength. That's probably what O'Neal envisioned, but it turns out hitting a professional boxer cleanly is not an easy task.
O'Neal used his size advantage to push Mosley to the ropes for most of the fight. He bullied Mosley to the edge of the ring as much as he could, but Mosley was still dodging punches and hitting Shaq more often.
Mosley defeated Shaq by unanimous decision
The boxing match went to a decision in the end, as neither fighter was able to knock the other out. Shaq thought he did enough to earn the win, but the judges saw it differently.
All three judges scored the fight 48-47 in favor of Mosley. Maybe they thought Shaq's sheer power wasn't enough to beat Mosley's technical prowess. Or maybe they just didn't want to see a legendary fighter lose to an NBA player.
Either way, O'Neal put up an impressive fight and almost upset the former world champion at his own game. Shaq could've had a bright future in the ring if he first picked up a pair of boxing gloves instead of a basketball.