The Shortest NBA Players in League History
The NBA is a tall man's game but some of the shortest NBA players ever, like Muggsy Bogues and Spud Webb, made an impact on the game.
Basketball is a big person's game, and nowhere is that more true than in the NBA. However, there are exceptions to the rule. There are a handful of short players that have had great games, great seasons, and several had long careers in the league. Some names, like Muggsy Bogues and Spud Webb, you may know. While others, like Yuta Tabuse and Willie Somerset, you may not. Here are the 16 shortest NBA players in league history, all 5-foot-9 or shorter.
Pre-NBA shortest players
The National Basketball Association came to be ahead of the 1949-50 season when the BAA and NBL merged. So, we can't have any shortest NBA players who played before the NBA was officially formed.
Still, there were vertically challenged stars in the pre-NBA days, several of whom made significant contributions to the sport. The pre-NBA players who were 5-foot-9 and under were:
Mel Hirsch, Boston Celtics — 5-foot-6
Red Klotz, Baltimore Bullets — 5-foot-7
Wataru Misaka, New York Knicks — 5-foot-7
Dino Martin, Providence Steamrollers — 5-foot-8
Charlie Hoefer, Toronto Huskies, Celtics — 5-foot-9
Lionel Malamed, Indianapolis Jets, Rochester Royals — 5-foot-9
Ed Melvin, Pittsburgh Ironmen — 5-foot-9
Angelo Musi, Philadelphia Warriors — 5-foot-9
Gene Rock, Chicago Stags — 5-foot-9
Several of these players have interesting backstories. For example, Wat Misaka was the first non-caucasian player and Asian-American player to play in the NBA. Red Klots and Angelo Musi both won championships with their teams, and Klots became the longtime coach of the Harlem Globetrotter's nemesis, the Washington Generals.
Shortest players in NBA history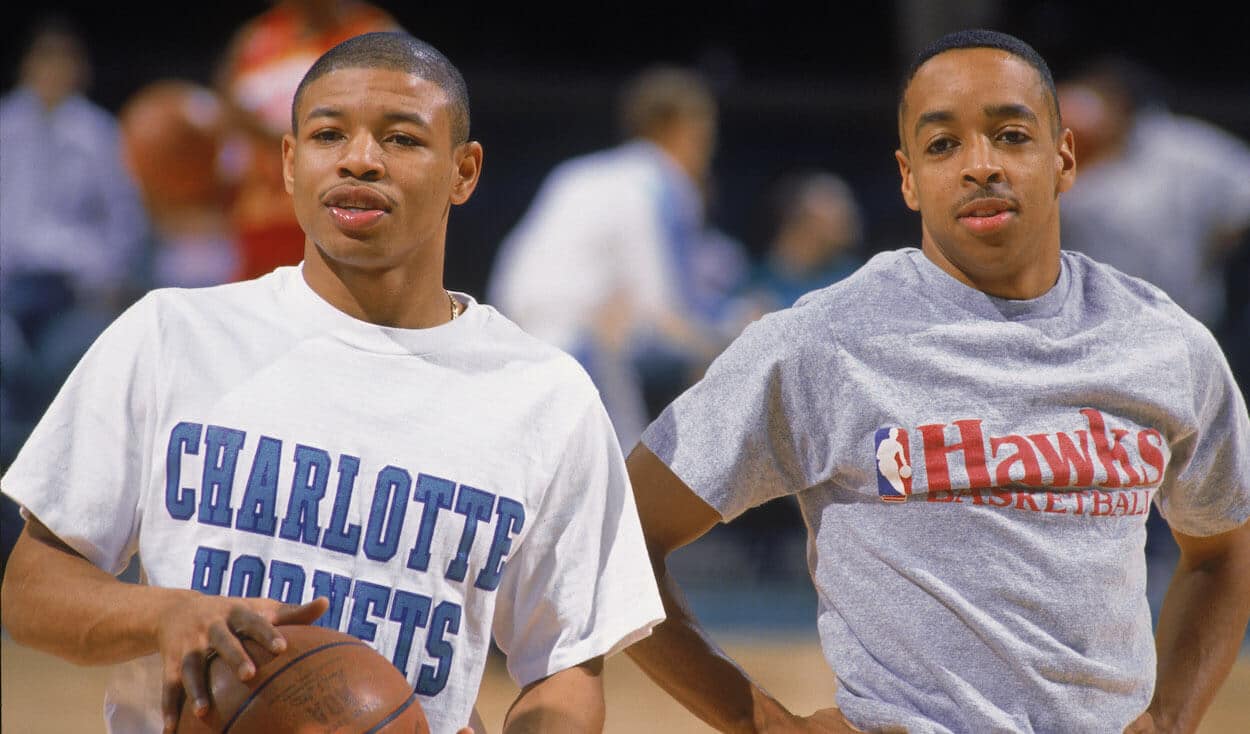 16. Jacob Gilyard — 5-foot-9
Currently, the shortest NBA player in the league is Memphis Grizzlies guard Jacob Gilayrd. After a starring career at Richmond, Gilyard joined the Grizzlies' G League team, the Memphis Hustle, after going undrafted in the 2022 NBA Draft. He made his NBA debut in the final game of the 2022-23 season, playing 41 minutes and putting up three points, seven assists, three steals, and four rebounds.
15. Kay Felder — 5-foot-9
Kay Felder starred at Oakland before the Atlanta Hawks took him (and then traded him to the Cleveland Cavaliers) in the second round of the 2016 NBA Draft. Felder played 59 NBA games over two seasons with the Cavs, Chicago Bulls, and Detroit Pistons. While his NBA career never materialized, he's had a successful pro basketball career in the Chinese Basketball Association since 2019.
14. Yuta Tabuse — 5-foot-9
Yuta Tabuse took a unique path to become the first Japanese-born player to play in the NBA. After growing up in Japan, Tabuse went to the University of Brigham Young-Hawaii before joining the Toyota Alvark in the Japan Basketball League where he won the Rookie of the Year award in 2002–03. After a successful Summer League run with the Dallas Mavericks and a training camp shot with the Denver Nuggets, Tabuse played in the ABA until he finally made the Phoenix Suns roster in 2004 and played four games.
13. Nate Robinson — 5-foot-9
Drafted No. 21 by the New York Knicks back in 2005, Nate Robinson didn't come into the league with huge expectations. And while he was never an every-game starting PG, he was an incredible off-the-bench scorer, averaging double-digit points in seven seasons. His biggest claim to fame, though, is winning the NBA All-Star Slam Dunk Contest a record three times, in 2006, 2009, and 2010. Robinson is the second-shortest NBA player to win the event, after Spud Webb.
12. Isaiah Thomas — 5-foot-9
Despite an excellent run as a scorer at Washington, teams were weary of taking the diminutive Isaiah Thomas in the 2011 NBA draft. He fell all the way to the final selection of the draft before the Sacramento Kings stopped his fall at pick No. 60. Despite the slide, Thomas became a dynamic scorer in the league, becoming just the second player under 5-foot-10 to make an All-Star game as he did in 2016 and 2017. Unfortunately, Thomas played through a hip injury for the Celtics in the 2017 playoffs, and his career was never the same. Despite his diminished athleticism, Thomas played five more NBA seasons.
11. Calvin Murphy — 5-foot-9
Arguably the greatest little man in NBA history, Calvin Murphy, is the shortest player in the Naismith Basketball Hall of Fame. Murphy came out of the lightly-regarded Niagra as a second-round pick in 1970 and played 1,002 NBA games for the San Diego and then Houston Rockets. He averaged 17.9 points, 4.4 assists, and 1.5 steals in his career, although that last number may be higher as they didn't start keeping the statistic until his fourth season. In 1979, he became the shortest player to make an NBA All-Star Game.
10. Howie Carl — 5-foot-9
Howie Carl is Chicago through and through. He grew up in the Windy City, played college ball at DePaul University in Chicago, and then played 31 games in the 1962 season for the Chicago Packers, a precursor to the Washington Wizards.
9. Ralph O'Brien — 5-foot-9
Ralph "Buckshot" O'Brien played in 119 games over the course of two seasons in the early days of the NBA. He averaged 7.1 points in 19.1 minutes per game. The Indiana native was the last Butler player to play in the league until Gordon Hayward went No. 9 overall in the 2010 NBA Draft
8. Charlie Criss — 5-foot-8
The only official player to put on an NBA uniform at the height of 5-foot-8 is Charlie Criss, who played eight years between the Atlanta Hawks, Milwaukee Bucks, and San Diego Clippers in the late 1970s and early '80s. Criss went undrafted, and thus didn't make his NBA debut until he was already 29 years old — making his eight-year career all that much more impressive. Criss retired at 36 with career averages of 8.5 points and 3.2 assists per game.
7. Willie Somerset — 5-foot-8
This small guard from Duquesne University only played eight games in the NBA in 1965-66. But after flaming out with the Baltimore Bullets, Willie Somerset caught on in the ABA, where he averaged 22.8 points per game and was a three-time All-Star for the Houston Mavericks and New York Nets.
6. Greg Grant — 5-foot-7
Greg Grant was the 52nd overall pick in the 1989 draft. Grant was a decent backup point guard in his NBA tenure, playing for six different teams in his seven-year career. He retired at the age of 29 with career averages of 2.8 points and 2.7 assists in 12.2 minutes per game.
5. Keith Jennings — 5-foot-7
Keith Jennings was an undrafted player out of East Tennessee State University who played three seasons (1992-95) for the Golden State Warriors with career averages of 6.6 points and 3.7 assists in 18.0 minutes per game. He then had a long career in Europe before becoming a coach. He is currently the women's head basketball coach at Division II Lees-McRae
4. Monte Towe — 5-foot-7
Getting down to the top-four shortest NBA players, we go to Monte Towe, who was the shortest player in the league and an ABA All-Star in the 1975-76 season. However, he only played one season in the NBA the next campaign and only averaged eight minutes and 2.5 points per game.
3. Spud Webb — 5-foot-6
Much like Nate Robinson, Spud Webb is best remembered for his incredible dunking ability. The Atlanta Hawks drafted Anthony "Spud" Webb in the fourth round of the 1985 draft (via a trade with the Pistons), and he averaged 7.8 points in 15.6 minutes per game during his rookie season. Webb's best season came in 1991-92 with the Sacramento Kings, averaging 16.0 points and 7.1 assists per game. Spudd Webb became the shortest player to win the dunk contest in 1986, which is a record that still stands today. His career ended with four games for the Orlando Magic in 1997-98 at 34 years old.
2. Earl Boykins — 5-foot-5
Earl Boykins went undrafted in 1999, no doubt because of his size (5-foot-5, 135 pounds). He ended up making his NBA debut with the New Jersey Nets that year and then bounced around the league as a backup point guard for his first five seasons before coming a valuable role player with the Nuggets starting in 2003-04. Boykins played until he was 35 years old and retired with averages of 8.9 points and 19.9 minutes per game.
1. Muggsy Bogues — 5-foot-3
Probably the most universally known name on this list is that of Tyrone "Muggsy" Bogues, the shortest player to ever put on an NBA uniform. He was actually drafted No. 12 overall by the Washington Bullets in 1987 but played only one season there before the Charlotte Hornets took him in the expansion draft. In that one season in Washington, Muggsy Bogues played with the second-tallest player in NBA history, the 7-foot-7 Manute Bol.
It was in Charlotte that Muggsy Bogues became a household name, averaging 8.8 points and 8.8 assists in 10 seasons with the Hornets. Bogues moved on to play for the Golden State Warriors and Toronto Raptors before eventually retiring after the 2000-01 season.